COLTS – 2019-2020 Season
Training on Sunday Mornings:
Training is spread across 3 local pitches – OCs Thames Ditton base and 2 supplementary pitches at Hinchley Wood and Oaken Lane both under 10 mins drive away.  Provisional timings and pitch allocation is given below (subject to change)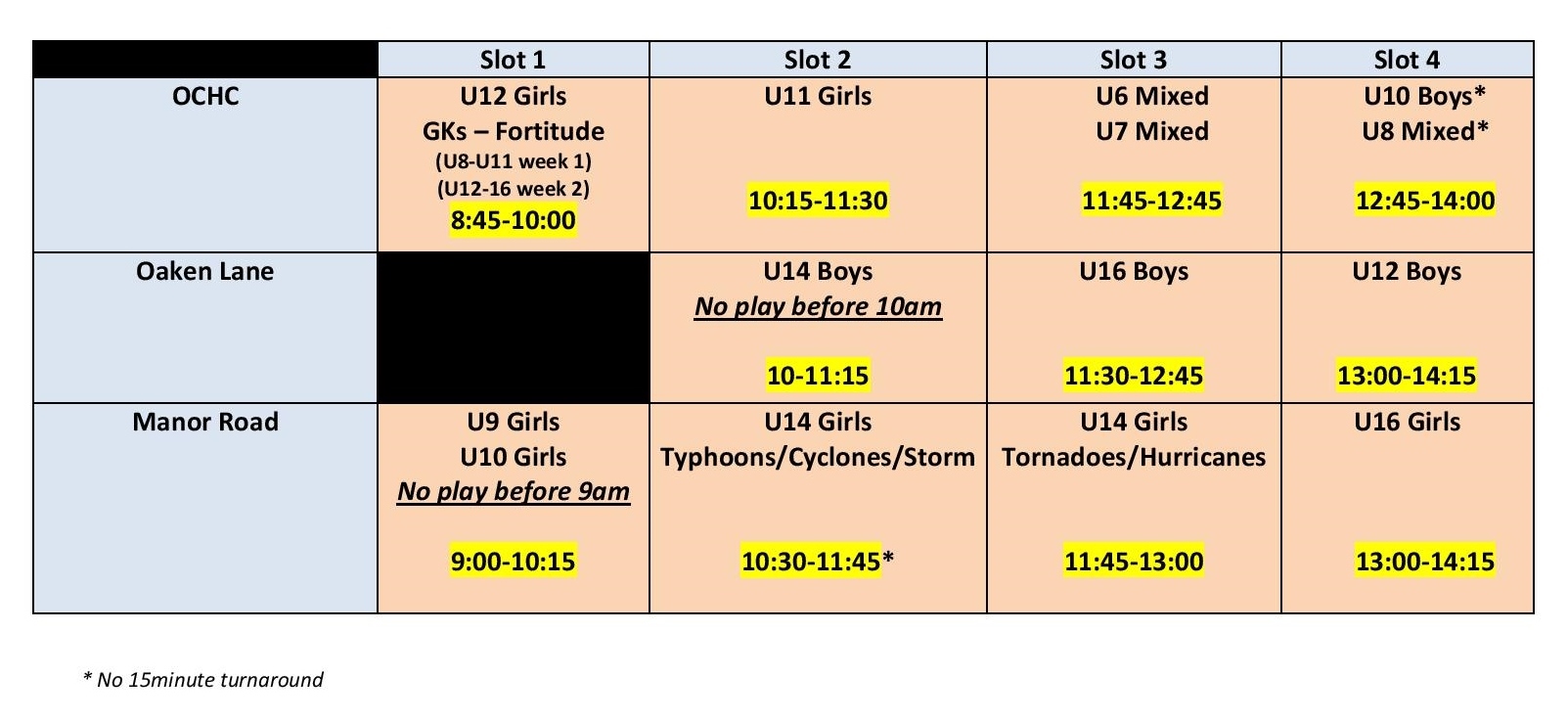 PLEASE NOTE:
* Individual training times for the GU13 & GU14 are subject to change, after the initial two weeks, as a result of the girls being placed into their playing squads.  Parents will be advised of the squads after the initial two weeks and each squad will be reviewed at half termly intervals. For the first two weeks the U13s will training at 10.30am and U14s at 11.45am.
OCHC – Old Cranleighan Club, Portsmouth Road, Thames Ditton KT7 0JJ
Oaken Lane – 85 Oaken Lane, Claygate, Esher KT10 0RQ
Manor Road (Hinchley Wood) – 65 Manor Road South, Esher KT10 0QA
Goalkeeper Training Sunday
Age specific specialised goalkeeper training takes please each Sunday from 8:45am to 10:00am at OCHC. Please refer to the timetable below:
| | |
| --- | --- |
| U12s & Below | U13s & Above |
| 12th Jan | 19th Jan |
| 26th Jan | 2nd Feb |
| 9th Feb | 23rd Feb |
| 1 Mar | 8th Mar |
| 15th Mar | 22nd Mar |
Mid-Week Training For U10s and above:
All midweek training starts w/c 16 September 2019 and takes place at OCHC as per the timings shown below. There is an additional cost of £75 for the season for Colts wishing to take up this option – please log into PSO and select the appropriate session on the left hand side of the payment tab.
The number of players who can attend these sessions is limited by the number that can be accommodated on the pitch at one time. Spaces will be allocated on a first come first served basis.
Goalkeeper training is available to both genders on Wednesday evenings too.
PLEASE NOTE: Attendance of the Girls and Boys academy is by invitation only. The training sessions will not commence for this group until w/c 23rd September.