The Old Cranleighan Hockey Club is an established and rapidly growing club based in Thames Ditton, Surrey. Formed in 1928, the OCHC has the luxury of having its own astroturf pitch (which was relaid as part of a £450,000 investment in 2018) situated in front of its clubhouse and grandstand, with plenty of on-site parking. The club is located just off the A3 (Hook junction) and 20 minutes from London by train, with Thames Ditton, Hinchley Wood and Esher train stations all within easy walking distance.
Our valued behaviour and culture focuses on hockey excellence and opportunity for all within a family and community-led environment. We strive to be recognised as a club for our quality coaching and inclusivity.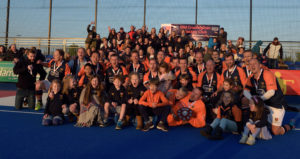 In 2023-2024 OCHC will field 10 men's, including 4 masters, and seven ladies' teams. The growth of the club means 3 new teams for this coming season.
The Men's 1s play National League hockey in Division One South. Our other men's and ladies teams start in new leagues this season following the restructure of the entire league system across the country. OCHC will debut in the new England Hockey London league which will allow us to continue playing quality competitive hockey locally or within easy reach on public transport.
The men's 1st XI has had two outstanding seasons in the previous two years. In 2018-2019 they reached the Quarter-Finals on the Tier 1 England Hockey Championships but more importantly won the South Hockey League Premier Division and securing promotion to National League (Conference West) for the first time in the club's history. However, they rewrote the Club's history again in 2019-2020 by winning the league, at the first time of asking, and next season they will continue to play in the second tier of English hockey in the National League, Men's Division One South.
The men's 2nd XI play in London Division 2 South and for 2023-2024 season will be joined by the Men's 3s after they won their league and gained promotion for the second successive season. The Men's 4s and Warriors both won their respective leagues too in 2022-2023 and 2023-2024 we will be adding a new team to the London league to support our growing men's section.  Our OC Warriors and the new men's team aim is to progress our juniors into adult league hockey whilst paying alongside experienced adult players. Our 3 masters teams (Stormers, Barnstormers and Hamstrings) all continue to compete in the South & London Hockey Masters League and a new Over 60s team will begin for this coming 2023-2024 season. The Stormers won their highly competitive South Over 40s Premier league in 2022-2023.
The Ladies 1st XI  have enjoyed 3 promotions in the last 4 years and will move up to join the London Premier League for 2023-2024 season. The Ladies 2nd XI team have also achieved two successive promotions in recent years. The Ladies section continues to grow and 2023-2024 will see the club run 7  league teams and all our teams have at least 4-5 U18s who are a big contributing factor to their success.
We also run Back2Hockey for both our Men's and Ladies sections. The main aim is fun and is open to all levels. More details can be found HERE.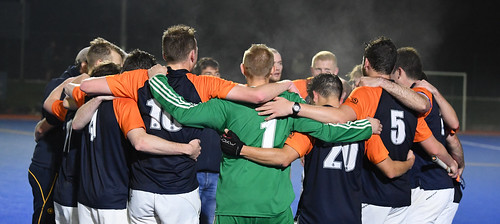 The club also enter regional and national cup competitions for our men's and ladies. We run a number of Master's teams for both the men's and ladies sections. Competing in the EH Cup and 2022-2023 saw the Men's Over 40s get to the Tier 1 semi-finals.
In the summer the club runs its own hugely successful Summer League most weekday evenings with many local teams entering the men's, ladies and mixed competitions. Details of which can be found HERE.
All our adult teams have access to training at our club house with our professional coaches. More details of training times can be found HERE.
The Junior section starts its 12th year in 2023-2024 and is thriving, comprising of 600+ members. We limit our numbers to ensure the quality of coaching is not diluted and that everyone has the chance to develop. We have entered a number of local Junior leagues and also firmly encourage our older 'original' Junior to play in the adult teams. We run hockey training camps throughout the school holidays and continue hockey through the summer term during the evenings.
Matches are played most Saturdays throughout the season. The Juniors (ages 5 – 18) train midweek and Sunday morning, utilising additional pitches at Manor Road South and Oaken Lane in Hinchley Wood. The club has appointed a Director of Hockey (David Mathews) and Junior Director of Hockey (Adam Ward) to oversee the coaching throughout the club. For those parents with young children there are also childcare facilities on Saturdays to allow members a stress-free game (and a drink afterwards!)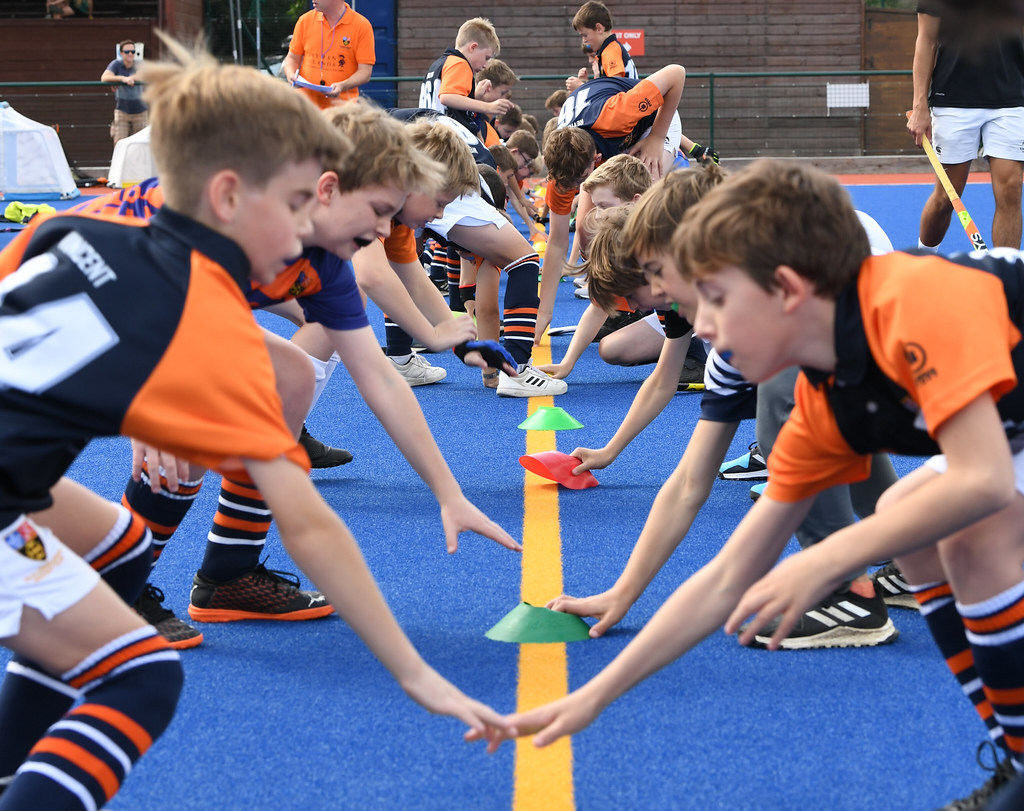 The OCHC is a very sociable and family-orientated club, with many playing members having their children play Junior on a Sunday. The pitch and clubhouse facilities are second to none in the area and there are many social events which are organised across the season culminating in our annual black tie End of Season Awards Dinner.
If you are interested in joining then please email us or just come on down one Saturday and ask to meet our Club Captains (Helen, Cato or Sarah) or our clubhouse manager JJ Griffin. For the Junior section all enquiries should be emailed to ochcjuniors@gmail.com.