Welcome to the 2021-2022 season! You'll find everything you need to know about training with OCHC Juniors here but if you have any questions, please get in touch with us at ochcjuniors@gmail.com
Season dates 2021-2022
Sunday 12th September to Sunday 12th December
(No hockey Sunday 24th October for half term)
Sunday 9th January to Sunday 27th March
(No hockey Sunday 13th February for half term)
Age groups
We operate a mixed hockey model from U6s (year 1) to U8s (year 3) before splitting into girls and boys hockey from U9s (year 4) to U18s. From U10s upwards, we play in combined age groups, with two year groups training and playing together. These combined age groups are split into Orange and Blue training groups.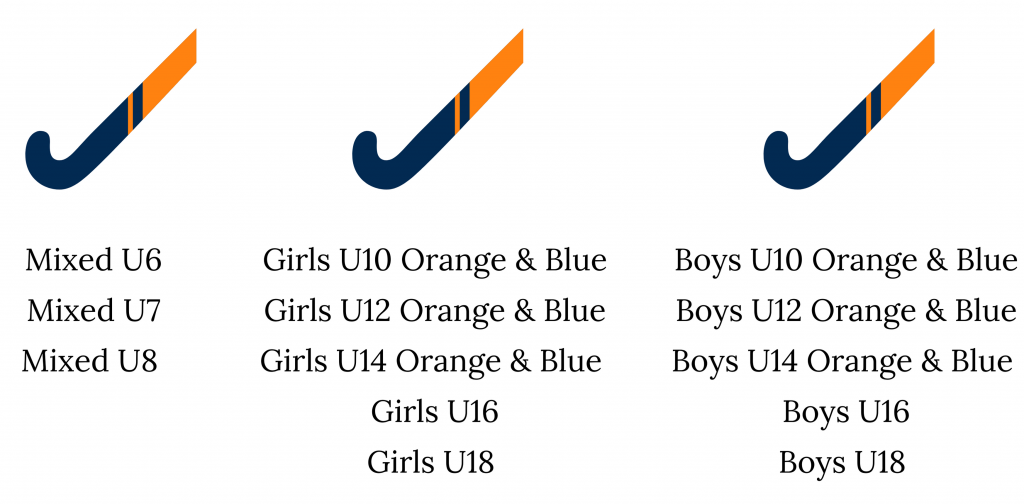 Training times
Sunday training
Training is held across our 3 pitches on Sunday mornings – the OC's clubhouse pitch in Thames Ditton plus our two additional pitches at Hinchley Wood and Oaken Lane. From U10s upwards, players will be in an orange or blue training group. Please note that for U12 and U14 girls' age groups, whilst blue and orange training sessions will run concurrently, to ensure the girls have sufficient space, the training sessions are in different locations.
Midweek training
Midweek training is available to all players from U10s upwards and we encourage all players to attend if they're able to. The midweek sessions are focused on skill development, recognising that many of the Sunday sessions are given over to fixtures and game play.
All midweek training is at the OCHC clubhouse pitch. To sign your son or daughter up to midweek training, please log in to your LoveAdmin account and select the midweek training option from 'optional extras'. The fee for midweek training remains the same as last season at £80 for the season for all age groups.
Goalkeeper training
Specialist goalkeeper training run by Molly Warner (Ladies 1s GK) is held at Oaken Lane on Sunday mornings. This season, every session is open to all goalkeepers, hopefully providing greater flexibility for players to train around their team fixtures. As usual, we ask you to update Teamo with your availability week to week, this enables the coaches to better plan the session around the players attending.