UPDATE 25.03.21
With a heavy heart, we have concluded we have to call an end to the 2020/21 Junior hockey season, accepting that whilst we've all missed hockey hugely, the second half of the season has been lost and we should now look ahead to the 2021/22 season beginning in September.
When assessing our options, it became clear that three factors in particular made an extension to the season difficult, with or without timetable amendments. Those were (i) pitch availability – with our two Surbiton High sub-let pitches unavailable; (ii) coach availability – many of our volunteer and professional coaches committed to other sports beginning in the coming weeks; and (iii) player interest or availability – many of our junior members committed to other sports with whom any season extension would overlap, particularly at weekends. We have also taken on board a sense from many of our members that when meeting up is once again possible, many will be looking to spend time at weekends with family and friends they haven't seen for significant periods of time.
For those keen to continue playing hockey, we have a number of great options in place to allow those without competing demands on their time to get back on pitch before the new season begins. This will include opportunities to book slots to use the pitch through the coming months at no cost, but also the more formal elements below, all of which will be on a pay to play basis:
1. Hockey Camps
Lauren Moors (Director of Junior Hockey) and her team of coaches are running half-day hockey camps over 9 days of the Easter holidays and these are now available to book through your LoveAdmin account. Find out more here. We will also run a programme of summer hockey camps, likely for five weeks, during the school holidays. We will publish more details in due course.
2. Summer Hockey
We will run a programme of week-night hockey training (one-hour sessions) during the summer term for all age groups, find out more here.
We will update this page with details of the 2021/22 season as soon as they are available.
Season dates 2020-2021
Sunday 13th September to Sunday 13th December
(No hockey Sunday 25th October for half term)
Sunday 10th January to Sunday 28th March
(No hockey Sunday 14th February for half term)
OCHC Juniors 2020 2021 season timetable
Midweek training timetable 2020 2021 season
Age groups
We operate a mixed hockey model from U6s (year 1) to U8s (year 3) before splitting into girls and boys hockey from U9s (year 4) to U18s.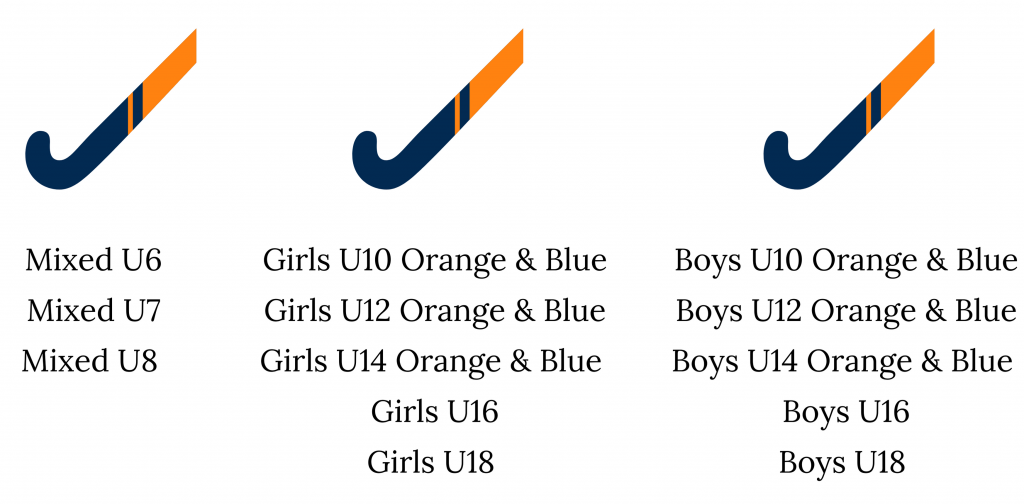 2020 2021 Season Timetables
Sunday training
Training is held across our 3 pitches on Sunday mornings – the OC's clubhouse pitch in Thames Ditton plus our two additional pitches at Hinchley Wood and Oaken Lane. From U10s upwards, players will be in an orange or blue training group. Please note that for most of the girls' age groups, whilst blue and orange training sessions will run concurrently, to ensure the girls have sufficient space, the training sessions are in different locations.
OCHC Juniors 2020 2021 season timetable
Midweek training
Midweek training is available to all players from U10s upwards, see the timetable below for timings. Please note that for some age groups, blue and orange groups are training separately at different times/days. All midweek training is at the OCHC clubhouse pitch. To sign your son or daughter up to midweek training, please log in to your LoveAdmin account and select the midweek training option from 'optional extras'. The fee for midweek training is £80 for the season for all age groups.
Midweek training timetable 2020 2021 season
Goalkeeper training
Specialist goalkeeper training with Fortitude will run at OC's on Sunday mornings and like last season, will run on alternate weeks for U10-U12 and U14-U16 keepers. Please see below for training dates up to Christmas – please note there is no training on 25th October for half term.
| | |
| --- | --- |
| U10 & U12 | U14 & U16 |
| 13th September | 20th September |
| 27th September | 4th October |
| 11th October | 18th October |
| 1st November | 8th November |
| 15th November | 22nd November |
| 29th November | 6th December |
| 13th December | |
Coaching themes
We have now published our 'coaching themes' for the 2020-2021 season, these set out the aims we have for each age group for the season and can be downloaded here Coaching Themes 2020-21