UPDATED: 17th May 2021
____________________________________________________________________________________________________________
The following guidelines apply to the whole of the Old Cranleighan Hockey Club (OCHC) and its aim is to ensure the safety of players, coaches, OC Club Management and other visitors to the club.
It is written in conjunction with the advice received from England Hockey on 8th August 2020 and 25th March 2021 which set out a roadmap detailing how clubs should approach returning to play hockey following UK Government advice.
The following guidance must be adhered to at all times when visiting the Club to ensure the social distancing rules are applied.  If this guidance is not adhered to, the coaches and the management of the Old Cranleighan Club have the authority to ask you to leave the premises for the safety of others and themselves.
What hockey are you allowed to play?
From 17 May 2021 England Hockey's phased plan moved to Step 5. This allows for groups of players including a coach to train at one time.
Who can access the OCHC astro pitch for hire? 
ONLY available to Old Cranleighan Hockey Club members.
Junior members (18 and under) must be supervised at all times; only one non-playing guardian / parent is permitted if spectating.
This is for hockey use only. No other ball games allowed.
Not to be used for 1:1 coaching sessions unless prior agreement with Club Captain.
Each pitch hire session is 55 minutes long.
Saturday and Sundays between 10am and 4pm.
Accessing the Club  
All coaching session will take place at the Old Cranleighan Club, Portsmouth Road, Thames Ditton. KT7 0HB.
Please follow the Government guidelines on travel when making journeys to and from the club.
You must adhere to our one-way system. Please enter the pitch compound via the usual main gate and exit via the gate closest to the containers.
Avoid congregating by the entrance gates to the pitch and the compound, in the compound area, the stand or in front of the Club House and maintain your 2 metre distance at all times.
The stand and benches in the compound are out of bounds and should not be used.
Only travel to the club if you have a confirmed session booked and arrive at the time of your booking, not before. If you arrive early please wait outside the compound area on the grass as you are not permitted to use the tables on or surrounding the patio area.
A gap of 5 minutes will operate between sessions to avoid too many people gathering during session cross-overs.
If a parent / guardian is required to remain on site to supervise then they should follow the social distancing rules.
Please do not lean on the fence surrounding the pitch.
Only players and coaches will be allowed on the pitch and there should be no spectators gathering outside the pitch (except ​one ​supervising parent / guardian).
Health, Safety and Hygiene
Please ensure appropriate hand hygiene measures are followed before, during and after arriving each coaching session.
Hand sanitising gel will be available but we strongly encourage you to bring your own.
Entry to the Club House is prohibited unless accessing the bar when open; the toilets are available but use of changing facilities prohibited.
All players must wear suitable astro shoes, gumshields and shin pads.
Bring your own water bottle(s), there will not be any facilities available to provide water or refill bottles.
Equipment must not be shared between players and coaches; nor will equipment be lent by the Club (with the exception of balls/cones; please see below).
Please bring the minimum amount of equipment/kit with you and arrive ready to play and take all your belongings away at the end of your session.
Any clothing or equipment left on the premises will be removed safely and disposed of.
Please do not come to the Club if you have any Covid-19 symptoms, are self-isolating or living with individuals that are self-isolating.
If you exhibit any signs or symptoms within 7 days following your session, please ensure you inform our COVID Officer.
It is highly recommended all players / parents / guardians bring their own First Aid Kit.
There is no access to First Aid Kit at the Club.
Prior to play
All players must complete the England Hockey's Participation Agreement before moving to Step 5. This only needs to be done ONCE.
All players to arrive changed and ready to play.
All players must bring hand sanitiser with them.
All players MUST on arrival to any of Old Cranleighan HC pitch complete Self-Assessment by scanning TEAMO QR Codes located by the pitch. Failure to do so will mean no play.
 During play
The pitch will be divided into four zones separated by the pitch dividers. Players are not permitted to cross into adjacent pitch area (zone).
Maximum of 10 people per quarter during any one 55 minute session.
Contact hockey is allowed i.e. tackling.
Use your own equipment (stick and balls) and avoid touching other equipment (goals etc).
Players should only touch the balls with their sticks.
Please refrain from touching any other equipment (such as cones, goals etc…).
Gates to the pitches must remain open at all times. Please avoid touching gates and adjacent pitch side fences.
Please bring a little equipment on to the pitch as possible to avoid cross contamination i.e. leave stick bags, jumpers etc… at home or in your car (safely) where possible.
Use of the dugouts is prohibited.
Please do not leave your equipment on the pitch side benches.
It is the club's responsibility to lock the gates after the final session.
The floodlights will not be turned on at any time.
Insurance
All activities at the Club are undertaken entirely at your own risk. Old Cranleighan Hockey Club, OC Club Management (Gryphon Hospitality) and OC Society bear no liability for any injury, accident or ill health which may occur as a result of using the Old Cranleighan Hockey astro pitch during this time.
How to Book
Please click on the link HERE to book your session.
1 booking per week per person.
The person who has made the booking is responsible for ensuring those attending the session with them know, understand and adhere to the guidelines.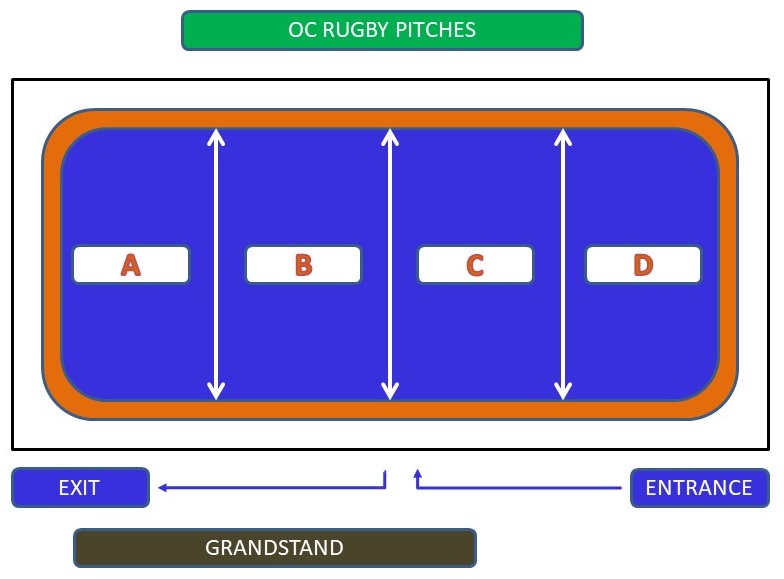 Cost
There is no cost.
Cancellations
Please cancel as soon as you are aware you are unable to attend.
The security of the OCHC astro pitch is paramount and therefore if you cannot make a session cancelling your booking sends a cancellation alert to those responsible for the pitch advising whether it is in use and therefore can ensure it is locked.
Future Steps
Finally, please note these arrangements have been put in place during these unprecedented times to support our members playing hockey. However our priority is the safety of our members and the pitch. Please work with us to ensure that the guidelines are being followed so that we can all be safe.
We will be reviewing the club usage daily and will make necessary changes if we feel the guidance isn't being followed. Additionally, we will continue to follow Government guidance and will be prepared to withdraw or expand our activities at short notice should there be any changes to the Covid-19 situation.