The following guidelines apply to the whole of the Old Cranleighan Hockey Club (OCHC) and its aim is to ensure the safety of players, coaches, OC Club Management and other visitors to the club.
It is written in conjunction with the advice received from England Hockey on 29th May 2020 which set out a roadmap detailing how clubs show approach returning to play hockey following UK Government advice.
The following guidance must be adhered to at all times when visiting the Club to ensure the social distancing rules are applied.  If this guidance is not adhered to, the coaches and the management of the Old Cranleighan Club have the authority to ask you to leave the premises for the safety of others and themselves.
What hockey are you allowed to play?
Currently under the England Hockey's phased plan we're at the Train – Step 2 phase. This allows for groups of 6 players including a coach to train at one time.
 Who can access junior summer coaching sessions? 
Only available to Old Cranleighan Hockey Club members.
All Juniors from U8s upwards.
Monday to Thursday at either 4pm, 5pm or 6pm, depending on age group. Each coaching session is 55 minutes long.
Accessing the Club  
All coaching session will take place at the Old Cranleighan Club, Portsmouth Road, Thames Ditton. KT7 0HB.
Please follow the Government guidelines on travel when making journeys to and from the club.
You must adhere to our one-way system. Please enter the pitch compound via the usual main gate and exit via the gate closest to the containers.
Avoid congregating by the entrance gates to the pitch and the compound, in the compound area, the stand or in front of the Club House and maintain your 2 metre distance at all times.
The stand and benches in the compound are out of bounds and should not be used.
Only travel to the club if you have a confirmed session booked and arrive at the time of your booking, not before. If you arrive early please wait outside the compound area on the grass as you are not permitted to use the tables on or surrounding the patio area.
A gap of 5 minutes will operate between sessions to avoid too many people gathering during session cross-overs.
A parent / guardian is required to remain on site at all times and should follow the 2 metre social distancing rules. You will not be allowed to sit in the stand or the benches so if you require seating please bring a fold-up chair. Alternatively, you can sit on the mound the other side of the pitch which adhering to social distancing.
Please do not lean on the fence surrounding the pitch.
Dogs will not be allowed in the pitch compound area during this period.
Only players and coaches will be allowed on the pitch and there should be no spectators gathering outside the pitch (except ​one ​supervising parent / guardian).
 Health, Safety and Hygiene
Please ensure appropriate hand hygiene measures are followed before, during and after arriving each coaching session.
Hand sanitising gel will be available but we strongly encourage you to bring your own.
Entry to the Club House is prohibited; there will be no toilet or changing facilities available.
All players must wear suitable astro shoes, gumshields and shin pads.
Bring your own water bottle(s), there will not be any facilities available to provide water or refill bottles.
Equipment must not be shared between players and coaches; nor will equipment be lent by the Club (with the exception of balls/cones; please see below).
Please bring the minimum amount of equipment/kit with you and arrive ready to play and take all your belongings away at the end of your session.
Any clothing or equipment left on the premises will be removed safely and disposed of.
Please do not come to the Club if you have any Covid-19 symptoms, are self-isolating or living with individuals that are self-isolating.
If you exhibit any signs or symptoms in the days following your session, please ensure you inform us.
It is highly recommended all players / parents / guardians bring their own First Aid Kit.
In the unlikely event of an injury the coaches will assess the injury from a suitable distance.
As parents / guardians are remaining on site they will be asked to make a further assessment, off the pitch if possible, and take the player home if required. It is the parent / guardians responsibility to administer any First Aid.
 During coaching sessions
The pitch will be divided into zones separated by the pitch dividers or cones. Players are not permitted to cross into adjacent pitch area (zone).
A two metre distance between coach and player(s) should be maintained at all times.
Hockey balls will be provided by the Club and will only be handled by the coach.
Balls will be regularly disinfected between sessions.
Players should only touch the balls with their sticks.
Please refrain from touching any other equipment (such as cones, goals etc…). Only coaches should handle these and will ensure that these are disinfected regularly.
Gates to the pitches must remain open at all times. Please avoid touching gates and adjacent pitch side fences.
Use of the dugouts is prohibited. Please do not leave your equipment on the pitch side benches.
It is the coaches responsibility to lock the gates after the final session.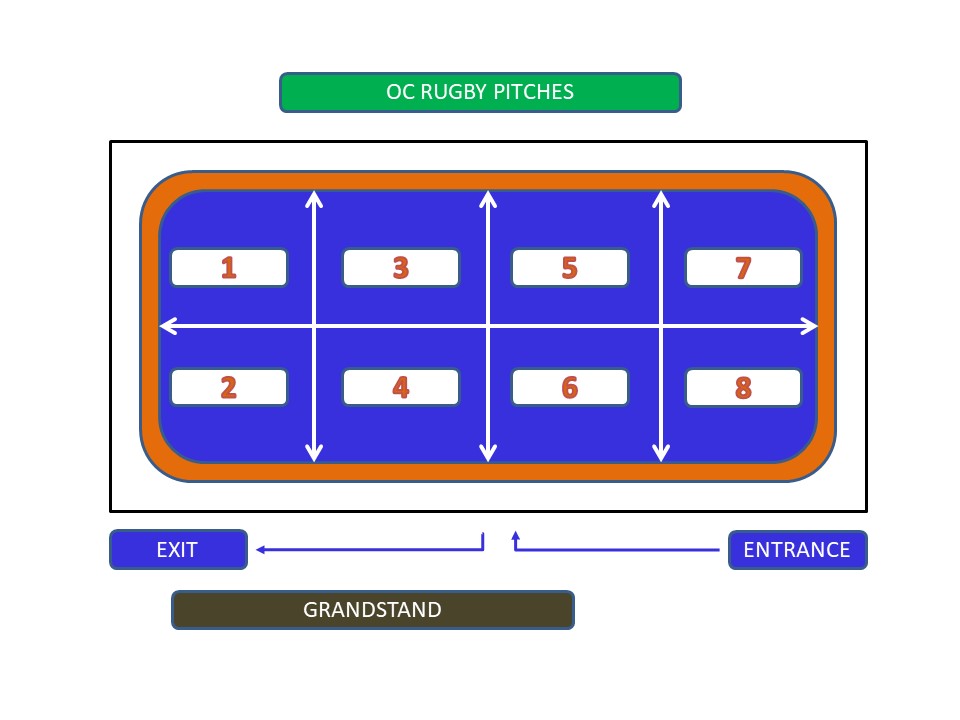 Coaches
All our coaches are insured, DBS checked and have undertaken appropriate training. They are also managed by Lauren Moors, OCHC Director of Junior Hockey .
How to Book
Junior coaching sessions are only available to all Old Cranleighan members ONLY.
The age groups are the same as the 2019-2020 season, so no change.
The session will include 5 playing members and one 1 coach. It will be for the coaching staff to determine how the groups are put together.
4 – 6 coaching sessions will run concurrently in separate sectioned off areas of the pitch.
There will be between 2 to 3 sessions each evening, Monday to Thursday.
Blocking bookings of two weeks will be allowed. w/c 8th – 15th June & w/c 22nd & 29th June. For the U8s there will be a three week period of 15th, 22nd and 29th June.
Only the first two weeks will be released in the first instance and a wait list will be put in place. Those on the wait list will be allocated the first places on the second two weeks.
Allocation will be on a first come first served basis but we aim to ensure as many players get accessing to coaching as possible.
Detail below is our anticipated schedule which is subject to change based on interest.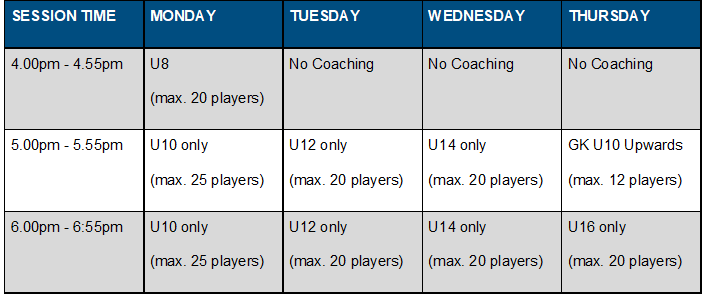 To book please register HERE and select the appropriate drop down for your child's age group. Additional instructions can be found at How to Sign Up to Summer Hockey. Our Junior administration team will confirm the exact time and dates. For any queries please email ochcjuniors@gmail.com
Cost
A two week block booking of 55 minutes per session will be £25.
A three week block booking of 55 minutes per session will be £37.50. (U8s Only)
Payment
Payment details will be provided by our Junior administration team on confirmation of booking time and date.
Cancellations
Please note cancellation policy: 24 hrs notice of a cancellation is required or you will be charged for the session missed. We cannot guarantee that you can rebook as slots are limited.