We will be running a 10-week training programme over the summer term for all members, from U6s to U16s. The hour-long sessions will run at the clubhouse pitch and will be led by OCHC coaches. PLEASE NOTE – the U16s session has moved to Wednesday evening at 6:30-7:30pm.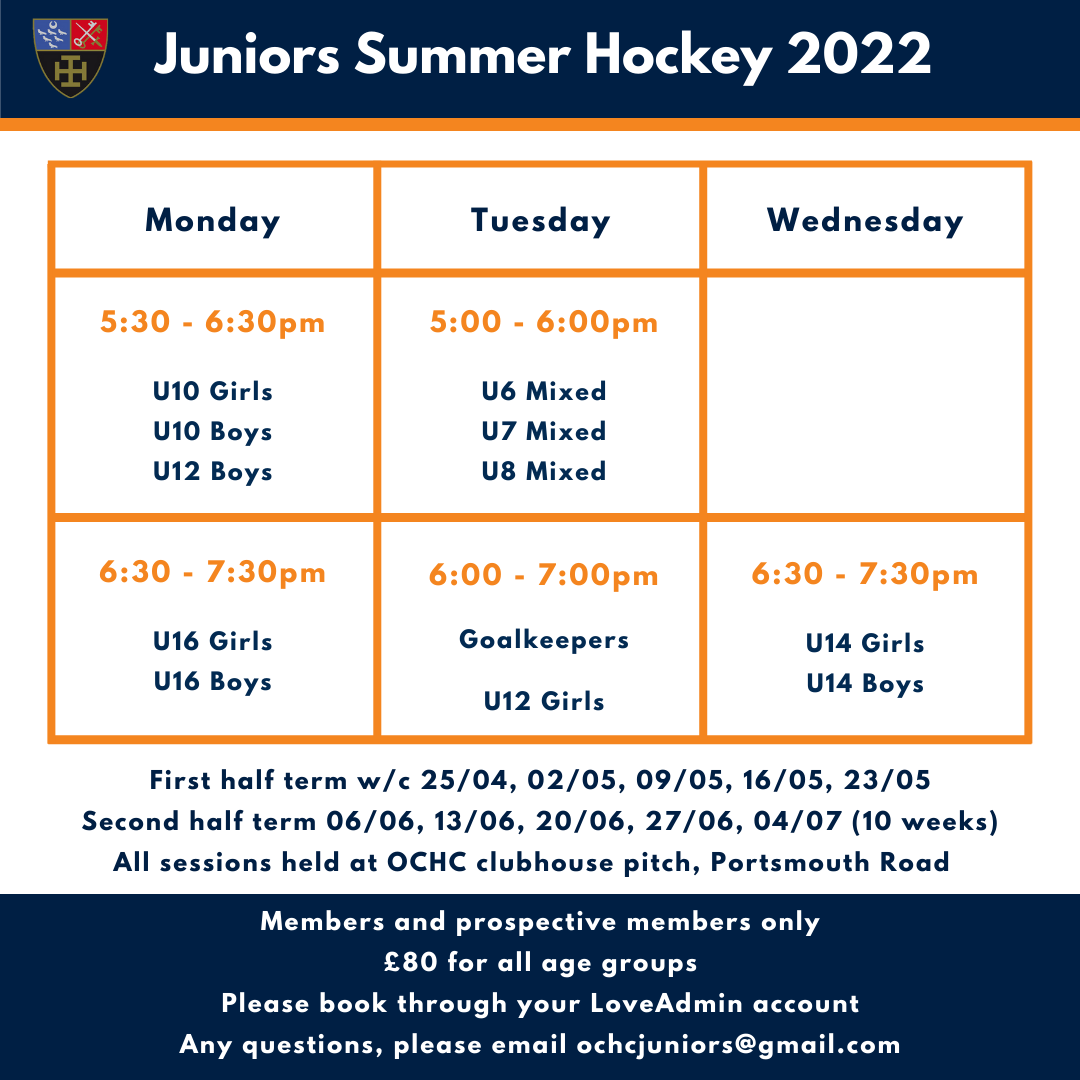 Based on 2021/2022 season age groups.
To book, please log in to your LoveAdmin account here
Important information about the Summer Hockey Programme – Please read before booking
The information below sets out the basis upon which we are able to offer the Summer Hockey Programme. Please ensure you have read the information below before signing up and follow it when attending.
Format of the Summer Hockey Programme
Payment is required at time of booking. We are not able to offer part refunds for sessions not attended.
Before attending, please ensure your child is registered in Teamo as you will need to check-in before playing.
We will operate camps under our current our COVID-19 guidelines which are available in full here. Please take the time to review them and take the appropriate action where necessary.
For summer hockey sessions to run smoothly and for the enjoyment of all participants, we operate a zero-tolerance policy of inappropriate language or behaviour. If the coach feels a player is not behaving appropriately, they will be asked to sit out and their parents/guardians will be contacted.
We may take photographs during the summer hockey programme which we later use to promote future OCHC Junior hockey. We will never use players' names. If you do not want your child to appear in any photographs, please email us at ochcjuniors@gmail.com
The Summer Hockey Programme will take place at the Old Cranleighan Club, Portsmouth Road, Thames Ditton, KT7 0HB.
If not remaining on site, a parent / guardian is required to be within a 10-minute drive of the club. For younger age groups, we advise parents remain on site.
Health, Safety and Hygiene
All players must wear suitable astro shoes, mouth guards and shin pads. All players must bring their own stick.
Please ensure any medical information is up to date in LoveAdmin when booking.
Please do not come to the Club if you have any Covid-19 symptoms, are self-isolating or living with individuals that are self-isolating. If in doubt, please stay away.
If you exhibit any signs or symptoms in the days following your camp, please ensure you inform us at ochccovidofficer@gmail.com
Please ensure appropriate hand hygiene measures are followed before, during and after arriving at each coaching session. Hand sanitising gel will be available, but we strongly encourage you to bring your own.
There is no entry to the wider Club House; there will be access to the toilet but there are no changing facilities available.
Bring your own water bottle(s), there will not be any facilities available to provide water or refill bottles. This is particularly important in warmer weather.
It is highly recommended all players / parents / guardians bring their own First Aid Kit.
In the unlikely event of an injury the coaches will assess the injury from a suitable distance. We are asking all parents/guardians if not staying on site to be within 10 minutes from the club. Please ensure your contact details are up to date on LoveAdmin and Teamo when registering for the camp as we will use these to contact you. If parents/guardians are not on site, the coach will assess the injury and call the parent/guardian to ask them to return to the club. In case of serious injury, emergency medical assistance will also be requested.
Coaches
All our coaches are insured, DBS checked and have undertaken appropriate training. They are also managed by Lauren Moors, OCHC Director of Junior Hockey