1st XI 3-0 Horsham
On a brisk, autumnal November afternoon, OCs faced a tough test to 'make TD great again' against a Horsham side who had achieved similar results to us this year. It was a big game for both teams, with the league starting to take shape as we focus on the last few games before the Christmas break. The boys understood the importance of this game and so pre match preparation was professional as always.
As per usual the umpire blew his whistle and consequently the game commenced, however, a Horsham aerial gifted the ball to us immediately. This trend continued and OCs started the game strongly, with pockets of space being found by forwards Harman (J), Thomas and Murphy. OCs looked threatening early on with glimpses of outcome towards the Horsham goal, however no breakthrough appeared after the first 15 minutes. Pressure from the Horsham forwards resulted in a disguised squ-aerial from skipper Harman (P) to Ming (T) at left half, this tactic had not been discussed during the pre match chat but thankfully it worked well.
Horsham undertook a slightly different approach to the passing mantra that OCs upheld. Despite the earlier traffic on the M25, their goalie repeatedly headed for the most direct route towards the OC goal with a Van Persie style volley down the pitch. Thankfully, the defence of Way, Pettit, Robinson and even Davies managed to deal with the aerial ball very well.
There had been much talk of Harry Potter by Coach Pettit preparing for the game, and this seemed to galvanise certain members of the team. A flowing counter attack soon ended up with Wiseman magically brandishing his wand to finish into the bottom corner, completing a sweeping passing move through midfield. OCs battled hard to keep the lead and the score was 1-0 at halftime.
The second half started brightly with both teams contesting well. OCs soon turned up the intensity with a number of attacks. One resulted in a shot blocked by a Horsham defender's body on the line. Murphy put away the resulting p flick, with composure only seen by tax professionals at Deloitte (other financial services firms are available). OCs remained on top throughout the remainder of the second half. Kingsnorth deserved his relaxing post game massage as he had to be agile on his feet to keep out a few Horsham attacks. Thankfully no short corners were conceded, which coincidently resulted in the first clean sheet of the season for the OC lads. Wiseman added another goal late on in the game, to put the result to bed. Harman (J) was later seen to be sulking as he has been overtaken on the South League Top Scorer list. OCs closed the game well, with the score being 3-0 at full time, an excellent win for the OC lads.
The boys now look to prepare for another important mid table clash against Milton Keynes next week down at TD. The next few games have the potential to determine the future of the season.
Cards: none
Goals:
Murphy
Wiseman x2
Mom: Harman (P) & Czerniewski- tie.
Dod: Harman (J)
2nd XI 
3rd XI 3-2 Sunbury
We travelled to Sunbury on a cold November afternoon in the knowledge that the rugby may cause havoc with traffic. Martin went to the wrong ground and Knappy had a look at the M4, but we had 13 there for the start. We were strengthened in midfield by the return of Charlie Judas Packham and CB back from a hamstring tweak.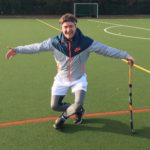 Sunbury are a young outfit, but well organised and disciplined. They started better than us and it was no surprise we went behind after 10 minutes as they caught us on the break. We looked a little frenetic and panicked for a while but the midfield of Grimes, Bents, Packham and Lewis began to take control. A short corner strike from Eds was overturned by Martin from the half way line and things began to get a little heated. Martin has put up with plenty of complaining / appealing this season and he was in no mood to be generous. Red Mist Hawes in goal, deputising for Mike, made a few crucial saves as Sunbury continued to hit us on the break. CB came on in midfield and limped off two minutes later. We created more chances up front and Eds converted the next short and then gave us the lead with his 350th OC goal following a silky run down the right by Packham.
At half time 2-1 flattered us a little and it was crucial we kept our composure and discipline. We played some good hockey in the next quarter and another packham missile into the D was deflected by Eds to complete his hat trick and all but kill off Sunbury. Sunbury had different ideas and their younger legs kept going as we relaxed. We lost composure and discipline as Darren was yellow carded by a grumpy Williamson. Sunbury scored and we had to defend a slender lead for 10 minutes with 10 men. Make that 9 men as Williamson flashed another card at Grimer for a push off the ball. We held possession, ran into the sunbury corners and soaked up time. It was a tense last few minutes and Sunbury threw everything they had us. Ollie P, Ports(wearing his wifes yoga pants), Darren, Cato and Mezz were immense in defense as we kept our winning record and march on.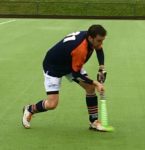 We showed signs of lunacy (Darren) but also the guts we need to take home the toughest three points of the season. I have no idea why Sunbury are in the bottom 2 of this league – they have some great young talent and were relentless against our ageing legs!
Thanks to Martin for travelling to Sunbury. We do appreciate his commitment and this should be a lesson that we cannot appeal/criticise umpiring mistakes and expect no reaction. (Note from umpire: sometimes when a player loses possession or mucks up a pass or misses a tackle it may, just may, be down to their own incompetence and not the umpire … just saying)
Three massive games to go till the Christmas break. We are the gold standard of the club, sitting top of the league and unbeaten in 12 months. This was a wake up call, a potential banana skin avoided and also the most enjoyable match of the season thus far. Roll on title contenders Leatherhead at our fortress TD next week, the dream is alive.
4th XI vs Sanderstead
2-1
Great result and away win from a frankly old school agricultural performance. It was workman-like at best and down right dirty in parts. We were bullied and verbally assaulted by a physical Sanderstead 
team
. There were cards, there were harsh words exchanged, there were some handbags. And that was just the first half. Perhaps giving Bentsy the whistle in the second half after being sent off in the first half was asking for trouble (or an inspired choice) as he quickly took revenge on his abusers.
The last ten minutes, we mounted a rear guard action to cling on to a slender lead. It wasn't pretty, but it was effective. The game ended with Bertie 'never been carded in my life' Bance being sent off for not understanding the five yard rule, but then he was never very good with numbers! DOTD Award goes to yours truly for arriving at push back, lost in the Croydon Jungle. A game to forget but a win to treasure. Mid-table with games in hand.
Ladies XI vs Old Kingstonians 1s
0-1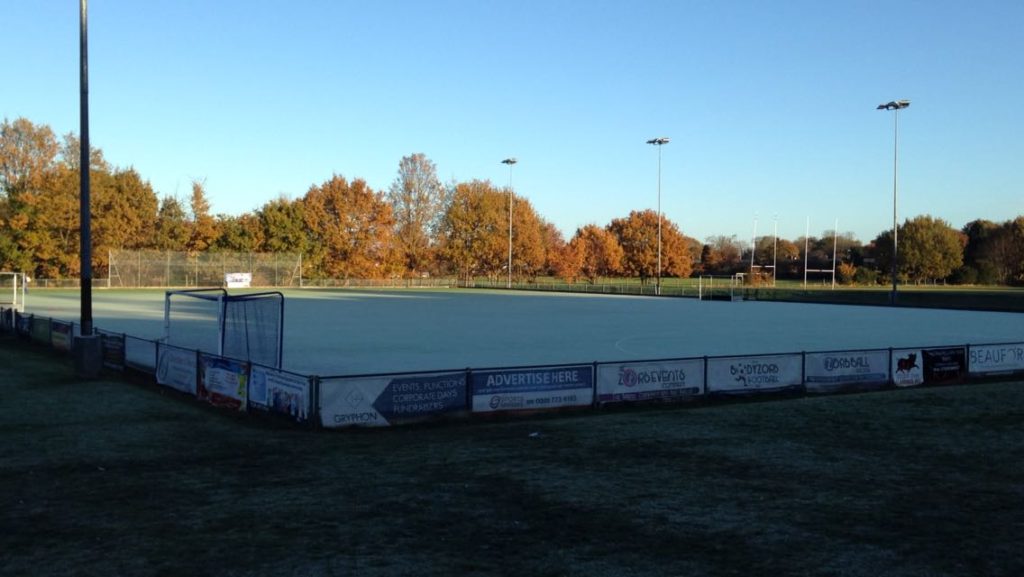 The OC Ladies arrived at the club at 9.00am to find a frozen pitch, with the help of JJ's oversized hairdryer and the team jogging back and fourth, we eventually had a playable pitch.
Luckily we had ex Kingstonian Ali on side who was able to give us some insight around her old team mates. However, it was clear from the push back that the OK's meant business and it was going to be a tight game.  With a late start, most of the first half the score remained 0-0 and it was a evenly matched game.  Our form was off slightly and some basic errors were made.  We conceded a shortie and the OK's snuck in a goal.  It was unlucky as the shot was initially saved by Michele and then Helen on the line but the OK's succeeded in lifting the ball over our sticks and it dribbled over the line.  Gutted.  Our attacking D was icy and made play precarious.  We were hesitant in attacking and therefore put nothing on the board.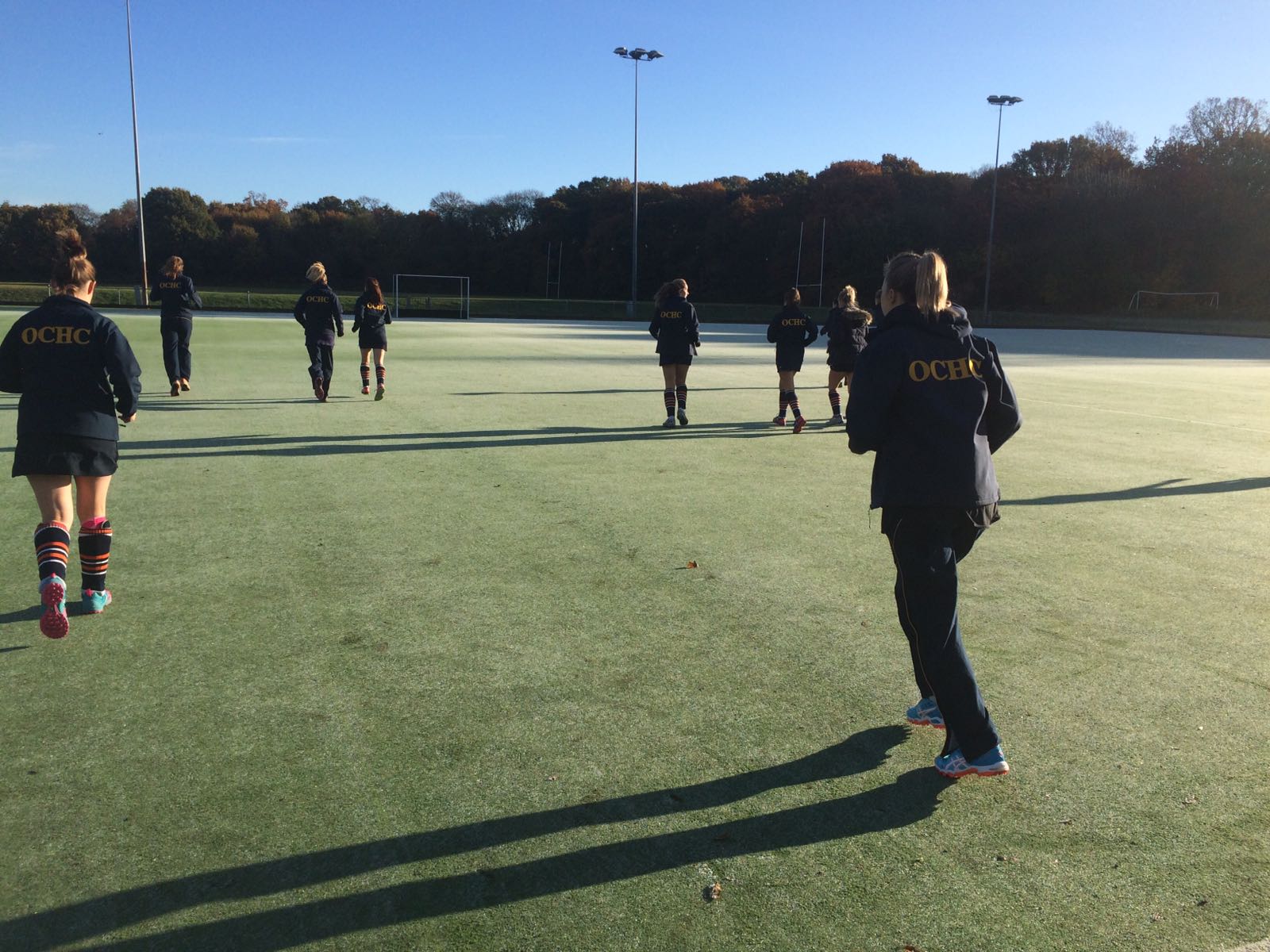 After a positive half time chat we got back on the pitch eager to make a mends.  We worked hard and dominated the second half with most of the play down their end.  We played better as a team and started to string play together.  We made positive movements up front with Richie and Jackie making several attacks on the D resulting in multiple short corners but sadly no goals for the OC's.  A cracking opportunity came from a crash ball in from Nikki in midfield to a deflected stick by Liz but the keeper denied.  The defence played solidly against the OKs forwards stopping their play repeatedly in the midfield but unfortunately nothing came of the turnovers.
The game came to an end to soon for the OC's with the final score 1- 0 to the OK's. The OC's were left gutted but motivated to train hard and make sure we win the last two games before Christmas!
Vamps 
Barnstormers 
CHECK OUT NEXT WEEK'S MENS 3's, Barnstormers and Ladies' FIXTURES HERE!  MENS 1 + 2 HERE!