The 3rd XI and Vamps secured their divisional titles with home wins, the 2nd XI's victories left them needing a win in the final match to take their league crown, and the 1st XI dented Bromley's own title hopes with a 1-1 draw
1st XI 1-1 Bromley & Beckenham
Match report to follow
Trinity Mid-Whitgiftian 1s 0-7 2nd XI
Match report to follow.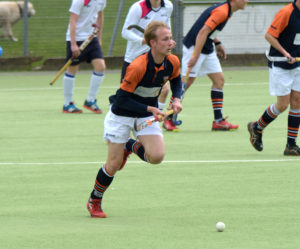 2nd XI 3-1 Wanderers 3s
Match report to follow. A win which leaves us knowing that victory over Bank of England next weekend will secure the title and promotion, baring Oxted scoring in double figures in both their remaining games.
3rd XI 8-0 Croydon and Old Whitgiftian 2s
The 3rd XI wrapped up the Surrey Premier Division in emphatic style with an 8-0 home win over a far from easy Croydon and Old Whitgiftian side. It was fitting that we did so playing our best hockey of the season. Croydon and Old Whitgiftians came looking to attack – a welcome relief after so many sides just looked to pack their defences – and for the first 15 minutes the game was even, despite us scoring twice. A third goal three minutes into the second half knocked some of the stuffing out of the visitors and thereafter we laid siege. David Knapp and Eds Copleston scored hat-tricks as we eased over the line against an opposition who were better than the score suggests. So a third straight promotion for the 3rd XI, and one deserved as their runaway success underlines.
4th XI 1-5 Sunbury and Walton Hawks 4s
Match report to follow
Epsom 5s 1-5 4th XI
Match report to follow
Spencer 1-4 Ladies
Match report to follow. An excellent win which guarantees the Ladies second place and a possible promotion.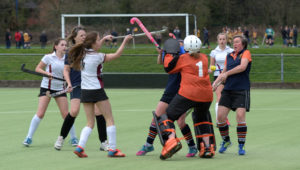 Vamps 2-1 Old Kingstonians 3s
Full match report to follow. A tense win secured the Vamps their second promotion on the trot but it was a hard struggle against a side who still had a chance of securing second place. We were under pressure for long periods of the first half but took a two-goal lead against the run of play, only to be pegged back when OKs scored from a short-corner on the stroke of half-time. The second half was more even but we still had to dig deep to hold on.
From the team – 
OC's Vamps went into this game needing just a point to ensure winning Division 10. OK's also were in with a shout so the competition was on. Early pressure by the Vamps was rebuffed by a capable defence and some good goalkeeping by the opposition. The breakthrough came with a superbly struck goal by Fitz. This inspired the team to press harder and a second was added by Katharine to put the Vamps 2 up. OK's responded with a well taken goal just before half time and the game was back on.
The second half saw sterling work by the midfielders who both set up attacks and fought off the opposition's attempts to get back on terms.It was a nervy ending but the Vamps held on to secure the win and top the league. It was a great team effort with everybody putting in 100% into the game.The oppo were gracious in defeat and this well-fought match was a reminder of why we enjoy this game so much.
Hamstrings 1-9 Reading Superveterans