A mixed weekend with a win and a loss for the the 1st XI but good wins for the 2nd XI, 4th XI and Ladies. There were defeats for the 3rd XI (yes, the 3rd XI) and Barnstormers.
Horsham 1-0 1st XI
London Wayfarers 1-4 1st XI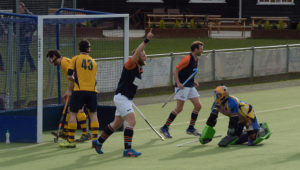 The first and last double header of the season saw OCs make away trips to Horsham and London Wayfarers respectively. OCs arrived at the changing rooms situated in Horsham's finest Tesco Extra car pack in good spirits on the back of some decent results in 2017. After a short walk over the A24, the OCs were met by a determined Horsham side embroiled in a tough relegation scrap. OCs started the game brightly and despite making some good inroads were unable to break down the Jose Mourinho inspired Horsham bus. However, we were perhaps fortunate not to concede as Horsham's centre forward somehow hit wide after rounding Doble following some sloppy defending. OCs went into the break all square despite a number of corners and some decent open play chances.
After the break we continued to dominate the ball but were unable to find the back of the net. Horsham threatened through the keepers 80 yard punts despite our forwards best efforts to show him onto to right foot, and finally broke the deadlock after a counter attack down the right. OCs continued to press harder as Horsham sat deeper and finally got some reward as a professional foul led to a penalty stroke. Murphy, having an uncharacteristically poor game saw his stroke saved by the outstanding Horsham keeper who proceeded to beat the ground in a scene reminiscent of King Kong. OCs pressed for an equaliser as Robinson & Czerniewski continued to cause problems down the right flank, but a number of exceptional saves and the lack of punishment for persistently breaking down play meant OCs were unable to find the back of the net and headed home with a 1-0 loss. Pettitt, in his post game interview with the Horsham Post, added "I can't fault the players, and despite our best efforts we just couldn't break down the well constructed bus."
After a few beverages to debrief on Saturday night we arrived at the impressive Bank of England facilities with captain Harman suggesting 3 points was a must. OCs had a tough task at hand against Wayfarers who were on the back of a very impressive away win at Spencer the day before, moving them further clear of the relegation scrap. The match started evenly but OCs disappointingly conceded just as we were starting to gain a foothold in the game, with Josh 'Virat Kohli' Doble shouldering arms at a poorly disguised slower ball. However, OCs bounced back quickly and Thomas soon lifted the ball nicely over the keeper after some direct play through the middle. Harman J and Thomas continued to cause the back four of Wayfarers problems with neat play on the break but it was not until the next corner where we took the lead. Davies took the rebound from Murphy's flick down neatly and hammered home a left-handed cover drive to open his account for the season.
OCs continued to dominate through the second half but were unable to add to the scoresheet despite Cookie going close on his reverse after some nice pressing up top. The back four kept it solid, well protected by the midfield three as Pettitt made some good interceptions and Gallyer released pressure with his newly discovered ariel. Murphy secured the three points with two corners midway through the second half, going some to way to redeem himself for some indifferent hockey over the course of the weekend. After going 4-1 up, Wayfarers frustrations grew and some agricultural tackling saw them reduced to 10 and then 9 men as OCs comfortably saw out the remainder of the game. All in all, a solid performance and well deserved three points.
OCs head to Milton Keynes next week searching for 3 more points as we continue to press for a Champions League spot. After that, we close out the season with two tough fixtures against Bromley & Beckenham and Havant where we hope to put a spanner in the works of both sides promotion bids.
2nd XI 9-1 Wanderers 2s
Click here for match photos
Match report to follow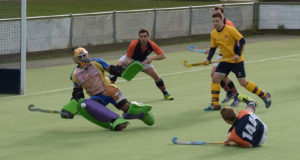 3rd XI 0-1 Sunbury & Walton Hawks 3s
All good things come to an end and the 3rd XI unbeaten league run, dating back to November 2015, was finished by a determined Sunbury side who had given us such a tough game earlier in the season. It was a mixed day, however, as Horley's defeat at Reigate secured us promotion from Surrey Premier. There were few complaints – even Ed Copleston admitted Sunbury earned the win. We started strongly but after soaking up intense pressure in the first ten minutes, Sunbury grew in confidence while our frustration was all to evident by half-time. The only goal of the game came on the hour when a penalty-corner – and Sunbury's first shot – was stopped on the line by a defender's foot and they scored from the resulting flick. We continued to huff and puff but Sunbury held firm and could even have added a second but for a good save from Mike. Lessons learned are that we have to work better at unpicking sides who come to defend and also that we need to score from short-corners. No goals from 16 is simply not good enough. A tough game against Leatherhead, looking to bounce back from two losses which have ended their promotion hopes, next week. But congratulations to Sunbury, who should now stay up.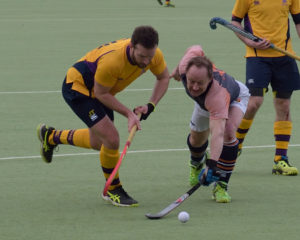 4th XI 17-0 Sanderstead 2s
An oddly unsatisfying rout of a Sanderstead side who are clearly having difficulties and who arrived with only ten men, including one who had probably never played hockey. Three goals early on – two very well taken – gave little indication of what was to follow, and even though we were 6-0 up at the break, the level of the thrashing was still not expected. To our credit, we continued to play excellent short-passing hockey and some of the finishes for the goals would have credited higher sides. To their credit most of the Sanderstead side kept persevering – some even with as smile – but five goals in the last six minutes saw us equal the record margin of victory – in 1928-29 we beat Bromley 18-1.
Ladies 5-2 London Wayfarers 4s
Three goals in the first ten minutes all but sealed the win, but after that it was an even game. Full match report to follow
Reading 7-1 Barnstormers
Match report to follow