A good weekend with wins for  five sides, including a fourth on the spin for the 2nd XI, although the 1st XI were held to a draw and the 3rd XI dropped their first points of the season
Men's 1st XI
Match report to follow.
Men's 2nd XI
Match report to follow.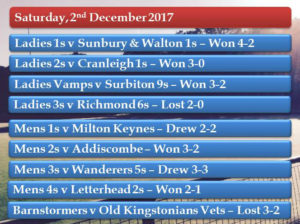 Men's 3rd XI
Match report to follow.
Men's 4th XI 3-1 Leatherhead
Solid 3-1 away win that could so easily have been five or six. With Leatherhead struggling of late, it always seemed a question of how many we would win by. As soon as we went two goals ahead, we seemed to relax and play at their level. After the tight encounters of recent weeks, this seemed an altogether more leisurely affair and we struggled to fire ourselves up in the second half. The goal we conceded in the last few minutes was the only blot on an otherwise workman-like performance.
Men's Hamstrings
Match report to follow.
Men's Barnstormers
Match report to follow.
Ladies 1st XI4-2 Sunbury & Walton 1s
It was a late 4pm match and the light from the day was fading, but spirts were high in the OC's changing room. We scored once in the first half. Ali Fox-Robinson stepped up and quickly took a free hit. She saw Jackie Waite moving into space on the left hand side and passed to her team mate who looked up and moved the ball to Amy Mighalls in the D. Amy smoothly pushed it into the goal. The opposition managed to equalise and we went into half time 1-1. We were under pressure. An enthusiastic team talk from our coach Dan Osborne helped us to focus and we went into the second half determined to play our best as a team. And we delivered.
3 more goals for us followed. Amy Mighalls was on the ball as it rebounded out form the goalie. We also made the most of a short corner. A straight strike by Georgie Syms came back out to Kate Scott who calmly smacked the ball into the back of the net. The final goal for us started with Nikki Springett who passed to Amy at the half way line. She ran into the D with one hand on stick (something she encouraged not to do by our coach but it did seem to work brilliantly on this occasion!). Looking up she saw Georgie Syms who confidently put the ball away. In a momentary loss of concentration, the opposition were awarded a short corner. Michelle Rankin our talented goalie cleared the ball, bit unfortunately onto Alice Durrans's foot. The opposition took a strike at goal and in fact Nikki Springett's stick touched the ball as it flew into the back of the net. So an own goal from Nicki Springett – but as she is such a good player we totally forgive her!
Final score 4-2. To sum up – amazing work rate. Good team play from all of the team: Alycia Collyear, Alice Durrans, Ali Fox-Robinson, Sophie Merrett, Amy Mighalls, Rosanna Hall, Liz Norrington, Michelle Rankin, Kate Scott, Nikki Springett, Emily Stubbs, Georgie Syms and Jackie Waite. One match to go until Christmas – if we play like we did on Saturday I think we can finish the first half of the season with a win!
Ladies 2nd XI 3-0 Cranleigh 1s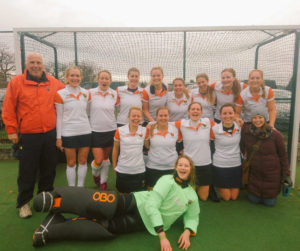 Despite all the concerns that our match would be frozen off again due to the dropping temperatures, the pitch at the stunning venue of Cranleigh School was thawed out and ready for us. Having not played the previous week, we were all raring and ready to get going again and get back to winning! With a strong squad of 13, we started confidently; transferring the ball successfully across the pitch, communicating effectively and supporting each other. Our defence were solid and, thanks to some expert training by Nick, our hit outs worked brilliantly allowing the ball to move effortlessly(ish) up the pitch. We were dominating the game and were rewarded with our first goal from Mel T who picked up a deflection off the goalie. The second goal came not long after that, with a sneaky ball through the keeper's legs by Kara. Although Cranleigh didn't have many opportunities to attack, Evie made a few fantastic saves and cleared them safely out wide, taking us out of any danger zone.
The one two passes continued and we played our own game, despite our tiring legs. The third goal came from a well- rehearsed corner (the German?!); Kara flicked it over the keeper, only for it to hit the cross bar, followed by Sangster sweeping the deflection in with great conviction – an awesome corner!! A well -deserved win, and such an enjoyable match to play. Thanks so much to everyone for all your team efforts and hard work – and thanks to Nick for your training, it really is worth the pain! Also thanks to Martin for umpiring, and his kind words about our awesome play – next time he promises he will be bringing the camera to catch all the action on film!
Ladies Vamps 3-2 Surbiton
Vamps were prepared for a good game vs Surbiton 9's having both been promoted from Div 10 this season. The youngsters together with a couple of token "mature" players gave the Vamps a bit of a shock going up soon after push back. Yasmine equalised but Surbiton were 2-1 at the halfway stage. A good half time talk and jelly babies circulated, the Vamps went into the 2nd fighting, but Surbiton with youth, some skilful play, held the Vamps at bay and narrowly managed to score again but Yasmine with a lovely run down the left side, on second shot at goal, first hitting the post, Amy equalised the score. After a few more tries at goal, once again Yasmine strided down the pitch, managed a powerful shot on goal, reflected off the keeper, but hitting fortuitously Jane's stick to take the score to 3-2. Vamps silently phewed with relief. A good result and a very good game.
Ladies 3rd XI 0-2 Richmond
From a defeat last week and knowing this team were close to us on the table everyone had a good feeling about this match. We warmed up well and were raring to go. The game started off quite slowly and quietly with neither teams gaining much possession of the ball but as everyone warmed up it was all to play for. Both teams made good attacks using the space really well and stick skills to get round players. We seemed evenly matched so knew we would have to work hard to get a goal. We managed to gain a short corner with a shot just missing the left hand post but we carried on fighting. Richmond also gained short corner after short corner, but were unable to achieve anything thanks to the solid defence. We ended the first half 0-0.
After a good team talk we knew what we had to do and did up our game but so did Richmond. We had great passes through the middle of the pitch and made good advantage of the wings when we could. Unfortunately Richmond managed to get a fairly good goal. 0-1. We didn't let this put us off, and continued to make great passes up the pitch which the forwards brought through and we had a couple of great chances. However, Richmond fought back and managed to get a second goal that just rolled in! 0-2. Our game really came together at the end with a couple of more chances but we were unable to finish any of these. The match ended 0-2 to Richmond which was a great disappointment but we were proud of how we played and were pretty unlucky. Well done to everyone who played. Let's play just as well as we did next week!