No doubt, hands-down the biggest and most exciting result in this weekend goes to the Hamstrings, who won their first match all season. Ironically their leader and legend OCHC player Evo was away! It was mostly men's matches dominating the weekend fixtures, with the majority of ladies still on a half-term break. The Men's 2nd and 3rd XI got some great scores in, with our Men's Hamstrings and Barnstomers also bagging three points. Our Men's 1st XI drew, as did our Ladies 2nd XI, who had a tough top of the table match against Barnes.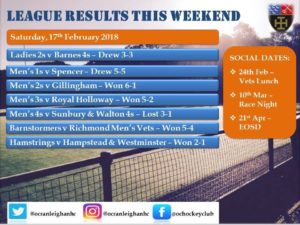 Men's 1st XI 4-4 Spencer
The Men's 1s rued a lack of experience as they surrendered the lead on three occasions during a slapstick 4-4 draw at Spencer.
Reverse bandit golfer Nath Hill scored the opener with an absolute rocket – and it looked like we were going to cruise to a comfortable three points. However Spencer levelled ten minutes later, after some sloppy defending from Hugh Robinson, George Pettit, Ollie Davies, Tom Stratford, Josh Doble, Tim Ming, Ted Croker, JLT, Nick Ripley and Mo. It was 2-1 at half time to the OCs, courtesy of scratch golfer Matt Murphy.
After a half-time pep talk thanks to Paddy Harman, the OC's quickly made it 3-1. Spencer responded again making it 3-2, then 3-3. Alex Czernieiwski (wanabee Camel) then took us to 4-3, but Spencer fought back with a last ditch goal. 4-4 at the final whistle. Very average jokes aside, a disappointing performance. But let's pick ourselves off the canvas, and throw everything at Hawks on Saturday.
Men's 2nd XI 6-1 Gillingham
Match report to follow.
Men's 3rd XI 5-2 Royal Holloway
After a turbulent week on the availability front we arrived at Royal Holloway with far too many old carthusians in the side but in glorious sunshine. Cato and Packers did manage a quick detor around the university campus as both are considering post-grad degrees in navigation. Max Avision and Digby's brother Henry Don made their debuts as we reshuffled the midfield with Grimer and Hunts away skiing. We had beaten the students 12-0 at home, but that wasnt a fair reflection on a game that was only 2-0 at half time, so we knew they would be up for revenge.
Sure enough, RH started the brighter and actually played the hockey we like to, with fluent passing and movement. This didnt sit well with us, as we struggled to maintain possession. Our first real string of passes led to a short that Henry Don stepped up and put away with a low flick- 1-0 up but against the run of play. We continued to dither on the ball and Mikey was called upon to make a number of good saves in probably his busiest game of the season to date. At half time we knew we had to be faster on the ball and that would create space. Almost immediately after half time RH equalised and they were in control. We were flustered and giving away possession far too often to create any outright chances. Moments of brilliance can turn a match and when Ben J picked off a defender, beat 3 players and finished superbly we kicked into life. RH began to tire and we started to switch the ball well, with Knappy finishing off a good run from a tireless Cato. Max Avison then combined well with CB down the middle and smashed the ball into the D for Eds to deflect in and the game was over. Paddy P worked well down the right and won a short which Henry scored and we were 5-1 up after 20 minutes of superb hockey.
A few comedy moments were left to play out as Henry scuffed a short going for his hat trick then won dick of the day for sprinting full pelt into an icy sideline and ending uphead first in the netting. With 2 minutes to go RH counter attacked and a goal mouth scramble was given as a short from the umpire at the opposing end – confusion reigned and it took some time to understand what had happened as RH were awarded a goal as the umpire "gave the wrong signal." No hard feelings at all from us as frankly a final score line of 5-2 was flattering but for twenty minutes of excellent hockey. A banana skin avoided and as results would have it we now need a win next weekend to secure our fourth promotion in four years.
Men's 4th XI 1-3 Sunbury & Walton 4s
It felt like a 4th XI of old reunion with Harmer, Archer and Armo manning the defensive line. The first half was a tight affair with Sunbury pipping it with a goal to be pinned back to 1-1 early in the second half by Armo dribbling a short corner past 2 on-rushing defenders before clinically slotting it home. We were in the ascendency for the next 15 mins and looked like we could pip it but for 2 soft goals in the last 5 mins handing the high flying Sunbury a 1-3 win. MoM performance from Seb in goal (some great saves keeping us in the fray). Thanks to Cookiey & Adam for umpiring.
Men's Barnstormers 5-4 Richmond Vets
Match report to follow.
Men's Hamstrings 2-1 Hamstead & Westminster
Match report to follow.
Ladies 2nd XI 3-3 Barnes 4s
The ladies 2s had a huge game this weekend – arguably the biggest of the season so far against the top of the league. All week the WhatsApp banter showed just how much we were all up for this game – we were out for a win!
Saturday came round and the weather finally played ball – a perfect day for a high intensity game. We started off well and were moving the ball round beautifully. Our passing was strong and we controlled the game from the whistle. The switching round the back worked wonders and while the intensity of the game was high, we didn't panic as we have been prone to do in previous matches. This composure proved to be absolutely vital throughout the match. We pushed into their half more often than they were in ours but they were dangerous on the break. But our defence were absolutely solid and the mids ran their socks off chasing down their attacks. About half way into the first half we were rewarded with a short corner. As usual Kara fired off a big shot but the goalie was on it. But their defence didn't cover Rach who was in the perfect spot for the rebound. It felt like watching in slow-mo as she had so much time to compose herself, look up and make sure of her shot. 1-0 up!! It was to be a ping-pong type of match as about 10 mins after that they broke into our D and slipped one past Evie. However, our heads didn't go down and literally 2 mins later we pushed back into their D and Georgie S scored from another rebound. This was so important for our morale and pretty much broke theirs.
Half time and our talk was basically more of the same. This was our best hockey yet and we really felt the game was ours for the taking. Second half was a bit of a blur but again they equalised and again we came back from a cross from Kara to Bernie. It was 3-2 until 2 mins to go. They were extremely rattled and were warned for some wild tackles that ended up with a few of us on the turf. But we kept cool and held strong. Here's were it all went wrong, they were awarded a shortie, there was drama with a decision taken seconds before a 'goal' and lets just say the end result was 3-3. We were Gutted. You could tell we were so disappointed as we just couldn't celebrate a draw. But on reflection there are so many positives from this game. We played arguably our best hockey of the season, just when we needed to. We fought for every ball and kept our cool. So proud of the team performance, everyone gave it their all and it showed. Onwards and upwards Ladies!