The first Saturday in September (8th) saw the culmination of what has been an extremely busy seven months at Old Cranleighan Hockey Club as we completed a £450,000 project centred on the  re-laying of the astro including the baselayer.
The day started with the first ever games on the new surface, having only been given the sign-off to play the day before. The Ladies section got the pitch off to a good start with a win, followed by the Over 40s, Barnstormers-Studio invitation match and finally the Men's 1st XI got to give the blue turf a try.
However, the pitch celebrations really started in the evening when new pitch was officially opened with a champagne reception at Thames Ditton, by Dudley Couper, the president of the Old Cranleighan Society. The OC Society were presented with a cheque for £100,000 from the Old Cranleighan Hockey Club by Simon Marshall (out-going Club Captain)and Helen Hawes (new Club Captain). This delivered the OCHC's commitment to raise its initial contribution to the new playing surface.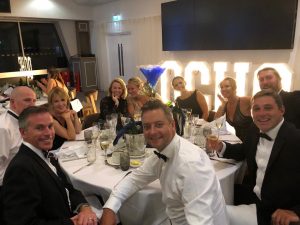 Along with the new blue pitch and its orange surround the perimeter fencing has been upgraded to encompass the grandstand, the drainage has also undergone a major overhaul, new bicycle racks have been installed, as well as creating more robust all-weather parking on some areas of Weston Green Sports Club's car park.
The 90th Anniversary Fundraising Ball followed at Sandown Park and finished late into the night with many Colts coaches clearly forgetting they had to rise early on Sunday. The Ball Committee pulled together an amazing evening, including a three- course meal and live band, but most importantly it raised just short of £10,000 towards the new astro. Thank you to all those involved and those who may have over spent for such a great cause!
We also like to thank all of those involved in fundraising to date whether it be in the form of cake sales, race nights, raffles, cycle events, car washes, hand-prints, summer social stalls, golf days or just handing over your time to make this project finish on time for future generations to come.
We also must say another huge thank you to the Project team of Doug Dodson, Simon Marshall, Cato Choi, Nigel Hawes and Chris Tong who put in far too many hours to warrant still being employed to manage the contractors and fundraising events.
Finally none of this could have been possible without the Old Cranleighan Society financial support and efforts in obtaining a grant from Elmbridge Borough Council. Chairman Martin Williamson should also be singled out for a special thank you as he has been a major supporter of the Old Cranleighan Hockey Club and given up much of his free time.