A generally good week with six wins only dampened by a setback for the 1st XI.  With most of the ladies on a half-term break, only the 3rd XI were in action and they registered an excellent 2-0 win over Guildford 5s.
Men's 1st XI 3-4 Henley
OCs welcomed Henley to Old Cranleighans on Saturday in bright autumnal sunshine. The home side we're looking to go four games unbeaten and make an early statement to the rest of the league.
OCs got off to the perfect start with James Laszlo opening the scoring with a first time deflection into the netting after some neat work by George Pettitt who found himself in acres of space playing the unfamiliar right wing position. The home side soon doubled their lead within five minutes as Matt Murphy converted a drag flick low past the keepers stick. It looked as though OCs might cruise to a victory at this point, but the next fifteen minutes turned the game on its a head. Henley reduced the deficit quickly, converting a rebound after a scrappy corner routine and then immediately drew level after some nice play down the right. Suddenly the scores were level with the home sides good start dismantled. Matters then got worse for OCs as some more poor defending and miscommunication saw Henley score two more in a remarkable first half of hockey that saw the away side go into the break with a 4-2 advantage.
The game was far from over with a full half of hockey left and the home side started well, patiently building and controlling the ball. However, the Henley defence stood resolute and gave OCs little. Midway through the second half, OCs were finally rewarded after Matt Laidman converted a corner rebound into the roof. The momentum swung firmly in the league leaders favour at this point and they were then awarded a stroke after a poor challenge at the top of the D. However, the stroke was missed and OCs continued to trail by one. The home side continued to press for an equaliser but time ran out and it was Henley who took a much needed three points. A solid second half performance, which saw Henley not enter the OC circle, was not enough to rectify a poor first half performance despite the best efforts of the side.
A disappointing and frustrating day, but OCs will look to bounce back at home against Winchester next week.
Men's 2nd XI 2-0 EUHC Gamblers
We travelled to sunny Crystal Palace National Sports Centre to play London Gamblers, negotiating the labyrinth of the huge centre to eventually gather by the pitch. The dated & sandy Astro didn't discourage us one bit, with the many years of experience at fortress TD coming in handy and we wasted no time utilising the massive facilities & running track for a decent pre-match warm up.
The game started with a steady push from Gamblers, but after 5 minutes we broke out of our half and started to press and won our first short corner at the 10 minute mark. A diving save from their keeper deflected onto Henry Emery's foot to turnover but our confidence was growing.
The first half ended 0-0 with a balanced performance from both sides, but we could feel the momentum building as we got used to the pitch and low sun and it was only a matter of time before a good play would put us ahead.
We started the second half very strongly and within 10 minutes had won a short corner. Despite the dry pitch, Jimmy Smith injected a pacey ball into Phillips at the top of the D, Dave Wilson's low flick deflecting of a Gambler's runner's foot to Henry on the right, Umps played us on and an elegant quick one-two with March set Henry up for a cracking shot along the deck into the left backboard to go 1-0 up!
The momentum was with us and less than 10 minutes later (55 minute mark) Whizz won another short corner after an outrageous reverse knee-height trap from a rapid D Wilson flick into the D. Confidence was high and a studious injection from Cookiey into (Rippers) at the top set up JJ with a quick one-two with Whizz but their defenders pushed hard and after a short melee with their keeper it was turned over. This didn't hold us back and we pressed high and won another short corner two minutes later. With the same setup, Cookiey injected a quicker ball into Rippers and set up JJ with a firm shot straight into the backboard. 2-0!
We were on a roll and kept the press on but a few breaks from Gamblers pushed us back into our half and we conceded a couple of short corners. Goalie made some outstanding saves – to compliment an understated De Gea-esque save in the first half.
Unfortunately a few bold tackles later – including an absolute worldie last-man, one-handed diving tackle on the P spot by Rippers – resulted in two green cards. Diplomatic words from March forced a review but the decision stood and we were down to 9 men. A familiar situation but one we had learnt from and good discipline from the whole team allowed us to keep the ball and ride out the 2 minute sin bin, with Goalie providing strong but reassuring support & direction to all…
As soon as we were back to full strength on the pitch, this reassuring support & direction resulted in the most remarkable and awkward banter between Whizz and Goalie ever to be seen in hockey (for most of us anyway) With the unique acoustics of the Crystal Palace Sports Centre in full effect, Whizzer's outburst had all 22 players, referees, subs and spectators in stitches, earning Whizzer Champagne Moment.
A clean sheet and outstanding saves earnt Goalie a well-deserved MoM.
Good discipline and great teamwork got us back to winning ways. We are away again next week in Battersea against Wanderers 1's.
Goals: Henry Emery; John Jauncey
MoM: Goalie
Champagne Moment: Chris Wiseman
Other: Chris Wiseman
Men's 3rd XI  4-0 Reigate Priory
Following his written assurance to Eds that he would be missing game 2 but was then available up until Christmas Hunts was not available this week. Merry Christmas Hunts or did Virge think he wrote last week's match report and invited Hunts to the Saudi Arabian consulate in Turkey, Khashoggi style?
Either way we were a few short this weekend with a myriad of excuses ranging from weddings to misspelt names either confusing the incorrectly named person or resulting in a fit of pique and going to Crystal Palace instead. Thom Phollips you are welcome any time in our esteemed ranks.
The game was late starting, This was not due to the permafrost on the side of the pitch in the lee of the sports centre still frozen from when we were last there 6 years ago with the 2s under the captaincy of Chris Bents. Chris and his brother Jimmy are the subject of the new web site weekly slot "where are they now?".
No, we started late because the fat controller went to the wrong platform south of Reigate when we were north of the town. When he did blow his whistle to commence proceedings we started like a train. Priory were still in the ticket office discussing a group discount whilst the train left the station. We resembled rampant sex starved rabbits being 3 up after no more than 6 minutes. At this point we seemed to forget that the slow train from Portsmouth Harbour to Waterloo keeps stopping and that the fast train that leaves 15 minutes later eventually catches up and in some cases overtakes the earlier slow train.
Lewi opened the scoring with a tap in following a very slick move and 2 trademark sniffs from Eds following up our first 2 short corners put us in complete control. Therein lies the problem. At this point we lit and finished our post intercourse fags and had a snooze. Reigate had some very decent players who began to dominate our midfield. Gaps appeared between our lines. Packers gave us pre match pep talk and told usthat we had to play a close passing game due to the lack of pace up front so as to prevent the game becoming a ping pong match. Accordingly we proceeded to hit long balls and continually gave away the ball and the game became a ping pong match. The pitch was slow and sticky with absolutely no bounce. I can't understand how any club would want a home pitch like this……
The remainder of the half saw chances either end with Rosko making a couple of excellent saves whilst we had the odd shot without really testing the keeper. We were lucky not to have more than the one green card following a period of kendo during the last five minutes of the first half with which Martin would have had a field day. We rose to the challenge of playing Oriental sports with real expertise.
The second period was a very even affair with Rosko and his counterpart making some fine saves. 2 of Rosko's saves were top drawer and at a crucial point of the game, one with his stick and one with his hand being a rebound from another save. The best of the lot by the Reigate keeper repelled CB Van Looshman's loosh so ending his 100% scoring record.
Eventually we scored our fourth with Eds completing his hat trick with a straight strike from our nth short corner of the second half and that was it.
M o M went to Rosko because he gave me a bottle of wine, thank you Rosko and Nats. D o d was a toss up between Hunts, see above, Packers for not keeping up with the forwards, see above and the second umpire, see above. The umpire can be discounted because he and his colleague were excellent so the popular vote goes to Hunts as he went to the wrong school.
OGs 3s next week at TD with a 14.30 push back whilst Barnes 2s play Eds 3s and so with the top 4 playing each other it will be a good game to win.
Great news that we are back to Bede's in 3 weeks, joy of joys.
Men's 4th XI 5-2 Spencer
A magnificent and well-deserved 5-2 win against an understrength Spencer team who seemed intent on arguing every decision. We raced off to a 3-1 lead in the first half and looked set for a comfortable win with Jake and Ollie bossing the midfield and setting up good scoring chances for Charlie, Si Q and Barry. However, third quarter was a different story with key substitutions (resting Jake and Ollie) meaning we sat back and invited them to attack. At 3-2 the game could have gone either way but we finished strongly with two further goals to seal victory.
Barnstormers 3-0 London Wayfarers
A beautiful warm, sunny day saw the honeymoon start to the season continue for the Stormers albeit with a much more competitive encounter at TD against a decent Wayfarers opposition.
The home side started less confidently than their prior record warranted and the middle of the park became a battleground for possession until the second quarter when passing and creative movement clicked and Stormers' pressure enabled them to nab the goals to take control of the game. The free spirit that is Rippers largely directed proceedings from the middle with Closey filling in to play Nick's actual position and (Tingy) Tongy getting further forward than anyone was comfortable with.
Heat is not always a friend to vets hockey and it began to take its toll as the match wore on – in particular Si Duncan's colour began to resemble a tomato as he lost a lot of fluid of indeterminate origin – with Stormers' bench (Ollie's buttocks apart) helping enormously.
Ever selfless Rocco played a supporting role up front as Gerry, Mike and Rippers found the net against a youthful looking and agile keeper who thwarted several other scoring opportunities. The quick scoring ultimately settled the match and whilst the second half was end-to-end as legs tired, Stormers remained in control and Nigel (VP) retained his clean sheet record.
Ladies 1st XI 3-1 Surbiton 4s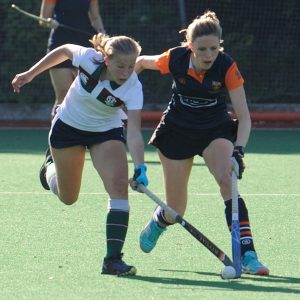 A really impressive win in a friendly against a young Surbiton side who play in a division above us. We took the lead from a penalty-corner in the second minute and controlled the first quarter before Surbiton came back strongly, deserving to go into half-time all squad. But we again upped our game and were good for the win.
Ladies 3rd 2-0 Guildford 5s
Match report to follow.