As the second half of the season starts and promotion beckons, there were some much needed points earned this weekend – one highlight was the Men's 1s going up into the top spot and the Ladies 3rd XI scratching another win on the board. Perhaps the biggest shock of the weekend was getting team photos from the Men's 3rd XI and Barnstormers, a first for both we think!
Men's 1st XI 5-1 Tunbridge Wells
Having started the second half of the season in fine form following their 10-1 victory last week, the M1s looked to continue this form as they travelled to Tunbridge Wells.
The game started well for the OCs as they applied early pressure on the home side, making it difficult for them to find a way through. Despite the lack of attacking threat from Tunbridge Wells, OCs found themselves equally frustrated as Tunbridge looked to adopt a defensive approach, leaving little room for OCs to play in behind. Few chances arose for either side, until Tunbridge Wells were awarded a penalty stroke as the umpires deemed Ollie Davies to have gone to ground and impeded the Tunbridge forward. The stroke was taken well.
Despite going 1-0 down without about 5 to go in the first half, the OCs responded in the perfect manner. Ollie Davies took it upon himself to open the game up by charging forward on an elusive run, gaining the away side their first short corner of the game. Matt Murphy reacted well to the wayward injection, and kept a cool head as he beat the charging runner and slotted home. 1-1 was the half-time score.
The second half begun much more promisingly for the OCs, as Tunbridge started to tire and the OCs pressed more aggressively up the pitch. A sharp restart and quick reactions from Matt Murphy put the side 2-1 up after an elaborate finish over his shoulder. OCs now had a greater control on the game, and in fact squandered numerous chances to put the game to bed earlier; once again, goals were certainly left out on the pitch. As the match entered the final 15 minutes, OCs went up another gear and put the game to bed; some good pressing from Will Phillips allowed him to square the ball to Charlie Lamb, who struck a reverse in to the bottom corner. Matt Murphy then netted a penalty stroke that was won by Jay Harman, as well as a penalty corner, further cementing his place as the league's top scorer.
The OCs finished the game as 5-1 victors; a result which tasted even sweeter following the news Bromley & Beckenham had beaten Spencer 2-1. This means OCs regained their place at the top of the table, and look to continue their winning ways next week.
MOM: Matt Murphy
DOD: Charlie Lamb
Men's 2nd XI 2-1 Camberley & Farnborough
Match report to follow.
Men's 3rd XI 6-1 Spencer 6s
Two weeks in with a 100% record the skipper has already had enough. The job is too taxing so King Arthur is taking a sabbatical and off to try and rival Grimer's tan. Grimer is hastily searching for a last minute deal to ensure he stays top of the Tango league. To give himself a chance he was absent on Saturday, purportedly playing for the Barnstormers, with the general feeling he was in the Chiswick tanning booth again. For the record he was not seen by any of us at TD as the Barnstormers assembled for their home game at 13.00.
Following the skipper's lead a few others are also missing this week including our two most influential midfielders, Dan, m o m, and Hunts who will both be sorely missed. Brutus has also decided to dip out as he is concerned that he will be snatched and put into a curry in one of those dodgy outlets in the locality of salubrious Kennington. No doubt Packer's children will be throwing their toys out of the pram mid morning Saturday when they realise he has nicked one of their scooters, his chosen mode of transport last year on the Beast from the East Saturday. The forecast is for a balmy 9 degrees so no need for Ports tights as it will be toasty enough.
As Saturday's go it was a good one. Our best performance of the season, OGs losing and the 1s going top of the Premier – they need a maximum of 15 points from the 27 on offer to assure themselves National League hockey next season with the probability that 12 will be enough.
For the second week running the best player on the park was the oppo's keeper who kept things in check in the first half but was still unable to prevent Hugo from putting us up with his first touch after 20 minutes when, I hasten to add, coming on as a sub and the Fox in the Box Alex Don making the most of a huge slice of luck popping the ball home, Virge like, from a foot ( sorry, I am exaggerating as regards Virge's goal scoring prowess) as the speculative ball in to the D crashed onto a post back onto his stick. Needless to say you need to be in it to win it. Please note the 2 Don's have claimed copyright on this section of the report.
In between the goals Spencer in a rare attack sneaked an equalizer to ensure that Ross did not touch the ball at all in the first half with the queue of Spencer players at the far post greater than the average queue for the Saturday 11.31 515 bus from Winter's Bridge Thames Ditton to Kingston.
The half time chat was quite shocking as the King came up with a game plan. Even more remarkable was that we stuck to it and utterly pulverised Spencer knocking in 4 via West Sussex Eds, 2, Knappy and another from The Fox, again from a foot, his own foot. Ross did touch the ball to put the record straight with a magnificent diving save to divert the ball close to the corner flag to spare the blushes of the Spencer forward whose shot was going 4 yards wide.
We did snatch one green card from Virge's pocket for not subbing on the half way line the offending distance being not much short of the average distance of Virge's goals in what was a very good natured match against a Spencer team who came to play hockey and were magnanimous in defeat.
D o d was awarded to Lewi bowled middle peg by a fizzer when trying to take the ball of a length on the stumps with a heave to leg. Had it come off it would have been interesting and probably fatal for someone although his first time switch hit in the first half was quite magnificent. Martin would have the been the cast iron candidate for his run to the half way line as we scored our 4th to ask The Fox " Please answer this honestly, did the ball hit your foot before you scored ?". One has to remember that The Fox is a Carthusian. His response was worth the entrance fee, "I don't believe so" or words to that effect..
A tough trip and match looms this weekend with it taking longer to find a parking space than the journey and match combined so scooter and train a wise way to travel. Another 3 points required.
Men's 3A XI – No match
Men's 4th XI 2-3 Surbiton Sparticans
Match report to follow.
Men's Barnstormers 2-0 Wimbledon
A strong Barnstormers squad welcomed Wimbledon to TD on Saturday for the return fixture having roundly thrashed the visitors 13-1 back in October. This time we faced a much more robust opposition and, missing a few regulars ourselves, two very different lineups took to the field. Although it was a low bar, Wimbledon provided a much sterner test for the Stormers and, despite dominating possession, we found it difficult to gain full control and turn sustained attacks into goals.
With a healthy squad size notwithstanding Toby pulling up lame on Friday, Kirky being unable to fill in as he kit was taking a day trip to Alton Towers(?) and Closey's participation being limited, we made good use of fresh legs from the bench throughout (well-managed by the vociferous Closey) with our all-South African front line of Poen, Stu Heiden and Graham Grace all putting in strong shifts.
So it was that we went into half-time scoreless but well on top and confident of coming away from the opposition 25 with something. Eastie breaking into the Springbok attack off the bench to have probably the best chance of the half in a one-on-one that just wouldn't fall for him. Graham was also manhandled in the act of shooting and having a legitimate claim for a stroke but with no joy.
The second half brought more of the same control with patience and composure with Cato, Jody and Grimer exerting more influence as the game wore on and Stu Wareham, Tongy and Darren putting the front line into good positions. Having revised our routine from a first penalty corner attempt, Tongy stood up to crash the second low into the bottom corner to beat the keeper for pace and open the scoring.
The game then got a little more stretched as Wimbledon began to tire and looked longer but Heardy shepherded the defence masterfully all day and they never really threatened to break Nigel's clean sheet record which, at the time of writing, now stands at 5 games.
The best open play chance of the game then befell Graham (on Stormers debut). After great build up he was put through clearly by Poen at the top of the D. Readers, suffice to say Graham will be pleased to learn our games are not video recorded!
Not a side to rest easily once ahead, and having to defend a few shorts ourselves (Foxy's best tackle of the day being harshly judged too heinous) nerves were calmed when Stu Heiden deservedly finished another great team move to slot home our second and seal the win.
Other than his sideline management Closey's most memorable contribution was substituting on from the wrong side of the pitch (despite having cleared it with Cooky) and having a walk of shame back across.
More tough games to come – and mostly away fixtures – for the Stormers as we begin the season ending run in.
Men's Hamstrings 0-7 Hampstead & Westminster
Match report to follow.
Mixed Team 5-0 Surbiton (Sunday) EHL Cup
Following some good club results on Saturday, the OCs Mixed XI regrouped as they looked to progress into the next round of the cup. They began their Sunday in sunny Surbiton, celebrating Helen Hawes 20-something birthday.
The strong squad got off to a good start, displaying great passages of team play and fluid passing. Charlie Lamb and Ollie Davies did well not to send the side a couple goals ahead, and Georgie Syms fired just wide of the post from a passage of play that was destined for goal of the season. Alas, it was not to be.
Eventually the OCs managed to take the lead, and entered the half 1-0 up. Special mention to a spectacular Nigel Hawes save as he charged down an aerial.
The second half saw OCs run away with the game: Cookie grabbed himself a brace, Will Phillips missed a string of deflections, Ollie Davies got tackled by his own feet, and JFK was unaware we scored at all. Good work all round.
All in all, another great result for the OCs Mixed XI! We look forward to the next round, which will 100% be at home on the 17th Feb.
Ladies 1st XI 0-3 Wayfarers 4s
Match report to follow.
Ladies 2nd XI 3-0 Wayfarers 5s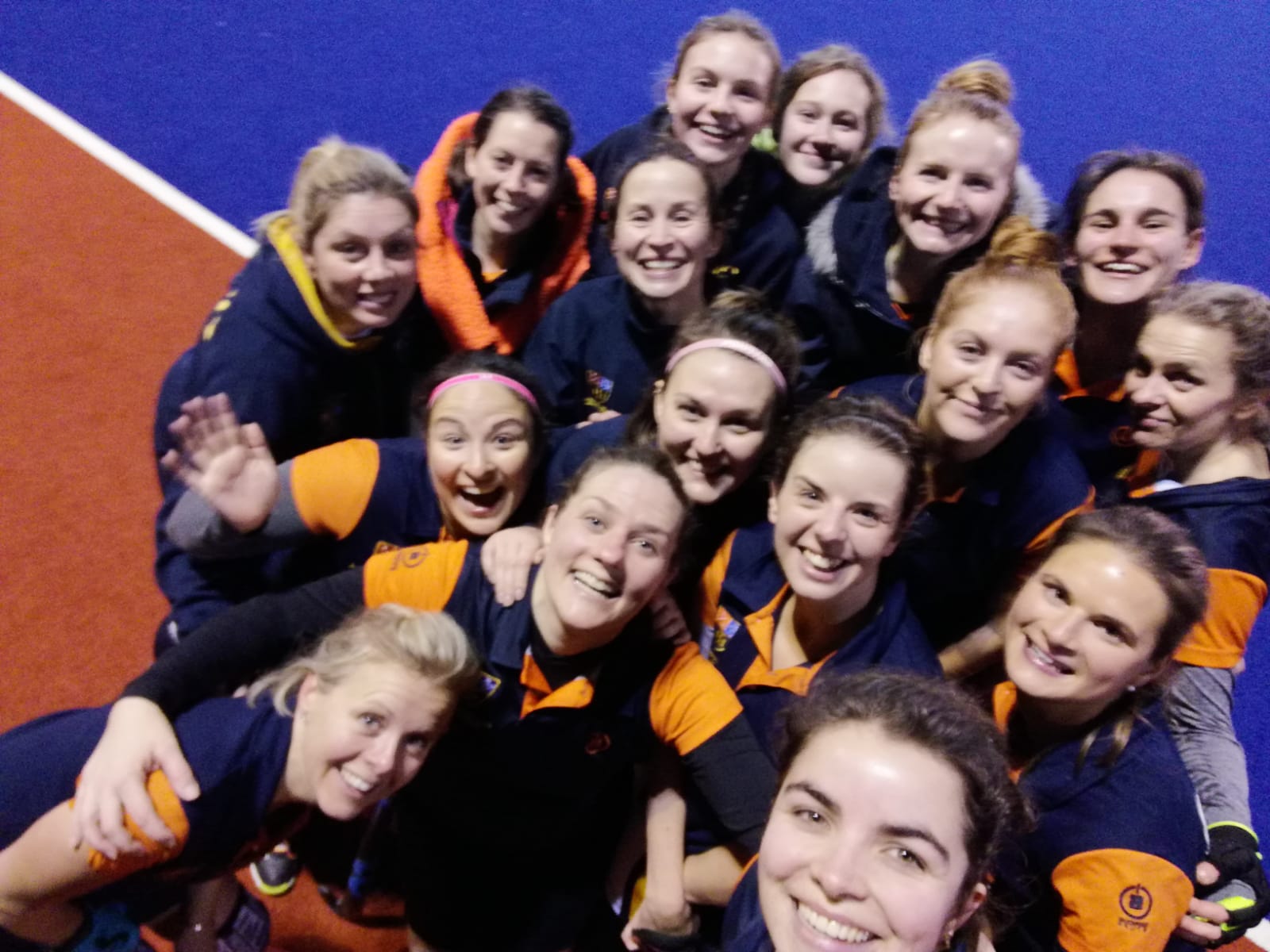 Following an excellent motivational email from Ellie and a great warm-up, the OCHC Ladies 2 were ready for the first league game of 2019 despite the late push back.
We started strong, moving as a team in defence of their push back. With persistence, working the press and keeping the pressure on the opposition a goal came with a lovely one-two move from Hannah C and Kara. We kept our concentration after gaining the 1-0 lead and played attacking hockey to win several penalty corners which, despite best efforts, were not successful in converting to goals. An interception from Amy R who drove up the middle and sent an excellent through ball to Kara who smacked it in past the keeper to make it 2-0 for half time.
Some positive words from our captains at half time meant we kept our composure and structure for the second half, having most of the play in our attacking half. Another goal came from Hannah C to make it 3-0 at full time, a good win and well deserved sauna beers post-match!
Ladies Vamps 1-1 Kenley
Kenley were second in the league and having drawn with them before Christmas, we knew they would come out hard. We stood up well, helped by the usual excellent umpiring from Lou and Chris, resulting in 0-0 at half time.
In the second half, a few forays into our circle resulted in short corners. Kenley came out fast, so on our third, a quick slip to Alina gave her the opportunity to strike beautifully into the right corner. Kenley were a tad riled.
Unfortunately their constant attacking finally resulted in a goal, ending the game 1-1. Probably a fair result.
Our defence were really excellent, tirelessly closing them down time and again. Kim had a cracking game, hassling and running down balls on the forward line. Now to get on Lou's good side, she should play a long standing Stoddart family game – GTL – guess the length – a tape measure is all that's required (we have very deprived children) You can play the game guessing any length, but all Kim needs to focus on is five yards. Kim, I will be personally testing you next week. Our youngsters played very well, but my player of the match goes to Alina, for:
A. Assertiveness – giving her Mum Jo very specific instructions at the beginning on how we must win this game.
B. Bravery – constantly tackling probably the most scary player I have ever seen.
C. And of course scoring a great goal.
Let's win next week, ladies!
Ladies 3rd XI 3-1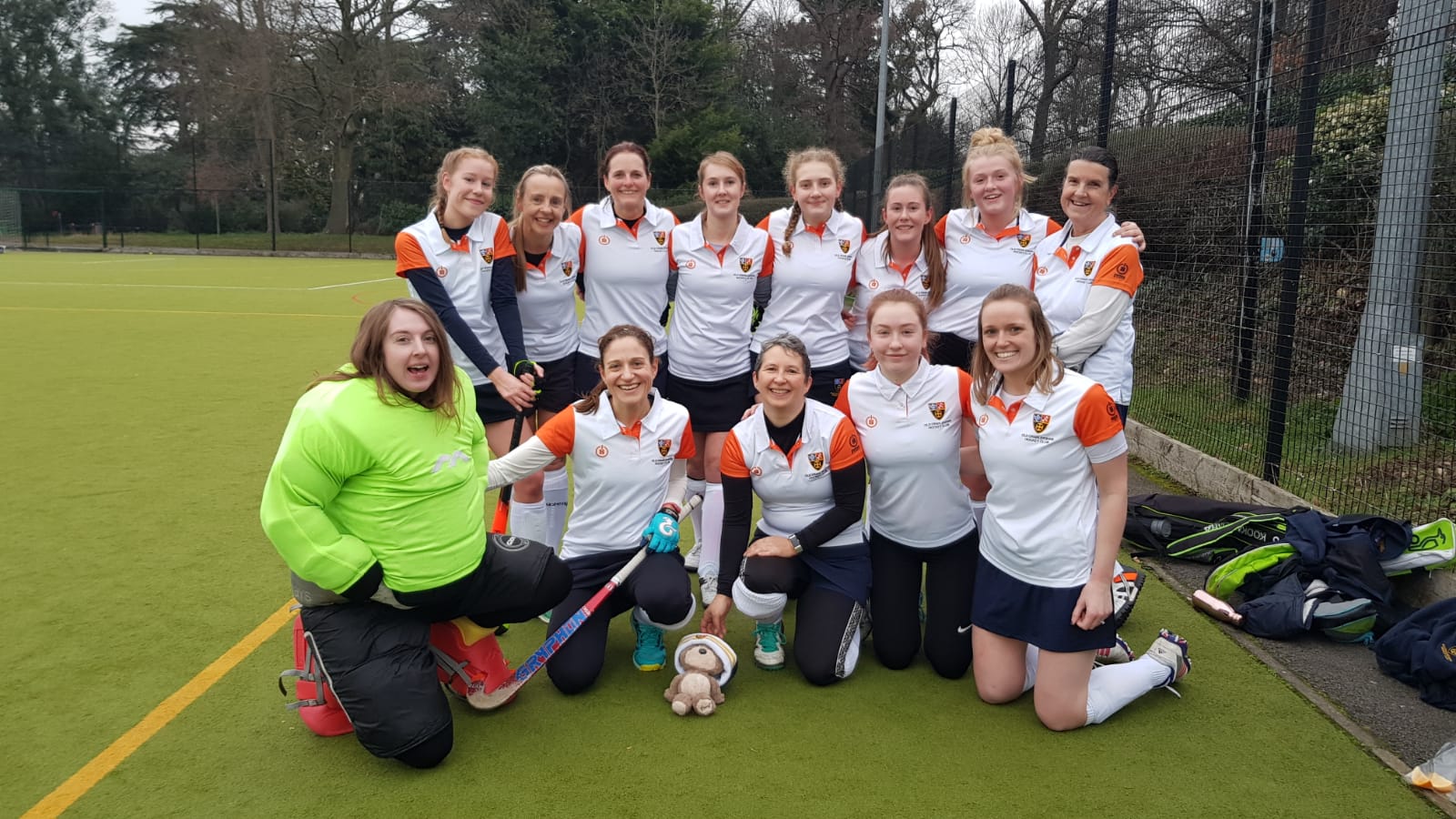 Match report to follow.