A weekend where the 1st XI regained top spot, the 3rd XI's title push wobbled, and the 4th XI put themselves in the hunt for promotion. The ladies' league campaigns are on their half-term hiatus.
Men's 1st XI 2-1 Banbury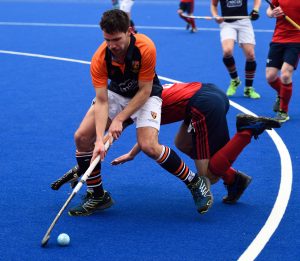 Buoyed by the heroic cup success of Wednesday night, the Men's 1XI welcomed in-form Banbury to TD. OC's were well short of their full squad with league top scorer, Matt Murphy injured, and other key members away. Therefore, it was going to take a real squad effort to overturn a good visiting team.
The OC's started slowly and the opening encounters were cagey. However, OC's did manage to carve out a few chances and Banbury's goal keeper showed sharp relaxes to deny Charlie Lamb his 3rd goal of the season. Following this, Jack Smart and Ben Wilson found themselves on their reverse side and ballooned strikes high and wide. Banbury continued to press high and looked dangerous on the counter attack, but failed to threaten cup hero Doble in the first 25 minutes. Midfielder Alex Czerniewski then succumbed to an ankle injury which meant OC's thin squad was stretched to provide cover in key areas. Despite this, a well worked corner routine gave the home side an advantage after Jack Smart's intricate finish. OC's failed to capitalise on their advantage and soon after they had taken the lead they found themselves level again. A crash ball through circle eluded the recovering midfield and defence to gift Banbury a simple finish. Despite claims the player had used the back of their stick the goal stood. 1-1. The first half petered out and OC's knew they would have to improve in the second half against a well-organised Banbury team if they were to take all 3 points and close the 1 point gap between themselves and Spencer.
The OC's second half rally started in disastrous fashion with Skipper and full back, Ollie Davies, suffering a hamstring injury which meant the team had to play the second half with no subs and a make-shift defence and midfield. Banbury began the second half in control of the ball but failed to make their possession tell as the OC's defence held firm and no recognised shots were recorded on Doble's goal. The cagey nature of the game continued with both team being reduced to 10 players through mistimes tackled. But in the 60th minute, quick work by Jay Harman on the left, won OC's a short corner which was duely dispatched by Will Phillips. 2-1 with 10 minutes to go. OC's continued to hold firm under pressure and were indebted to Hugh Robinson for an outstanding goal line clearance off a late penalty corner. The last few minutes were played mostly in the Banbury defensive corners as OC's managed the game well to secure a huge victory.
The win means that the team return to the top of the league as Spencer dropped points away at Indian Gymkhana. We travel to Bromley next week, another league challenger, hopeful for another win to cement our place at the helm of South Prem Hockey.
Winchester 2-2 Men's 2nd XI
Match report to follow. Not really, the 2nd XI never manage to submit one.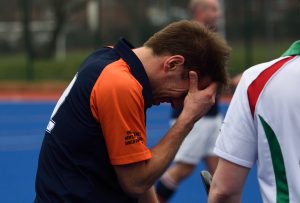 Men's 3rd XI 2-2 Barnes 3s
Waning Powers, unripe fruit, tennis gate or a cocktail of all three? Waning Powers could easily be a moustachioed 1980's surfer or ageing tennis coach whose photo, with a big smile emanating from behind fish tank glasses and surrounded by young tennis players, adorns the wall of a tennis academy in down town Los Angeles.
The week just gone will go down in the annals of the OCHC history as one of the weeks of the 90 years and the result on Wednesday as the best hockey event of all time. As our 16 blue and gold warriors avoided the carnage from Nazaré Mega Swell our friend Waning Powers wished he were elsewhere, complaining of being battered by the elements when this was only meant to be a warm up for the Rip Curl Pro Bells Beach and the Billabong Pipeline Masters.  Wednesday also saw the effects of an unseasonably cold 2018 Spring in a batch of unripe grapes finding their way into some of the drinks served to the 300 strong crowd that witnessed the unfolding of the EHA last 16 cup match. Conspiracy theories abound as we all piece together the extraordinary goings on of the last 7 days. A week is not only a long time in politics.
After last week's loss against the now rampant OGs 3s we had to put that behind us and grab this game by the proverbials. We made the huge mistake of expecting to win rather than really wanting to win. Barnes 3s came with a plan to help out their 2s and although it should not have worked, it did. As half term arrived the Chiswick Leonard DiCaprio, of "Catch me if you can" fame, felt it was time to have a holiday, Diggers morphed into Henry and Ports has suddenly appeared playing for Oxted 1s. How many of him are there ? Hunts was back, a different man but still bald, and Wiso and Rippers junior appeared in our ranks.  Sadly Waning Powers decided to turn out for us too in the form of yours truly as we were more generous with the spurning of chances than when Jock is at the bar. This came back to bite us as we squandered a 2-0 lead given to us by the now prolific Al Packham and a Henry rocket from a short corner as we doubled our post Christmas short corner success rate. Unfortunately we did not have the same conversion rate as Barnes, 100%, who popped home their one and only corner in the last play of the first half. The equalizer came 10 minutes into the second half. The highlight of the first half was their player, AJ, stomping off 3 minutes before half time having received a yellow. Perhaps he did not realise that a yellow was only a 5 minute binning. One sensed that he had a fit of pique at the umpires which is curious following his having umpired our pre Christmas match v Barnes 2s.
Battered though they were Barnes held firm. Our approach play for 60 minutes of the game excellent whilst our last pass was, in the published wise words of Martin, "pig swill" on too many occasions. Our short corner routine had a similar quality and whiffed of Hunts from 10 days ago.. The first 16 games of the season saw us sneak three of four wins when we could easily have dropped points but on this occasion our luck ran out. Our safety net has gone and quite simply we need to win our last 5 matches to avoid all having a Hunts like experience at the end of March. Thank you to Martin for umpiring although your magenta hair is not quite right for your complexion. Six days to lick those wounds into shape before Old Reigations appear at TD.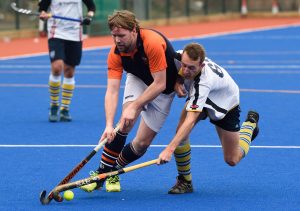 Sadly we are two Dons down this Saturday as at 1100 there is the enticing prospect of Henry Don & O Taylor vs A Rossier-P & Hector Don in the 2019 Amateur Rackets Championship at Charterhouse. The winners are up again at 1330 v the third seeds A Gourlay & T Shields. There is therefore a prospect that Henry could be at TD by 13.00 if the last of the Don tribe prevails. Quite why Diggers and Alex are not taking part is beyond me and must be a let down for the family. Alternatively there may only be two Dons as who has seen 3 or 4 Dons at the same time?
For those who stayed to watch the 1s we were treated to their beating Banbury with another gutsy, but far from pretty win, to put them 4 points from promotion to next year's national league. The troop of Waning Powers that TR had assembled for the vets lunch went home happy and mostly very pissed. Undoubtedly the last 4 days belong to our magnificent 1st XI and not any of the incarnations of Waning Powers.
Men's 3As XI 3-0 Guildford Shadows
An impressive all-round performance against a young and able Guildford side which we always looked likely to edge even after a goalless first half. Two goals inside the first ten minutes after the break ended the game as a contest although Guildford created some chances in the final quarter. The match was sealed with a crisp strike from the only short corner of the afternoon ten minutes from time.
Trinity Mid-Whitgiftian Men's 3s 1-7 Men's 4th XI
Match report to follow
Hamstrings XI 2-7 Indian Gymkhana Grand Masters
Match report extremely unlikely
Ladies Vamps XI 1-0 Ladies Martlets
Those pitchside were really impressed with the Marlets as they push the Vamps all the way and on another day could have come away with more. The future is really bright for them, and it took an excellent first-half goal to separate the sides.