Aside from the 1st XI we beat the freeze with a mixed bag of results
Henley v Men's 1st XI
This match was postponed because of snow at Henley. All but one of the South Premier games were also cancelled.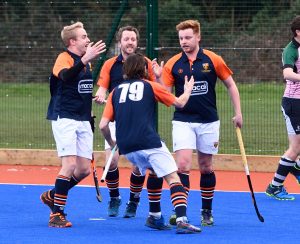 Men's 2nd XI 2-2 EUHC Gamblers
Click here for match pictures
A disappointing result against a side who came into this match rooted to the bottom with three points from 14 matches.  But in fairness they play much better than their league position suggested, going ahead after three minutes and retaining the lead into the break as we failed to take advantage of the lion's share of possession.  The second half started in the same vein before we gradually started to assert control, scoring twice as well as having three disallowed.  Within a minute of taking the lead we gifted an equaliser to the Gamblers – the less said the better –  and both sides had chances to secure the win in the final minutes.  A scrappy game, not helped by some indifferent umpiring. So tight is the league that had we won we could have gone third; as it is, if sides around us win their games in hand we could find ourselves eighth.
Men's 3rd XI 4-0 Reigate Priory
Click here for match pictures
Dick of the Day is something that the vast majority of hockey players wish to avoid at all costs along with sadomasochism. A few interesting characters however choose options that few of us would entertain. Clarkey asked Knappy for a lift at 08.30 from the usual place. At 08.35 the skipper sent a note saying Clarkey had just realised he had woken up in a strange house in London and so the usual place option was irrelevant. Some weeks ago rent boys infiltrated the match report and here they are again. Straps and restraints removed, King Arthur tracked down our super hero and programmed his satnav for TD. Regrettably hockey kit and contact lenses were still in south Surrey having a day off. The former was replaced by some general cast offs located but the lack of lenses saw us playing with a formation of 4, 4, 1 and a Common Noctule.
Not that Clarkey was the only contender for the award. Ports was peeing in the corner and The Bearded Don was a typical school master in reprimanding the umpire for not having spotted the other incident in the playground moments before. Each put themselves on the fringe of selection with their yellow cards. Helen Hawes mentioned afterwards that her view was that a peeing Ports was in yellow territory. I wondered who that was with binoculars in the clubhouse. Ports card was not for peeing but as a result of a well practiced long barrier on the backline that has been honed over many cricket seasons by the RP forward. Man of the Match went to our right back, the other Don, http://www.packagefox.com/wp-content/uploads/2010/12/fox-in-the-box.png . The award becoming a family event.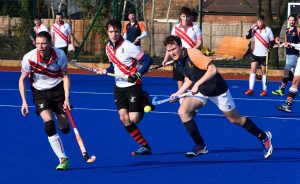 Oddly Ports was probably the most influential on the pitch but it was a shame that he was wearing a number 4 white shirt of RP 2 although the indiscipline of the Irish rugby Porter at the end of the 6 nations match restored the family name.
The game was a tight affair until the last quarter as our 14 v their 12, reduced to 11 due to early hammy trouble for the full back, used the advantage well. Lewi finished a good and well worked move with a tomahawk that Knappy could only and does dream about but one goal was not going to be enough against a well organised and combative RP team who must have been surprised as us that the game was on. Eventually their resistance was overcome with a second top move, Eds deflecting home a top D pass that took out their excellent keeper before 2 late goals from Knappy, a deflection from Looshman's pinpoint pass and a stroke earned by The Chiswick tanman with his 8th shot of the match, all coming in the same 25 second sequence, finished off the game.
As you were at the top as each of the top 4 won making next weekend, with games between us and OGs in third and L. Eds, 4th, playing Barnes 2nd, pivotal. Big games for big players.
Rumour has it that Hunts' Christmas break has come to an end. However, assuming he does not end up in some strange house in London, Clarkey is up in Leeds. No doubt this year's freshers and the second year students will be wondering who "the f is the sad bloke who left uni last year who can't see and is wearing a studded dog collar". David Knapp
Men's 3A XI v Royal Holloway
For the third weekend running poor Keiran spent a week getting his side together only for the opposition to cry off, this time at 10.30am for a 1pm match. Words fail us.
Spencer Harlequins 0-1 Men's 4th XI
A tight game against Spencer in the frozen wastes of Battersea saw us hold on to a 1-0 away win which puts us just two points behind second place Leatherhead who we play this coming weekend in a six-pointer at Fortress TD. It was a strange sort of game on a slow pitch with few clear-cut chances that had a sort of inevitability to it after similar recent 1-0 victories against Spencer. Seb returning to the side in goal barely touched the ball the whole game, as we scrapped it out in midfield and yet somehow despite some promising attacks we couldn't seem to convert our possession stats into goals. Still, a win's a win. Big shout out to Benji who had a storming game at left back!
Old Kingstonian Vets 1-6 Barnstormers XI
Barnstormers returned to winning ways down the road at OKs with an emphatic 6-1 win on Saturday. Further changes to the squad saw debuts for Chris Wiseman and Jimmy Smith and a welcome return from Doug Dodson – who was able to show he had lost none of his pace and sure-footedness following a four-month absence.
Unfortunately OCs again started the match slowly after a poor (but much needed warm-up) was truncated due to overunning matches and fading light on a smart new pitch with no floodlights (very little compares to TD these days!). OKs are a good side and we had only just managed to squeeze a 3-2 win in the home fixture earlier in the season. Their troublesome midfield was able to retain possession well and it wasn't until a good 10 minutes into the match that we were able to adjust to the pace and assert our own presence on the game. The middle part of the first half was potentially our best phase of the match. We held possession comfortably and transferred easily from side to side, Wizzer and Cato directing affairs with Gerry and Jimmy stretching tee heir legs to find space up front. The pressure turned into goals – three in fairly quick succession to put us in a commanding position in the match. A deep bench (eschewing the new club bench coats for fear of offending it's rightful owner, Eastie) meant that the forward line was able to work hard and rotate frequently. Kirky came on to show some deft touches and Stu Heiden added pace and flare as waves of Stormers attacks continued to build.
More of the same in the second half. Closey and Cato filled in at the back due to Doug's early exit (he hadn't played since the 2018 tour!) with Mike adding an attacking look to the left flank. When we clicked there was some fast-paced, well constructed hockey which led to further chances and goals. We couldn't seem to get the run of the umpiring, however, with only one penalty corner all game whilst conceding half a dozen at our end and, somewhat inevitably, OKs were eventually able to score from one much to Nigel's annoyance. With plenty of chances arising, Gerry and Kirky each bagged a brace with Whizzer and Gav also scoring. Gav also demonstrating some old-school tackling, which then went to his head and worryingly he popped up in our own 'D'. Maybe he was there to teach Cato who momentarily seemed to lose the use of his stick, rugby tackling an OKs forward to the floor. Plenty of other chances were created including a rocket shot from Jimmy that the OKs keeper will be nursing the bruise from for some days. All in all, a satisfying 6-1 win.
Sunbury & Walton Hawks 0-1 Ladies 1st XI
The Ladies 1s team arrived at a cold pitch determined to build on their great performance from last week. George Pettit kindly agreed to act as manager for the match and provided a motivating talk to get the team focused and ready for the match. OC's had the first push back and put the pressure on from the start. There was a lot of play in the oppo's defensive half and OCs had a few chances from entries into the D. The first goal came halfway through the first half from Georgie Syms from a short corner and straight strike.
Halftime brought some more useful points from George Pettit and the team endeavoured to put this into practice in the second half. The oppo increased their pressure and came back fighting. OCs were under pressure but managed to retain their lead to give us the win. Special mention to Michele Rankin, our goalie, for some great saves in the last few minutes.
Ladies 2nd XI 1-2 Barnes Ladies 4s
Even without the freezing wind, we knew it wasn't going to be an easy match – Barnes are generally a tough oppo for us, and today was no exception. However, the solid (some may say interesting?!) tunes providing the soundtrack to our warm-up meant we got off to a strong start. The first few minutes of the match saw some great pressure in the attacking 25 but frustratingly was followed by a break-away goal by Barnes. The next 10mins continued in a similar vein with OC's maintaining pressure but a lapse resulting in another Barnes goal somewhat still against the run of play. 2-0 down – certainly not the start we'd planned. The remainder of the first half can only be described as 'panicky' as we found ourselves being drawn more and more into Barnes' game, and losing our usually solid, steady teamwork.
At half-time, we were set a clear objective by Nick – go out and win the second half. To do that, we needed to calm down, win the 50/50s and generally revert back to playing our own game. We definitely did that and following a cracking run to the baseline by Sophie, the ball ended up flying into the D where Kara smashed it into the goal with a Wimbledon-worthy volley. We were back in the game. Evie kept us in the game with a cracking save from a Barnes penalty corner but unfortunately, despite some great runs by Ellen and some solid defending by Lizzie (POM) and genuine desire from the entire squad to at least walk away with a draw, it wasn't to be and the game ended 1-2. The result meant Barnes drew level with us in the league (on points), but our goal difference keeps us just above them (small victories and all that). Onwards and upwards to Kenley away next week…
Old Kingstonian Ladies 4th XI 4-1 Ladies 3rd XI
Report to follow
Epsom Ladies 5s 0-2 Ladies Vamps XI
The 4pm slot away on a freezing winter's afternoon is not anybody's favourite game but 13 valiant Vamps turned out for what might turn out to be a crucial win. A surfeit of midfield and backs meant that the team line up was rather unusual but everybody was flexible and positive about trying to make it work. The plan was to use Pam L as the spearhead of our attack and a determined
start put immediate pressure on the opposition. It worked and we were duly rewarded with the lead when Pam scored an early goal. The first half saw the Vamps have the majority of the chances and Hannah was not troubled greatly by their attack. Their only real effort was rightly ruled out by the umpire.
The second half was not very pretty and the opposition tried hard to get back on terms. There were some nasty injuries to both teams from lifted balls. A tactical swap with Sophie moving to the forward line resulted in her scoring a second goal. More pressure from the opposition but the defence held firm and the Vamps held on to claim the match. Thank you to everybody for your valuable contribution to a well-contested victory!