David Knapp casts a (sober) eye over the end-of-season dinner
As our own Imelda Marcos addressed her loyal and eager subjects sitting quietly in the stand with Kim Jong-un holding an umbrella to protect her from the blustery conditions it was time to begin the jingoistic self congratulations, well, carry them on from when they started on that famous February Wednesday evening.
A telling statistic to evidence the health of our august club was that the number of attendees in the specially constructed marquee doubled, yes, doubled the number of subscription paying club members we had 8 years ago. We did of course then have recidivist non payers of subs but that is another story.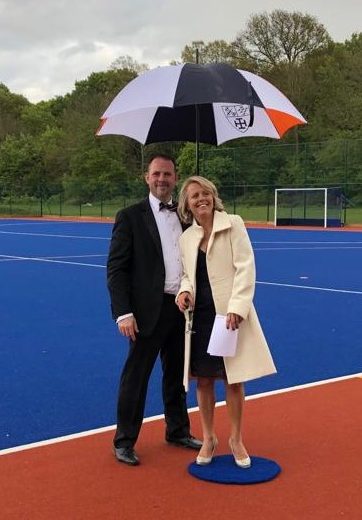 We were promised that there would be no speeches by the man whose wife, Kelly Adair, did not come to the dinner due to not liking Gavard's speeches. He must have practiced his 10 minute effort over breakfast or dinner and, had we had a spoiler in the weeks before the number of those attending would have been down to 20. To be fair to Gavard he did say there were no prizes for speeches and boy, was he right.
Half way through the "speech" Closey somehow found himself handed a yard of ale which he made into a 10,000 metre of ale allowing Gavard more time to chunter away. Fortunately Kim Jong stepped in to finish it off.
Many awards were given but the best was near the end with the biggest trophy of the lot, both in physical and achievement terms was presented, the Southern Premier league winners trophy, 25 years after we set our stall out to gain National League status during which there were many highs and some lows. Other trophies were presented, dropped and broken.
Sam Naismith's essay was read out to emphasis the strength in our ladies section, a clever way to avoid giving a speech.
In between the two sets of awards we ate a top meal courtesy of George and her loyal team which again showed how the standards of the catering at the club have heightened along with the sporting achievements. Thank you George and to those who helped you cook, serve and clear up.
There were some casualties during the evening with Gerry sporting his orange dress shirt and seen at 1.30am on Sunday putting out traffic cones from the back of a yellow lorry with a huge yellow flashing arrow on the inside lane of the A3. The alternative was to wear David Wilson or Ted Crocker's velvet dinner jacket to go with the orange dress shirt and star in the remake of "Tanya does TD".
Our club captain was another casualty with what must have been a case of delayed concussion as she was seen draped over a bench late on as was Howie with his being draped over the terrace outside.
A season that started with a host of high hopes did not disappoint and nor did the dinner that was a very fitting way to end the season and show what a strong club we are and hopefully not considered an arrogant and unpopular bunch. Long may that continue ensuring that we do not fall into the trap of considering us so superior that we expect to dominate those clubs around us.
The last knockings of the season could see the icing on the cake if we could snatch the EH club of the year award in Leicester on the 11th May which would be a fitting way to celebrate the hard work of all our many volunteers who have made the season so phenomenally successful from start to finish.