We're all missing hockey right now so today, we hear from Max Arthur, the Men's 3s Captain on what it's like to lead this team with a 'balance of age, beauty, experience, youth and incompetence'…
What's it like to captain the Men's 3s?  
It's a cross between herding cats and managing the Real Madrid Galacticos of 2003 to 2005. Lots of egos to massage and adults incapable of managing themselves. If I get it right, the results are beautiful.
What should we know about the squad?
There's a huge amount of talent in the squad but there's also a fair bit of complacency too. Overall, we've got a great bunch of guys formed of a balance of age, beauty, experience, youth and incompetence. That said, win or lose, the morale in the squad is always high and we always share a beer and a laugh after every game. It's a great squad to be involved with if you enjoy playing a decent level of hockey and also want to enjoy your Saturdays too.
How's the season going so far?
It's been a classic 3s season. We've played some great hockey, beating teams above us in the league and we've had some dreadful away days, losing to teams we really should be beating. The stop-start fixture list before Christmas was always going to prove tricky as we don't train and rely on momentum from games to get our performances going.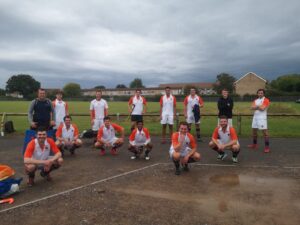 How are the squad's individual stats going? Any particularly outstanding performances?  
Hugo Shephard continues to dominate the voting on both ends of the scale. I've never known such a marmite figure in a sporting squad. As a player he regularly turns out MoM performances before shooting himself in the foot with his off-field antics. He's top of both our MoM and DoD charts at the moment. Dave Wilson rediscovered his drag-flick form after some gentle encouragement from Hugo to top the scoring charts as usual.
What's been the season highlight to date?
Paul Ireland leaving his stick on the tube en route to a game was quite amusing to witness. Seeing a 6ft 4in defender playing with a junior stick in a hurricane atop a hill outside Croydon was pure comedy.
How are you all staying in shape as a squad?
I'm worried we're neither staying in shape nor ready for the season to restart but I trust the lads to look after themselves. Ajay turning in a 17 min 5 km time certainly made us take a closer look at ourselves. Our natural game doesn't involve much running so I've never cracked the whip too hard on fitness.
Do you have any game day rituals? 
I'll always text my keeper the morning of a game just to check he's actually coming. He's never let us down to be fair, it's more of a routine panic than a ritual. For anyone who's not travelling with me, turning up 30 mins after I've asked them to is definitely a ritual.