Teddington 2s 1-2 Men's 2nd XI
With the Xmas period fast approaching, a strong OC 2's squad made the short trip to local rivals Teddington, who sat top of the league having had an unbeaten start to the season. D Roberts' pre game talk, taking inspiration from Ralph Rangnick's pressing style, proved effective with the away side starting on the front foot and taking an early lead courtesy of a Sam Bicarabeero low shot from the top of the D. The chances continued but a lack of clinical nature in and around the paint pot, coinciding with some ill discipline and several cards for chat (Lawson, Rhodes) and a rugby tackle (Bicarabeero), brought Teddington back into the match and the score was soon levelled 1-1. The home side, fortunate to have 11 men on the field after some off the ball antics, had opportunities to take the lead but a goal line clearance from Stratford along with some top saves from Harrower kept them out.
Following a hair dryer treatment at half-time, OC's commenced the 2nd half with renewed intensity and fight. The pressure soon came to fruition, with D Roberts in the right place of a goal scramble to slot home his 18th goal of the season (yeah 18). We looked to extend the lead with Tickner Jr (fired up by the news from Tickner Sr of a West Ham win) coming close in a 2v1 chance, and D Ladd's looping reverse stick attempt clipping the woodworks (Champagne yet DOD for not scoring).
MOM, D Rhodes, showed his fitness throughout the match, and the good guys would go on to hold out to secure a huge away W in a fiercely competitive match, 2-1. We move up to 3rd in the table and continue momentum in a push for promotion. Up the C's.
Men's 3rd XI 4-0 Ashford
A bright and crisp morning saw us pitched against Ashford in our penultimate game before the break. To keep our promotion dreams alive this was a must win game with Ashford an unknown quantity with mixed results especially as the top 4 were playing each other. Our oppo arriving ahead of us and all being present at 09.00 was a clear indication that they meant business. Martin and Virge had clearly spent Friday evening employed as bouncers at the same hostelry coming to the game in their identical Friday night working kit and and still sporting their microphones. Thank you for officiating with no controversy this week.
The early exchanges were mostly in the midfield as each side sounded out the competition with our drawing first blood with a sweet reverse stick strike by man of the match Will Copley that the keeper only half stopped and the ball rolled home. Although creating problems down either flank we had Rosko to thank for keeping us ahead his making two top saves although with a 3 versus him on one of Ashford's breaks a selfish forward did greatly assist. Ashford were made to pay with Emmers winning a stroke that we dispatched and Eds then diving full length to superbly deflect home a Max cross to gives us a 3 goal advantage at half time with our only having had 3 shots. Somewhat harsh on Ashford.
Ashford made changes to their structure in the second period and started to cause us problems but 10 minutes in Jake slotted home a reverse stick shot to pretty well give us the game. A good number of D penetrations from us came to nought and a couple of crosses flashed across the D without our being able to nick a touch. The steam had gone out of Ashford and we ran pout 4 – 0 winners converting all of our 4 shots.
With Purley losing at home to Surbiton and Bank of England losing to Cheam the league is now in our hands with yet another huge game v local rivals Surbiton next Saturday followed by the 2 catch up games after Christmas before the league returns in earnest. The quality continued after the game with Knappy's sartorial elegance and West Ham toppling Chelsea although Toby did leave 3/4 of a pint which will not be forgotten whilst Fletch was D o D for his ballet leggings and warming up his dog rather than warm up with us. Bring on Surbiton at Oaken Lane and a farewell curry for the skip next weekend.
Woking 4-8 Barnstormers
This week, the Barnies took on Woking for the first time. Fresh from two weeks at Twickenham, most of the players were keen to show just how good they were. Unfortunately, we went one-nil down, having missed what someone argue were couple of sitters. Time to unleash the bench, mainly owing to the fact that we were 10 minutes in and already tiring. Rosco came on, Si Quinton came on, Closey came on but all three had nothing to do with the two quick goals that were scored by the mighty Barnies.
From the 15-minute mark onwards the Barnies were in complete control. Cuzza ripped through the defence on many occasions netting three and hitting the post once. He probably would have won man of the match had he not avoided purchasing a jug (hatrick) at the end of the game by going home early. Gracie never let up, scoring two. Poen, Stanners and Yongy also slotted the ball home. This left only Si Quinton not managing to trouble the keeper but we made nothing of this and let him be. The tackling was fierce and we thought Stanners had been killed at one point; however, he managed to pick himself up dust himself down finishing the game… just. Grant was legendary at the back, nearly earning him man of the match. This accolade went to Gracy.
Whilst we won 8-4 – we don't think the Barnstormers has ever scored eight in a season let alone one game – most surprising was the fact that we all managed to walk off the pitch at the end without injury. Next week we take in the Stormers… on the golf course – I would avoid the tow-path past Hampton Court between 11am and 4pm on Saturday as Richie is threatening to bring out his big dog on the 3rd tee! Merry Christmas to all from the Barnies.
Ladies 1st XI 5-2 Old Kingstonians
With a late start at our home ground, we were up for the win! Unfortunately, it didn't start this way with OK's dribbling down the left base line and across to the the p spot, the ball was found at the back of the net! Thankfully, OC's held their heads high and came back to score not only one but several! To level the game, a short corner was won and after several rebounds Ellie H scored from a reverse shot. With momentum building, we were on a roll and the second goal came from none other than the Captain herself, Richie who scored from a straight strike at a short. Half time was 2-1 to OC's!
Although OC's were ahead, we still hadn't been performing to the best of our ability. With a team chat and some sweets, the OC's took to the second half with force. The pairing and flow of the game had picked up, OC's were stepping in front of players and were hungry for the win. They won several shorts which hasn't always been the case for the season! We were getting results, and the third goal came from a straight strike from Syms which ricocheted around the whole goal. Not only did the 3rd goal, but also the 4th came from another short! A slip back to Alina who scored, although there is some debate as Bella touched it but it may have already gone over the line! OK's kept fighting and scored another goal making it 4-2! This kept us on our toes, and resulted in the last and final goal which came from Laura on her reverse which made it 5-2!
This win resulted in moving up from 3rd to 2nd in the league.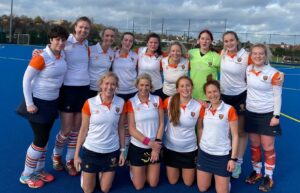 King's & Alleyns 2s 0-1 Ladies 2nd XI
Three greens, Three yellows and a goal! A short summary of our match!!
It was a gorgeous Saturday – blue skies and flipping freezing! We all made our way to East London to take on Kings & Alleyn's 2 a 12pm PB – a new team to the league who we hadn't come across before. All running late, missed train stops, traffic – the usual suspects – we finally all hit the pitch with 10 mins to go! The Ladies 2s were light on the ground this week with school clashes diminishing our numbers available, but thankfully Bernie getting the call up late on Friday was happy to step up to the challenge to give us a very needed additional sub, but we were all revved up determined for the win. It was a must win bottom of the table clash so we knew the game could go either way.
From the offset we played hard, and we played our game, the sun was in their eyes this half and we wanted to make the most of that advantage, Laura Price controlling the centre of the field distributing the ball beautifully out to the right and the left stretching the pitch. We kept possession and made good ground with the first 10 mins firmly in their 25. Some great play between the forwards Tabby O'Neil having a solid game on the right controlling the ball around their defence, they struggled to keep up with her, so it wasn't long before a ball had been put on a foot to win our first short corner. Corners had been practiced solidly as scoring from them was eluding us, with the sun in their eyes we were keen to strike. Sadly, an early shooter off the line from one of their defences cancelled out that short for us and we had to replay it, a strike on goal that was saved by their keeper. Much the same throughout this half but another well worked run by Tabby cross to Amy Miggs who put it on their foot and won us another short just before half time. The game was still 0-0 and we were soon going to have the sun in our eyes. A plan was in place and a great slip to Miggs saw her pummel the ball past the keeper only to be saved by the post players knee on the line. Confident of the foul we got together and awaited the umpire's decision – will it be a flick, or will it be another short – the umpires called in the captains to review together and to advise they will play another short corner. As the umpires return to their positions, we prepare for a short corner, they call it a 16 free hit to them… Captain Jo rightly takes umbrage with the umpire (on all our behalf) and asks to understand why the decision that was agree was overturned – and that is when the first card of the day was pulled…. A Green for Jo! and a 16 for them…. It's a matter of a minute when the half time whistle is blown, and the score remains 0-0 and a goal is still eluding us!!
After a quick squad complaints committee chat about the umpire's decision in the half time chat Captain Jo got us to regroup and move on – its our game so remain focussed and don't let the umpires get in the way of that. The second half kicks off – still with 10 on the pitch as Jo must see out her one more minute on the bench, K&A are equally up for this game, and everyone is after the win. A physical game between two physical sides neither were going to be pushed off the ball, but everyone was trying, about 10 mins into the half sees their CB getting a card for verbalising her disagreement with the umpire's decision – a few choice words were used so she got a Yellow… the first of three for this half!  There was a lot of pushing, there was some nice hockey, and some breaks were made by K&A's but Holly and Holly weren't going to let them through – a solid back line combination with these two directing the team and Ruth her usual solid touches intercepting the ball kept them at bay. When we had possession, the ball was played really well back up the pitch – the Ruth-Ali-Tabby combination on the right and Sylvana-Jo-Hanna distributing it well out the left. Evie was challenged on a few occasions, but good clearances saw the ball back on our sticks and pressing it back up their end.
With fresh legs Hanna back on the pitch within minutes she unfortunately was the next to get carded for an accidental push, just a green – keeping it in the family, she was back off as quickly as she'd come on! And so, it was in this half when the cards started to flow… Forgetting the order it wasn't long after Hanna was back on that Miggs picked up a Yellow card and once she was back on the pitch they then got a green card. After a few short corners called in their favour, frustrations running high it wasn't long before I was given a Yellow for my friendly banter with the umpire…! With 15 minutes to go, no score on the board, both teams back to 11-a-side and our heads back in the game, holding our shape it was a cracking distribution from Laura P that found Tabby on the wing. Tabby's determination being channelled into her skills, she got round three defenders and a textbook cross was picked up by Miggs and finally the sound of the ball hitting the backboard after a barren few weeks we had scored a goal! The celebration was loud!
Back at the halfway line we had 12 minutes to keep our composure and control of the ball – we did just that we kept our heads, we kept the ball and the relief when the full time whistle was blown that we had picked up 3 deserved points. For all the cards and the feistiness, they were a very friendly bunch, and it was a good game!
Lots of positives to take into next weeks final game before Christmas where we meet top of the table…. Player of the Match was picked up by Amy Miggs for her fire and goal – with nominations going to Tabby, Laura, Holly and Holly. DOD was close with four cards to choose from, but it was an outright nomination to Ruth for missing her train stop and nearly missing the game 😊.
Ladies 3rd XI 0-6 Merton 1s
Cheam 4-2 Ladies 4th XI
Playing Cheam, the league's second-placed team, we started with low expectations, and by half time were indeed three goals down, despite GK Nici's heroic efforts. This was a game of two halves! Although Cheam were awarded several corners, they only converted one in the 2nd half. OCs adjusted better to Cheam's formation: 2 high forwards, and overloading their right. In response, Kirsten & Holly cleverly worked together on our front right, and Holly crossed a ball to the back of the circle, Ailsa touched the ball through to Jenny, who connected perfectly to beat the keeper. Shortly after this Holly picked up the ball and powered in to the circle and totally unbalanced their defence with a strong slap from a tight angle, which the keeper didn't see until she picked it reluctantly out of her goal. Holly is our fully deserved man of the match.
Sunday December 5th
Men's Over 40s 3-0 Woking O40s – EHA Cup
Following a disappointing loss to Reading in the league, this was a must win game. The team sheet read well with only one big name missing.( Mani – ex Reading, gymkana, Woking, Richmond etc…. ). False security offered by Closey was expertly put to bed by stato CB, this was a well oiled Woking team with ex GM Simon Mason roped in.
We started well, with league captain Heslop selflessly putting the ball wide for his first corner to see if the keeper logs. Second corner, up stands aerial whizz kid Ash…. Flicking, sorry, hitting the ball into the side net. Ocs celebrate a clear goal, five minutes later after much debate, the goal was decided to be illegally slapped in. Worry not, five mins later another corner, Ash the expert FLICKER, refines his technique and flicks the balls into exactly the same spot. Woking had a flurry of corners them selves which agro Goalie swatted away. Several more chances for us slipped past with in form Dave Mathews linking up well with his fellow forwards. (Did Gav play?)
Half-time. Adrenaline pumping through their veins, captain, vice captain and co captain all spoke over each other. All offering great advice, which was then expertly overuled by DM, saying just go direct. Woking continued to work hard but their long ball (despite Heslop missing a few) wasn't working. Captain Packers steamed into the D and hit a gentle chip approach shot for goal poacher DM to deftly touch the ball around the keeper. 2-0 OC's!!
A Woking player was green carded for swinging at a focused OC midfield player, we pressed on winning another corner. The call to switch left was heard loud and clear by all, accept league captain Heslop who seeing all five Woking players running to our FLICKER, decided last minute to drag pass/flick into the right corner. 3-0 ocs. Woking didn't give up and scored a persistent consolation goal. Credit to Woking for a competitive game and a good level of umpiring from the two whistle blowers.
Summary – Nayler is obviously too young/good for our team, Heardy needs another few weeks to make balls into space (well played though) Tongy wasn't blobbing, JJ feels the fines are rigged…
Roll on the 3rd round and the oc golf day on the 11th December. What could go wrong..
Tongy over to you for the next report…
DOD rippers – no shin pads etc
MOM who would have thought.. Porter.. sachets on your mate
Champs- think it was DM's goal.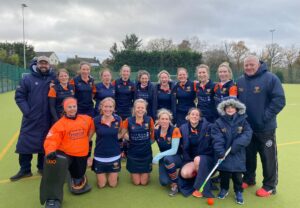 Ladies Over 35s 7-1 Aldershot & Farnham Over 35s
This will be short and sweet as the author was a touch tired from the night before so can't remember the detail … it's Christmas after all! Suffice to say the Over 35s are through to the next round of the EH Tier 2 Cup Competition having won 7-1 against Aldershot and Farnham at Oaken Lane on Sunday. The game's fate was more or less sealed at half time as OCs led 5-1 and the pitch gates were unlocked to allow Laura to attend her son's bowling birthday party. Whilst the score line may reflect a one sided game it must be said our oppo gave it their best shot and gave our defence a decent test. Our goals came from hat-trick queen Amy Migs, Bernie, Georgie Sansgter, Jackie Waite and Jo Mir. Thank you to our now regular umpire Malcolm. Plus Meersy and David Mathews for running the bench. Even though Meersy re-started us with 10 players!!!