Men's 1st XI 1-1 Havant
It was a bright and sunny Saturday with the OC's flying high off a buoyant 3 points away at Canterbury. The smash and grab set them the boys up nicely for a visit from Havant at the Fortress in TD. A Saharan heat wave bringing the heat and and particularly sticky pitch meant conditions would be tough.
The OC's started a little slow with Havant fighting for their pride it looked like it was setup to be a battle from the off, early on OC's had a number of chances but it was the other end of the pitch that was most concerning. A Havant attack down the right led to a ball into the D that bounced of a couple of players and caught our very own Callum Holloway on the chin rendering him sidelined while he found some PVA glue and tape to keep his chin on. Paddy the baddy would be proud of how he took that shot.
The OC's began to take control of the game and Ben wilson had an excellent chance to out the first goal away but could only manage the side netting. A soft Havant penalty corner had the boys down 1-0 shortly after. Galavanised OC's created more chances, Matt Cornwell with the best of the bunch choosing to lob the goal keeper. Sadly it wasn't to be. A classic Muhammed Irfan drag flick levelled the playing field, 1-1.
Into halftime OC's felt they should be 2 or 3 up and needed to get a result against a gritty Havant in order to push for the Top 4 spots in the league. Another difficult half ensued. the return of Callum Holloway chin intact the boys came out playing some exciting stuff. As the game continued neither side looked likely to take the 3 points. OC's countered well to no avail and Havant were under the pump for the majority of the final minutes. A number of short corners were run but some sideline miscommunication resulted in the usual short corner battery missing some key players. As the game drew to a close Havant were desperate in their defence with a final OCs' corner at the stoke of full time potentially being the decider. It wasn't to be this weekend ending 1-1, a tough match, we go again next week as Sevenoaks take their turn visiting the fortress.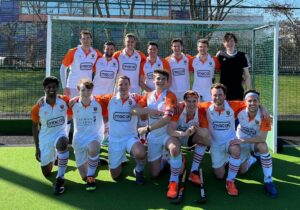 Tulse Hill & Dulwich 2s 4-5 Men's 2nd XI
6 days and 6 hours before pushback: Rodney is taught a few new stick and ball tricks by a 34 year old mother of three.
8 hours until pushback: New leadership decides 4 pint min is now 6 pint min.
6 hours until pushback: 6 wings and chips from Morley's to get the protein in
5 hours until pushback : Morris texts Cooper "you're going to need to wake me up skip"
30 mins before pushback: A changing room speech that Martin Luther King would be proud of.
20 mins before pushback: a classic donny warm up.
Pushback
1 min: they get a short, it misses wide right (Donny stayed on post for some reason)
6 min: Coops uses his foot on the line to stop the ball, pen stroke: 1-0 oppo
12 min: nice counter and ajay puts it through the keepers legs from right off D: 1-1
16 min: they score 2:1
22 mins : Brains trust of Lawson, Bicc and Morris decide to go 60 press so we can stop them from countering. Nice idea.
24 mins: we score back to Biccy short : 2:2
29 mins: we score, Rodney, nice : 2:3 to the good blokes
31 mins : According to Eds Garmin they called time 4 mins early …
Half time: Rousing speech's from members of the team keep the lads focused on what needs to be done.
41min: beautiful goal for us. All the way round the back, good lead from DanLadd, ball across via Ajay and Coops with a very calm Rodney finish : 4-2
47 mins: Another Rodney goal, it was nice : 5-2
59 mins: they score with a break through the middle. 5:3
62 mins: they have a short miss
63 mins; they have a short. Seb save
66 mins: they have a short. Score : 5-4, squeaky bum time
67 mins: Donny decides now is the time to tell the umps he's crap and have a 2 minute heated debate about it.
67 mins: Yellow card for hit-the-ball-awayabino
70mins: Full time, another win with the best blokes around.
Mom: Harry Lankfer
Dod: Tom Cooper
Men's 3rd XI 6-1 Barnes 3s
Our last game before the three weeks of the clash of the stags saw us run out 6-1 winners against a spirited and very competent Barnes side who had narrowly lost to Purley and their secret weapon last week, 2-3. The 10.00 slot was ours and the Spring weather announced the start of the competition of the stags as the next 3 weekends sees us affected by various stags bigging up their alcoholic intake as they receive pay back for the last x years of abusing their mates. Not an ideal time to have to juggle with squads with promotion achievable as it is for the 2s.
A cagey first 15 minutes enabled both sides to threaten with our being helped by an injury to Barnes' centre back who had marshalled the defence well whilst distributing the ball effectively. Both teams missed early chances with a one on one for us and a far post deflection for Barnes being the best that each side had. As it was Kenty struck first with his making a tricky finish look easy following a slick move from the back that opened up the Barnes defence, Jake providing the assist. Although we did not add to the score in the remainder of the first half we did start to dominate possession without really threatening the goal.
At half time we identified the areas that needed attention and as with previous weeks put the required changes into effect and added five more goals at regular intervals but annoyingly conceding one on a quick counter by Barnes. 4 of the 5 goals were a product of good team work from the old guard of Cookiey, Pred and Knappy with the other two from Coppers, new stick, haircut, a short corner finish and the final goal from the regular scorer Emmers. Our strong spine was the main reason for our comprehensive win with Max and Shep mopping up the bulk of the attacks, PP, Wils and Coppers ruling the midfield and Pred doing what he does best and being in the right place at the right time with his finding his favourite square metre of the TD pitch to nick his goal.
Six goals from the midfield and forwards quietened down the defensive units comments with the post match comments focused on Sheps elementary school boy errors of incorrectly shaming Ish publicly and following this up with arranging a pick up time in south London at the same time as Lewi's forceful instruction to meet at 09.00 that Lewi failed to honour due to his looking for his skiing kit. D o d duly went to the Old Wellingtonian. A difficult Man of the Match award as this was a good team effort with everyone having their moment but Coppers narrowly defeated Kenty. Purley away, with their secret weapon, next week in a game that neither side can afford to lose with the result having a huge bearing on the promotion race. Thanks as always to Ravo and Martin for blowing our game, our penultimate home match of the season.
Surbiton 6s 6-1 Men's 4th XI
Absolutely no chance of a report
Sunbury & Walton Hawks 1-9 Ladies 1st XI
Saturday not only brought the sun shine but a lot of laughs along the way. With a great atmosphere, the OC's started to warm up. Jaxx was sporting her sunnies, looking as chic as ever! Helen warmed up with her glove, Poppy had visited St Tropez over night and was topping up on her tan. Needless to say, the tan didn't last long as by the end of the game she was sporting some white shins and a great tan mark! She was close to being awarded DOD however this was topped by Syms who before the match even begun took a strike at Molly when warming up, where she completely missed the ball all together with her stick! The stick took flight and kept on going up, luckily no one was harmed just a lot of laughter had by all.
The OC's first half saw great teamwork and passing between players. Having missed opportunities in previous games, OC's have learnt their lesson and were on the posts and managed to slot the ball into the back of the net. This saw Bella scoring a hatrick, she now owes the team several alcoholic drinks – bring on the end of season dinner! Close behind was our leader Richie who slotted two goals passed the keeper. One of them being a rocket of a strike. Laura also managed to sneak in two goals adding to her tally of goals for the season. The goals didn't stop there, Ellie scored from a cracking cross from the left which looked effortlessly. The final goal ended the over due drought period for Syms who having missed the game and hit the post finally managed to make it on the score sheet once again! The team celebrated and the crowd went wild! The celebration continued and she was awarded MOM for her efforts although some may say she stopped dead when she received the ball and walked it over the line. Better to be safe then sorry!
A great team effort and plenty of fun along the way to victory. The final score was 9-1 to OC's, seeing them bring in their 15th win on the bounce.
MoM – Syms
DoD – Syms
Goals: Bella x3; Richie x2; Laura x2; Ellie x1, Syms x1
Surbiton Sparks 2-0 Ladies 2nd XI
The Ladies 2s played Suribton Sparks at home. With only one sub and a few people recovering from illnesses, we knew we were going to have to work hard. We started well and played some good 1-2s across the pitch. We won several short corners but unfortunately we're unable to convert them. We had a few chances, one by Miggs who came close to scoring with a great strike that just went past the far post. At half time the score was 0-0. The second half was more tense and saw a few cards being handed out. Evie made some great saves but unfortunately they managed to score, lifting the ball into the back of the net to make it 1-0. Not long after they won a short corner that they converted. It was a frustrating game but we played well as a team. Well done to Laura for getting POM!
Ladies 5th XI 1-1 NPL
I think our oppo this week were attempting to win the prize for being the most yappy team in the league, although there is one other team who could give them a good run for their money. Fortunately most of our oppo are lovely. The yapping started pretty much from PB with constant criticism of the umpires. It really would have been useful had one of the oppo actually taken the time to read the rules rather than complaining about infringement of rules that changed about 15 years ago. But she's probably a very busy important person.
It was a feisty match (physically and verbally) but we got ahead in the first half by a free hit from outside our D taken quickly by Colleen to Paula who hit it into the D for a deflection by Colleen. There was much celebration and back slapping to the consternation of the oppo who were very displeased. It was end to end play with lots of defending and shots on goal the latter being thwarted by their solid and very loud feisty GK. Anna, Izzy and Ailsa ran the legs off themselves (well Ailsa did until she only had one functioning leg) covering the pitch at speeds the oppo could not match. We were 1-0 up at half time and, although it was tight we were up for building on our lead, so with a half time pep talk from Kate it was back to the pitch. Lou warned everyone on the pitch that the behaviour in the first half was unacceptable and a bit of restraint would need to be exercised to prevent someone from being bopped. That seemed to calm them down a bit. The game proceeded with chances at both ends, however with about ten minutes to go they scored and that was how the match ended. We've retained our position in the division at 4th and still time to make it to 3rd.
Thanks to Hillary and Lou for umpiring and keeping calm and carrying on in the face of adversity! POM Colleen who was also goal scorer.