Ladies 1s 4 – 2 Teddington 2s
Another balmy November day with the mercury touching the high teens, and the ladies 1s arrived full of vim, determined to bounce back from the disappointment of last week's loss.
Teddington distributed the ball well from the outset, and a neat passage of play through the centre at the 10 minute mark resulted in a decent Teddington goal from open play. We responded well however and fought back with a sustained period of pressure. Hazel and Molly flung the ball around the back with great aplomb, and Moz coupled well with Richie to disrupt their midfield. We won a corner within a few minutes: beautifully executed in and out with a clinical finish from Richie brought us back to level pegging.
There followed a sustained period of OCs attack including another couple of short corners, but Teddington countered successfully down their right hand side and slotted one past the keeper with 5 minutes to go before halftime. A nervy few minutes followed in which we solidly defended a short corner (ball saved on the line…in the melee I forget who…let's assume it was Hazel), before we surged back for a final counter before half time. Short corner won, whole team forward, slick manoeuvre and Laura powered home a ball from waist height. 2-2 at half time!
We came out fighting in the second half, with a good 10-15 mins of sustained pressure in the Teddington half. A lovely baseline run from Laura won us another short corner. Lolly threaded it beautifully from the top of the D, and Molly slotted it home to take us into the lead. Teddington responded well, and a counter through the middle created a solid chance on goal. The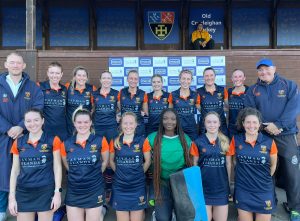 ir striker wound up for a backhand and scored what would have been an impressive goal. Much jubilation from Teddington, but a chorus of "back stick!" from OCs. Much deliberation from the umpires followed, but the right decision was made, the goal was disallowed. To be fair to Teddington, they took it better than their coach, who made a bit of an a*se of himself with the umpires over it. Anyhow, onwards into closing section of the game, where OCs began to finally dominate. A lazy pass from Teddington around our 25 was intercepted by Richie, who punished them with a searing 70 yard run through midfield and a perfectly executed pass to Lolly, who in turn powered home our 4th goal of the game. Teddington did not lose their fight, and the closing minutes had us all reaching for our last reserves of energy, and cursing the heat all the more!
The score line probably doesn't quite do justice to what was in fact a very closely fought match. Teddington were a well organised team, difficult to disrupt, and we did not make the game easy on ourselves at times. But super proud of the result, and the resilience and grit that got us there.
Goals – Katie Richards, Laura Sealey, Molly Hanson and Lauren Burgess
MOM – Katie Richards
DOD – Sylvie Adams
Men's 1s 3 – 2 Oxford Hawks
GCSE English Literature Examination Paper 1
Please select one from the following 4 options below.
How Many Pints Is Considered Acceptable After Drilling Hawks, Discuss?
3 Point C's: To What Extent is Beating Hawks The Best Bant Ever?
Was This The Best 3 Points James Mears' 48 year old sweaty old OC's Cap Has experienced? You may wish to use examples in your answer.
Smash And Grab 3 Points: Discuss The Injustice Which Would Have been If Hawks Got A result Out Of That Game.
3 Point C's: To What Extent is Beating Hawks The Best Bant Ever?
Chaps, this is why we love sport.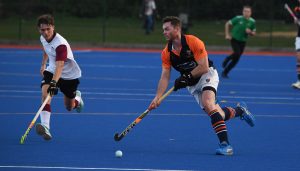 In front of a raucous crowd at the Old Cranleighans Sports Centre, OC's welcomed Oxford Hawks (well, didn't really welcome) for what was a must win game for the home side.
The first quarter started similar to so many games this season with OC's dominating possession, spearheaded by maestro defenders Oliver Davies and Matthew Richardson who both had sensational games for the home team. However, OC's did not capitalise on early chances to take the lead. Instead, it was the Visitors who went one up with a break away goal.
The second quarter saw much of the same, and the OCs attacking flare was on show. Notable mentions to the half backs Charles Thompson and Alexander Batstone who provided the paving stones for Jack Jamieson and Worcester Bawden carve their way through a rigid Hawks defence. Joshua Doble was once again the star shot stopper in goal for the home side, making excellent saves from short corners and open play attempts from the visitors. Zaman Akhter showed the management team that he was more than just the average left back, finding himself in positions way above his pay grade, however taking like a duck to water when playing in the central midfield role, showing his Beckham-esq all-round passing game. OC's equalised through an Alexander 'Goalstone' effort which took the scored to 1-1 at the half time whistle.
The message from Coach Will.I.AM Marshall at halftime was quite the opposite from previous weeks, with a lower toned voice of encouragement being opted for over the usual brute Scottish approach. The message was to put the game to bed and be ruthless in defence and composed in attack.
The second half showed a continuation of the first half performance, with the attacking players pressing well and putting the Hawks defence under pressure. Build up play from Erik Van Kesteren James Cutter, Charles Lamb and Benjamin Roe saw the home side go close to going a goal up, however it was at the other end of the pitch where a Steven Gerard moment from Matthew Boote saw Hawks score a chance goal and go 2-1 up. They thought Christmas has come early for them. The score remained the same going into the final quarter.
For those watching live, the final quarter was quite the nail biter, however, there has rarely been such a one sided 17.5minute in the history of the sport. OC's were all over Hawks, who couldn't find their way out of their own D, let alone their half. Eventually Jack Jamieson made what should have been an easy tap in goal, look outrageously hard to Desmond the score line going into the last 10 minute of the game, 2-2. The tension in the crowd was palpable, you could cut it with a knife.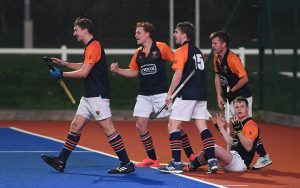 Further build up play from Max Borrmann and Will Phillips kept OCs on top. It looks as if the Gods were against OCs from finding the winning goal, with Worcester Bawden hitting every post on the goal and Max Borrmann going close with a slapped effort, for when the ball was played into thetop of the circle in the 69th minute, deflected onto to Zaman Akhter who then found William Heywood. The rest is history. Has anyone ever felt an atmosphere quite like it? 3-2 OC's. The crowd blew into oblivion, as did the OCs sideline.
Getting off a losing streak is never easy in sport, however OC's showed as all Premier League managers would say 'true guts, determination and desire' to win that game and catapult themselves right back into contention in the league ahead of Bath (A) next weekend.
Well played boys, well played.
Goals – Batstone, Jamieson, Heywood
MOM- Will Phillips
DOD- William Heywood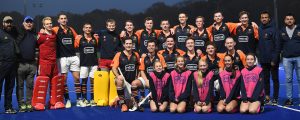 Sunbury & Walton Hawks 1s 2 – 2 Ladies 2s 
We arrived at St Paul's College with the sun shining and roaring to get 3 points on the board. With a good, thorough warm up we came out hard and early dominated. However, this dominance didn't last long as a quick switch off resulted in conceiving a goal 15 minutes into the match. We didn't put our heads down and became even more determined to fight back. Keeping composure and possession, our back line did some incredible transfers to open up space and find our midfielders. This lead to a pass to Pricey, who's passes it on to Tabby to run into the D, pass into Fletch which deflected into Sangster to smash a lightning speed ball into the back of the goal. We kept this energy throughout the first half with many opportunities and short corners, however none were successful. First half ended 1-1. With a confident team talk and sweets in our system, we were excited to get underway with the second half. The second half was even more attacking from both sides, with counter-attack after counter-attack. Fortunately with some incredible tackles from our defensive line we were able to keep the score even and create some great opportunities, most of which turned into short-corners. With Helen coming up with brilliant ideas and some excellent drag flicks from Candela, we were unlucky to fall short again. Unfortunately a sudden turn of events resulted in us behind again, score 1-2. The determination to fight back combined with some very long 5 metre calls from the umpires, we fought back much stronger and it became clear we weren't going down without a fight, we eventually levelled again with a pass to back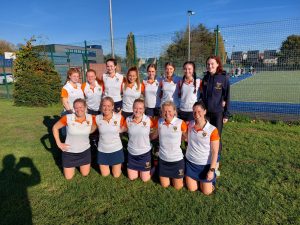 post to Tabby. As the game went on we become more and more fired up, and create a nail-biting last 10 minutes as the ball stayed in their quarter. After many short corners and circle entry's, the final whistle blew. Although we felt we could have won, we were very pleased with our group effort and non-stop running. MOM went the Pricey for excellent work in midfield, always being in the right place and excellent passes forward- nominations for Eva and Amy aswell. DOD went to Ele for getting a bit too fired up… Closely followed up by Sangster.
Goals – Tabby O'Neil, Georgie Sangster
MOM – Eva Turner
DOD – Ele Lunn
Tulse Hill & Dulwish 2s 1 – 4 Men's 2s
Forgive me lads, for I have sinned.
Brother Tickner, I seek your forgiveness for the devil was inside my head. Let me be more like Brother Barber, pure in heart for his love of J2O.
Brother Lawson, lead me from the back and achieving holy goals. Let me follow your disciples Brother Don, Perumatantri, Selva and RJ.
Father Biccarino, I need your pure spin to heal my broken soul. I look for guidance from the mighty Morris, Bloomfield and Adair.
I pray for Brother Ladd, thou shall assist you next week
I pray for Brother Roberts, thou shall to slip to you
I pray for Brother Lankfer, may his poos be solid and regular
I pray for Mrs Selva, the goddess who looks over us all
Forgive me lads, for I have sinned but may this boot cleanse the devil from my soul, Amen.
FT
OC 2nd XI – 4
THD 2nd XI – 1
Scorers – Lawson (2), D. Roberts (2)
MOM – Jack Barber
DOD – David Roberts
Champagne – Biccarino, Lawson & Bloomfield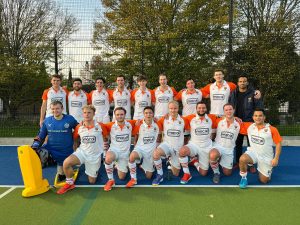 Ladies 3s 4 – 1 Cheam 2s
After last weeks very wet and disappointing result, the 3's were up for this week's game, happy to be playing at home, the glorious sunshine was a bonus. Our opposition Cheam looked to be tough and experienced so it wasn't going to be an easy match. We started the game with some quick passing and lightning quick runs from our forwards which seemed to catch the oppo off guard and soon we were in the lead with a lovely deflection from Holly after some great build up play from Sophie and Mischa.
As we got deep into the first half OC's continued to have attack after attack with Mischa making some lovely runs through the middle but with no conversions and some great stops by their keeper, Cheam started to find their stride and almost on the whistle they too crossed the ball and found an unmarked player on the far post, so 1-1.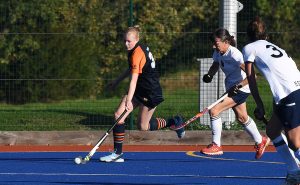 Captain Michele gave the halve time talk which was simply "we've been in this position before and come back to win the match." Second half and the backs continued to step up, cutting out any break through runs from Cheam early, Connie Lee had a great game stepping in front of the back 3 adding strength in the mid field and allowing Mischa to push further up the pitch and the goals started to flow, an early through ball from Mischa to Holly who had lots of space and time on the right of the D with a delightful strike straight into the net. Not long after Bethan passed the ball from a well worked play up the left, passed across the goal for Holly to deflect in for her hat trick and the 3's first for this season. Our 4th goal was worked up the right with Holly driving past a defender, along the baseline and across for Saskia to deflect in. There were a number of players who on a different day would have won POM so well done to Holly this week.
POM –  Holly Q
Scorers -Holly Quinton (3), Saskia Lawrence
Thank you Phil & Knappy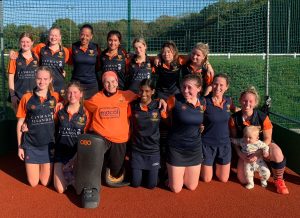 Men's 3s 2 – 0 Wayfarers 4s
"Skip, the traffic is awful around Esher. There's a Soho Home sample sale on at Sandown. I'm going to be late."
"Because of the traffic or the queue at the sample sale Wils?"
"Touché."
Now you might be thinking that you've heard all the obstacles, trials and tribulations that the 3s could potentially encounter in a season, but you'd be wrong. The 4pm pushback is perhaps one of the trickiest to navigate for any team, assuming you can get a team together. Leaving a team of young men to their own devices for most of the day, not forgetting giving them more licence than usual on the Friday evening, makes it nearly impossible to get the team "up for it" at the late start. The very Surrey event happening at Sandown this Sunday will be just another sidenote in another remarkable weekend for this team.
This week, the captain found the hardest part of his usual midweek routine taken care of. The club was awash with available players this weekend, a real rarity so deep into the peak season of the armchair rugby supporters. Perhaps it was the fact that England were "only playing Japan" or the fact that the Springboks weren't playing until 8pm (yes this is now just as relevant to OCHC as England fixtures….) but the 3s found themselves "sharing" four regular players with the 4s and still having a full compliment of 15 players for matchday. This fifteen included a controversial Sam Wilson, finally released to play after serving an extended two-year ban for an out-of-character red card in the Pre-Covid season. A welcome return for all except perhaps Sam's brother Dave, the side's (and probably the club's) top goal scorer, who was dispatched to a local sports store to pick his brother up a gumshield and subsequently making himself late for the meet time.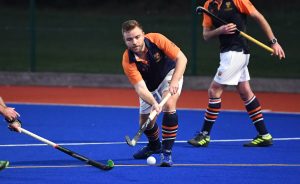 With five players joining the 3s from the 2s this weekend (ie. dropped), the captain took the squad on the fabled warm-up in the car park of the Mormon church off the Portsmouth road, where introductions, rather than stretches, were more necessary for the players. Ages ranging from 16 to late thirties/early fourties and a heavy-bias on attack-minded players over defenders, the OC 3rd XI pushed-back in the graveyard slot match top of the league and heavily favoured to beat the team at the opposite end of the table, in front of a home crowd slow to drag themselves from the bar, where England's rugby match all of a sudden became the most important thing happening. Get that clubhouse moved closer to the pitch Cato….
Miraculously "up for it", the 3s started well, bolstered by a completely new midfield of Marchant, Ferguson and Leslie, along with the youthful front line of Ajay, Charlie McCarthy, Toby A, Jonker and Hardy (finally in an OC shirt). Whilst showing their usual composure and assuredness from the back four, the new personnel seemed to be taking their time to gel further up the field. Understandable perhaps, when over-hearing Marchant ask the skipper "what system are we playing in the midfield press Max?", "I'm not sure, I'm a defender and this is the 3s mate." This slow-ish start was not helped by D Wilson forgetting that the club had invested in a new state-of-the-art contactless card machine from New Zealand, who happened to be umpiring the 3s again despite handing out four cards in his previous outing and being politely asked to stand down for future games. A needless green card for preventing a quick opposition play, which his captain will always appreciate.
At 0-0, down to ten players temporarily and with the front six still running around like lost lambs, it would have been the prime opportunity for the opposition to snatch a fortuitous goal had the returning Rossko not been on hand to repel them, backed up by some great defending from Bailey, Richie and Westy. Desperate to make amends for his early card, Wilson took advantage of being waved back onto the pitch to intercept the ball on half-way, dribble unchallenged whilst opposition players assumed he was a rogue entrant to the pitch and promptly drilled the ball past the keeper to give the 3s a deserved lead. Apparently club jack-of-all-master-of… J Meers did video the game, but content has yet to appear so you'll have to wait to see how pure the strike was for the first goal.
In all seriousness, we should be concerned about the whereabouts of the match footage given the four U18s playing that day….
As you've no doubt realised by now, these match reports often carry little reflection on the games themselves. This week will be little different. More discussion at half-time about what system to play in midfield was met by more re-assurance from the captain to "just get after them lads we've got four subs and we should be battering these guys." You can tell Arthur has played in far too many OC matches were profligacy up front costs the dominant team the points. He's also seen the club go from having an abundance of defenders, to playing 70 minutes at the back every week, whilst his new-found dearth of attacking "talent" fail to test an opposition keeper with the worst concession record in the league. You'll sympathise I'm sure…and will entirely understand his decision to take matters into his own hands, by pursuing a run down into the opposition 25 and drilling a defence-splitting pass right onto the penalty spot for Sam Wilson to calmly sweep into the goal. Shades of 2019/2022 in Surrey Div 1. No midfield system required there.
The rest of the game wasn't much to write home about, save for another opportunity for Sam Doran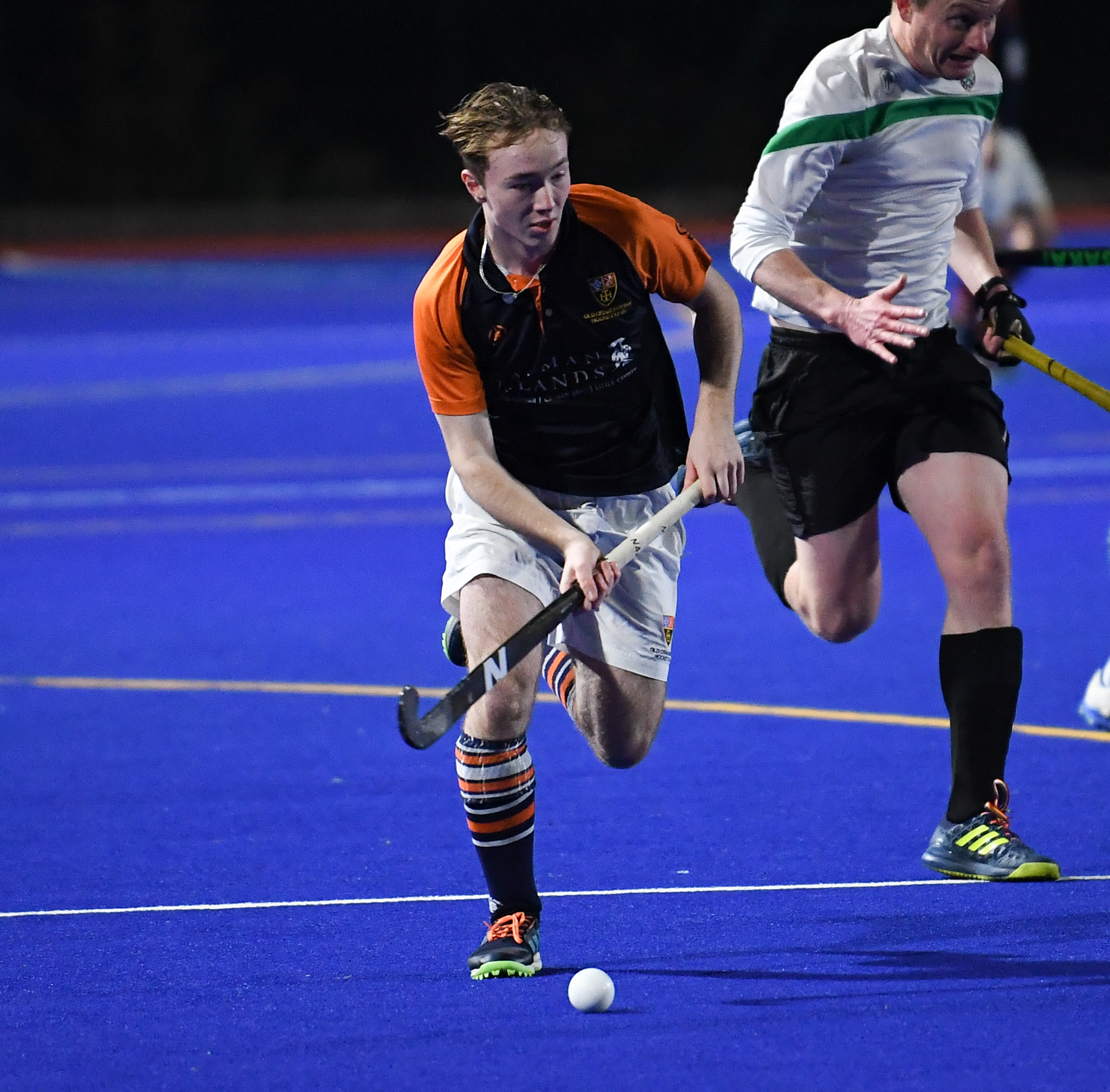 (let's call him iZettle from here on in…card machine…..) to endear himself to the team. This time he chose to deny the again outstanding Charlie McCarthy his first goal for the 3s, adjudging him to have used his back stick (stood 70 yards away..) and proving quite unpopular with the now boisterous home crowd. It might be seen as pure coincidence that the captain "didn't realise he was supposed to book match tea for the umpires after the game"….
Oh yes, the result. A wobbly 2-0 win, keeping the 100% record for the M3s and opening up a five-point lead at the top of the league and, toasted with a few overly-priced pitchers of lager and packs of biltong (refer to previous match reports for context) in the clubhouse. Coincidentally, the new South African contingent were not present to witness the Springbok defeat later that evening…
Next up for the Team of the People: another classic on the circuit, an early morning match at the Linford Christie Sports Centre (probably the worst hockey pitch in the British Isles, if you can even get there through reception, past the swimming pool, round the back of the indoor sprint track, down the side of the beach volleyball court and under the grandstand of the athletics track…)
A special mention this week to Shephard, Gray, Kemp and Emery who all stood down to help the 4s to their first W of the season and secure a clean sweep for the men's teams across the club. Clubmen…
Goals – D.Wilson, S.Wilson
MOM – Craig Bailey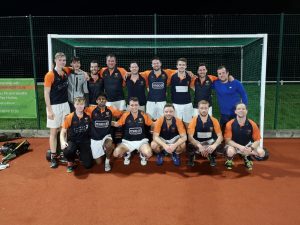 Surbiton 9s 0 – 1 Ladies 4s 
On a bright sunny, and very warm November lunchtime we made ourselves at home, even though we were away, at Oaken Lane to play against our local rivals – Surbiton. DJ Tash provided the tunes and led the warm up with beats to wake us up and get us battle ready.
Clearly this did the trick as we dominated the early encounters with dominant possession and Surbiton rarely getting past our midfield, and when it did the defence were too strong.
Confidence and a number of driving runs were made into the oppo D. The well deserved lead came almost in slow motion – good work down the left by Ailsa and Selma resulted in a positive position just outside the D, a deceptively slow cross made its way past a number of Surbiton's static defenders and reached Bernie at the p spot. A gentle touch from Bernie's stick and with the whole team blowing in unison, the ball dribbled over the line to give us a deserved 1-0 lead.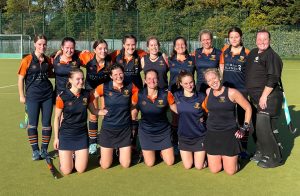 Driving runs into the D by Lucy and Bella meant that Surbiton were constantly on the back foot. Our short corner routine needed a bit of work, and despite several attempts their wall couldn't be beaten. At the other end, when Surbiton did break the back line of Georgia, Roz, Tess and Carolina, Sam was legendary in goal.
No more goals but a confidence boosting win to prepare us against 2nd placed Spencer next week.
POM – Bella Perry
Goals – Bernie Bassett
Written by Georgia White
Old Kingstonian 3s 2 – 3 Warriors
OC Warriors v OK 3s – Episode 7 – Guardians of the Galaxy vol. "O"
In a Galaxy far, far away (no not that galaxy, that was last week) the voyage to Tiffin Girls School on a Saturday afternoon through Kingston was a challenge that needed superpowers and felt like we were heading to the final frontier.
It had been a challenging 24 hours. In the old school battle of "O", OKs played their Joker and changed the start time from 9.30 to 3 – the age of ultra (and rugby) traffic. A number of OC legends were lost to the time variance – JC, one of our first avenger warriors missed his first ever Warriors game in 5 years to a mission in Twickenham whist ex 4s Captain Fantastic Crumby was cast to a Rom Com family wedding. The remaining Warriors assembled at a sandpit of a hockey pitch which resembled more a Dune landscape than an Astro that even slowed our Flash speedster Luke, down the wing.
With a lost coin toss (I just had one job and I blew it) the game began with the afternoon setting sun blinding the Warriors. Despite the adversity, the team held firm with plenty of possession with the defensive SHIELD (consisting of Nick Fury Aston and Alan "Iron Man" Kane, supporting Captain CayMan with Josh TS debuting his Superman powers to the team) solid in front of the Hulk presence of Brendon in goal.
It was the Fantastic Four in the midfield that masterminded our attack together with our forward dynamic duo of Batman Jonty and Rob-Ben. Doctor (not so Strange) Molin opened the scoring from the base line shooting through their keepers legs. OKs responded with Venom and won a short corner strike which deflected off our defensive shield into goal. Reinforcements arrived off the bench came in the form of the Colossus Benji and Juggernaut Matt, our X-men factor who instantly added an extra dimension of steel.
As Max weaved his "Spidey" magic, Warriors took control again and won their own series of short corners. The first narrowly missed as Zac "Rocket" Hawes drag flicked just past the top left of the goal. The following short saw Star Lord – GD neatly finish after an initial melee.
After the break the battle recommenced. OKs were able to get back into the game after a 16 clearance went into slow motion through the sand pit and was intercepted by OKs Silver Surfer  and drilled the ball over the boot of the advancing Hulk in goal for 2-2.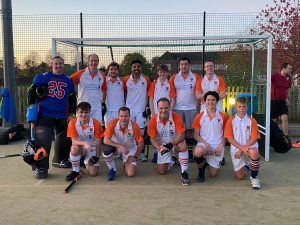 Warriors re-assembled and pushed forward. Whilst the dynamic duo were persistent up front winning several short corners for their efforts, the deciding goal, and move of the match, was put away at the post by our own Doc from a defensive splitting pass just outside the 22 by Captain CayMan.
End Game as the team confidently ran down the clock and all continue undefeated to fight another day.
Score: OK 3s – 2 v 3 – OC Warriors
Goals : Molin Navamani 2, Grant Dormer 1
MoM: Jonty White
Indian Gymkhana 2 – 2 Ladies 6s
The first significant achievement of the day was actually getting to the ground in Osterley.  England rugby traffic and the suspended Piccadilly line were the first tests of our resolve, which – with some swearing – we overcame!
Post match self-assessment judged this as our best team performance yet.  Lots of completed passes, movement off the ball, switching and – some scoring!
The oppo took the lead with an individual effort from one of their forwards.  Fortunately the Prostasuik family were on hand, with Nicola equalising close to half time and Poppy taking us ahead in the 2nd half.  Whilst we were still singing"it's a family affair" another individual goal saw Indian Gymkana draw level and the match ended 2-2.
Our glorious goalie and this week's POM, Izzie, was superb.  A rather strange penalty decision provided the perfect platform for Izzie to showcase her skills – saving the penalty and protecting the score line.  And on numerous occasions she protected our goal with her confident and assured approach, whilst making sure that our defensive positions were sound.
Hels and Sarah showed some particularly eccentric skills, locking sticks meaning that they couldn't move, whilst simultaneously bringing down one of the oppo's forwards.  Multi-tasking taken to a whole new level?
At the other end, their goalie also unfortunately played well, saving many, many great attempts on goal from our forwards, from open play and short corners.
And, whilst the teas required Sherlock Holmes's skills to find, curry and beer topped off a pretty brilliant afternoon in the sunshine!
Goals – P. Prostasuik, N. Prostasuik
POM – Izzie Sewell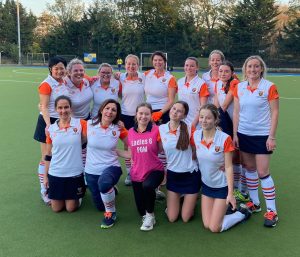 Stormers 3 – 2 Guildford Pilgrims 
After a blinding 4-1 win against Wimbledon a couple of weeks back, Stormers' spirits were high, legs were fresh from a week off, the pre-match stick & ball warm up was slick and flowing, and despite a LOT of confusion around the whereabouts of Gav's gumshield ( and possibly more about the volume of chat on the topic ) the OC Stormers 13-man squad looked confident and focused…
Guildford were a side we had taken 6 points from last season, but resolute words from Goalie offered a timely reminder that every side in this league can ( and frequently does ) have its day, and that nothing should be taken lightly. The team were poised and ready to purr into action like the high performance machine we know it can be.
Sadly it became clear from the whistle, with literally the first pass from defence (and yours truly, I thank you), unerringly picking out the Guildford centre-forward, that the only blinding feature of the first half threatened to be the low autumn sun – which swiftly became the scapegoat for many and various distribution issues, inability to scan for passes, a basic struggle to recognise team-mates when they weren't waving and shouting loudly, and even on one occasion causing Ports, whose spectular diving reverse stick tackles and interceptions have become quite the feature and a firm crowd pleaser in recent games, to mistime this particular full stretch effort by approximately fifteen seconds, and then totally abandon it. Duck and cover, roll away, no one saw.
Thankfully, the rhythm started to come and strong connected movement and passing from Rippers, Cato and Paddy through midfield opened up some great opportunities for Will and CB to really test and probe the Guildford defence…
The Guildford goalie pulled off a couple of great saves from Matt H as pressure translated into OC penalty corners, and despite some heated and really quite surprisingly loud discussions about corner routine options at the top of the circle (such that every one of the Guildford defence and probably half their bench knew which play Gav and Matt H thought we should run ), strong shots and rebounds were put away by Matt H and Rippers, putting us 2-0 with about 15 mins remaining of the first half.
What happens in the crucial few minutes after a goal, and particularly at a 2-0 score line is the stuff of legend – and teams with as much class and experience on display as this one know full well that these moments call for discipline, structure, focus, possession and a mastery of the basics to put the game to bed into half time.   Fair to say we went with a tried and tested option B, and fell apart like a wet cake.
Guildford capitalised as more than a few OC first touches hurtled towards the opposition, and we went into half time a slightly rattled 2-2.
Halftime brought fluids and some some residual frustration, but this moved swiftly to clarity and refocus as Dave M and Goalie steered us back into right headspace for the second half.
This then, was genuinely a significant shift and an important 35 minutes – as we showed much more grit, maturity and resilience –  the hallmarks of a squad that can grind out wins even on a day where not everything quite gels, a squad that can manage team morale and discipline when the aerial bombs from various familiar quarters could oh-so-easily have been replaced by F-bombs and worse… and as a result we even saw poise restored at the back momentarily – as the ball was confidently and patiently played around, creating space down the right for Heardy to connect with Will N and down the left for Ports to link up with Packers and CB…
And although in time-honoured tradition we could well have scored 4 or 5 more goals, with Gav, Packers and Will N enjoying deft touches and combining to run the Guildford defences ragged, eventually it was CB that netted the deciding goal to reclaim the lead. 3-2 to the good guys.
The legwork and effort from front to back was also impressive to note as OC's mopped up the last 5-10 mins of pressure from Guildford, marking, covering, communicating and moving effectively to take the win.
Smiles on faces, undoubtedly enough classy flowing moments on display to make for an enjoyable match, and although it will go down as a more patchy performance, a huge number of positives to come from the game, and an all important 3 points. Get in.
Onward!!!
Goals – C.Brewer, S.Ripley, M. Heslop
MOM: Rippers
DOD: Ash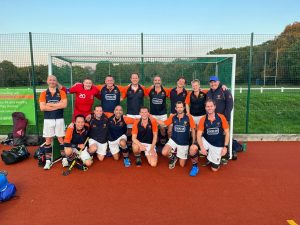 Guildford Gladiators 1 – 3 Hamstrings 
The Over 50s Hamstrings team travelled for the late slot to Guildford, and came home with the
winnings. We were very dominant in the first half, but contrived to be 1-0 down after a rare oppo break.
A Toby Stephenson short corner rocker restored parity, and we pressed on in the second half, with
Player of the Match Mike "Magic" Newton leading the way, to deservedly win. It finished 3-1 after goals
from Derek Wright and Chris James, and could easily have been 6-1. Finally we played well and got the
win! Great effort chaps, let's keep it going!
Goals – T. Stephenson, D.Wright, C.James