Ladies 1 – 0 Tulse Hill
Philly 1
Following on from the welcome return of Toshky it was another welcome return this week to the other Denman in the side, Philly and also another great turn out with 14 players in the squad. All eager on the back of a score line which was not reflective of our game everyone had something to prove this week and we did it!
Sticking with our new format we started strong and like the previous week, caused confusion in the oppo and led to some great opening runs with us retaining possession. A well worked ball which came from the back to Liz through to Philly who made an instant impact scoring a great reverse into the back of the net. Not to be complacent it was a tough match and they fought back strongly. A solid performance from all in the defensive line kept them out of our D and credit to Helen Hawes who had a cracking game winning the coveted Man of the Match! A lot of pressure was put on the oppo from our front line and we had several opportunities but equally they were tough in defence and their keeper made some great saves. It was a good match by all and the win we were all after. Celebratory drinks were necessary…!
Mens 1XI 0 – 1 Sevenoaks
As with all games this year, the Men's 1s arrived at Sevenoaks knowing a
tough fixture lay ahead. This, though, would be our toughest to date,
against a side who will be chasing OGs and Havant this year for promotion.
The first half saw the OC team pegged back and much of our efforts were
spent defending. The team stood resolute for the full 35, offering few clear
cut chances, and as is his custom, Dan defended his goal at short corners
with aplomb. Such was the strength of our deep defence, that their player-
coach was heard to shout 'play some bloody hockey!' after yet another foiled
attack.
The second half continued in much the same way, but saw far more chances for
the OCs on the break. It is testament to the work we put in pre-season and
to our ongoing fitness effort, that we are outlasting teams in this league.
A team that breaks just as hard as it tracks back will always be hard to
break down. Unfortunately, we let ourselves down in the D and didn't produce
the outcomes we perhaps should have. Setting aside a missed p-flick and a
slightly bungled corner, we didn't put away our close chances and a soft and
scrappy Sevenoaks goal at the other end was all that was needed for 3
points.
Disappointing, yes. We have now played 3, drawn 1, won 1 and lost 1. It
might have been played 3 won 3. But the belief is there. As a team we are
fitter than we have ever been, the starting XI and bench are completely
interchangeable, as a team our deep defence is tenacious and defiant, we
create good chances and, most importantly, we're a bunch of bloody good
bastards who always play for each other. That is a strong formula, and we
need only add some more attacking hockey and the odd clinical finish for it
it to be a winning one. An easy fix, so roll on Purley at the Fortress!
Jay Harman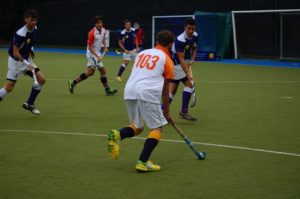 OCHC 3XI 3-1 Teddington 

Goal scorers
Will Langmead 3

After a good performance away at Kenley last week we knew this game would be another big test. A quick thank you to Rob J, who flew back from Ebola ridden west Africa overnight and ran past the compulsory screenings at Heathrow to be on time for the warm-up!  A warm-up that worried me as previously Rob Merry had managed to injure himself stretching! So we kept it relatively gentle for poor Mezz to ensure he finally got some game time.
Having scored 6 the previous week and won both their games with ease we knew Teddington would be the biggest test so far. Without Neil Grimes in the midfield we rejigged our line up and began well, again having a few chances to open the scoring through well worked moves down the right. In defence CD and Tommy are beginning to gain a good understanding of each other and with Stuart Waremen, Chris Bents and Rob Merry we have a solid base. Up front Will Langmead opened the scoring as pressure finally told and we should have been 2 up after Teddington conceded a flick which Langers duly put an inch outside the top left corner.
Half time came and we knew we had to be patient and try and keep our structure to ensure we didn't allow Teddington to pick holes in our midfield. We closed them down better and had a strong 15 minute spell where we created a lot of chances – Langers bagged 2 more to complete his hat trick and the game was all but won. We did tire towards the end and fitness remains an issue as we leaked a late goal and denied Nigel his first clean sheet of the season. After last weeks red mist and a week of discussions over sports psychologists and anger management therapists I must say Nigel was incredibly quiet.
It's good to be top of the league but it's very early days and we must maintain this momentum as we head into another big game next weekend against second placed Wanderers.
Eds