Match Report
OCHC 1XI 2 – 0 Oxford University
Jay Harman x 2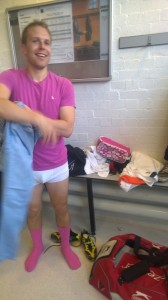 After a slightly disappointing 0-0 draw last week against London Wayfarers, the team travelled to Oxford University for a very tough second game of the season. Despite the lengthy journey, the team largely managed to arrive early, with the exception of Wiseman who left first and somehow managed to arrive last. Skills.
As was the case last week, we started the game far too cautiously, pressing too deep, not retaining possession, and panicking at times in front of goal. Dan produced some brilliant saves to keep us from being behind at halftime. However, the highlight of the half had to be Dan calling one of their forwards a "mummy's boy" receiving a deserved green card. A true classic.
The second half was a different story. We started sharper, pressed higher, retained possession better and had far greater intensity and aggression than Oxford. We got our reward on 55 minutes from a well worked short corner, converted by Jay at the far post after a great delivery from Stewart. We added a second shortly afterwards, again from a short corner, with the loose ball smashed into the bottom corner on the reverse by Jay. Despite reverting back to being too cautious in the last 15 minutes, we comfortably held on to the lead and celebrated our first win of the season.
There is still room for improvement from everyone, but this was a great performance from the squad. Stand out performances from Dan Osborne, Stewart Laing and Jay Harman. We must now have the belief that we belong in this league. No more mention of the step up in standard.
Roll on next week against Sevenoaks.
…………………………………………………………………………………………………………………………………………………………………………………………………………
OCHC 3XI 4 – 1 Kenley
Charlie Thomas x 1
Will Langmead x 1
Rob J x 1
Nick L x 1
After a good start to the league campaign last week we had a number of players unavailable and travelled to Kenley with a bare 11. We drove through unpredictable storms on the way but the sun came out as we warmed up and discussed our game plan and discipline.  As the core of the squad slowly emerges it is key we gain an understanding of playing with each other. This game proved that is coming as we began aggressively and scored in the first 3 minutes through a well worked move down the right that Rob J finished off. We didnt relax and kept the ball flowing, ball speed round the back was excellent as Tommy and Christian combined well with last weeks surprise goal scorer chris bents and stu wareman. We missed a few chances but didnt try and force the ball before a wonderful individual effort from Will Langmead completed another flowing move. Kenley rarely got in our half as Nigel was barely called upon in goal and Charlie Thomas finished another strong move down the left to take us into halftime 3-0 up.
The half time talk was clear – we simply needed to maintain possession and discipline to take the points back to TD. The next ten minutes we had some more excellent chances but didnt finish and Kenley broke on a counter attack forcing their first short corner. What happened next was dumbfounding. As the defense were putting on their face masks Kenley took the short corner and scored. The umpire gave the goal and Kenley went back to the half way line leaving our defense in utter astonishment and prompting an understandable scream from Nigel in goal. The umpire warned him. That should have been the end of it but after the restart Nigel then sent another barrage of abuse at the umpire, prompting Nigels second yellow card and sin bin of the season. So, with Dick of the Day a slam dunk, we played keep ball and frustrated Kenley for a tiring 10 minutes with 10 men. After Nigel came back on the game was killed off with a strong strike from Nick and we could celebrate another win. We wont get away with poor discipline every week but for now we can celebrate another win.