Saturday 22 Nov saw the mighty OC's 1st XI take on Staines HC at fortress Thames Ditton.
Following a cracking win the previous week which saw the OC's hold onto a 3-2 lead against an extremely competent Spencer XI , spirits were high and momentum was on our side.
Once again the OC's were able to field a strong outfit and were relishing the opportunity to get stuck into the Staines XI.
Despite a good warm up the game got off to a somewhat characteristically slow start for the OC's, conceding early though a loose cross which managed to bobble it's way on to a Staines stick and over the line.
Eventually the OC's warmed up and were beginning to exude glimpses of the free flowing hockey that has caused many sides real issues this season. The likes of Webber, Gilo and P Harman dominated the midfield and were able to release the forwards into some threatening positions. The chances began to rain in with serious questions being asked of the Staines defence. The OC's equalised through Wilson with a neat deflection following some slick stick work and a powerful shot from Gilo at the top of the D.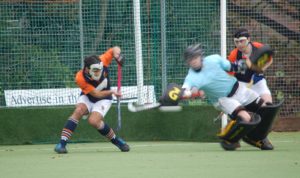 A momentary lapse of concentration gave rise to a soft turnover in the midfield exposing our defence to a swift counter attack from Staines. They were quick to pounce on the situation and a good strike from their centre forward saw the ball buried into the bottom right of the goal; 2-1 Staines.
The goal was against the run of play and an un-phased OC's unit quickly rallied and it was left to the player coach to settle the score with a powerful strike from close range to draw things level.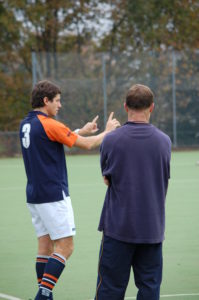 Jimmy Webber was next to step up after with a commanding drag flick from the top which saw the OC's take the lead for the first time in the Match.
With a lead obtained this proved to the be catalyst for some of the best periods of attacking hockey that the OC's have mustered all season, in fact any season for that matter. A flurry of 5 goals is the space of 15 minutes sealed the deal with the likes of Wiseman, Harman, Webber and Wilson all taking to the score sheet. Particular mention goes to a superb execution of individual skill by Harry Thomas who latched onto a through ball from Gilo, chipped the keeper and was then able to cross the ball back to Harman for the tap in, a suberb team goal!
The final result was an 8-2 decimation of Staines HC which serves us well going into next week's fixture against the heavily publicised Old Georgians XI. That promises to be a very good game indeed.
Finally, a big GET WELL SOON from all the lads to Nick Ripley who went under the knife to repair two broken fingers on Monday. A big loss to the team, so we wish him a speedy recovery.
Ladies  3-2 Sunbury and Walton Hawks Ladies 2s
We had a strong squad of 15 for this match and knew it could be a tough game as Sunbury were one below us in the table so both teams had everything to play for. We looked to have the upper hand early on in the match when Philly scored a great, simple goal. However Sunbury quickly got one back and from this point on, the game became slightly frantic and we could see they weren't going to give up without a fight. We got lots of play in their D, with some great work down the side from Jax and Fletch, and from Tosh, Syms and Philly in the middle and we had quite a few shots on target but none hitting home. We won a short corner and Liz scored a cracking goal which gave us some breathing space however Sunbury didn't relent and kept on us until the first half whistle blew.
The second half was equally tense, Sunbury had worked out that May was a key player to us with her speed and we found it difficult to get the ball to her. She was also body bounced off the pitch at one point but brushed that aside to carry on making some explosive runs. Helen Merry had a great game, relentlessly hassling the opo when they had possession and Jax and Liz were constantly creating attempts into the opo's D. Sunbury scored a second goal from a short corner which took us to 2-2, but almost straight away Georgie Sangster got a fantastic break and had a 1 on 1 with the keeper with a shot which unfortunately the keeper managed to save. We continued hassling them and noticed that they played very high in the last 10 minutes so our defense had a very tough time, but Hels, Sophie and Mezza did great work in holding strong. Georgie AKA Road Runner got another brilliant break and made a run towards the D to Knappys' cry of 'DON'T SHOOT GEORGIE!! DON'T SHOOT!!! Thankfully, Georgie either ignored or didn't hear Knappy and took a cracking shot at goal giving us the lead we needed to win.