The OC Hockey Club Colts this week held a one minutes silence to pay their respects to the fallen heros of WW1 last Sunday.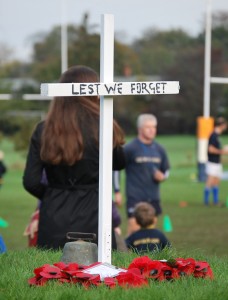 On an important day, the colts section came together with the OC's mini rugby section to mark the 100th anniversary of the first world war.
Will Fawcett – Chairman of the OC's rugby mini gave a fantastic introduction before the 1 minutes silence and the laying of the wreaths by a cross set out between the rugby and the football pitches.
Gavin Adair – Chariman of the colts section of the hockey club who laid the wreath on behalf of the hockey section commented – "This was a special occasion, and a great way for the children to learn and try to understand the importance of what our ancestors have done to ensure that we are able to live the lives that we have today.  We will remember them and we will never forget.!"
The wreaths have been placed at the memorial on Giggs Hill Green and the donation from the club has gone to the Royal British Legion.