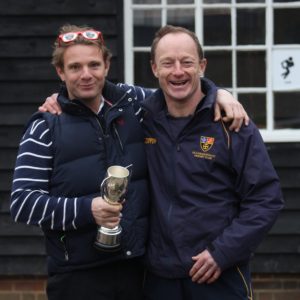 With the league title secured and only goal difference to increase we hosted Woking for the final game of a championship winning season. It certainly proved a goalfest, but far from the one way battle we expected. Woking hit us on the counter attack twice in the first ten minutes and we were suddenly 2 down. 2-0 down hasn't happened to us this season and especially not fortress Thames Ditton. We changed formation and took control as Knappy opened our tally before an Eds strike took us level. Starting the day on 28 goals each Knappy and Eds were both challenging for this years club Goalscoring cup. But the midfield took control of the game and Grimes and Brewer began to switch play through Rob J and Nick Lewis effectively. Suddenly the goals started to come as Knappy added 2 more and Eds another to take us into half time 5-2 up. Our defence had been caught by some pace up front from Woking but we held firm and switched the ball at pace. Rob Merry put his body on the line as we began to pick the ball off Woking and dominated a second half as Knappy and Eds scored 6 and 4 respectively taking the final score to 10-5. The result meant that in the 5 home games we've played since Christmas we have scored 62 goals and conceded only 10. Fortress TD.
One comical moment to mention as Martin Williamson, who we must thank for all his officiating this season, fell over flat on his back as he was trying to signal a sideline hit. We saw some red mist as well today – from frankly the most passionate keeper I have ever met. Nigel thank you for a wonderful season where you've put your body and heart on the line. We do definitely need to have a bit of sports counselling over the summer! And so we march into division one next season with a good team spirit and a winning mentality. High hopes for a dream double. It was with great pleasure that I handed over the top Goalscorers trophy to David Knapp, who scored 34 goals and frankly looked as sharp this season as I can remember.
We realised the championship dream and it's been a memorable season. Summer well everyone, stay fit and stay focused!
Eds