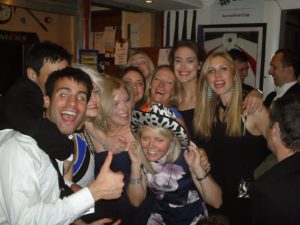 The End of Season dinner at Thames Ditton on Saturday April 23 was a huge success.
A record-breaking 95 people attended the evening. Simon Duncan was awarded Captain of the Year and Paddy Harman issued a warning to the club. Georgie Sangster organised an epic evening and deserves a huge thanks. Al Baker (2nd XI keeper) returned home shoeless and without clothes and wallet, while 3rd XI Player of the Year Charlie Packham has just returned home after a stomach pump.
Sam Carne defended his pathetic league finish with a rampant speech while Eds Copleston sent a video speech about the 3rd XI being the real deal as they achieved the dream.
A full report will appear here … assuming anyone can remember what happened.