1st XI 3-5 Spencer
2nd XI 1-0 Spencer 3a
3rd XI 4-0 Reigate Priory Men's 3s
4th XI 1-3 Goan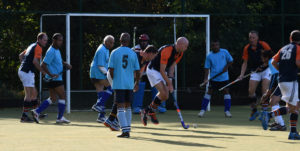 After a five-year absence, the 4th XI returned with interest, fielding no fewer than 18 players, including colts, for the visit of Goan. As expected, it was a hard-fought match with little quarter given on either side. We enjoyed the lion's share of possession in the first half but went in a goal down. We equalised early in the second half but then lost shape and conceded a soft second after which time we rarely threatened against an old but very wily side. To show this really was an OC side, Tissy got his second card in as many weeks (and almost a third when returning to the pitch he started questioning Virge about whether he knew the dynamics of the stick) while Nigel in goal resumed pleasantries with the opposition, the opposition umpire and passing joggers. Welcome back one and all.
Ladies 1st XI 1-2 Cheam 1s
I think it's safe to say we all went into this match feeling fairly confident that we would bring home another win, if our last three match scores were anything to go by. Certainly for the first ten minutes or so we completely dominated, with Richie stealing Cheam's first push back and attacking the D, nearly earning us a record timed first goal. We kept the attack going but Cheam pushed back and started encroaching in our half. A few near misses saw us go into 'headless chicken mode' and early panic set in. Unfortunately a sideline hit saw Cheam steal the ball and a quick one on one with Michele saw them win the first goal. We ploughed on but still in panic mode, and Cheam took advantage of this, earning themselves one more goal before half time. We did score but sadly this was disallowed.
Some serious pep talking at half time saw us come out fighting. It was like we were a different team, moving the ball a lot more fluidly and quickly. Liz and Nikki holding the middle, making some great runs on goal. Defensively we found ourselves pushing up, and we had a great few minutes of play where the ball just kept coming out to the back, to Beth and Lucy, and back round and out again. This is something we practice in training every week! Jax was as strong as ever up the left, with Georgia making some great runs and Ali throwing herself in (and on the floor) with full commitment as always. We hounded their goal relentlessly, with Kate and Alicia constantly making runs into the D but sadly nothing hitting home. Finally a seamless short corner routine saw Richie hitting the ball into the back of the goal. This spurned us on enormously, we were completely fired up, desperate to score again before the final whistle. Unfortunately (again!) we had another cracker of a goal by Georgie disallowed as a Cheam player went down with an injury, it just wasn't our day today.
Teams wise we were evenly matched however Cheam wanted it more and in the first half that showed and they got the better of us. So we've learnt well from this, onwards and upwards 🙂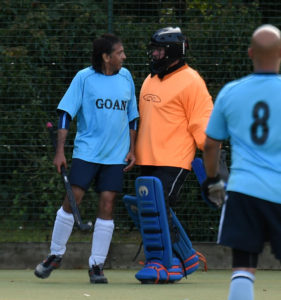 Ladies Vamps 1-3 Mitcham Ladies 2s
This was a top of the league clash which unfortunately went the wrong way for the Vamps. Vamps started strongly , putting lots of pressure on the Mitcham goalie but couldn't make anything count. Mitcham countered against the run of play and scored two goals in quick succession. This caused some consternation amongst the Vamps and uncharacteristic mistakes began to creep in. In the second half a third Mitcham goal from a well worked short corner saw the Vamps go further behind. Renewed pressure on the Mitcham goal lead to a late consolation goal from Debbie Maudsley. Some outstanding saves from Mitcham's goalie kept the score at 3-1 and the Vamps lost their opportunity to overtake their closest rivals.
Men's Barnstormers 3-2 Old Kingstonian Men's Vets
An early start meant eyelids were only half open and breakfast still on its way down for push back against local rivals and oldies, Old Kingstonians.
A lovely morning saw a fast start from OC's. Our front three were a constant menace, giving the OK's one or two more unwelcome grey hairs. However, the OK goalie was having a blinder and showing signs of being related to Maddie Hinch. Until Darran took an outside chance and turned it into a lovely individual goal.
1-0
Unfortunately, it sparked an OK turnaround. They began bossing the midfield then completely overran it. OC's emptied their bench in response and despite resolute defense from Bud the OK's drew level. And then scored again.
1-2.
OC's were out on their feet, scratching their heads and needing a visit from a Sky team doctor. Tidy skills and drills were winning the day.
Cometh halftime, cometh Closey. Matt 'Mourinho' Close spotted something no one had – the oppo had a four-man midfield. Things were immediately re-aligned.
The blood was up and OC's were looking hotter than a billionaire's second wife. Our four man midrift started to win the battle of the midfield bulge. Si, Matt, Rich and Rosco found their range. Eastie and Poen started to cut a thrust or two down the flanks. Gerry got his skates on upfront and got one back with a neat finish. Something had to give, which happened to be a p-flick in our favour. Gerry's flick was tucked neatly in the bottom-left hand corner.
3-2.
We could have had a couple more. But sadly fate twisted her inconsistent knife – and pinged Toby's achilles tendon. It's a dreadful injury to a player who's made an impressive start to the season. We all, I am sure want to wish him the speediest recovery, and look forward to seeing his power and skill back at TD soon.
As one last Ok attack petered out, OC's took the spoils. A win built-on intelligence – a new found ability to adapt will keep us in the mix. Sterner tests lie-ahead, but three from three has given us a storming start. Thanks to OK's for the usual cracking game and being a decent bunch.
CHECK OUT NEXT WEEK'S MENS 3's, Barnstormers and Ladies' FIXTURES HERE!
MENS 1 + 2 HERE!