FANTASTIC RESULTS THIS WEEKEND!
1st XI 4-1 London Wayfarers 1s
4-1
Dodgy pitch spares Kingsnorth blushes
The Mens 1 opened their account for the season with a scintillating 4-1 victory over London Wayfarers. We played well, but a dry and lifeless pitch ultimately secured all three points.>Very much like Page's Alka-Seltzer earlier that morning, the OCs got off to an effervescent start creating more opportunities than fives courts in Nigeria – within the first 25 minutes we were already 3-0 up. The Harman brothers combined for the first before Murphy roasted a drag flick into the top corner, making amends for a duffed penalty stroke just a few moments earlier. Murphy, now buzzing like a mosquito, strengthened our lead further with a pesty solo run followed by a blood-thirsty reverse stick shot.
Wayfarers pulled a goal back early in the second half, a rare error from Tim/Matt/Tim & Matt Ming. But J Harman restored our lead nearly immediately, caressing a first time slap into the bottom corner. 20 minutes to go Wayfarers were awarded a short-corner, and with two below-average drag-flickers hovering ominously at the top of the D, it seemed certain our lead would be reduced once more. Yet the arid pitch prompted a failed injection and we cleared our lines comfortably. The exact same thing happened a few phases later and we were then home and dry.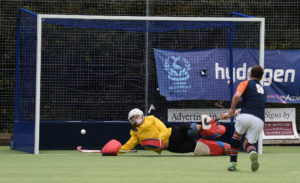 A few stand-out performances. Jay Harman, now top goal scorer in South Premier, was on top form – we wish him all the best on his week long tour of Scotland's heavy rough. Murphy, CZ, Robbo, OD and Paddy all had very strong games.
2nd XI 2-3 Wanderers 3

This week the OC 2XI set sail to Battersea Park for a game against Wanderers, a game that would follow the same plot and prove as successful as the Atlantic crossing by the Titanic.
It was a crisp Saturday morning as Captain Carne rose from his bed, grabbed a coffee, and headed straight to his office below deck to ponder their route across the Atlantic. After much deliberation the route was planned and he welcomed the passengers aboard.  The mood on the great ship was of great excitement, this was a crossing that everyone felt was routine.
As the last of the ropes were removed the boat departed. The journey started well and we were out the of the port and onto the ocean without incident. The calmness of the ocean allowed us to make impeccable time and before we could blink some sensational work in the engine room from Nick Ripley saw the OC's knock a day off of their arrival time. The first half of the trip continued to see the OC engine firing on all cylinders… however, due to the choppiness of the ocean and rising sea levels caused by global warming… we were unable to knock another day off our travel time.
Not long after the navigation system informed us that we were halfway through our journey Henry Don took advantage of a break in the waves and fired up the engine once more… the OC's were in full flight across the Atlantic. Nothing would stop them now….
As the sun completed its mission for the day and moon began its shift all was well. Suddenly a roar from the cabin boy 'ICEBERG AHEAD'! The great Captain did all he could to steer the large vessel but there was little he could do. Before we knew it a small cocky iceberg had punctured a whole in the side of the ship. Captain Carne tried to reassure the passengers that the ship was built to withstand such an attack and that the experienced crew would be able to steady the ship for the last two days of travel. Sadly he was wrong, he didn't realise the extent of the damage that the little object had caused. There was a gouge the size of a house in the side of the ship… and it was taking on water fast. Before the OC's could recover from the first hit… another hit came their way and then another. With the violins playing on deck the brave and heroic crew tried all they could to save the day, but it just wasn't to be their day… the powers that be had decided the vessel wasn't going to complete its journey.
We will forever look back at Saturday the 8th of October and remember one of the greatest maritime catastrophes in OC's history.  Next week we will travel by plane.
3rd XI 3-0 Horley
3-0
Its rare that I would investigate a team before a game at this level but CB had done some homework on Horley, our opponents for our 2nd game in the new premier league. The main intelligence revolved around them bringing a photographer to every game, but we knew it would be a tough contest on the pitch.
The OC's answer to Donald Trump, Martin Williamson, arrived at TD with herpes on his lips and unable to talk. Extraordinary scenes. He couldn't blow a whistle but was capable of taking photos and therefore any game of "our lens is bigger than yours" was won instantly by the OCHC over Horley. With Martin "injured" Liz kindly stepped up to join Virge umpiring as we pushed back on a grey but dry morning at fortress TD. We began poorly, attempting to force the ball upfield and our ball pace was poor. John Heard was again running the bench as 15 men allowed us to rotate continuously with Knappy and Smudger adding some firepower up front. Horley looked to be playing counter attack hockey and didn't press us at breakdowns. It was our own full press just outside the Horley D that lead to a free hit that Neil Grimes took 5 yards and then slapped into the top left of the goal with a contender for goal of the season. 1-0 and we still hadn't really started to flow, looking frenetic all over the park and making poor decisions. In midfield CB and James Bents combined well and with Nick Lewis and Ollie P ruling the left flank Eds was on hand to take us into the break 2 up.
This was a very similar chat to last week. We weren't playing our best hockey and should have killed the game off already. Horley threw everything at us in the second half but Mike made some fine saves. Mezz, Cato, Chris Bents and Darren held firm and we began to switch the ball at pace. The game was killed off with Eds's 11th goal of the season, a short corner strike, as we dominated the last quarter. There was time for Tissy to claim the first card of the season with an entirely inappropriate challenge that gave him dick of the day and a spell in the bin.
We wont have 15 again this season as the 4thXI arrives on the scene, but the bench was well directed by John Heard and you could see Horley ran out of steam after 50 minutes.
Its a sign of the times we can be joint top of the premier league with 2 solid wins but not happy with our hockey yet. We've shown moments of brilliance and had some great spells. We will click and when we do it should produce some great hockey and more goals as we entertain Reigate at the fortress next weekend.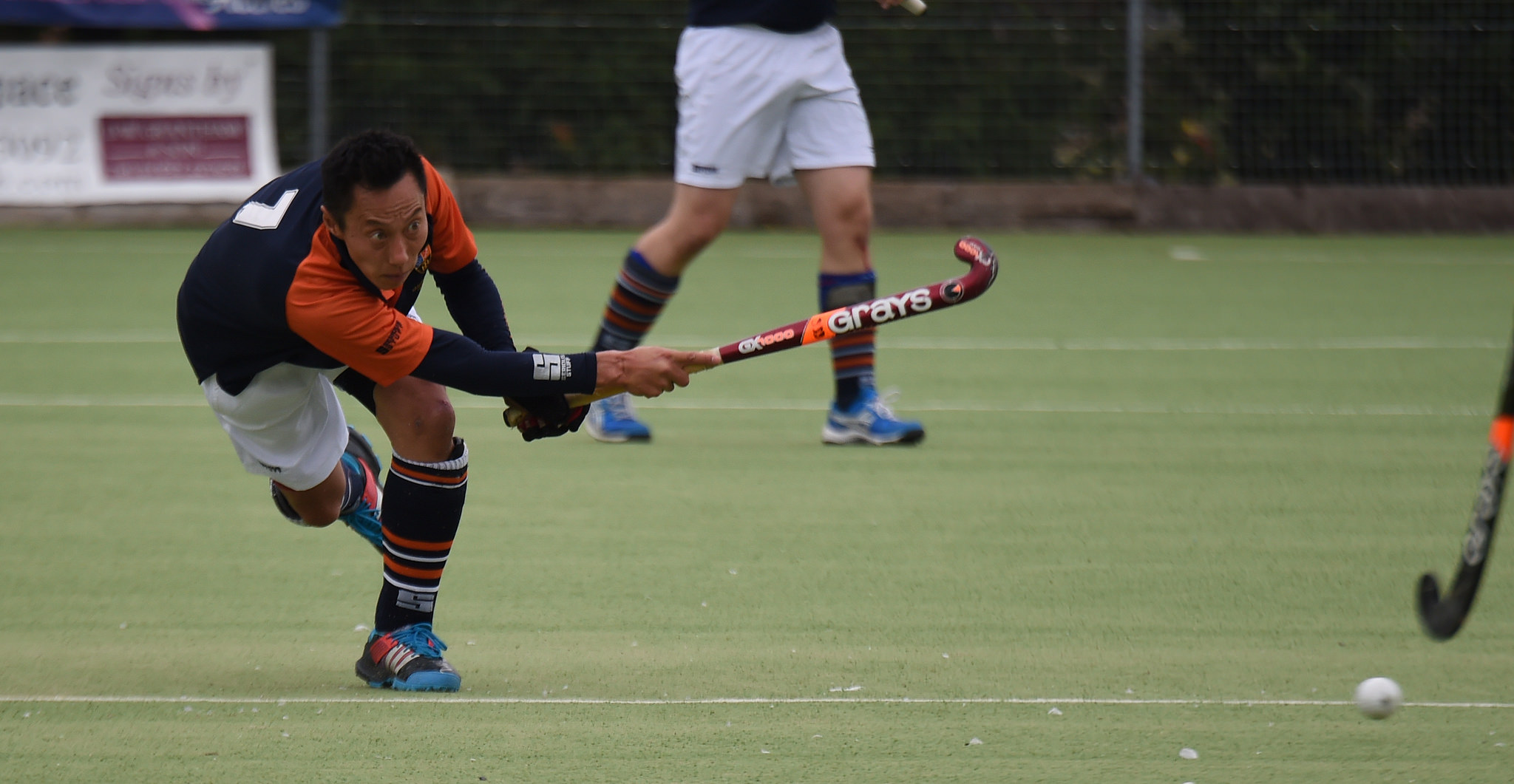 Ladies 1st XI vs Tulse Hill and Dulwich
5-0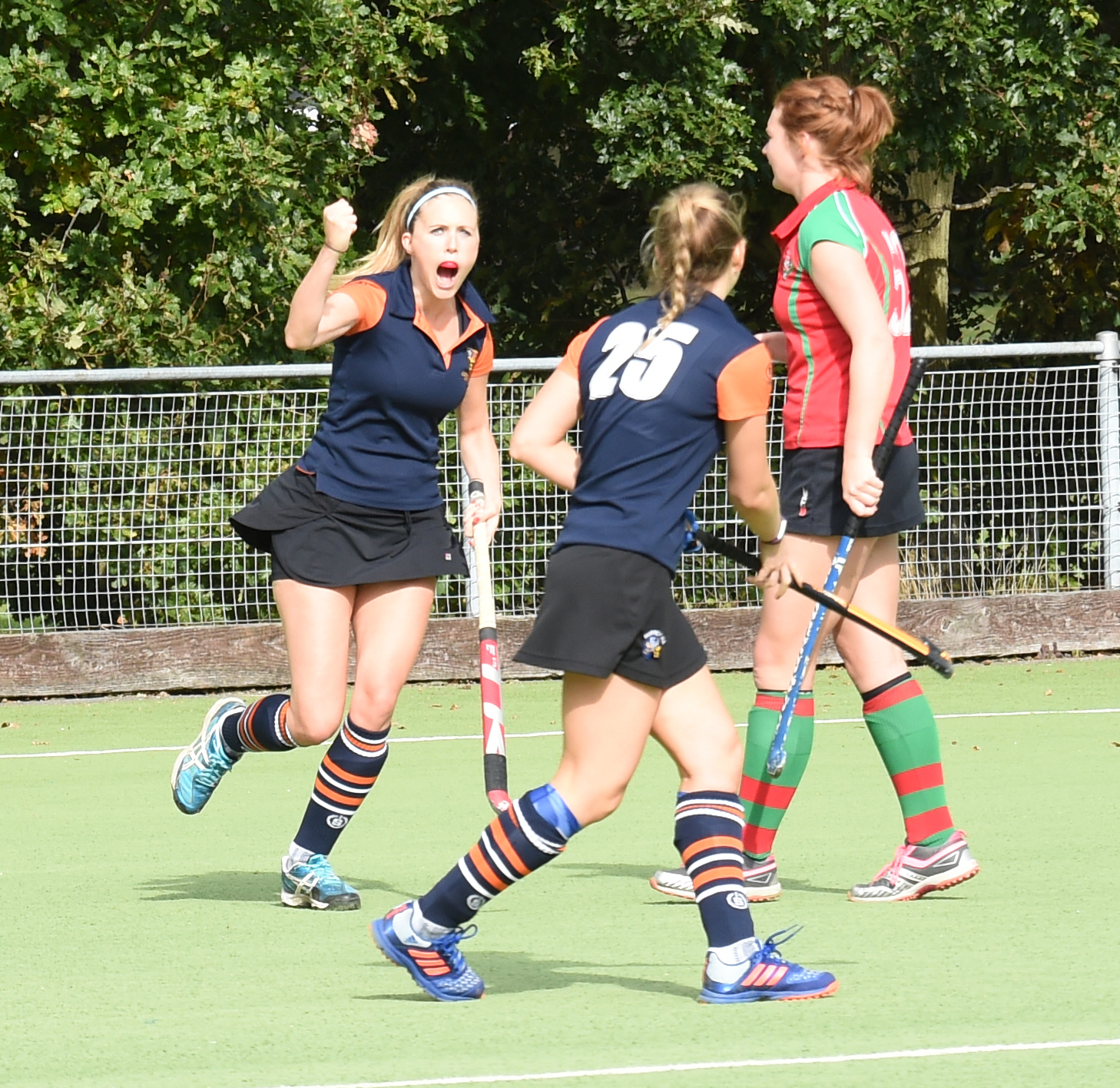 Big match this weekend saw the Ladies 1s play Tulse Hill & Dulwich. An old adversary and with OCs having two out of two league wins already the nerves were definitely there. Could we make it 3 on the bounce? Could we hold on to top spot? Could Dan not get told off by the umpire? The answer the the latter is yes which is why I have the honour of writing this report … note to self keep your opinions in your head for no other reason but to avoid being DOD! 
Well the answer to my questions is simple … we rock! Within seconds of the starting whistle we were on the keepers pads, sadly not as successful as Christian Benteke, but it showed we meant business and gave the oppo a fright!  5 minutes in and first blood to us … quick penalty corner injected by Emily, struck by Richie which rebounded off the keepers pads only to be put across the line by Fletch … 1-0. From there we just dominated and played our hockey quickly zipping the ball around and constantly putting their 16's under pressure with interceptions and shots on goal. The second came from just that … a rebound off the keepers pads and Alicia was snappy enough to slot it in. 2-0. We went into half-time 3-0 following a fab goal-end, slide line free hit to Liz, who with one touch put it into the D and after a small kerfuffle Amy took us into the break with a healthy lead! 
For once Dan said little at half time whilst we had our speed fix… Haribos for the anti-doping team out there. He did tell us to keep the momentum up and we certainly did. With not even 10 minutes gone Alicia smashed the ball across the D where Jax neatly slotted it through the keepers legs to take us 4-0. Jax wasn't done there mind. This is a lady who's amazing celebration was viewed more nearly 4000 times across Twitter and Facebook last week in our homage to Women in Sport Week and Gold Medallist Hollie Webb and she gave us another great reason to celebrate with her totally committed dive over the keeper to get the 5th goal.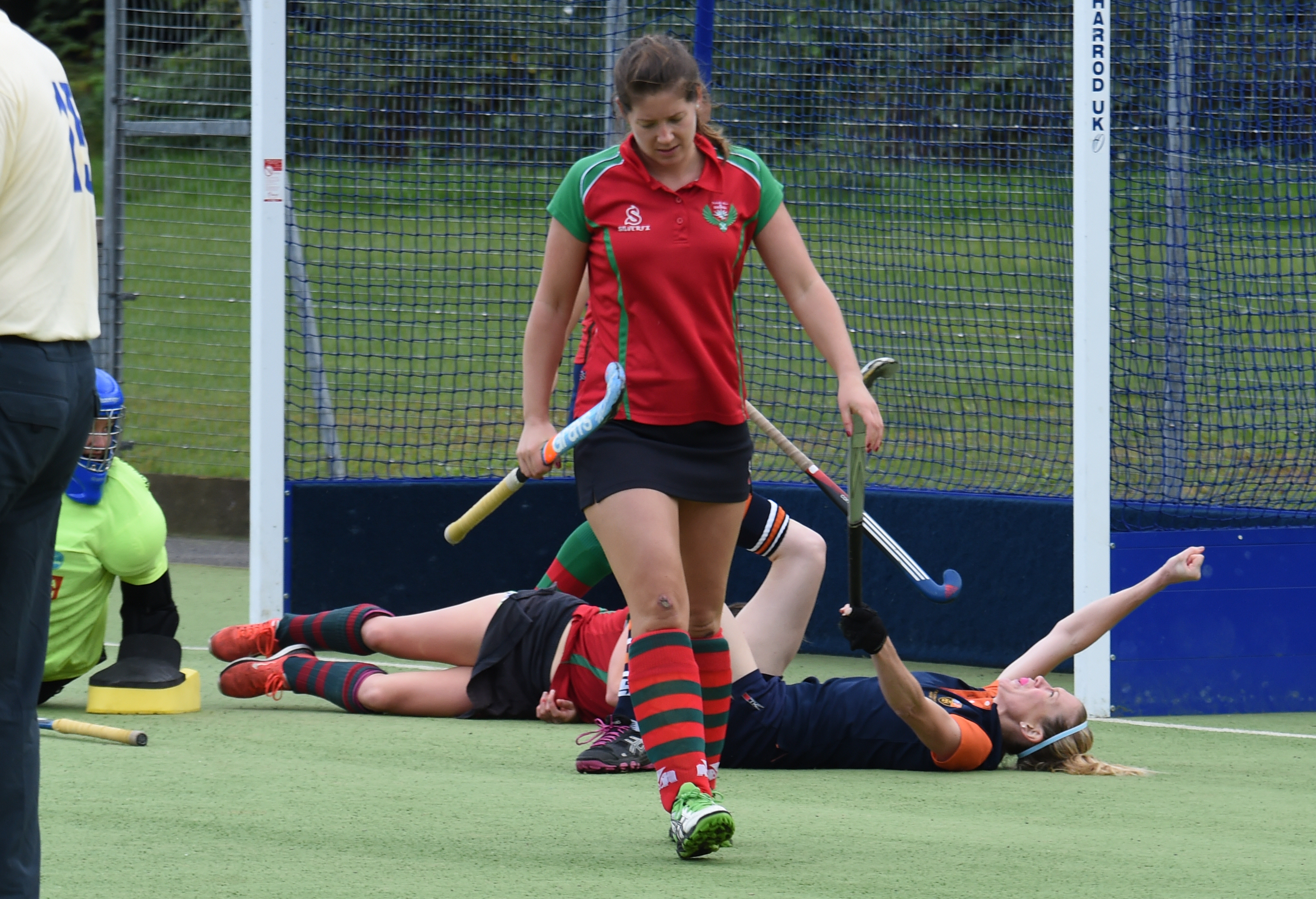 The final score was 5-0. Whilst the score line and this report reflects one way traffic our defence and GK played their part as THD tried to edge their way back into the game. Plus our midfields supplied the forwards and tracked backed when we needed them. Well played everyone. Great effort.
So we have 9 points after 3 games which is 6 points more than we had this time last season and this coming weekend… well let's train hard Wednesday and see Saturday!   
This week's squad because I can't mention everyone … Fletch, Lucy, Liz, Jax, Tash, Beth, Ali, Richie, Kate, Alicia, Amy, Emma, Georgia, Michelle and me. Plus the wonderfully vocal Dan Dan!
Ladies Vamps vs Surbiton 9s  
1-1
OC Vamps almost all arrived bright and early (Fee went to OCs due to poor instructions from the match manager) for a 10am start against Surbiton 9s, on their very nice water-based pitch. We were lucky to have not one but two fabulously fit Sophies and the lovely Janet in our side, and in the first half needed all of everyone's best efforts to keep Surbiton out of our goal. We started the second half more strongly and soon saw a great goal in open play from Sophie de Haast. Surbiton came back strongly, their youth and fitness showing and, despite some awesome defence from Sophie Merrett and Jenny (GK), managed to level the score. Fortunately Surbiton missed a likely-looking second opportunity and the game ended at 1-1.
CHECK OUT NEXT WEEK'S FIXTURES HERE!