Men's 2nd XI 1-2 Surrey Spartans Mens 1s1-2
The 2XI arrived at TD on a rainy Saturday morning ready to kick off the 2016-17 season with a bang. Once again the 2XI had received a summer makeover and was full of fresh (ish) faces ready to crush the Surrey Division 1. This weekend's victims were to be a historically strong Surrey Spartans and a fellow title contenders.  I would like to paint a picture for you all… close your eyes and ask a friend to read the remainder of this report to you… for this battle was identical to battle of Thermopylae between a foolish King Leonidas (Surrey Spartans Captain) with his feeble 300 and the all-powerful King Xerxes (Sam Carne) and the full might of the Persian Empire.
The OC's arrived at the wet and boggy battlefield in their newly purchased blue and orange armour ready to stamp out the unaware and unknowing King Leonidas. The Spartans had also arrived, wearing a smug look, clearly reminiscing of the Greco-Persian Wars during the 2015/16 season. Little did they know, this wasn't going to be a war. It was going to be a slaughter.  As the Persian reserve army (3XI) finished slaughtering the peasants and villagers in the surrounding fields, King Xerxes and King Leonidas approached the middle of the battlefield to flip 'the coin'. As Xerxes hurled the coin into the abyss, Leonidas bellowed "HEADS"… heads it was. Leonidas had fallen for the first part of the great God King Xerxes plan… to lose the toss.
The battle was underway and the Persian Army sent wave after wave of attacks towards the Spartan 300. King Leonidas was leading from the front and the wall remained. Without him the God King Xerxes and his men would have overwhelmed and routed the foolish 300 within the first 15 minutes. But this was not to be. A rush of blood from the Persians led to committing to many men forward and before they knew it there was a gap in the defensive lines. One of King Leonidas men nipped through and thrusted a spear straight through the heart of one of King Xerxes peasants (Hugo Shephard). The Spartans had taken first blood.
The loss of the Persian peasant meant nothing, and the Persian Army was more confident than ever that the Spartans would fall. King Xerxes bellowed "FORWARD" and his men did so. It was only a matter of time before one of the many skirmishes paid dividends. Xerces sent forward one of his top assassins Jimmy Webber to strike a blow to the heart of the Spartan wall. He struck with such ferocity that even King Leonidas failed to prevent the death of one of his men. The battle was now even as the half time whistle went.
Xerxes once again motivated with his men by telling them that this was one of the biggest battles of their careers and that they should all give 110%. It was clear to all that they were roused. As the second half of the battle started it was obvious, there was only going to be one winner. King Leonidas once again did his best to keep out the advancing Persian Army. Xerces sent forward his second in command Mathew Cook to break the back of the Spartan 300. A mistake from one of Leonidas bodyguards left the Spartan King and Mathew Cook alone in a 1 on 1 situation. Leonidas had not choice, they threw his spear and took down Mathew Cook. Thankfully, the European Court of Human Rights were overseeing the battle and agreed that there had been a human rights infringement. All parties agreed that the only way to move on was for another 1 on 1 battle from the penalty spot. Although Xerces was confident he would kill Leonidas with one blow, his advisors convinced him that it would be safer if he watched from a distance. As a result he sent forward his trusty assassin Jimmy Webber. Boom. The Spartan King Leonidas was dead, and the Persian Army was victorious.
As it turned out the Spartans we faced that day were more their lacklustre debt ridden 20th Century version from our modern day texts books, rather than their fearsome 650BC myth.
Men's 3rd XI 6-2 Cheam Men's 2s
The 3rd XI warmed up for the 2016/17 season with 3 September friendlies at TD producing 3 solid victories over Old Kingstonians (5-3), Woking (6-2) and Purley (6-1). After achieving the dream double of two League Titles on the bounce we are now in the SOHL Premier League. Following promotion its always important to set the tone in a new league and we knew Cheam would be a tough test as they arrived at Fortress TD greeted by heavy rain.
This season we will sadly be playing without one of our team and club stalwarts
CD. Its odd not having CD around and although its not said, you feel it in the squad. It would be a bit early to dedicate any performances to Christian but we'll give this season our best shot, knowing how much he would have loved to be part of it.
On the pitch we had a rain hindered warm up with Nick Lewis setting the tone for the season, arriving 10 minutes before push back as his "alarm didnt go off." Last seen on whatsapp at 2.25am. Nick however narrowly avoided the first league DOD as Mezz enthusiastically attempted to hurdle the goals on the side of the pitch, failed and nearly ensured he was in ambulance before pushback.
We started well and held the ball in midfield as Grimer and CB combined with the returning James Bents in midfield. Our defense lacked an injured John Heard as he ran the bench, but we switched the ball at pace and our structure looked good. Cheam were well drilled and had clearly done their homework as they looked to counter attack at every opportunity. Nigel "Red Mist" Hawes was substituting in goal for Mike this week. From the first counter attack we conceded a short and the resultant Cheam flick was heading for the top right apex of our net until a redbull inspired CB somehow deflected it wide with a fantastic save off the line. We sprung into life with Brandon combing with ollie park down the right who played an excellent ball into the D for Eds to deflect and we had the lead. Paddy and Jay Harman's cousin Max made his debut for the club and looked skillful at left back, combining effectively with Nick Lewis. Nerves settled and we pressed and switched the ball as Cheam struggled to get out of their half. Eds then ran through the cheam defence and finished off to make it 2-0 at the half.
It was clear we hadnt really played our best hockey and 2-0 was probably flattering. The next goal was crucial. However as is so often the case when that is said, we conceded as Cheam converted another flick past Nigel and it was game on. Nigel was on hand to keep us ahead shortly adterwards and we absorbed some pressure. With 25 minutes to go the game was in balance as cheam went down to 10 men following a green card. The next 25 minutes proved we have what it takes to succeed in this league, starting with a move that probably included every OC on the pitch, down the left and switched to the right for Neil Grimes to score his 3rd of the season. 3-1 became 4-1 2 minutes later as Eds completed his hat trick and 9th of the season following a silky run from Jimmy Bents. We were hungry and pressed Cheam again, Brandon converting a Farqs strike and then we forced a short that CB deflected in to kill the game off. Cheam did counter attack with success to score a consolation goal but 6-2 could have been 10-2 as we dominated a weary Cheam.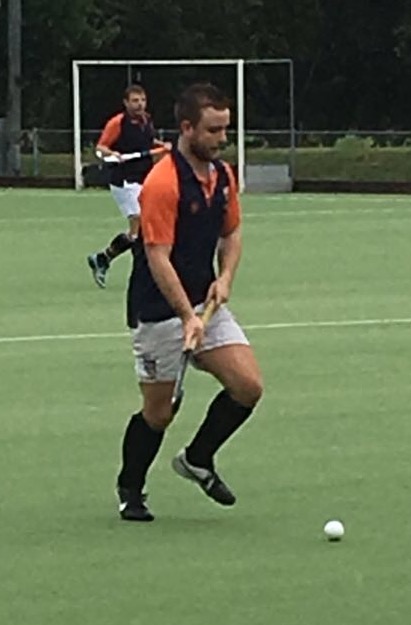 Virge and Martin were as usual excellent and looking incredibly smart in their new umpires caps. Thanks to them and also for the support of Sam Carne and his band of lunatics. We stayed pitchside to witness their win. A good opening weekend at the fortress, but tougher tests ahead and certainly no talk of trebles or dreams yet. Nevertheless, CD would be proud.
Eds
Ladies 1st XI 3-0 London Wayfarers Ladies 5
On Saturday the 1st of October, the OC ladies played against Wayfarers 5s. With our new Under Armour headbands we were determined to secure yet another win!
Despite the heavy rain, both teams began the game strongly and It was clear from the offset that the Wayfarers were going to give us a physical game. However, we maintained possession putting into practice various set pieces that we had perfected in training. We continued to move the ball around their 25, winning various short corners but for the first 20 minuets the score remained 0-0. Dans enthusiasm nearly got the better of him as the Upmire nearly sent him off the pitch. Meanwhile Sophie M and Beth held up the back ensuring that any balls that did slip through the mids were stopped and Kate S kept relentlessly hassling up on the right.
Heather and Ali continued to hold up the middle and we continued to win many short corners. For one of the shorties we had practically all the short corner team on the side lines, we kept out cool and improvised… but again no goal. Moments later we win another shortie and score a fantastic and well deserved goal coming from Riche top D. Finishing the first half 1-0 to OC's!
By the start of the second half the rain had cleared and the sun was out. A P Flick was won and Riche smoothly fired the ball bottom left, making the score 2-0! The second goal boosted our confidence and we continued to play our game and as a result score another goal – a controlled clip of the ball that game off of Jackies stick!
We finished the game with a 3-0 win. Not only was this a great game but it also left us top of the league! Well played everyone!
Ladies Vamps 4-1 Tulse Hill and Dulwich 6s  
OC Vamps made a strong and positive start to the match, soon scoring our first goal with a fantastic penalty corner strike from Katharine.  By half-time Katharine had put another one past their goalkeeper.  Kathy also added to the score from a bouncing cross into the circle, which she brought under control and pushed into the back of the net.
THD came out strongly in the second half and a complacent OC Vamps, straying too far foward, allowed them to get one goal back.  Strong defending from Kim, Kate, Pam and Dawn, and a couple of super saves from goalkeeper Jenny ensured that no further away goals were scored.  Great passing of the ball through the midfield, directed by Amy, created some lovely opportunities for our forwards Debbie, Michele and Jane.  On form Katharine sealed the match at  4 – 1 with another super penalty corner strike.
CHECK OUT NEXT WEEK'S FIXTURES HERE!