Guildford 1-4 1st XI
From the Team – 
After a pretty indifferent start to the league campaign the OCs travelled to league newcomers Guildford for what promised to be an entertaining game of hockey.
With all the guys appreciative of a late pushback and therefore more of a chance for Pagey and Jay to shake off the previous night's excesses morale was high and with the exception of finding out AJ would be umpiring the attitude was positive going into the game. 
The key for us was to start strong as it has taken a while for us to shift quickly through the gears so far this season however it was the young Guildford side buoyed on by the vocal home support who took the early initiative and looked the more dangerous going forward. It took some smart defending and a few great picks from the Ming bros, OD and Robbo to keep the scores at 0-0 going into half time.
The start of the second half started in a more assured fashion and it wasn't long before the deadlock was broken after Jay found Pads with a brilliant pass which was deflected high into the roof of the net. With momentum on our side it wasn't long before the lead was extended after a marauding run from Murph ended with a fine reverse stick strike low to the keeper's right. A dubious goal for Guildford followed after maybe 4 or 5 fouls in the build-up but OCs were at this stage comfortably on the front foot and controlled the game maturely adding goals 3 and 4 through Jimmy Smith and Wizzy to send the lads back to TD happy. 
Tim Ming MOM for a stellar performance as well as avoiding injury but strong individual performances throughout the whole squad. DOD Ross for being too much of a top bloke. Massive congrats also due to club legend Chris Wiseman for bagging his 100th goal in South League hockey. 
Mid table clash against Banbury at the fortress next week. Sure to be an interesting watch for the neutral.    
From Martin W –
A strong second-half performance saw the 1st XI record their second win of the season at bottom side Guildford, with three goals in a ten-minute spell sinking a team still looking for their first points.
A decade ago Guildford were riding high in the top flight of the National League while we were slowly recovering from a series of relegations; there were at least five divisions between us. But things have not gone well for Guildford since then and relegations for them and a string of promotions for us have landed us in the same league.  Guildford came into this game with four defeats in four, only four goals scored and a defence conceding an average of four a game.  That symmetry was maintained on a chilly, grey afternoon.
Both sides looked nervous in a poor first half. We created several chances but rarely looked like scoring, while Guildford seemed to rely on good aerials which we struggled to cope with.  The half ended with Guildford enjoying their best spell of the game but without really threatening.
Paddy Harman's close-range deflection six minutes after the break opened the scoring, and four minutes later Matt Murphy steered in another deflection from a ball drilled into the D put us two up.   Briefly, Guildford rallied, a well-taken shot hotly disputed by the OCs who felt an earlier infringement had been missed.  Our two-goal lead was restored within 90 seconds, this time Guildford left fuming after Jimmy Smith got a touch to a ball they felt had been dangerously lifted into the D.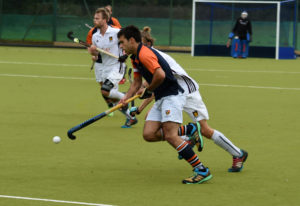 Guildford, a tremendously young side, continued to hustle and bustle without much effect, and the game was done and dusted by the time Chris Wiseman turned in the fourth ten minutes from time.  Frustration and clumsy tackles meant Guildford ended the match with nine men on the field and under the cosh.
Next week we take on another side near the bottom, Banbury, at Thames Ditton, knowing a win could lift us into the top four.
2nd XI 3-2 Epsom
The 2nd XI continued their we-win-every-other-week season by leapfrogging Epsom into fifth place.
Vamps 2-0 Croydon and Whitgiftians
The Vamps got their Ladies Surrey Cup campaign off to a winning start
Barnstormers 2-1 Bromley and Beckenham
Coming off last week's disappointment the boys were geared up with a full squad, no injuries and nobody throwing up.
The skipper was asking for the boys to dig deep and want it more. Really he just wanted someone else to dig deep (bend over) and tie his shoelaces.
So with the grey skies above, a few drops of rain and a good crowd in we started with some good positive play and some good possession. It probably helped that we were only playing against 10.
The longer it went on the narrower and more frustrated OCs became. Some of the passing was called into question and it may have been construed as if we were playing in our away strip. So with the bench coming into play, albeit with not much of an injection, we finally got a break in the midfield; the skipper moved the ball into the D and gave it an almighty heave and luckily it was deflected in by Gerry, back on target, and we scraped into the half 1-0 and, as per the rules, after the allotted 35 minutes.
The second half started a little better, a bit more control, some good moves and very little to do at the back. A great team goal again from Gerry got us into a commanding position.
We then decided to make it interesting by pushing a few mini self-destruct buttons. We got a decision reversed due to having 12 players on the pitch. When you have so many substitutes who would notice. Good spot by eagle eyed Virge. Some slack passes at the back brought on a few penalty corners. Bud decided he was tired of running first wave.
In the end, and after a series of goal scares, Bromley were awarded a penalty stroke which they duly converted.
So with the score at 2-1 and 5 minutes to go Doug thought it would be a good time to discuss one of Newton's theories on the law of physics (which one I am not sure) with their umpire. For his views he got a green card. Those 2 minutes went by and Doug rejoined us with no damage done and so it was only left for Howie to cut down a Bromley player in their half to add to the drama; for this he also got to have a little rest.
The boys hung on and in the end enjoyed a hard fought home victory, moving us back into 4th position with a couple of games in hand.
The 3rd XI and 4th XI were on an unwanted league break caused by an uneven number of sides in their leagues, while the Ladies were on their traditional half-term siesta.