The 1stXI suffered defeat to promotion hopefuls Havant but the 2nd XI stole 2nd spot for Christmas with a win over Bank of England, 3rd XI secured a club record 100% win record and end 2016  unbeaten, while ther 4th XI went down 3-5 in a thriller. Both Vets sides won in high-scoring games.
1st XI 5 – 1 Havant
This was a game where we competed for long periods but were ultimately undone by some sloppy defending.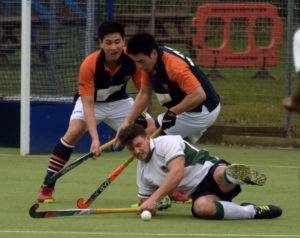 2nd XI 7 – 3 Bank of England
3rd XI 3 – 1 Surbiton
We travelled the short distance to Surbiton in the knowledge this would be our toughest test. We had a 100% win record but Surbiton were 2nd in the league having won all their home games comfortably. It was set to be a cracker and didnt disappoint.
After a start delayed by water cannons we took a while to adjust to what was an excellent, fast, bouncy surface. Testing Max's versatility he stepped into CB's traditional bottom of the diamond role as CB was spending the weekend in Lapland searching for Santa. We started well and a few chances came and went as Jimmy Bents and Nick Lewis attacked down the flanks. A heated moment saw Ports have a chat with the surbiton umpire and he was quickly removed to calm down. Surbiton did have a couple of chances to open the scoring but our first short corner was thumped home by Nick Lewis to give us the lead after 15. The next 20 minutes was all Surbiton's as we soaked up pressure, Mezz and Cato providing solidity and Darren, Olie and Ports holding firm, but we couldn't string passes together and looked "flustered."
At half time 1-0 was a little flattering on us. David Knapp, who was clearly pumped for this game, gave a rousing team talk and we knew the next goal was vital. A trademark Grimer ball found Eds early in the second half who broke down the right and fed Farqs, 2-0 with 25 to go. Surbiton then showed character and pressed us hard and a counter attack led to a scrappy goal that deservedly put them back in the game. 2-1 with 20 to go. Surbiton had the majority of possession and for the first time this season we were outplayed for 15 minutes. The defence held firm however and we reverted to half court, allowing Surbiton to come at us. Some desperate defending and clearance balls to buy time kept us ahead. Fittingly, it was Knapp that finished off a good run by Brandon with the last hit of the game and we secured the three points, keeping our record in tact.
After the game we sprinted back to fortress TD to support the 1s and buy our thirsty club captain some beer. Thanks to Martin and Virge for officiating so well for is this half. We may moan, but we fully appreciate your efforts.  At the Christmas break we can be happy with a 100% winning record, making it a full calendar year unbeaten. 10 points clear of Horley, in 2nd spot. However, having won Division Two and Division One in the last two years we know there may be a wobble and securing the treble will be anything but easy. A lot of hard work ahead and every side will be out to ruin our record. We can enjoy our turkey safe in the knowledge we couldn't have produced a better team ethos, self belief, spirit and it shows in what rob merry described as a "sexy" league table. The gold standard of the OCHC and the treble dream is alive. Merry Christmas all!
3rd XI 1st Half Stats  –
Goal Scorers
Eds Copleston 19
Andrew Farquhar 7
David Knapp 6
Neil Grimes 5
Chris Brewer, Nick Lewis 4
Cato 2, Mark Smith 2
Tissy 1, Darren 1, Coops 1, Brandon 1, Cookiey 1
Cards
Yellow
Darren
Green
Ports, Tissy, Grimes, CB