Henley 1-3 1st XI
"Ugly performance. Beautiful result." Eddie Jones was spot on when he commented on  Old Cranleighans' hard fought 3-1 victory at Henley. A crucial 3 points.
The day started in the usual jocular fashion with Page refusing to divulge the name of his most recent conquest, and the standard painful WhatsApp banter from Pettit. However all jokes were soon cast aside as the OCs realised the magnitude of this fixture – effectively a 6 pointer!
An electric start was soon rewarded as Mo dodged into the D and Murphy slotted cooly from close range. But Henley found some form soon afterwards and hit back deservedly after 20 minutes. The first half closed with little between the two sides.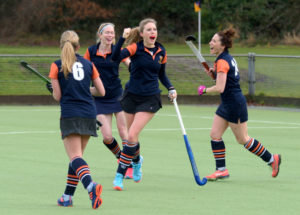 Some choice words at the break allowed the OCs to get back on the front foot, despite the odd kamikaze pass from Way. Robinson, back to his lethal best, was poetic down the right hand side and forced a penalty stroke with a marauding run into the D. Murphy converted with aplomb – his 19th of the season.
The confident OCs quickly began to turn the screw, but a series of yellow cards stunted our progress. Mo was first dismissed for an ugly stick tackle, then Robinson hacked an attacker to the ground, and P Harman was unfortunate with a slightly missed timed tackle. Henley began to bombard us although rarely threatened the goal and were always vulnerable to a counter attack. Such an opportunity soon arrived as Murphy intercepted a poor dribble and offloaded to Mo just inside Henley's half. The veteran striker exploded into the 22, skinned a few defenders, rounded the keeper, and then chipped into the net from an acute angle. Goal of the season.
The OCs have now secured 7 points from their first 3 games of 2k17 and are now full of confidence going into the rest of the season. Watch this space!
2nd XI 4-0 Oxted
Report to follow
3rd XI 5-0 Purley
A tougher game than the scoreline suggests although Purley only once seriously threatened our goal.  For the second week running we played some excellent hockey, another outstanding solo effort from Charlie Packham opening the scoring.   Leading 2-0 at the break, the game was sealed with a third 29 seconds into the second half.  We now lead the league by ten points, although we have a week off.
4th XI 4-0 NPL Bees
A fairly easy win over NPL Bees was started with a goal from Neil Robertson-Ravo after only 50 seconds and thereafter the win was not really in doubt as Nigel Hawes celebrated a rare clean sheet by not having to touch the ball or even get close to flattening an opponent.  We played some excellent flowing hockey to secure our fourth win in five matches. A week off next Saturday before we return against bottom side Leatherhead.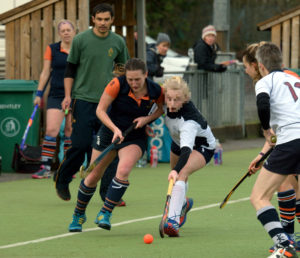 Ladies 3-0 Cheam
Click here for match photos
Fletch flicks in fabulous goals to ensure a win against Cheam
Despite the dreary February weather, the snuffing colds, and slightly depleted team, we focused our attention to the match ahead (these guys had beaten us previously). The changing room chat was spurred on by Olivia, age 2, who helped Dan explain some of the tactics.
Rising to the challenge and showing true flexibility we adapted to the reduced team numbers – with playing Liz playing behind Helen, and Tash up front at certain times during the match. At one point Helen ran up the pitch calling to Ali 'you're sweeper now!' Luckily she returned before there was any intense attacking play.
Summary of goals – First goal pushed in on reverse stick from Ali to Fletch – Boom! 2nd Goal – ball came from May who was out wide again to Fletch, who was positioned right on the 'P' spot. She elegantly put it away in the top right hand corner. 3rd goal – was a strange rebound thing that went down the goalie's back – Tash and Ali were both involved somehow. Not class, but goal is a goal!
It was lovely to hear Dan's dulcet tone and encouraging words from the side line 'Don't relax…..RUN Fletch!' and several other very helpful 'top tips' – mainly focused on Ali's play! And he did really well not to get told off by the umpire until we had played at least 3 quarters of the game!
There were excellent passing around the back (Emma / Nicky / Liz / Helen & Tash) and up the channels (to Richie / May /Jax / Heather / Ali & Fletch). And some good saves from Michelle. Both Helen and Fletch were contenders for player of the week – both worthy nominations.
To sum up I would say – great team play and please all remember the 5 meter rule!
Mitcham 4-3 Vamps
A hard fought game, where both teams worked tirelessly throughout. O C Vamps had a 1-0 lead by the end of the first half, although truthfully Mitcham might have been 2 or 3 goals ahead but for Nicci's brave goalkeeping acrobatics.
A quick goal from Katharine (she who takes no prisoners) early on in the 2nd half teased Vamps into believing that we might get full points from this game, but Mitcham entered a dominating phase, notably while Vamps defender Dawn (only 1 replacement hip) was off the pitch, and it seemed in the blink of an eye that Vamps were behind to 3 goals.
It was a proud battle, bodies were sacrificed. Blood (Pam, ball to knee, ending her game), sweat (although this is disputed) and tears. Despite our debutant Speedy Jo scoring the third goal for Vamps, the wiley, dastardly Mitcham girls sneaked another, and the world of hockey was rocked to its foundations as OC Vamps lost 4 goal to 3, leaving them floundering in 2nd place in the league. 
Match manager Debbie said "it was a game of 2 halves, everybody put a shift in, and we're a sick as parrots"
However, things did brightened up after the match, as there was an abundance lush, crispy chips, and even a few glasses of white wine appeared to reset the world balance until next Saturday.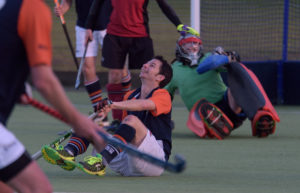 Barnstormers 1-5 Southgate
Report to follow
Tring 7-2 Hamstrings
Report to follow