1st XI 9-0 Guildford
Click here for match photos
Match report from the team –
Despite the usual Friday night activities, with T. Ming in Café Sol and Czerniewski at a dinner party, OCs arrived early for the 1130 pushback encouraged by skipper Harman keen to have some company supporting the Ladies 1st XI. The task at hand was a fixture against the struggling Guildford in a game where we would have been disappointed not to take 3 points.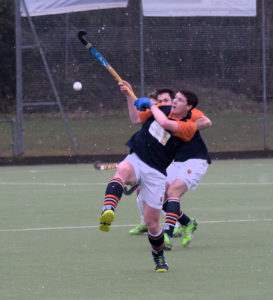 In Baltic conditions, OCs started the game perfectly grabbing an early goal after some nice play down the right flank was finished well by J. Harman.  P. Harman and Czerniewski continued to cause Guildford problems breaking from midfield creating some good chances as the ball flashed past the posts a couple of times. It was not until later in the second half that OCs added to the score line with Ming and Murphy despatching two corners in quick succession, alongside a Thomas dink over the keeper. Guildford rarely threatened Doble in nets until late in the first half where he was seemingly deceived by a slower ball from Guildford's first corner. Luckily, Robinson padded up to the ball on the line and some fortunate umpiring meant the clean sheet remained in tact at half time.
The message from coach Pettitt at half time was more of the same and it didn't take long for OCs to break the second half deadlock with J.Harman winning a stroke after some neat play down the left. OCs continued to dominate during the second half with short corners seemingly flying in at will. Marshall added his name to the score sheet grabbing the final goal with a tap in after some unselfish play from Matt Ming in front of goal.  The score line ended 9-0 with a hat-trick from Murphy, brace from Thomas and goals from Harman. J, Ming. M, Marshall and Robinson.
Overall, a solid and deserved 3 points against a young Guildford team whose goal difference now reads -67. OCs remain unbeaten in 2017 taking 10 points from a possible 12, and move on to a tough fixture at Banbury in the quest to move out of 6th place like Man Utd.
Match report from the sidelines –
Guildford arrived on the back of two hefty defeats last weekend and rooted to the foot of the table, while we were able to field our strongest team for the first time since early in the season. Once we opened the scoring inside three minutes it was not really a case of would we win but by how many. Guildford has a fair share of the possession but much of that was in their own half and they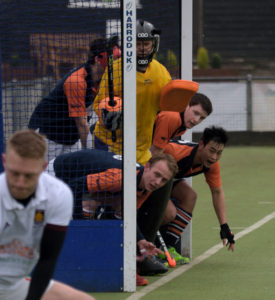 rarely threatened when pushing forward; their first shot came from a short corner in first half stoppage time, their only one from open play on the hour. Four first-half goals – the pick a flick over the keeper by Harry Thomas – kept a good crowd entertained in the bitter cold and with light snow falling but not settling. In the second half we carved holes through the middle almost at will, gaps made all the more gaping by regular cards for the visitors. Matt Murphy's hat-trick took him a fair way clear of Eds Copleston in the leading scorer stakes, although as one stalwart pointed out Eds may well 'find' some goals in the coming days. Thomas chipped in with a brace, and there was even a rare goal from Dan Marshall to complete the rout. Three wins and a draw since Christmas leaves us comfortably mid table, but this result leaves Guildford, 25 goals conceded in three matches without one in reply, all but relegated.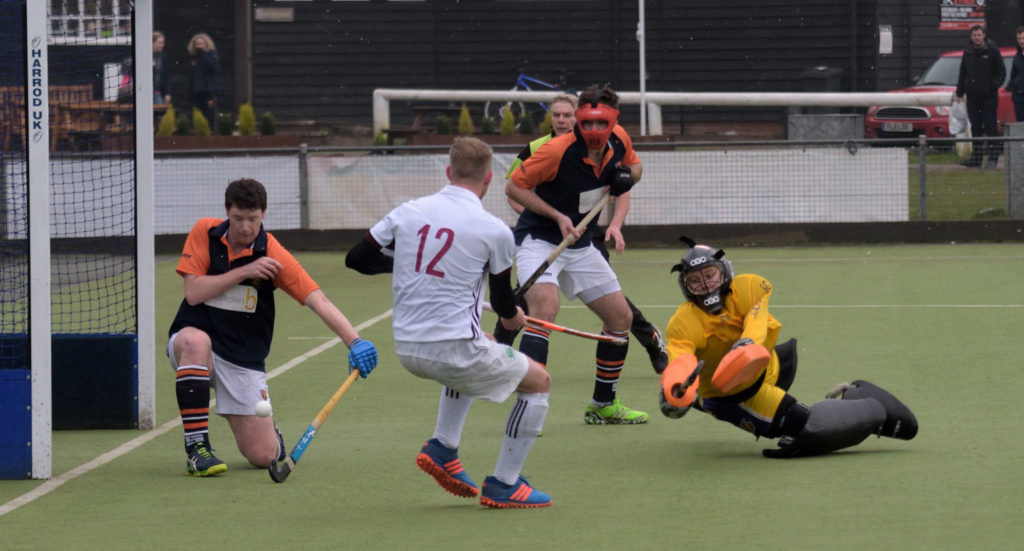 Epsom 2-3 2nd XI
After the destruction of the King last week, the newly crowned Kings of the league faced a formidable threat away from the sanctuary of their castle… the 'giant killers' (Epsom). The game started in a tentative manner, the OC's were clearly nervous and Epsom were ready to take point from another top three side. The OC's battled with a mixture of terrible weather and an unpredictable pitch, struggling to string a series of short sharp passes together. After a tough opening 15 minutes neither side had managed to penetrate or cause any real threat. The only damage that had been sustained was to Henry Don's face who valiantly 'wore one' in the eye. Inspired by Donny's bravery Jimmy Smith found the backboard amidst a goal mouth scramble. 1-0 OC's. We had hoped that this goal would have settled the incumbents, but to the contrary Epsom had not planned to go down easily and a series of onslaughts required Sam Carne to clear two off the line. As the half-time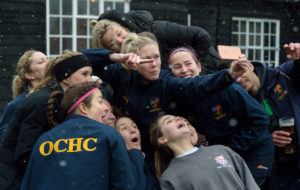 whistle blew the score remained 1-0… everyone knew that there were going to be more goals.. but it certainly wasn't clear who they were going to be for. The second half started in a similar manner to the first as the OC's continued search for their second. 15 minutes onto the second half a cheap deflection from Epsom found the bottom corner. 1-1. It was game on. OC's knew that they needed to lift their heads as all their hard work last week were on the grasps of being undone. However… in true OC's style the game was far from over. The OC's rallied with Nick Ripley braving a broken thumb to try and inject some more life into the team. A few minutes later the OC's got their first short corner of the game, upsets the leading scorer Jimmy Webber to put the OC's back in front. 2-1. The game was far from over and Epsom knew another goal was on the cards. They were right… after turning the ball over in midfield Epsom equalised with less than 10 minutes to go. 2-2. Once again the OC's had to battle and give it all. They had to try to regain the lead. As we approached the final 3 minutes, a period of sustained pressure led to another short corner… All eyes were on Jimmy Webber once more. Goal. 3-2. Jimmy claims not only his 20th goal of the season but also the vital 3 points for the OC's. When the final whistle blew there was a huge sigh of relief from the OC's, who had shown tremendous grit, determination and guts to grind out the three points. A brilliant team performance.
Ladies 3-2 London Wayfarers 5
Click here for match photos
It's not often I find myself having to write a match report, however, following my obvious DOD for being sent to the stand I accept the task willingly.
We hosted Wayfarers 5's at birth place of modern hockey and given our visitors' lowly league position allied to the fact they were thumped 0-10 last week, the quality of their hockey was very unexpected.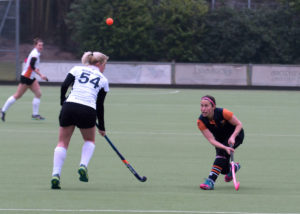 We, unfortunately, went behind in the first 5 mins to a well worked goal but rose to the task and controlled the first half. Wayfarers knew a goal was coming from us as we bombarded their D following heavy pressure from our midfields and forwards, and 20 minutes in a defender was judged to have stopped a ball on the line with her back stick. After much discussion, between the umpires and their captain, goal machine Richie stepped up and cooly slotted the ball past their keeper to make it 1-1. Being ever modest she will play the goal down, but it was a good goal that was well deserved.
At the restart, we continued to cause Wayfarers much upset by not relenting but the result stayed the same at half time. The half time team talk consisted of my briefing from the umpires. They promised to start giving cards to their girls for the continued pushing in the back, chopping of sticks and verbal abuse from their goalie.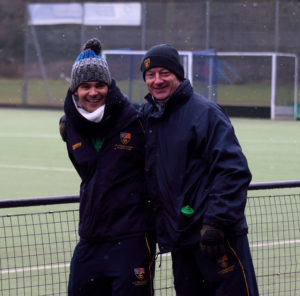 No cards materialised in the 2nd half as a well played game was fought out. Both teams battling it out but it was the mighty OC's who were going to have the fairy tale ending. Slick play through the middle of the pitch saw a shot popped off at the top of the D. Another save by their keeper but a poor clearance led to the ever present Jax who put a first time shot past her. It didn't take the oppo long to respond and test our defence and within about a minute, another crash ball from their 16 led to their 2nd goal. To be fair, it was a good route 1 goal which Michelle could do nothing about. Knowing that every game is a cup game, we came good, with 10 minutes left and, myself being sent to the stand, Richie got her 2nd of the match to make it 3-2 and that's how it ended.
Our girls showed true sportsmanship and congratulated their 1st, 2nd, 3rd, 4th and 5th team players on a game well played. We look forward to playing whatever team their 4's put out in a couple of weeks.
Coaches corner: Don't talk back to umpires (who were right in sending me to the stand) even when they make wrong decisions. They are human too.
Vamps 1-0 Tulse Hill and Dulwich Ladies 6
Match report to follow
Surbiton 0-8 Barnstormers
Friendly
Over 40 Cup
OCs 5-2 Taunton Vale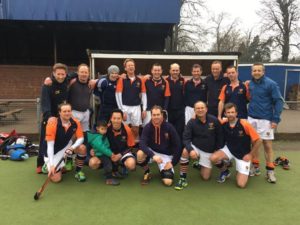 A hard fought but really enjoyable game to play and to watch. The Taunton Vale boys, past winners, looked a good outfit ahead of the game and so it proved during the game.
The early exchanges were fairly even but we took the lead when Jon Hauck finished off a slick move with an easy finish as the Taunton goalkeeper was taken out of the equation with a quick one two. Unable to extend our lead we were pegged back midway through the first half with a superb tomahawk into the far corner across Goalster who had no chance. Although we pressed and had half chances along with a number of short corners the score stayed at 1 – 1 at half time.
The second half followed the pattern of the first half and Grimer's words of wisdom at the break that TV would tire in the last 10 minute proved prophetic. Although pressing more than our oppo but not putting away our chances we fell behind with 15 minutes to go as a well moved short corner was put home. On the flip side our corner routine was abject with all of our 10 or so corners.
Upping our pace Wiso won a penalty stroke and Knapp's poor effort was saved by the keeper. Undaunted we kept our pattern of play and equalised with a Wiso tap in 10 minutes from the end. Closey found the top corner to make it 3 -2 with eight to go before a Hauck tap in and a Wiso solo goal to cap Wiso's Man-of-the-Match performance saw us run out 5 -2 winners.
TV were magnanimous in defeat and played their part in a top game of hockey. A good bunch of guys including former Studio 54 star Mark Le Compte.  We now progress to the semi finals and face one of Norwich, Stockton or Bexley Heath on the 5th March.