The 2nd XI's 13-0 rout of Bank of England secured their promotion as champions from Surrey 1, the Ladies beat champions Accies and the 3rd XI drew, but there were losses for the 1st XI, 4th XI and Vamps
Henley 1-3 1st XI 1-1
Match report to follow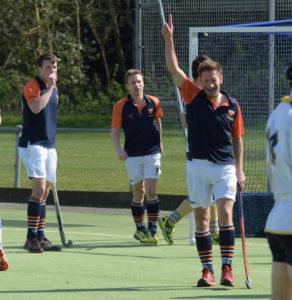 2nd XI 13-0 Bank of England
Click here for match photos
Match report to follow.  This rout all but secured promotion and Oxted, needing to win by 23 goals in the final game, only managed a 3-2 success so we took the title thanks to our superior goal difference.
3rd XI 2-2 Surbiton
The penultimate match of the season was a humdinger, much like the narrow win when we met Surbiton just before Christmas. In the first half we were completely under the cosh, Surbiton's relentless pressure harrassing us into mistakes and they were good for their 1-0 lead at the break. We were much improved in the second half, levelling through a cracker from Charlie Packham only for Surbiton to almost immediately go back in the lead. We once again levelled through Eds Copleston ten minutes from time and both sides had chances to take all three points, although Mike was the busier keeper. Surbiton can still go up and they deserve to finish second, playing by far the best hockey we have faced this season. Oh, and we can reassure the one Surbiton player who did not seem to enjoy the day, moaning about biased umpiring and a "crap pitch" … it should be relaid at the end of next season but there's not much we can do about the umpires!
Teddington 6s 5-1 4th XI
4th XI 2-0 Spencer
Match report to follow. A disappointing loss on Saturday was followed by a tough win on Sunday, lifting us into fourth place.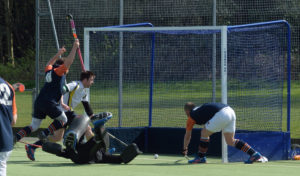 Ladies 2-0 London Accies 1s
A ding-dong match to end the season; Accies had secured the title last week while we were safe in second place, so while there was nothing to play for in terms of league position, there was still a real edge. We wanted to prove we were the better side while Accies wanted to avenge their only loss of the campaign. The game was played at an often frenetic pace and it was slightly against the run of play that we scored twice inside the first 20 minutes. In the second half Michelle pulled off a series of excellent saves as our defence held firm, earning us a win which left us wondering what might have been but for a frustrating draw at OKs a fortnight ago. Congratulations to Accies on their title … now we just have to wait to see if second place gains us promotion as well.
Richmond 6-3 Vamps
Match report to follow.
Barnstormers 9-6 Oxted Moonshiners