The league kicked off this week for some of our teams, others kept the momentum going with some friendlies. Our new Ladies 3rd XI had their first league game and fielded, we think a first for OCs, a double mother and daughter combo!
Mens 1st XI – No Match
Mens 2nd XI 5-0 Horsham (Friendly)
Match report to follow
Men's 3rd XI 7-0 Mid Sussex (Friendly)
A routine warm-up against a determined Mid Sussex side who made us work hard for the win despite the eventual scoreline.
Men's 4th XI – No Match
Vets Barnstormers – No Match
Vets Hamstrings – No Match
Ladies 1st XI 3-3 Wimbledon 2As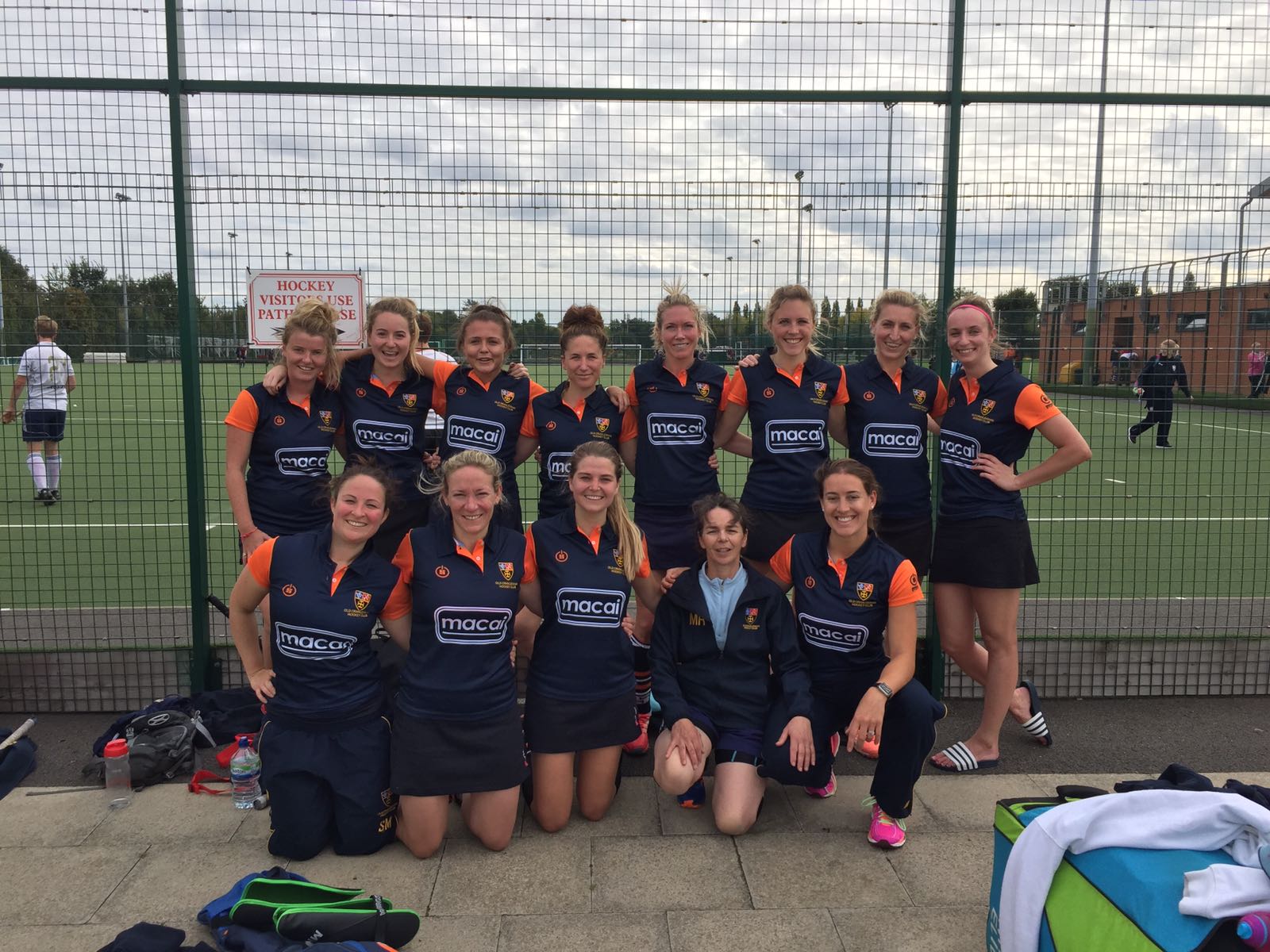 A lovely sunny Saturday was the perfect setting for our first league match of division one, against local club Wimbledon 2As. We were full of energy and ready to go! The game started quickly with Wimbledon's pushback. But we responded well and were alert from the first whistle. We attacked the D hard and following a shot on target, we picked up a rebound ball, patiently worked the ball around and Fletch scored the first goal 5 minutes in. What a start! 0-1 Wimbledon tried to respond but we pinned them in their half.  In our enthusiasm, we played higher and higher until Wimbledon made a break and found a gap in our defence but resulted in a cracking save by Michelle. We re-composed and attacked the D again, but the Wimbledon defence stayed strong and cleared well. We won a short corner, strike by Jackie but no goal. An intercepted ball off their 16 by Richie and another attack but no goal. We played hard in the midfield and with particularly good defence down the right wing and great team work by Migs and Scotty. Wimbledon had a side line hit following a cross ball from a 16 and was taken quickly with a run down the wing and across the D for a straight strike and a goal for Wimbledon. 1-1 Still numerous attacks on the D and OCs were fighting for another goal. The oppo's defence worked very hard as we attacked their D again and again. Mids and forwards working well together but no goal came. An interception by Migs with a clean run down the right wing into the corner, then a simple cross into the D and deflection by Fletch. GOAAAL! 1-2 at half time
Wimbledon came out fighting.  They played the ball well to each other and picked up the passes by stepping in front our players. Nikki and Sophie worked relentlessly together covering breaks and balls across the middle. A slow pass in the middle field to Wimbledon centre back resulted in a collision between a speeding Sangster and their player. Both hit hard and fell but no one was injured. An attack down the middle resulted in a turn over. All defence were high and a break followed by a 1-1 on Michelle. She  came out to close down the striker but resulted in a goal. 2-2 The level score sheet spurred us on and effort increased. Several plays down the wings resulted in passes across and into the D, we secured some more shorts, but no goals. We pinned down into the back corner but a large hit out by Wimbledon CB and the ball was in our right back corner. We played it out of the corner and picked up by Richie who had a run across the full pitch and slipped under the goalies right arm into the goal. Yahoo!  2-3 With 10 minutes left of the game and we conceded a short corner to Wimbledon which they converted 3-3 It was hot, we were exhausted and we couldn't find another goal.  Final time 3-3
Ladies 2nd XI 2-2 Barnes 4s
MANTRA: 'Pre-scan…post-scan"
With a late September 'India Summer' feel in the air, we knew the game would be hot, muggy and slightly hindered by a slow &  sluggish pitch. Armed with a full team, subs, a goalie, umpire and a coach we took advantage right from the starting whistle. We certainly showed we were a strong team and fought well. It seemed that Barnes realised that this was not going to be an easy game for them. Although we dominated the first quarter we seemed to let our guard down and this was when they scored their first goal. We were not really 'attacking' their free hits and they capitalised on that, which led us to being down by a goal. This tested us as a new team and our heads did not go down – infact we had a 'can do' attitude and continued to push our attack. This paid off from a super scrabble in the D towards the end of the first half, when Lizzie seemed to have 'had enough' and blasted the ball in the goal.
The half time talk from Nick was to attack their free hits and this will close the game down. He made us realise that by breaking the oppo down, we would cause them to make mistakes. With this in mind and heads held high we took control of the second half. Penny, bless her, was being shouted by Nick and the subs to 'press and attack', by doing this she broke down their game and even won the ball on occasions. This was echo'd by the rest of the team and it was sad that Barnes scored their second goal. We had to dig deep and even though we were getting hot and tired, we continued to play our game and this paid off from a short corner as we then equalised: Kara hit the ball from the top of the D, only for a defender to stop the ball , which only deflected into Kara who scored an absolute screamer that flew high above their goalie and into the back of the net. The last ten minuets was agony as we were all very tired but did not give up as no-one wanted Barnes to score. The final score was 2-2 and it seemed we are deflated from this score as we had all fought so hard for a win.
What we can take away form this game is that after only palying a couple of friendlies, and this being our first league game, we certainly proved to ourselves that we all strong, determined and definatly working as team. We need to work on our 1-2's, remember to Pre-scan and Post-scan and if we have a free hit never, ever listen to Nick when he says 'walk the ball up Tash', who took it literally 🙂 (such a funnny moment). Here's to a great match this Saturday.
Ladies 3rd XI 0-2 Addiscombe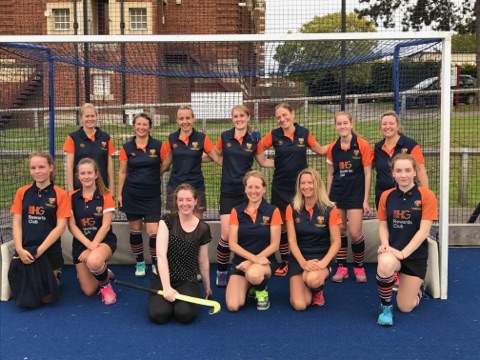 After a great first match (and a win!) for our brand new team, the OC3s, last week, it was disappointing to lose our first league game this week.. That said, it was a great game and everyone put in a huge effort, so it was still a positive start to the season despite the score line. We only had 9 players at the beginning of the week but after a plea to the Back 2 Hockey ladies and ex-Colts we had 13 by Saturday, including what might just be an OCs first: two sets of mums and daughters on the pitch at the same time! Thank you to Nicola and Catriona for stepping in and helping out – and thank you to Lana and Eilidh for letting them. The first half went largely our way, and we had some good shots at goal, with Eilidh putting in a sterling performance as centre forward. The bouncy pitch didn't do us any favours though and we just couldn't put any away. And by the second half, with Addiscombe 1-0 up, the tide turned and we were largely playing defensively. We put up a huge fight and, with some amazing saves by Jo (so many I lost count) and brilliant skills from Inge, we only let in 1 more, making it 2-0 at the end. A real shame, but it was a great match and everyone did their best. Onwards and upwards from here!
Vamps 10-1 Bank of England 
It was all looking like it was going to be very one sided when BOE turned up with 7 players.  Wow this was going to be easy, we were all thinking! BOE were in fighting form and 10 minutes into the game claimed a short corner which was converted, OMG a goal down and we were looking like we had no energy  and not looking so smug now.  The fist half consisted of Vamps trying to get it into the goal, but great defending left Vamps  wanting.  Debbie managed to get one in and at half time score was 1-1.  Second half the Vamps ramped it up a  gear and goal followed goal.  Final score 10-1 to the Vamps, top goal scorers Debbie and Kathy with 4 a piece, Katharine and Sara with one goal each.