The season got off to a cracking start at the weekend with a couple of friendlies and a Surrey Plate game. There were wins for the Ladies 1st XI, our new Ladies 2nd XI and the Vamps, and the Men's 1st XI won convincingly against Accies and the 3rd XI made it through to the next round of the Surrey Plate Cup. There were losses from the Mens 3rd XI and 4th XI.
Mens 1st XI 7-1 London Academicals
Match report to follow
Men's 3rd XI
Match report to follow
Men's 4th XI
Match report to follow
Vets Barnstormers/Vets Hamstrings 10-2 Warlocks
We had a meltdown of player availability with friends from other clubs who had offered to help out, dropping out at very short notice leaving us with 6 players. Luckily Cato helped recruit a number of coaches who were Vets qualified and Warlocks, who had 12 lent us one of their better players. We played 10 against 11, but the youth and speed of our younger players, particularly Gerry Davies and "Rocco" up front wreaked havoc with their pace and skill both ending up with hat tricks in a 10 – 2 win. The other goals were scored by one of the coaches James on his debut, Matt Close from a short corner and 2 from our guest player Peter Cowan who plays for Wales Masters. Nigel Hawes in goal was pretty much a spectator except when the otherwise reliable midfield of Foxy, Matt & James, and defence of Cato, Si Duncan and Andrew Eve went awol on two occasions. Clearly there was plenty of sociable time after the match over a beer for Nigel to give us defence advice and the goal scorers to remind us of the quality of their finishing !
Many thanks to everyone who helped out and to Wade Pollard for kindly umpiring.
Ladies 1st XI 3-1 Wanderers 3s
Match Report to Follow
Ladies 2nd XI 4-1 Barnes 5s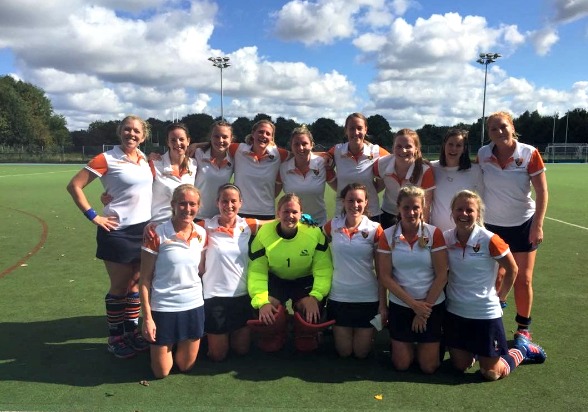 A beautiful sunny morning by the river set the scene for the first ever (albeit friendly) game for the Ladies 2s against Barnes 5s. We had 3 subs, lots of new faces (to me anyway!) and a whole lot of excitement to see what we could do as a new team. Despite watching from the sideline, I remember very little of the detail of this game (blame baby brain) but I do know it was overall a fantastic start to the season for the 2s.
The first 10 minutes were slightly fraught on both sides while we all settled down and got our heads into the game. Once we started to pre-scan (the new buzz word) and take our time, we controlled most of the first half. There were some really nice passages of passing which meant we were pressing on their D much more than they got close to ours. Around 15 mins or so into the first half Georgie put our first goal away. That gave the team confidence and it wasn't too long afterwards that Kara showed fantastic commitment by diving full reach for the second. It wasn't often that the oppo got the opportunity to threaten our goal but when they did the defence were solid and Helen was fantastic at picking up free attacking players. Amy fought for a third before half time and we finished the half tired but pleased with the team effort.
With a few things to work on including fighting for the 50:50 balls, using the wide channels and keeping our structure, the second half kicked off. This was a slightly more end to end half with everyone tiring in the sunshine. As we tired we tended towards the big hits which were more easily intercepted and on a break Barnes managed to pull one back, scoring off a deflection. Not to be deterred Georgie had a break of her own from the halfway line and scored our fourth and final goal towards the end of the second half. Overall, we showed great team spirit considering many of the team were new to playing with each other. It was a super promising start and there is so much potential there for the season ahead!
Vamps 1-1 Epsom
Match report to follow