Another good results weekend. There were wins for the Ladies 1st XI, 2nd XI, and the Men's 1st XI, 3rd XI, 4th XI and Barnstomers, but there were losses for the Ladies 3rd XI, the Vamps and the Men's 2nd XI drew.
Men's 1st XI 4-2 Wayfarers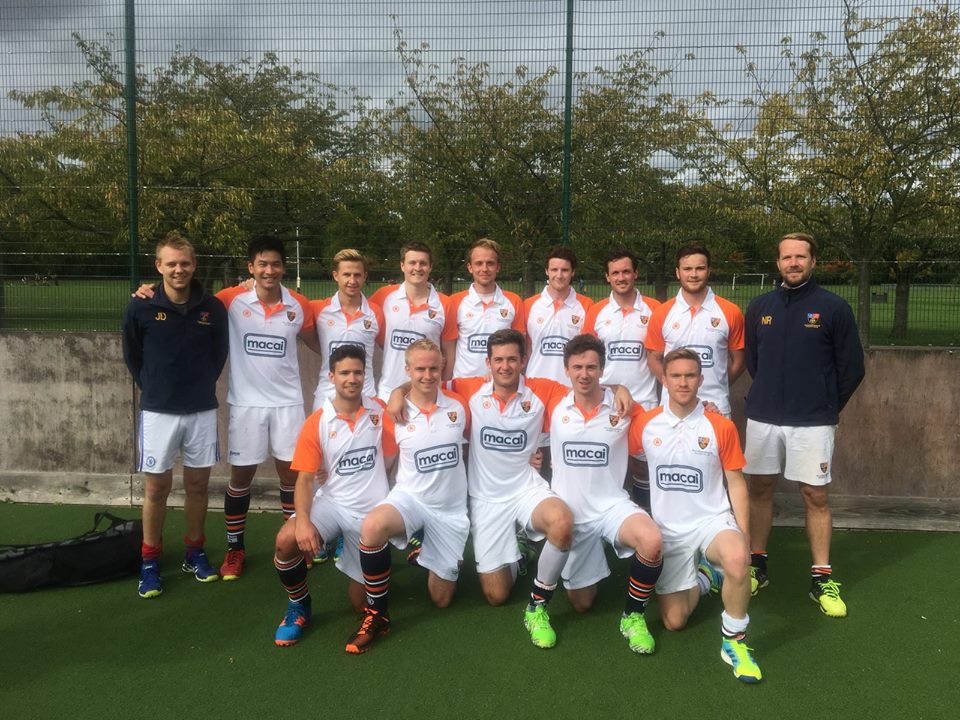 The OCHC Men's 1s travelled to Battersea Park for the season opener against Wayfarers in buoyant mood after a hard but smooth pre-season. Despite a hallmark Friday night on the beers for most of the boys though, uncharacteristically, not the Prince of Clapham Tim Ming, the OCs started confidently, asserting their status as league contenders with a dominant first 20 minutes. Having camped out in Wayfarers' half for much of that time, new signing Nathan Hill opened the scoring from the top with a well-taken drag flick, and followed up a few minutes later at the back post following some nice interplay in the circle from Robinho and Wilson B. It was very much against the run of play when, five minutes before the half, Wayfarers converted a short corner – their only chance before the break – with a drag flick that turned out to be the team's only meaningful attacking threat.
The second half started in much the same vein as the first, and, though not reflected in the score line, the gulf in class between the two sides became more and more apparent. After 15 minutes some nice work on the break saw the OCs go 3-1 up through last year's league top-scorer Matt Murphy. But the 2-goal cushion proved fleeting as Wayfarers converted another short corner against the run just a few minutes later. At 3-2 up and 15 to go, the OCs' short numbers – only two on the bench – began to tell. We broke with less vigour, tracked with less vinegar, and this was only compounded by going down to 10 men more than once after a couple of loose cards.
Watching this from the side was Nick Ripley. Despite the fact that he had warmed-up for the game and was fully kitted-up, Ripley N looked on with steely eyes and a stony heart as the energy drained from OC legs all over the pitch. If the result had gone the other way, as it so easily could have done, the new manager would have spent the evening doing some considerable soul-searching, I fancy. Undeterred, the boys put everything on the line in the final 15. In stark contrast to Ripley N, and seeing that the game was there to be won, Harman J selflessly put his body on the line in the opposition circle, wearing a dangerously lifted ball on his chest to win a stone-cold short corner. Outrageously the short corner was never given, but the OCs didn't have to wait long for another opportunity. An unusually effective aerial from George Pettit found Edmundo Croker in the left of the circle, who brought it down with skill and aplomb, winning a short corner for his trouble after the Wayfarers defender was deemed to have encroached within 5 metres.
Amusingly, Wayfarers had switched to a kicking back just a few moments before (apparently), leaving five ill-protected defenders to stand on the line and face the music as the OC drag flickers – Murphy and Hill – stood looming at the top. However, in what many commentators later described as a shameless attempt at jug-avoidance, Hill chose to keep the game alive by scuffing his flick wide right. To his credit, Hill redeemed himself before the close by intercepting a misplaced Wayfarers' transfer, rounding the kicking back, and slotting home a conscience-clearing, game-sealing, hattrick-settling reverse stick shot, much to everyone's relief. A solid performance and one on which to build as we welcome fellow contenders and league nice guys Bromley and Beckenham to Thames Ditton next week.
Men's 2nd XI 1-1 Andover
Men's 3rd XI 6-1 Spencer Hurricanes
After three successive league titles we travelled through the london traffic to start our league campaign at Spencer HC. The preseason friendlies, a clean sweep of wins, had proved useful at wiping off the cobwebs and we looked focused. So focused that our entire team was asked to leave the sideline as we refused to stop stick practice during the curtain raiser before. Nick Lewis nearly receiving a yellow from an irate and officious umpire.
It is always pointless watching an opposition warm up. You can scare yourselves into expecting world beaters, or lull yourself into cruise mode. Spencer looked young, skillful and sharp and I think that gave us a bit of an edge when we pushed back. After 3 years of playing sides that stuck 11 men behind the ball against us, Spencer had the best of the first 5 minutes as we took a while to settle. Quickly however, we took control and began to up the ball speed and intensity. Our midfield talisman Neil Grimes provided a pass to Eds to open the scoring and we were ahead after 10mins. The next 25 mins produced some of the best hockey with our second goal a contender for goal of the season (already)as we switched it back and forth all the way up into the D before a sublime Chris Brewer finish gave us a 2-0 lead. We were in control and forced two shorts that Brewer flicked past the spencer keeper and completed a 15 minute hat trick.
At half time we knew we were playing well and the hardest thing was to not try too much. We did go off the boil in the second half and squandered a few 2 on 1s in the spencer D. But our debutants Paddy P and Digby Don (Greatest Name in Hockey) combined for our 5th and Eds finished off surging run from Nick Lewis to make it 6. With the game all but over, a clean sheet was important. Porter felt aggrieved after a clear ball on Spencer foot was missed by some fair and excellent umpires and the resultant two on one gave spencer a consolation goal. Ports collapsed to ground, hands on head as he screamed expletives. Much to the amusement of our players he was called over for a chat and told very calmly that his kind of behaviour was childish and not necessary at this stage in the game. Porter looked at the umpire with a shocked beetroot expression and calmly said "Goal Difference." It is a bit early to be worrying about goal difference, or is it? We are top of the table on goal difference. But having had 3 titles/promotions on the bounce it was a great way to start life in the new league. Roll on a home game at fortress TD next Saturday as we entertain second placed Horley.
Men's 4th XI 3-2 Spencer Harlequins
Vets Barnstormers 2-1 Wimbledon
Ladies 1st XI 3-1 London Edwardians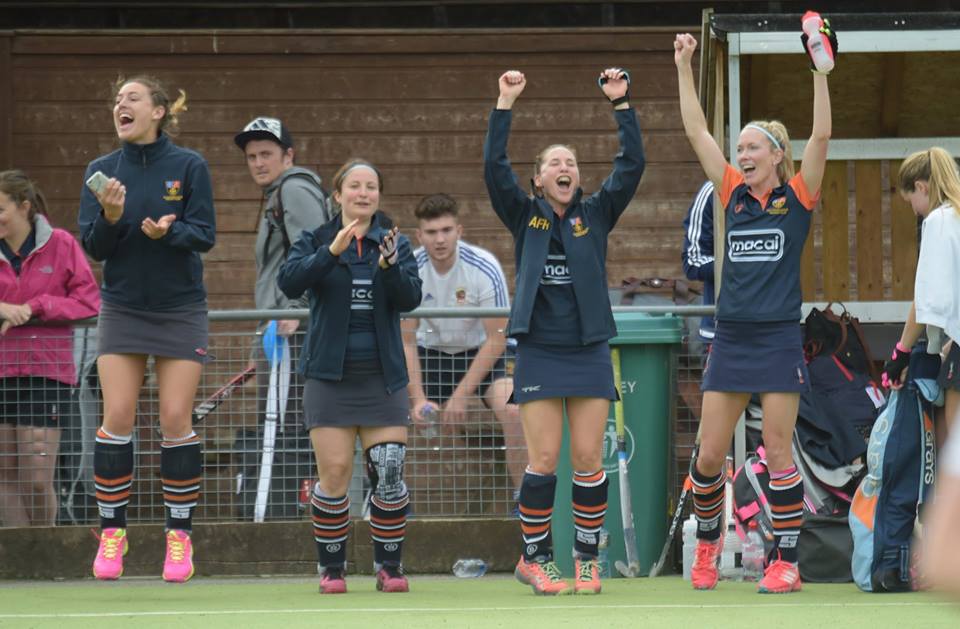 The ladies 1st XI had their first home game  of the season on an overcast day but this did not dampen the excitement and mood. We started with the push back and started very positively with two shots and near misses. We were battling hard and at points it was 50/50 and even Michelle came out the D to take a ball with her stick! Eds started to counter attack and got a shot away but luckily missed their opportunities. At his point sideline conversations had turned to: – Watto was on fire! – Jax was the wall, nothing was getting through!
There was a break in play with an attack into the D by us but the ball was turned over. All the defence were high and they managed to crack the ball through to their forwards. Watto sprinted the whole length of the ball and scuppered the shot of goal. Brilliant defending! We took this momentum and had a few more attacks on goal (Richie, Kate, Jax) but no success. Hassle from OCs at an Eds 16 from Miggs who won a quickly taken free hit, ball to Heather at the top of the D who shot and scored! 1-0 A great counter attack from their re-start, Richie took the ball to the top of the D and held it up, passed the ball to Kate who turned and shot, 2-0 to take us into half time.
After a positive half time team talk- we started slightly lack lustre and quiet which lead to some pressure on us.  Fortune was on our side and they missed an opportunity and we turned over the ball to regain possession. As fatigue set in, Eds won a short corner. They had a straight strike and it took a deflection on the right post in unfortunately. 2-1  This led to an increase in OCs determination and a lot of shouting from Dan! They took an injury, which gave us an opportunity for a huddle and Dan had a strong word. Play restarted. There was a break by Richie who passed the ball to Miggs who won a short- unfortunately no goal. A counter attack by them to win a short but Michelle saved the shot! From our 16, Kate picked the ball up, passed to Richie who played the ball onto the left into space and it was picked up at the baseline by Fletch who had run her socks off to get there! She took the ball along the baseline lifted pass to Miggs who won a short. Short taken, straight strike but saved by the keeper.  Another quick counter by Eds and another save by michelle. OCs found the last bit of energy to win another short, straight strike by Richie, a deflection off them into the goal!! 3-1 on the final whistle!
Ladies 2nd XI 3-0 Old Freemans
It was a glorious Autumn day, albeit it a bit chilly, as we rocked up to the picturesque City of London Freemans School. Stately buildings, manicured gardens, the pitch empty, the school a ghost town and little evidence of an opposition. As push back approached the opposition were still very thin on the ground and we didn't have enough balls to run our usual drills in preparation for the game. Perhaps this contributed to it feeling like we were somewhat on the back-foot from the get-go. The oppo still didn't have a full squad as the whistle blew and while this should have given us confidence, I simply felt confused and frazzled. We settled down as their players arrived and play felt more typical.
Despite the confusing start, we did lead strongly, taking possession and scoring within the first five minutes. With a congested D, Kara executed a beautiful reverse flick into the top right corner. BOOM 1 up! Our 2nd and 3rd goals came within the first quarter of the game, the 2nd a clean shot from the left side of the D by Lizzie, after a smooth pass from Kara. The 3rd goal was all drama. Awarded a penalty flick after an infringement that happened in slow motion, the goalie went to ground with at least two other people, a pile of defenders desperately scuttling along the goal line until one of them kicked the ball out. For the penalty flick itself, time simply stood still. Kara was a gladiator, psyching the goalie out with her stillness and patience, waiting and waiting  – turns out she was waiting for a whistle but the umpire had simply said 'off you go' and she hadn't heard him. Simple push, bang on target and BOOM, 3 up! After this a betting man would have assumed a whole swag of goals were coming our way but alas, no. We had lovely passing and no issue keeping the ball up their end for most of the game. Awarded at least 6 penalty corners, we just didn't deliver any more goals. We got lots of shots on goal but perhaps we didn't pick up the rebounds fast enough. Bernie did make some gallant runs after some fast balls sent hurtling off the baseline!
Our esteemed umpire summed it up rather accurately, with "3 goals in 15 minutes and then you spend the rest of the game faffing about" Old Freemans were a strong team, with a solid defence and fast forwards. Seemingly demoted from the division above last year, they are probably a team to watch. We have a lot of work to do but for our 2nd league game as team, everything is looking promising.
Ladies 3rd XI 5-0 Mitcham
Another sunny Saturday and on our second league match of the season we had 14 players – a sub for each line.  Everyone tried really hard and put in lots of effort. There were many good passes up the pitch, several shots were taken at goal and we also had a few short corners. Unfortunately none of these shots were successful. At half time the score was 2-0 and at full time it was 5-0.  If it wasn't for some great saves by Jo and Inge's defending it could have been a far worse score!  There was one injury shortly before the end with Nicky leaving the pitch with a nose bleed.  Third time lucky for a win next Saturday!
Vamps 0-4 Camberly & Farnham
Unfortunately it was a 0-4 loose this week against Camberley and Farnborough 2's. Despite the score we played valiantly keeping this good side at bay with just 1goal against us throughout the first half. We had two near misses from Amy and birthday girl Dawn. The team stepped up its game compared to last week so hoping for better result next week.