A mixed bag of results in this weekend. The Men's 1st team had a cracking win, as did the Men's 3rd XI and Barnstormers, the Men's 2nd and 4th XI lost, as did the Ladies 1st and 3rd XI, and our Ladies 2nd XI drew.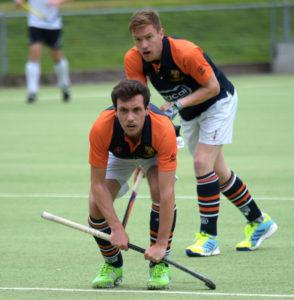 Men's 1st XI 5-1 Bromley & Beckenham
Following on from a comfortable 4-2 away win against Wayfarers, OC's welcomed Bromley and Beckenham HC to, in the words of manager Nick Ripley, "fortress TD". It may have come as a surprise for a few to see BromBecks in the league this year; if anyone looked at the league table at Christmas last year, it would've been easy to assume that the team that had dropped only 2 points at the halfway point would've comfortably gained promotion. Alas, here they were.
A bright start saw OC's pile on pressure at the BB goal, but to no avail. A sloppy corner conceded gave BB their first real chance, which they took with an out-of-fashion straight strike into the bottom right corner. Post-man Ollie Davies, who has seemed to of carried his summer cricket form into the hockey season, could only edge the attempt, straight to first slip. OC's were not deterred, and continued to go on the offensive. It was not long until father-to-be David Roberts slotted in at the back post, rounding off a great team goal. The crowd were ecstatic, but somewhat disappointed that the "baby cradler" celebration could not be bought out just yet.. when you're ready Mrs. Roberts!
The strong performance in the first half was unfortunately marred by the loss of Paddy Harman. A vicious OC's press resulted in a panicked attempted clearance from the BB full back, undercutting the ball straight into the face of P Harmz. Accidental? Debatable. Unskillful? Confirmed. Despite his willingness to play on, brother Jay Harmz advised a trip to A&E. Half time soon followed, with both manager and DoH pleased with the performance thus far. The second half, arguably the best 35 minutes of hockey fortress TD has ever seen, saw OC's run rampant. A perfectly executed corner (about time) was deflected in by Benjamin Wilson, DoH himself George Pettitt grabbed an uncharacteristic reverse stick effort, and Chris Wiseman rolled back the years, to finish off two superbly worked team goals. "If I can't be in the right place at the right time after all these years, I clearly haven't learnt anything" (Wiseman, 2017). 5-1 it finished, capped off by a league table displaying OC's 2 points clear. Horsham HC await.
Men's 2nd XI 2-4 Romsey
Match report to follow
Men's 3rd XI 3-2 Horley
After a first class opening performance last week, we knew entertaining second placed Horley was going to be a tougher test. Heardy, Nick Ripley and Darren Mckay returned to the squad and with three subs to marshal, David Knapp made his first appearance of the season as global head of bench management. We started off in a similar vein to last week, with Cato, Ripley, CB and Grimer ruling the middle of the park. The ball was switched at pace and Porter (left) and Max (right) found themselves in acres of space as we doninated opening exchanges. We won a short and Eds fired home a scorcher to put us ahead. A sparkling run from Packham, combining with Nick Ripley (who is the better looking of the Ripley brothers) gave Eds a chance for his fourth in two games and we were two up and on top. That became three when Nick Ripley finished off another surging run from Paddy P and we were 3-0 up at the half.
This was another half time talk where not much needed to change. Knapp was busy making quick changes from the bench which is wonderful at 1st team level but with our ageing squad five-minute bursts are less effective! Immediately after half time we lost our shape, structure and composure. Horley began to control possession and we were 2nd best. Astonishingly and possibly a first at TD(?) we had a blood substitution as the opposition clearly didn't trust Porters blood to be clinically safe and he was ordered him off the pitch to change shorts. As the other 13 men on the pitch with elbow / knee blood tried their best to turn away we restarted a short which Mikey could have blasted back to Horley but was given straight back and finished to close the gap. With less possession, we tried too much when we did finally get the ball back. Horley poured forward and their confidence paid off with another well taken goal, 3-2, 11 mins to go and we had to hold on. This was another sublime first half, but dire second and an ugly win. It is early days and a win is a win, we are the clubs golden side and top but only on goal difference. Most of hung around to watch how 2nd halves should be played as our 1s put brombeck to the sword and also moved top of their league. Away to our best friends Barnes next week, cant wait….
Men's 4th XI 2-3 Kenley
Huge effort on Saturday vs Kenley ended in a 3-2 away loss but we were unlucky not to get at least a draw. Kenley fielded a strong side with youth and skill up front that troubled our defence from the start. Three quick well-worked goals saw us go to half-time with a 3-1 deficit. Much to our relief their three best players were subbed off and we started to dominate possession, building phases of possession that produced good opportunities to score. With fifteen minutes to go, we got a goal back and fought hard to equalise. Sadly, despite some good chances, the game finished in a 3-2 loss.
Men's Barnstormers 5-1 East Grinstead
Match report to follow
SurbiCrans GrandMasters v Hampstead & Westminster Grand Masters
The Surbiton /Cranleighan Joint venture side turned out again with Old Cranleighans providing 8 of the squad of 14 against a Hampstead side a number of whom had warmed up with a match immediately beforehand against Surbiton Magnets on the same pitch. Hampstead started the stronger whilst SurbiCrans introduced themselves to each other and dominated the first few minutes although SurbiCrans looked dangerous on the break creating a number of chances which we failed to convert due to both good goalkeeping and poor finishing in turn.
As the game wore on SurbiCrans took control as Hampstead tired and in the end the game was won by a dominant second half performance including a goal from the very mature combination of Surbiton President Suresh Desai and Paddy Tripp finishing from his favourite distance of a foot for his second goal of the match. So SurbiCrans move on with two wins out of two and a 10 – 1 goal difference.
Ladies 1st XI 1-2 Old Georgians
OCs had a great game this Saturday and the 2-1 loss is no reflection of how hard they played and how well they fought. In the first half OGs and OCs were neck to neck with some excellent tackling and passing from the defence in centre insuring that OGs didn't get a look in. Additionally, OGs won four short corners in the game, however, did not score from a single one which is testimony to our amazing goal keeper, Michelle. The mid field were moving the ball around OGs well with some excellent balls up the line on the left hand side. Jax unfortunately took a hit to the face part way through the first half but she bounced back and continued on playing. Unfortunately, OGs scored a goal in the first half but OCs kept their heads up and at the end of the first half it was a 1-0 score.
In the second half of the game the OGs were getting more rattled and started to talk back to the umpire which resulted in number 9 being green carded by the referee. OCs on the other hand continued to keep their cool and the OCs forwards were putting a lot of pressure on the OGs defence resulting in a great goal. Kara passed the ball into the D which Jax received and passed onto Amy who then proceeded to score. After a very evenly matched game OGs managed to break away and race down the pitch and score a goal, resulting in the final score of 2-1. Despite the loss it was a valiantly fought game and very enjoyable none the less! Well done OCs!
Ladies 2nd XI 0-0 Bank Of England
We arrived at The Bank of England sports grounds and headed straight to the club house, reluctant to get going on a rainy Saturday afternoon. The team were slightly apprehensive with a new team not all played together before, with the addition of the opposition being Josie's old team (weird situation) and having no idea how the game would plan out.  After a chatty warm up of some insider knowledge of the oppo, we got going.
From the get go, it was a strong battle between both teams with everyone really stepping up their game. The team play and passing from OC was great, with lots of transfers from Helen at the back and Ellie in the mid, and nice distribution down the width of the pitch. The ball was also delivered well to the forward line where Georgie would always beat the defender and many attempts at goal but unfortunately just missing target. The opposition also had some scary attempts at goal but fortunately were also aiming off. Apart from a couple of breaks past us, they were not having much success of getting through our strong defence line (Helen, Lizzie and Sophie) who were pretty reliable. There was some very strict umpiring which caused a p flick for Bank and a very impressive save by OC's Mel in goal. The determination from OC did not go and there was a lot of fight and urgency by all players. Sadly, goals were not happening but the fact that we were consistently strong, were willing and had good team spirit, the future games are looking promising!
Ladies 3rd XI 0-2 Wayfarers
After a hard game last week and an unfortunate score line, we arrived this week ready to do better and earn our first 3 points! From the beginning our energy was good. We were attacking and a lot of the play was in their half, but unfortunately a goal wasn't meant to be. After a great cross in from the right, we almost took the lead but just couldn't get the finish we needed. A second opportunity quickly followed but without enough players in the D, there was no one to connect with it to give us that much needed first goal. We struggled to keep up the pace and on a counter attack Wayfarers took us by surprise, the mids could not get back to help the defence in time and we found ourselves 1-0 down. We struggled to get back in to the half, our heads dropped a little, we went quiet and just like the previous week we struggled to keep in our positions. We began chasing the ball and bunching, which left our goalie vulnerable and after many great saves from Jo a second inevitably slipped past her – 2-0. After much of the same from us and a disallowed third goal for Wayfarers, the first half was over.
After a bit of tough love at half time, we started the second half much better than we finished the first. Our positioning was better, our passing was great and it kept Wayfarers on their toes. We gelled as a team, started talking more and were much more aware of our positions on pitch. We covered the space and maintained the ball in their half. Another cross in from the right in to the D gave us our best opportunity for a goal yet, but again we just couldn't get the finish we needed. Another counter attack – the only one in the whole second half – saw Wayfarers score their third and final goal of the game. Overall the second half was much better than the first. We are improving as a team each week with a number of positives to take away from this game, but also some things we can improve on too.