Wins, draws, losses, broken bones and black eyes, but no sign of storm Brian to stop hockey this weekend!
Men's 1st XI 3-1 Oxford University 1st XI
Old Cranleighan Men's 1XI welcomed Oxford University Men's 1XI to Thames Ditton, in what proved to be an entertaining top of table clash. The OC's were buoyed of the back of three straight wins, leaving them the only team in the league with a 100% record. In the opening stages, the home side had the majority of the chances with Nathan
Hill and Matt Murphy finding the opposition goalkeeper in fine form. The same trend continued for much of the first half until the 22nd minute when Daniel Rhodes intercepted his opposite number and found David Roberts unmarked in the circle for an easy finish and his second of the season. Despite taking a deserved lead, the visitors fought back and gained an equaliser in the 30th minute when a delivery into the circle cannoned into the air off Hugh Robinsons' stick, evading everyone apart from Henry Taylor who found himself free on the back post. This 'freak' goal proved to give Oxford University the ascendency for the remaining 5 minutes of the half but an OC's defence held firm to take the score into half-time at 1-1.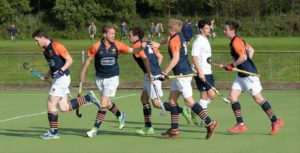 OC's came flying out the traps in the second half, reverting back to a more traditional zonal press which left the Students struggling to gain territory into the OC's half. The home side began to take the initiative and dictated play with Matthew Laidman and Hugh Robinson linking up well with the midfield and forward line, only to be frustrated by an inform goalkeeper. OC'S got their deserved reward in the 50th minute when Hill converted a well taken short corner with a fine deflection. OC's continued to dominate but failed to get a 'game-sealing' goal. The Students looked dangerous on the counter attack but George Pettitt and Ollie Davies both made well-timed tackles to keep the score at 2-1. As the clock ticked down, the league leaders were awarded another penalty corner late on which Matthew Laidman converted after last season's top goal-scorer, Matt Murphy, had his drag-flick saved. 3-1 and game over.
The coaching staff and players will be very pleased with their performance in the second half to break down a resolute and well-drilled side. The victory leaves Old Cranleighans top of the league and 3 points ahead of their nearest competitors. The team travel to London Edwardians next weekend which will prove to be another tricky challenge in their quest to gain promotion to the National League.
Men's 2nd XI
To follow
Mens 3rd XI 4-0 Guildford
With Hurricane Brian fast approaching, we appeared to get the calm before the storm today, as we warmed up in near perfect sunshine. With 13 on the team sheet and only 12 at TD, Eds rang Nick Lewis with 10 minutes to pushback. "oh shit im in bed" said Lewis before another pitiful excuse about his alarm clock. This is the latest in a long line of alcohol induced mishaps, the finest of which was nick attempting to set fire to a brides wedding dress with a sparkler in May. We were confident however as our side contained England Hockey "Team of the week" star Charlie Packham. Packham has been extremely modest about his inclusion in the team, especially in a 3 man midfield. Its a sign of the strength of the club that we can field such a superstar in the 3rdXI.
We pushed back and immediately settled with a wet TD astro encouraging ball speed and flowing hockey. Manager David Knapp, who had serve a match ban for excessive substitutions, took charge of the one man bench – or two whenever Lewis had managed to say goodbye to last nights conquest, male or female. The pressure was all ours and it told early as Jonny Hunter celebrated his return to league hockey with a fine strike from the top of the D after 10 minutes. It was a frustrating second quarter as we stretched ourselves and sat back, with Guildford looking to catch us on the break. 1-0 at half time should have been 5-0 and Guildford were still in the Game.
The second half saw us start badly and Nigel Hawes made some superb saves to keep us ahead. Nick Ripley then finished a fine run by our England hockey TOTW star Packham to double the lead. The last quarter we tired a little and a young Guildford side came at us, but Heard and Cato stood strong in the centre, with Max, Mezz and Chris OD attacking down the flanks. A piercing ball from Hunter was deflected in by Eds and we had secured the points. Another international team of the week standard run down the right from Packham fed to Farqs whose shot was saved, but only as far as Eds who popped in his 9th goal in 4 games. This was yet another frustrating game, where we didnt capitalise on many chances. However, we are dominating possession and allowing sides very little opportunity to damage us. 4 wins from 4 and top of the league, but a tricky away fixture next week at Merton. Thankfully its an afternoon game so Lewis may have woken up by then.
Men's 4th XI 6-1 Guildford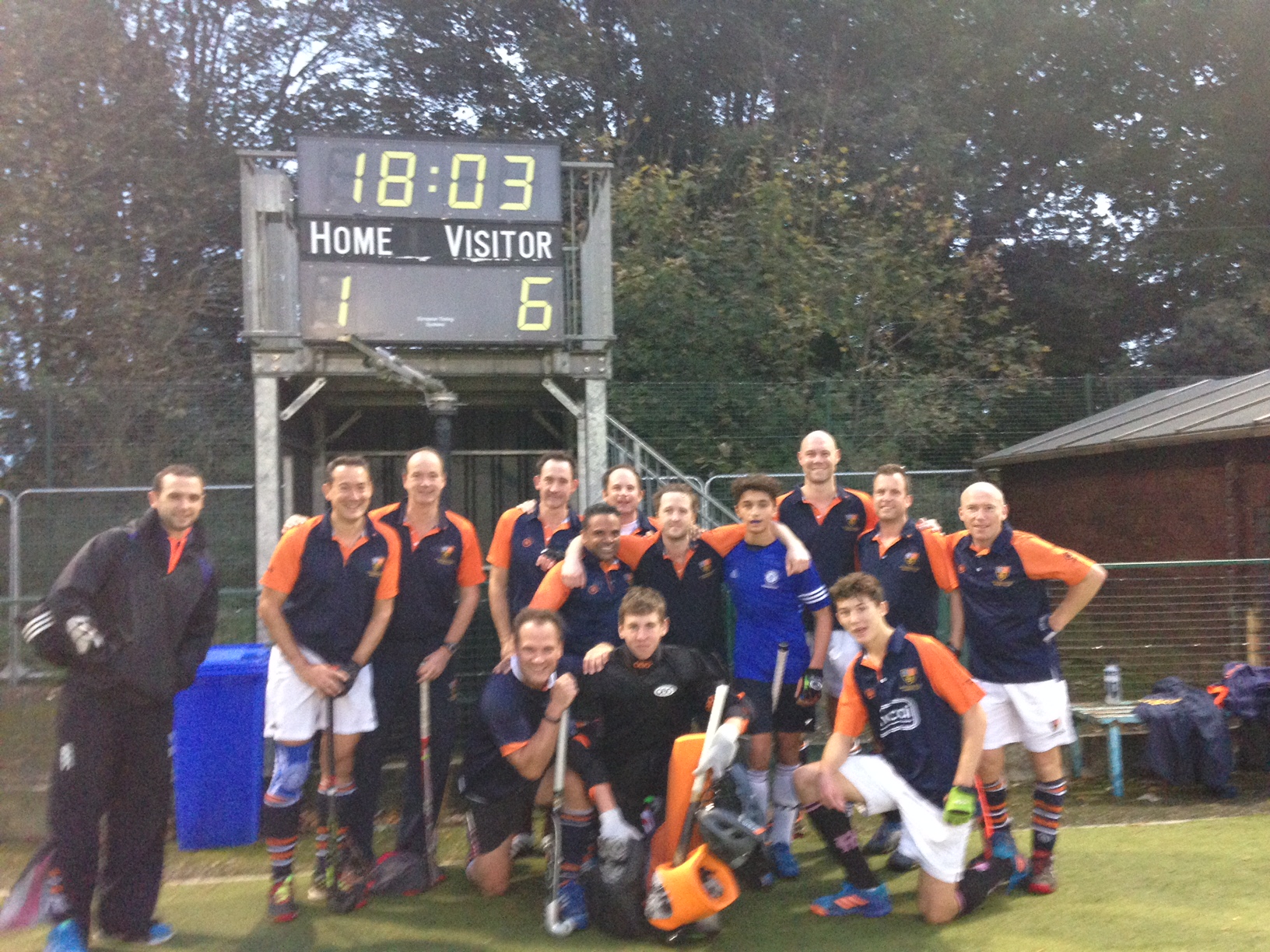 An emphatic 6-1 win away to an in-form Guildford team (average age 25!), including 5-0 first half scoreline thanks to some slick passing and well-worked team goals (even their umpire commented on how well we played). Second half was an altogether tighter affair finishing 1-1, once they had reorganised. Huge thanks go to Cookie and Chris Bents and the three juniors U16 who played. Well deserved victory that sets us up nicely for this week's must-win game at 'fortress' TD
Men's Barnstormers 5-5 Bromley & Beck
To follow
Ladies 1st XI 1-0 Epsom
Click here for match photos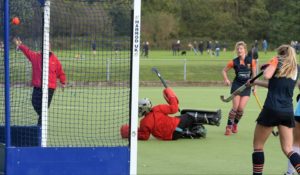 As the half term break approaches, we were keen to keep the momentum of the start of the season going and so a Friendly was organised for Saturday 21st October. Our original opposition dropped out last minute but Liz was able to find a replacement quickly in an Epsom mix of 2s and 3s.  We were excited to play and expected a good challenge.
The first 10 minutes was painful to watch from the sideline, it looked as though we were playing in slow motion but we eventually woke up and started to play some good hockey. We kept possession for most of the first half and had many, many shots on goal that just missed the mark.  We kept attacking the D but were awarded no results.  A team strop was almost required after the returning Georgie Syms beat the keeper but narrowly missed the back post. We were confident that one would find its way eventually and with a great strike from Kate Scott with a slight lift over the goalie's head we were 1-0 up at half time.
A positive half-time team talk from Dan and Liz left us in good spirits however we seemed to lose the energy that we ended the first half with and we were back to playing slow hockey. It was a physical game throughout and eventually Epsom were awarded a 10 minute yellow for one of their players using her body a little more than Mags deemed necessary.  Despite being a player down Epsom showed some strong defensive play, keeping us to 1-0 at the final whistle. MoM went to Alice Durrans for a solid performance in defence with nominations going to Scotty & Syms too.
Ladies 2nd XI 3-1 Surbiton 6s
Fortunately, Storm Brian didn't make quite as much impact as predicted and so eventually the 4pm PB arrived. Despite a few of us struggling with the late PB, we got off to a strong start putting the pressure on Surbiton from the off. Early play up in their D saw a collision between Bernie and their GK, with the keeper kindly softening Bernie's landing. Just a few minutes later, Mel celebrated her return to the field after her stint in goal (thanks again Mel!) by slotting a great goal into the left corner. 1-0 Nick arrived (complete with suspected broken nose/concussion from his earlier match) just in time to share some words of wisdom on the side-line. These words were accompanied by a physical demonstration of a GK trying to change direction (I can only assume the GK was either drunk or concussed) but within 5mins, Georgie followed his demo to the letter to score. 2-0. After some continued pressure by OC's, Kara increased the score to 3 with yet another reverse-stick shot. I'm not sure how many that is so far this season, but I'm fairly sure it won't be the last. So, we went into half-time with a strong 3-0 lead.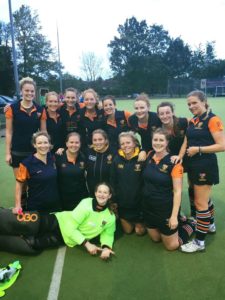 A team talk from Nick at half-time made it clear to all of us that we weren't home and dry just yet and that the next goal was crucial. Things had been relatively quiet for U14 keeper Evie on her debut as GK for the 2s as we had managed to keep the play mainly in our half. However, Surbiton played 2 forwards high and on a couple of occasions, the through balls found their mark and Evie was called on to make some cracking saves (including one from a solid Surbiton strike on a short corner). A great start to what we are sure will be a brilliant first season as our new keeper – thanks Evie! Despite Nick's warnings, with about 10 mins to go, we let Surbiton pull a goal back taking it to 3-1 but we didn't let our heads drop and made 100% sure it was too little, too late. Final score 3-1. Played 7, lost 0 isn't a bad start to the season considering we've only just started playing together. On a personal note, I'm loving being part of the team after a 20-year break from hockey and can only thank you all for being so tolerant of me/my hockey.
Vamps 0-1 Wayfarers 8
A combo of Vamps and mostly 3's took on Wayfarers at home in the first round of the cup match. OC's started tentatively as the players had not played together before and looked more like a school match. Wayfarers took advantage and scored before half time. A half time talk hopefully contributed to a more powerful performance from OCs and we had a couple of chances. Unfortunately no further goals were forthcoming and final score 0-1. Good news however is that we have a better chance in the plate!