Wins from our Ladies 1st, 2nd and 3rd XI this weekend – the first for our new third team! And wins from the Men's 1st and 3rd XI and Barnstormers. Losses for the Men's 2nd and 4th XI, and the Vamps.
Men's 1st XI 4-1 Horsham
The in form squad travelled to leafy Horsham confident after recent performances, successful first dates and last week's demolition of Bromley and Beckenham. Last year this fixture proved to be a thorn in the side of OC's Europa League push, thus the management team called for 'patience and professionalism' to break down a resolute Horsham side. OC'S started positively with pressure on the opposition goal but to no avail. Passing was lacklustre upon circle entry and a host of chances went begging for the league leaders. The welcome return of 'Lod' helped to add someone much need class to a Croydon-born midfield and this combination linked up well to churn out chance after chance but we found Horsham GK in good form. The same trend continued for much of the first half. At the opposite end, Doble continued his mid-week date triumph by stifling out the sporadic Horsham attacks. Routine saves but nonetheless, important ones.
Some tough words at half time sprung the OC's into life and a barrage of full press perfection led to countless turnovers from the Horsham defence. Jay Harmz opened his account for the season after breaking into the circle faster than he got through security to hand Theresa her P45. This was quickly followed by a period of 10 minutes where OC's stunned a wounded Horsham defence. Goals for Nathan Hill- his 4th aplomb in 3 games and Ben Wilson saw OC's race into a commanding lead. To cap off a majestic second half performance, the best looking bloke in South Prem, Laidman, then added a fourth and final goal! The game was marred by two incidents: a vicious attack on the Horsham GK from Hill who still proclaims his innocence. The disciplinary committee wait in anticipation to see whether EH will take retrospective action. The second followed a war of words between the management team but just to clarify: The term to 'undermine' is defined in the OED as 'to make someone less confident, less powerful or less likely to succeed, or to make something weaker'. However, stupidity is commonly referred to as 'being 3-0 up after executing an emphatic full press and then reverting back to half court, thus allowing the opportunity to gain unnecessary territory'. But hey, tomato/tomato!
On reflection, a spine-tingling second half performance and tactical masterpiece saw the boys sitting pretty at the top of the league. Beers, dinner parties and banter followed. More good news reverberated around the squad on Monday evening we found that 'league nice guy and beer lad' Davey Robertos'  first born had arrived. The OC's faithful are hoping to see the 'baby cradler' celebration this saturday as we welcome tax-dodgers, Oxford University to TD.
Mom: OD- classy fullback performance.
Dod: George Pettitt- avoiding carbs before marbz
Men's 2nd XI 2-7 Oxted 3s
Match report to follow.
Men's 3rd XI 5-1 Barnes 4s
We travelled to Barnes and welcomed new arrival "JFK" – a Durham uni recruit that had been banished to the 3s after snogging the first XI captains sister. A team sheet that included both JFK and Digby Don was looking formidable, as we warmed up on a Barnes pitch that was muddy and leaf covered but ultimately played well and encouraged ball speed. After a shaky end to last weeks game we knew we had to get back on track with some patient, simple hockey this week. We dominated the opening exchanges and a flick was saved off the line by a foot – leading a penalty flick. Charlie Packham had missed a flick in the over 40s opening knock out win last weekend, but stepped up and gave us the lead. We poured forward with some excellent midfield moves between Paddy P, Grimer, CB and Packham but went into half time frustrated at 1-0.
The second half started well with a new well rehearsed short giving Packham his second and us a 2-0 lead that we should have immediately capitalised on. We didn't and Barnes hit back almost immediately. In times gone by this side would have faltered, screamed at each other and the umpires, and left with a scrappy victory. The final quarter of the game saw Barnes tired, JFK added some superb fitness in the middle with Diggers, Heardy, Max, Darren, Chris OD and Cato switching the ball around at pace. A trademark run through the middle from grimes gave a missile of a ball to Eds to convert. 3-1 and the game was done and dusted but we weren't finished. The ball speed was up and we played it all the way up the park with Paddy P making another surging run into the D before switching to Eds for his 2nd. Farqs then broke down the left before a switch right and Eds completed a hat trick, but the team had scored 3 goals in 15 minutes of sublime hockey and 5-1 probably a fair reflection given our dominance in the first half. We are beginning to gain momentum in this new league, but with 2 other sides 3 and 0 there are tougher tests ahead and we entertain Guildford at fortress TD this Saturday. No talk of dreams yet but we are beginning to play the kind of hockey necessary to dominate games and show we are force in this new league.
Men's 4th XI 3-4 Barnes Beavers
Another week, another titanic contest and close game in Div 2 which sadly ended 3-4 to the 'old enemy' Barnes Beavers. At half-time the game was perfectly poised at 2-2 with all to play, but on this particular Saturday, our defence proved a little too porous and we conceded too many goals from open play including a forgettable 5-on-1 break-away attack leading to the fourth goal. With five minutes to go, we grabbed one back to make for an exciting finish. Two successive short-corners, two goal-bound shots saved or scrambled off the line, ensured that Barnes clung on for the win. Just.
Men's Barnstormers 8-2 Crawley
Match report to follow.
Hamstrings Vs Hampstead & West – TBC
Ladies 1st XI 4-1 Wanderers 2s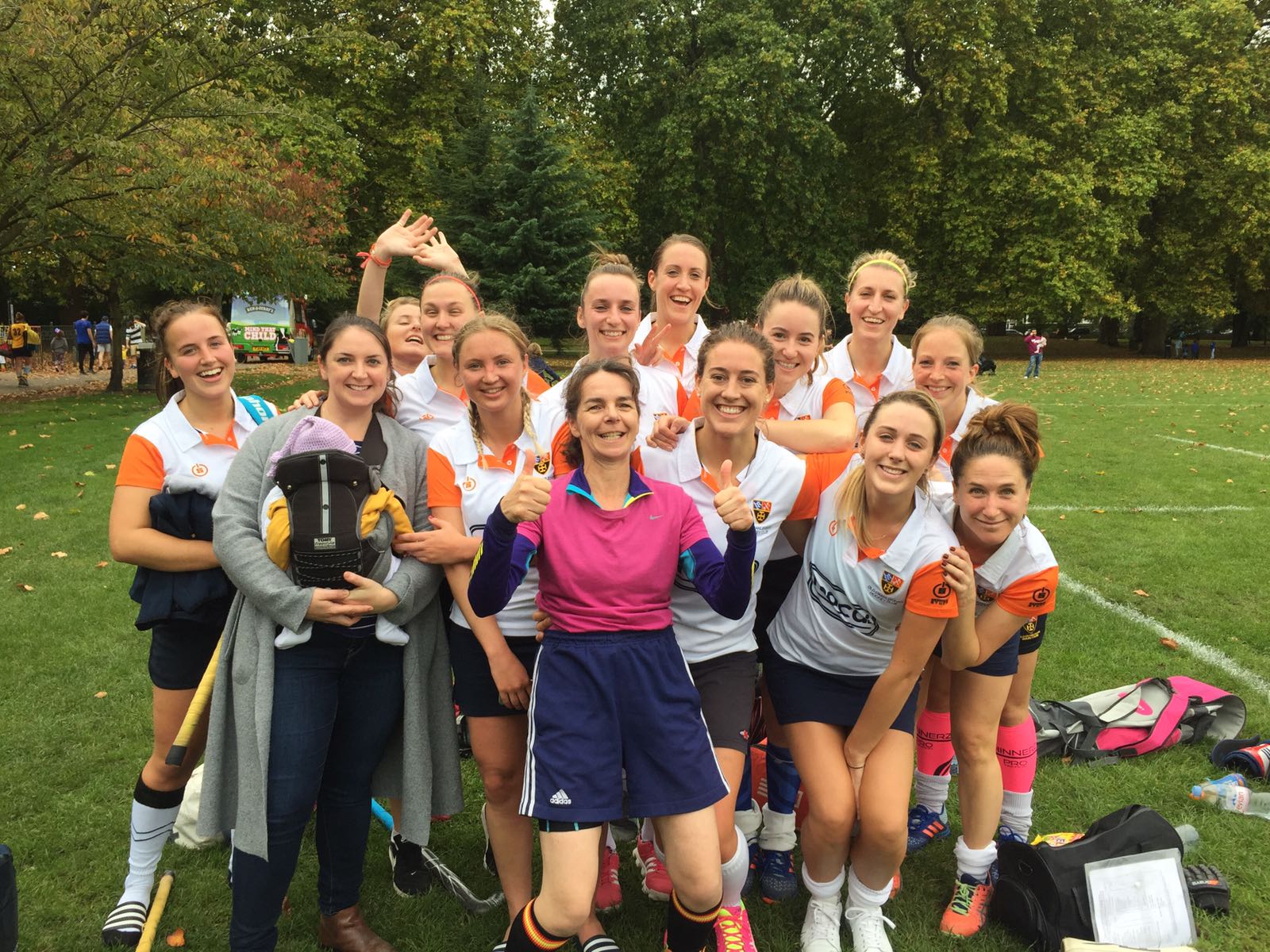 The OC's bounced back from their 2-1 defeat last week, with a 4-1 victory, letting nothing phase them. For the first 20 minutes the Wanderers  put us under a lot of pressure,  but the OC's were managing to survive with  some sporadic but dangerous counter attacks. One particular one by the duo Katie and Amy which saw us into the lead. With this new found confidence the OC's didn't give up here, Jax received the ball where she then dribbled the ball up the left, leaving all the Wanderers defenders in her wake, she then passed it to Katie, who did what she does best and somehow manage to get past 43453 people elegantly and casually, finishing off with an absolute stormer of a goal. Whistle goes. It's 2-0 to us at half time.
The start of the second half we began to lose focus, I am not sure if this was because we were all still in shock from Dan actually saying he was proud of us at half time or what, but the Wanderers managed to get a short corner. With a scrappy push out and some flustering at the top of the D, the Wanderers somehow managed to get it past all of us and BANG, it was a goal. 2-1 it was all to play for. With a few minutes of the ball going up and down the pitch we woke up again and started to be all over them, with some great passing and a real desire to win the ball, we managed to have the majority of the possession and eventually managing to get ourselves a short corner. Emily injected it to Katie who smacked it back to Emily, who did an amazing deflection right into the goal. She must have used her new found stick skills that she learnt from the night before (thanks Paul)! With high spirits all round, Katie didn't think winning 3-1 was enough, receiving the ball from the left, she dribbled it into the top of the D and smacked it in giving us a 4-1 lead and eventually victory. An all round amazing performance from everyone, the effort and team work that everyone was showing was incredible. All we need to do now is keep it up!
Ladies 2nd XI 5-0 Addiscombe 1s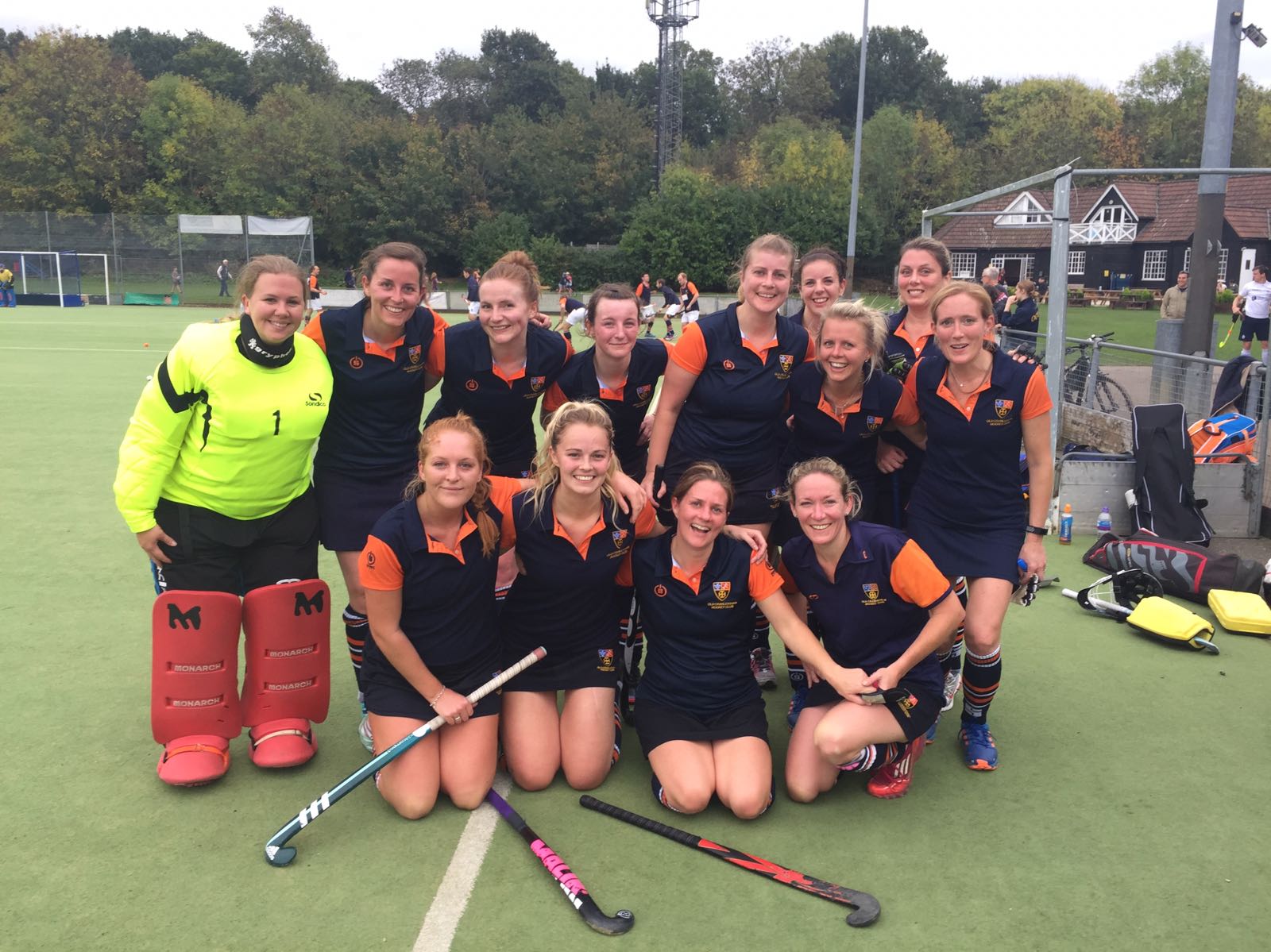 It was an absolutely amazing show from the ladies 2nd team this week with a solid performance all round attack, mid field and defence. Kara bagging the first goal of the match following a cross from Georgie in the first three minutes got us off to a good start and lifted the spirits of everyone. Unfortunately Addiscombe's keeper then twisted her ankle causing her to be lifted off the pitch and unable to continue with the game which saw them bringing on a kicking back for the rest of the game. A little before half time, an altercation in the D led to OCs getting a penalty flick which Kara beautifully converted into our second goal of the match! Some good play from both teams in the first half with some amazing angle running and excellent balls up the right hand side by Josie who showed great determination to get it in the D. Half time came, score 2-0 and we were greeted by a happy Nick who had just arrived to the good news!
Throughout the rest of the game we all showed determination and wanted it more than Addiscombe with good distribution and switching the ball up the line using the width of the pitch allowing Amy to make the run to the base line! This teamwork paid off securing 4 more goals in the second half (one sadly was disallowed through no fault of our own!). One came from Georgie, one from Kara getting her hat trick from another cross from Georgie and our very own captain getting her first OCs goal from a short corner, well done Ellie! Big shout out to the defensive line also as they did not have any defensive short corners awarded against them and managed to keep Addiscombe away from the goal with some excellent clearances and accurate passing. This week showed us gelling as a team and it felt like we'd played together as a team for more than 4 weeks ending with an excellent 5-0 win in front of a home crowd! As Gary Barlow would say, 'it was absolutely fantastic!' Same again next week ladies!!
Ladies 3rd XI 1-0 Old Kingstonian 3s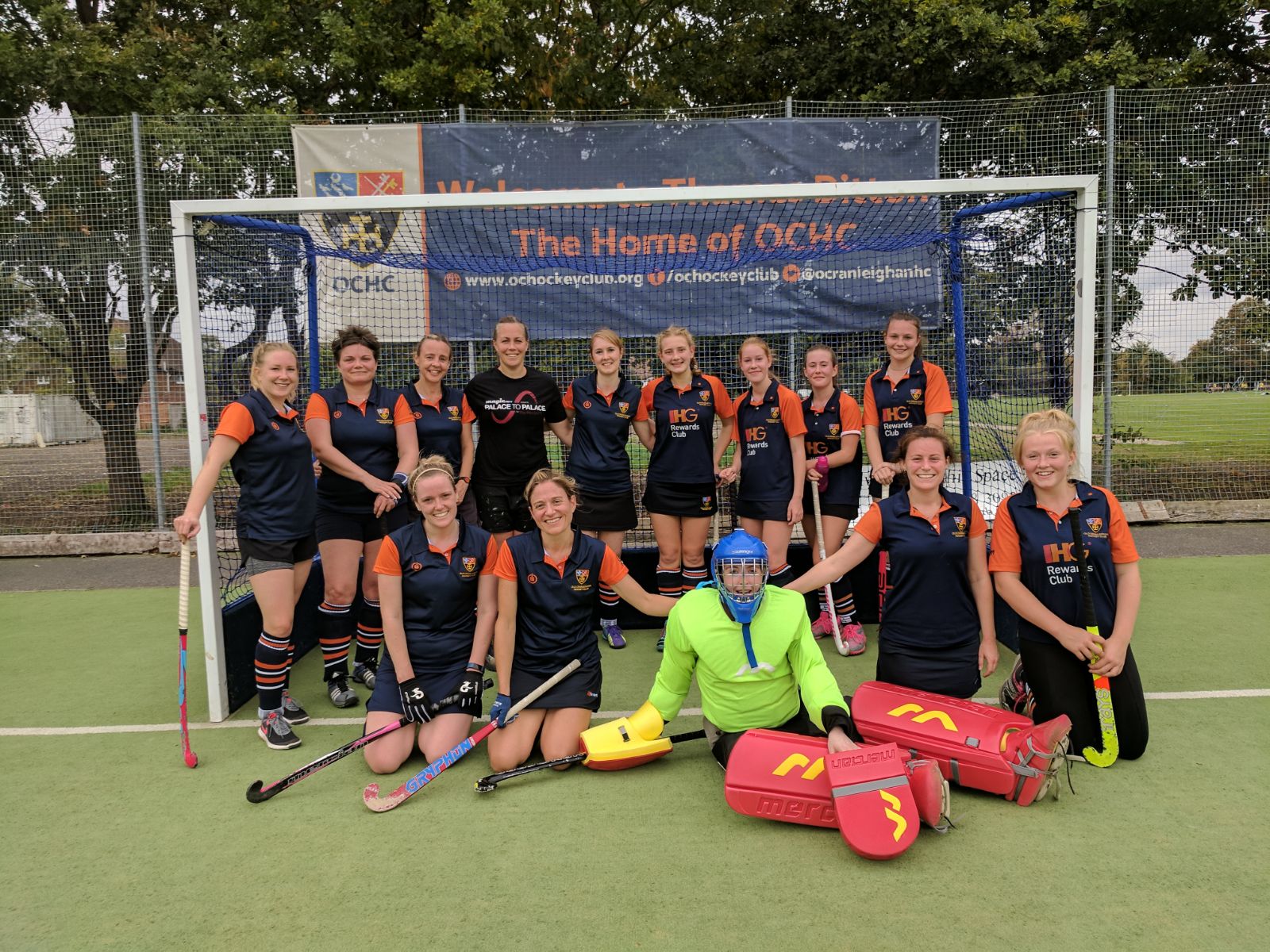 A beautiful sunny October morning greeted us for our 4th game of the new season. With a full team and subs (both of which are still a novelty for the ex-Mid-Surrey players!) and having had 3 losses, we were pumped up for a win to get some much needed morale boosting points!
The first half got underway quickly and we dominated straight from the off with some great passing up the pitch keeping us constantly in their D and putting them under pressure. This all paid off when Eilidh got a great goal not long after the game started.  We continued putting them under pressure and had some great passes across the goal but couldn't quite manage to finish them. They then seemed to wake up and were pushing up into our D, pivoting a lot of their game around their Centre Forward who had a great hit. We were suddenly under pressure, not passing the ball well/communicating, with Jo having to making some amazing saves. We found our second wind and were back in their D winning a few short corners but were unable to convert them. Eilidh nearly got a cracking second goal whacking the ball up high but unfortunately, just to the left of the post.
The second half started completely differently to the first, whatever their team talk was they came out all guns blazing and were putting us under pressure straight away. They got several short corners but couldn't use them and both teams were bunching a lot with the play generally down the left hand side. It was hot and despite the subs, we were tired so very happy when the whistle finally went and we'd won our first game!
The team played a lot better this week, we were communicating and passing better generally so hopefully now we are starting to get used to each other and gel. Big thanks to Matt for umpiring and to Helen for managing the subs. And
a big well done to Eilidh for winning a well deserved POM!
Vamps 6-0 Oxted 3s
Vamps were out of their depth against a mixture of youth and experience and didn't even get a shot at goal or short corner.  Young legs gave our defence serious problems and Nici's glorious goalkeeping couldn't prevent 6 goals.  Final score 6-0 to Oxted.