On a grey and cold Saturday there were excellent wins for the 1st XI and Ladies 1st XI and another victory for the 2nd XI to lift them off the bottom of the table
Old Cranleighans 3 Indian Gymkhana 2
The Old Cranleighan 1st XI hosted a rejuvenated Indian Gymkhana team, fresh off the back of two wins, having plied their trade in the National League as recently as last season. The home side knew that a win was vital having lost two of the last three of their games to fellow top of the table sides in recent weeks.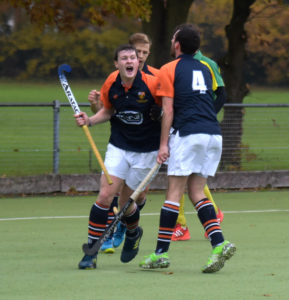 The OC's were well prepared, knowing to expect a physical and feisty match against an opponent known for their ability to break down play and frustrate teams with sometimes dubious tactics. Still without last year's league top scorer Matt Murphy, goals had recently been tough to come by but a talented and skillful forward line for this match gave the OCs confidence that 3 points could be won.
Continuing a theme from this season the OCs started well and it wasn't long before an attack down the right reaped the rewards with the ever available Ben Wilson finishing from close for his third goal of the campaign. A neat move to beat the press from Hugh Robinson shortly afterwards led to another goal for new signing Nathan Hill, the team's leading scorer this year. Indian Gymkhana pulled a goal back just before half time when the OCs turned off and allowed an opposition player to walk into their D unchallenged.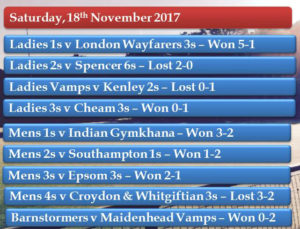 The Old Cranleighans managed to compose themselves at the half and came out playing brilliant and dominant hockey but could not find the goals that would have killed off the fixture. Eventually Jay Harman found himself on the end of an excellent Old Cranleighan counter attack and provided a smart finish to put OCs two goals clear. The resulting protests from Indian Gym caused them to go down to ten men. The OCs dominated but again could not find the goal to kill the tie with the opposition keeper making some saves even his manager, Great Britain's old No.1 Simon Mason, would have been proud of. Indian Gymkhana managed to pull a goal when a freak deflection was met back post by one of their attackers. However, the OCs managed to weather the storm for the last two minutes to take a deserved, albeit scrappy, three points.
Results elsewhere in the league mean that the OCs remain in third position but are now only one point off the top spot that they let slip last week. With Henley (A), Milton Keynes (H) and Winchester (H) before Christmas the Old Cranleighans must be confident that they will finish 2017 in the hunt for promotion.
Men's 2nd XI
Match report to follow.
Men's 3rd XI 2-1 Epsom
It was a freezing cold and wet day that greeted us on our return to fortress TD. We took many positives from the performance the week before at Camberley and knew a similar performance would produce a positive result. Nick Ripley replaced Packham, who had been sent to Southampton with the 2s after missing a flick last week. Chris OD returned from a strain but avoided the warm up(just to be safe) and Max from a weekend running marathons in wales. David Knapp also returned as manager and was immediately insulted for his choice of bomber jacket by chris porter. Water off a ducks back for knapp who took pleasure in pointing out Ports was wearing tights on a hockey pitch. Epsom began well, rushing us on the ball and not allowing us time to settle. Darren was picked off on the half way line and Epsom broke at pace and finished to take the lead. Often conceding a goal wakes us up and produces some sparkling hockey. However today we fell apart, tried one touch hockey and got caught trying to dribble through a solid Epsom line up. Epsom deserved another goal as our lethargy went into the second quarter. It was end to end stuff and both sides had chances with Mike making more saves and keeping us in the game, as well as darren who deflected a fantastic flick over our goal. We squandered a number of short corners before Eds (18th in 8 games) fired home to equalise and not many would disagree we were lucky to be all square at the half.
During half time the debate over tights and bomber jackets continued before we made it clear one touch, tricky hockey wasnt going to win this game. We had the better of the next quarter as Paddy, CB and Grimer held the ball in midfield and space was exploited by our wing backs. Digby Don then received another card from Martin as he maintains his 100% record of carding digby this season. Down to 10 men for a while but playing better hockey. Knapp was on heat again in the dugout and we kept changing personnel regularly, as Epsom had less subs – presumably they would tire at some stage. Our pressure didn't tell for a while but Grimes fired a rocket at Eds that he clipped past the Epsom keeper for his 19th of the season and we were ahead. Shortly after, Nick Lewis and Ports broke down the left and fed nick ripley who skilfully won a short. The short was fed back to farqs who finished well, 3-1 and game over? No – game stopped while Martin and Virge had a 5 minute debate before the goal was disallowed for obstruction. Controversial! Epsom came back at us in the last quarter and had at least 2 chances to equalize as we moved to half court. Martin then sin binned Ripley for protesting and we scrambled the last few minutes with 10 men. This was an ugly, but gutsy win and fair play to Epsom they ran us around and the final scoreline probably isn't a fair reflection. So, 8 games 8 wins and we roll on, just. Three tough games take us into the xmas break, beginning with Surbiton away next week.
Men's 4th XI
Match report to follow.
Men's Hamstrings
Match report to follow.
Men's Barnstormers
Match report to follow.
Old Cranleighan Ladies 1st XI 5 London Wayfarers 1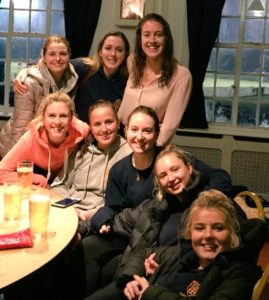 On a windy and rainy Saturday, the OCs Ladies 1st XI set out to make right the mistakes they had made in the loss a week earlier. Taking on London Wayfayers 3s at home OCs started off positively by scoring twice in the first six minutes .The opener came from a short corner, slotted home by Emily Stubbs.  The second resulted from a crash ball into the D by Nikki Springett which stuck a post and Jackie Waite reacted quickest to score from close range. The OCs pressed hard, although Wayfarers defended in depth and strongly.  The OC midfield was working hard to get the ball up to Katie Richards who was repeatedly penetrating the D. Wayfayers fought back with a few breaks through the OC midfield but were unable to penetrate a well-drilled defence.
The second half was a more even battle, although the OCs did most of the attacking.  Their third goal  – a great strike from Katie Richards – came midway through the half but Wayfarers hit back within a minute to keep the game alive. The fourth from the OCs – and the pick of the goals – with ten minutes left knocked the stuffing out of Wayfarers. A quickly taken free hit from Georgia Watson on the right wing found Liz  Norrington who in turn fed Amy Mighalls who jinked down the base line, drew the keeper and slipped it to Alicia Collyear who scored. The fifth followed soon after Kate Scott set up Norrington. Next week, OCs Ladies 1st XI take on Spencer 3s away.  Let's hope for an equally thrilling game.
Ladies 2nd XI
Match report to follow.
Ladies Vamps
Match report to follow.
Ladies 3rd XI
The pressure was on this week as we'd been playing well in the last couple of matches but not getting the results we desperately needed being only 9th in the table. To add to the pressure we were playing Cheam who had been our old rivals when most of us were part of Mid-Surrey. Nevertheless we started positively from the off using the space well and finding ourselves passing nicely to each other within their D. It can't have been that long into the game, 5 or 10 mins when Stacey found herself in the circle with the ball after a perfect pass from Eilidh. She calmly placed it in the space between the goalie and the post and we were 1-0 up. Now we had to remain calm, not panic and avoid letting the oppo get a goal back. But luckily we kept our composure and a strong defence up until the half time whistle.
The team talk was simply don't let them come back and score at least one more goal. Easier said than done. We pushed forward with Abi, Eilidh, Anna and Stacey all having near misses but alas no more goals. I think we started to tire towards the end of the game and our formation was drifting, which meant Cheam were able to get in amongst our defence. To say it was tense was an understatement. At one point there must have been 20 players in our D and I was certain they would get a goal but Jenny calmly swept it away. Everyone gave it their all and fought to the very end to make sure we got that win! We did it, we got the win and it could even have even been a much higher score. But we can't complain, a win is a win! Everyone gave 100% so I think we all deserved POM this week – a real team effort!! Let's build on this win and take the excellent play into the next game!