Some very wet, cold hockey this weekend. The Men's 2s secured their first win of the season, and the Men's 3s and Barnstomers all stay at the top of the table. And the Ladies 2s played a cracking home game, seeing them bagging a 4-2 win.
Men's 1st XI 2-4 Oxford Hawks
The Old Cranleighans 1st XI travelled to Oxford Hawks on Saturday attempting to retain top spot in the South Premier Division. It was set up to be an entertaining game with the home side knowing they would leapfrog OCs in the table if they could secure three points.
OCs were confident after a good performance against Spencer the prior week, but knew that a huge performance was needed for one of the toughest away trips this season. A strong squad eventually made it to Oxford, bolstered by the late arrival of Hugh Robinson, held up as he awaited the AA to replenish his engine water on the A40. After a minutes silence on Armistice Day, the game commenced in cagey fashion with both sides anxious not to be caught out early on the break. OCs slowly grasped control of the game and were rewarded as Dan Rhodes converted against his old club following some good work down the by-line by Nathan Hill. However, the lead didn't last long as Hawks drew level after some neat interplay down the left hand side resulted in an easy finish from the centre of the circle.
OCs slowly built back into the game following some resolute defending as numerous cheap turnovers provided Hawks with good counter attack ball. Old Cranleighans then regained the lead as Matt Laidman slotted a reverse into the top corner, picking up his third goal of the season. Once again, the lead was brief as Pettitt conceded a penalty corner and yellow card for a sliding tackle more reminiscent of his namesake Emmanuel. Despite the strike being stopped on the line, the rebound was converted to level the score at 2-2. Both sides had some good opportunities in the remaining minutes but were unable to convert and the score remained level at the half time whistle.
The second half started in disastrous fashion for the away side who conceded in 30 seconds whilst having only 10 men on the pitch, failing to switch on to Hawks attack straight from the pushback. Hawks further seized on OC's slow start to the half winning a penalty corner that was dispatched into the top left corner, taking a 4-2 lead and leaving OCs facing an uphill battle to come away from the game with any reward. The away side remained determined, and pressed hard for a goal but were unable to conjure any standout chances, as Hawks defence remained firm. In committing numbers forward, OCs exposed themselves at the back and were thankful to Ross Kingsnorth in goal who produced some good saves to keep Hawks at bay. OCs grew increasingly frustrated towards the end of the game and didn't help their own cause by losing a couple to the bin as the game concluded with the score line reading 4-2.
Overall, Oxford Hawks were the better side on the day and deserved to take the points which sees them go to second in the table. OCs now slip to third in the table but look forward to four big games as we approach the Christmas break, starting with Indian Gymkhana at home next week.
Men's 2nd XI 3-2 Camberley & Farnborough
Match report to follow.
Men's 3rd XI 4-1 Camberley
A trip to Camberley on a wet Saturday morning was daunting but the pitch looked perfect for hockey. We had 12 for the warm up and Cato on his way from coaching kids football. Rob Merry had had the longest journey, 4 train changes and a few delays – all so he could go and watch a fairly dull game at twickenham. Darren was also back from 3 weeks heat training in India and we had a solid defensive line up. We began with CB amd Grimer back in the midfield and Paddy P at right half, allowing Packham to make his first start up front. We began well and controlled possession, sure enough the pitch was perfect for our high ball speed and passing hockey. An early short was won which Eds fired home for his 16th goal of the league campaign, before shortly after Digby combined with Paddy and Packham down the right and Eds popped in his 17th -2-0 up and flying. We then wobbled and Camberley took control of the game, showing they had pace up front to trouble Heardy and Mezz. Their dominance in the second quarter got them a goal back before a trademark Ports run down the left  allowed Grimes to score and give us a 3-1 lead at the half. Our 3rd was against the run of play, and we knew the next goal was vital.
To our credit, we stepped up and played some truly sparkling hockey in the 3rd quarter, some superb saves on their goal line kept Camberley in the game but we remained patient. A flick was awarded after a rugby tackle in the D which Packham stepped up to take. Charlie Packham wasted most of his career at spencer, before playing the best hockey of his life this season as he is properly managed. His form culminated in Charlie being named in the England Team of the week a few weeks ago for netting a flick, but todays effort was polar opposite and the Camberley keeper let out a joyful scream as he pushed the ball wide. From the sublime to the ridiculous for Packham. We had played our best hockey in the 3rd quarter but had nothing to show for it until a well worked and secretly coded short was slapped from lewis for paddy to deflect in and the game was all but won. The last 15 minutes of the match saw 3 greens and a yellow card awarded by one umpire for his interpretation of "barging" and at one point it was 9 a side, end to end hockey. Camberley were gracious in defeat, this had been our best game and could have been much closer if Camberley had converted chances in their dominant 2nd quarter.
If last week was a banana skin avoided this week an oil slick driven through at speed by a juggernaught that is gathering pace every week. We stay top of the league and entertain Epsom on saturday at fortress TD. Already the clubs most successful side in its history, it is far to early to be talking about dreams and titles, but we can be pleased with the work done to date.
Men's 4th XI 1-4 Cranleigh 2s
Another week, another hard-fought game saw us end up losing 1-4 to the league leaders, but the scoreline does not reflect how well we played. We scored first against a side that had only conceded five goals in six games and things were evenly contested until we tired a little in the final quarter.
We've now lost two on the bounce, so need to secure an away win this week to stay in touch with the top teams. Croydon Crows won the league last year, so no easy game, but if we play to our best, we know we can beat anyone in this league.
Men's Hamstrings
No game.
Men's Barnstormers 4-2 Reading Redsox
Match report to follow.
Ladies 1st XI 1-4 London Academicals
Saturday was a perfect day for hockey with crisp clear sky, a chill in the air and a freshly prepared astro after a morning of drizzle. Unfortunately we started the first half apprehensively and some early pressure from London Academicals showed they really wanted revenge for their 2 previous defeats against OCs. Georgie Syms won us a penalty corner in first five minutes allowing us an early opportunity to get ahead. Unfortunately we were unable to convert the corner due to some fast runners and a seasoned goalkeeper. The ball began to spend a little too much time in OC's defensive 25 and Emily Stubbs' cracking defence stopped a scary interception taken from Academicals across the D. Academicals looked formidable throughout the first half generating fast paced passes and a psychic knowledge of where their teammates would be. Their bold efforts were thwarted by some strong defence displayed by Nikki Springett, stealing the ball from a swing and a miss played by Academicals at the top of the D during their first attacking short corner.
Three scruffy goals down at the end of a defensive first half we brushed ourselves off and showed up for the second half. With some strong saves from Michelle Rankin in goal and some fantastic runs from Katie Richards up the centre of the pitch we started to make our own luck. A textbook deflection from an early penalty corner by Emily Stubbs meant we gained newfound confidence. Kate Scott played some fantastic runs up the wing but sadly our bold efforts and improving confidence passing round the back were simply not enough to claw back the goals conceded in the first half. Their defence played well and were good at transferring the ball around the back of the pitch. They also tried to work the centre hard which was often shut down by Ali Fox Robinson. We did score one back in the second half, lifting our game. We worked hard and attacked the D repeatedly but in the last minute Academicals broke and turned play to get a last goal off us. Shattered and defeated 4-1, we came away from the game disheartened. We need to keep in mind however that we played some of our best hockey all season in the second half. We will certainly be coming back stronger the next time we face this tough competitor.
Ladies 2nd XI 4-2 Woking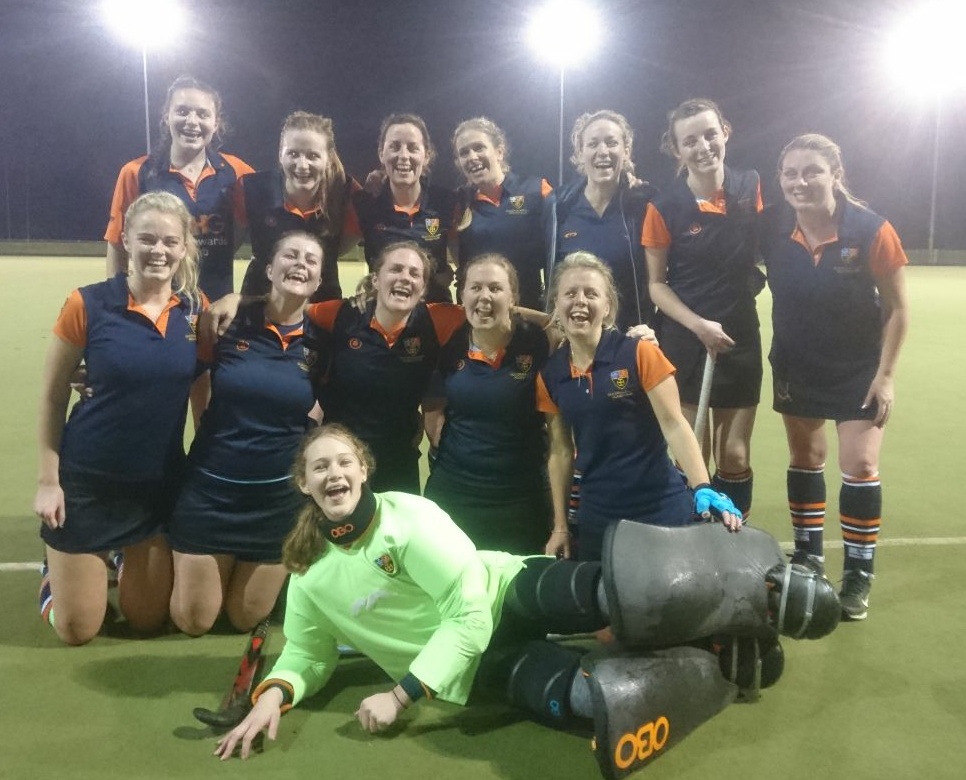 Ladies 2s stepped up for the graveyard shift on a dull afternoon at TD.  We all knew this was going to be a tough game against Woking who were sitting in second place, five points ahead of us.  Spoiler alert…..we successfully closed the gap to two points and sent them home grumpy!
We started well, dominating possession with some great 1-2s up the pitch, which resulted in a 2-0 lead with a fantastic strike from Sangster and deflection by Mel T.  Our second was another cracking cross from Sangster with Kara calmly slotting it past the goalie from the p-spot.  Sadly, Woking got two quick goals back just before half time as we lost our gameplay a little.
Some jelly babies and a fighting team talk meant we went back into the game focused to regain our lead.  Excellent defence and great saves from Evie kept them at bay whilst we attacked the other end, hitting the baseline and knocking two more goals in.  A second for Kara (and well deserved POM) came from a quick side line ball, some silky skills though their defence and straight onto the backboard. Fourth goal secured by Bernie with a great celebration all the way back to the half way line! Final score 4-2, we're back in third and only two points behind.  A great game had by all. Special mention to El Capitano Ellie who was so focused, even after the final whistle, that her millisecond delay in turning around earned her a grumpy, 'oi, oi, are you going to shake hands?' from the oppo!  Bring on next week!
Ladies Vamps 2-3 Croydon & Whitgift
After an epic drive to Croydon on a cold Saturday afternoon, the ragtag Vamps team (guest starring Amy and two Back-to-Hockey ladies – thanks Rae and Georgina) pulled up to a sand pitch that had been heavily watered and looked more like a muddy swamp.
The start was as fast and furious as the slow pitch allowed it to be. Still, it was the same for both teams. Whilst the opposition were sliding around, they also managed an early attack and unfortunately Nici the keeper slipped and the ball edged past. Vamps attacked back immediately and pulled the goal back quite soon. There followed a mighty battle with chances more at their end, but shortly before half time, despite a might slide across the goal by Nici (on a surface that seems to have permanently stained her orange keepers's shirt) the ball hit her front and spun away into the side netting on the inside, and somehow falling out through a gap in the netting, giving rise to a 'did it or didn't it?' Argument between the umpires and even our own team.
Goal given, we retired for a pep talk and drinks and, as always, a regrouping. They scored a well-worked goal, exploring holes in the otherwise exemplary defence, and then a last gasp goal gave the Vamp's fading legs (combined age of the front line = 180 years old, three OAPs, two more with bus passes and only Amy to bring the average age down) hope, but sadly a few great chances were not quite connected with. Debbie and Jane scored the goals
Ladies 3rd XI 0-3 EUHC Gamblers 2s
We arrived at the club to a drizzly start, feeling apprehensive about playing top of the division EUHC Gamblers 2. We gathered in the club house and were loathe to venture out so had our team talk in the dry. There was high availability this week so we had 15 players raring to go with extra help from Hannah and a welcome return for Sarah Mann. Zoe had some concerns about how to manage the subbing with so many players but with input from Helen we had a new plan. Finally we ventured out on to the wet pitch to warm up and after our minute's silence for Remembrance Day we were off. The game started off well and we seemed to be keeping them at bay and even managed some forward runs up the pitch. Eventually they won a short corner from which they scored their first goal (unfortunately we ended up down a player in defence following some over-enthusiastic running out!). Not long after this they won another short corner and scored their second goal. 2-0 down at the end of the first half. However the new subbing was working well and we were quite pleased with having kept the scoreline reasonably low.
The drizzle let up slightly for our half time talk and we were keen to carry on our good work. Manny did a great job holding the middle of the pitch and Abi had some good runs from the half way line up into the D. Despite some great support from the sidelines we still didn't quite manage to get the ball into their goal. Jo did some sterling saves and even Inge managed to save two goals off the line which frustrated them no end. Unfortunately their tenacity (and especially their no 50) paid off and they finally managed to get around our fine defence and scored one more goal to make the final score 3-0. We played much better in the second half and all worked hard to achieve this low score. Now we just need to score ourselves! Manny was voted Player of the Match. Thanks to Martin for umpiring.