A wet weekend for all here in Thames Ditton. Our Ladies 1st XI, Vamps and 3rd XI lost, along with our Men's 1st XI, Barnstormers and Hamstrings. Our Ladies 2nd XI had a cracking home game winning 7-3, and our Men's 2nd XI, 3rd and 4th XI all won their games convincingly. Promotion hopes are still alive for the Men's 3, Men's 4s and Ladies 2s. Thanks to everyone who supported on the side-lines this weekend.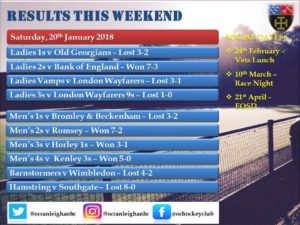 Men's 1st XI 3-2 Bromley & Beckenham
The conditions were perfect for a game of hockey: A Saturday lunchtime drive through greater London; heavy rain forecast throughout; a drive from the changing rooms to the pitch; a 10 minute drive to the club after the game; and a 13 man squad to take on a competitive opposition.
Nevertheless the OC's started strongly with some decent spells of possession and organised defending preventing Bromley from creating any real chances in the first quarter. Whilst Movie Night at the Harman's divided opinion, the benefits of a quiet night in were apparent, with J Harman pressing aggressively in an active forward line and P Harman covering plenty of ground in the midfield. It was the latter who claimed an assist following good build up play starting in the OC defence, with a neat pass finding Dave Roberts in the circle. Much to Coach George Pettit's delight, Roberts kept stick on ball and swivelled on the spot to deliver a shot towards the back post (a re-run of training on Wednesday evening). Unfortunately he failed to achieve sufficient power or accuracy to score without the help of a large deflection of a Bromley stick. Still, the idea was there. 0-1.
With the deadlock broken the game opened up with chances at both ends. Bromley managed to penetrate the OC circle on a number of occasions and were fortunate to be awarded a penalty corner following a strong but seemingly fair challenge from George Pettit. Josh Doble, feeling particularly flexible after his recovery bath the weekend before, was unable to keep the resulting drag flick out despite getting a strong pad to the ball, and Bromley were level at 1-1. All square would probably have been fair at the interval, but a Bromley breakaway following an OC attack left their right forward with time to shoot from the edge of the circle. His topped effort was neatly tucked into the bottom corned by a despondent Tim Ming, to give the home side a 2-1 lead. There was barely time before the break for Hugh Robinson to make a challenge reminiscent of Boris Johnson's tackle in the Legends football match against Germany in 2006. No card was awarded.
The second half was a tense affair with few clear cut chances, however the OC's managed to find their way back into the game when P Harman added a goal to his assist, slapping the ball firmly through the keepers open legs to make it 2-2 after a flowing attack down the right hand side. The relief in Harman's celebration was obvious, clearly satisfied his performance was not being hindered by the mounting pressure from teammates to resign from his questionable role as Chairman of the Handicap Committee for the OC golf day.
The away team struggled to create further chances despite patches of possession in advanced areas, and with just over two minutes to go, a superb recovery tackle by Alex Czerniewski was met with a loud whistle and a yellow card, much to the bewilderment of the 5 strong crowd and all of the players. With time ticking away, the home side pressed on and manage to score with just over a minute to play, leaving no time for an OC recovery and the final whistle blew with the score at 3-2.
Having taken 6 points in their double header the previous week and winning all 3 games in the Surrey Cup before that, the OC's had been keen to continue their 100% start to 2018 and inevitably there was disappointment with the result. There are even rumours Ollie Davies is contemplating resigning the armband following an end to the unbeaten form the side enjoyed under Hugh Robinson's leadership in his absence. Ollie was unavailable to comment.
That said, there were many positives for the team to take from the game and mull over before welcoming Horsham to TD on Saturday, when there are high hopes of a return to winning form.
DOD: Alex Czerniewski
MOM: Alex Czerniewski
Highly Commended: P Harman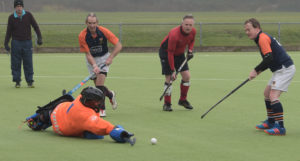 Men's 2nd XI 7-2 Romsey
Click here for match photos
Match Report to follow
Men's 3rd XI 3-1 Horley
A right roller coaster of a week with a series of highs and lows. The week began with 14 on the team sheet and a revelation that Grimer was feeling the effects of chasing around after 14 year olds on weekends. We ended with the Tighstman proudly showing us a photo of an 8 week old Digby on his telephone and 3 points. In between times the squad number dipped to 11 with 2 injuries as we prepared to face the in form side from Horley.
Horley had not lost since we beat them at The Fortress in October with their unbeaten home run lasting even longer as they had not experienced defeat at the tranquil and picturesque Ifield Community College venue since they lost to, er, us in April at the back end of last season. Eventually we at 11.30 on Saturday morning we had 13 in the squad as JFK "Oswald" escaped the clutches of a foreign land to make himself available although jet lagged. One final twist saw Oswald let down by Uber in the 6 mile north to south journey from Horley Cricket and Hockey club where he had arrived with his new football boots and medium length aluminium studs ready to play on grass.
Horley definitely expected to win as we ambled deceptively through our warm up but sometimes one can tell in the warm up the general feeling of everyone's attitude. There was no question that we were fuelled with a real desire to win this game and go a long way to extinguish Horley's young pretender's claim to the throne of Surrey Division 3 champions. We agreed to play half court for the first part of the game just to conserve some energy early doors and to catch the hosts on the break. Just like last week the instruction lasted but 3 seconds as we had push back, poured forward, lost the ball off the back end of the oppo's half and proceeded to set up 3/4 press. At least Diggers had the balls to admit in the team talk he did not know how to play half court…….
Uber delivered their charge 10 minutes in so we were up to 13 by which time we had dominated the early exchanges and pretty well camped in Horley's half. A few half chances had come and gone before Ben J deflected home a well worked free hit followed by the reconstructed Knappy following suit from a Lewi's cross, the first goal of the second half of his fledgling career. We were troubled by the odd long aerial from Horley's 16 yard hits although not that much was created from these forays, Ross touching the ball once or twice. 2 – 0 at half time was probably a fair scoreline although it could have been more.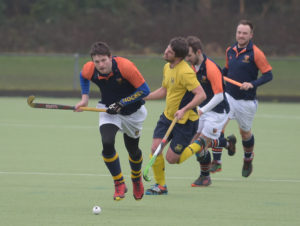 We were told off by Virge early in the second half for not substituting on the half way line mainly prevented by the away dug out being a route march away from the mid pitch point. The first 15 minutes of the second half were always going to be crucial and as we have done so many times this season switched off and allowed Horley back in the game with another good deflected goal giving Rosko no chance. For the next 5 minutes we were on the back foot but were suddenly re energised and took the rest of the game to Horley. BJ soon stuck away his second following another good cross by Lewi and from then on we closed out the game. Diggers was man of the match for a simply faultless display having been shepheared by Jon all game. Knappy was dick of the day for incorrectly being given a green card for calling their Neolithic number 7 a "decorator" loudly enough for their ump to flash the green triangle 5 minutes from time.
Results went our way with Wanderers drawing and other than Merton none of the 6 below us won. 2 wins this coming weekend will put us a minimum of 5 ahead of Wanderers and 9 ahead of Horley with the remainder somewhere on the horizon frantically looking for fresh sets of wheels to replace those that have fallen off thus far this season. However we must not get carried away or complacent otherwise we will face the same inevitable end as The Ottoman and Roman empires, to name but 2, that crashed and burned. To continue our very special run of the last 3 seasons we must continue to fill our nostrils with the intoxicating scent of wanting to win every game rather than the putrid and sickening flavour of expecting to win. There are still 10 games to go so we have just reached the top of The Barranco Wall with the lung bursting difficult second half of the journey, including the intimidating ascent to the peak of Kili, still to go. The lady has much weight to gain and is busily stuffing herself with a large number of carbs before she can be considered fat enough. She could still prove to be bulimic. She has not yet chosen a song let alone started learning the lines.
Men's 4th XI 5-0 Kenley 3s
Match Report to follow
Men's Hamstrings 0-8 Southgate
Match Photos click here
Match report to follow
Men's Barnstormers 2-4 Wimbledon
Match Report to follow
Ladies 1st XI 3-2 Old Georgians
Our season faced it's most daunting task yet, an away match verses a team that are starting to put some distance between themselves and the pack. We were also shorn of a few incisive players, faced heavy drizzle in darkening skies in the last fixture of the day. All depressing stuff. At least it could have been. In fact, led by Georgia Watson and Katie Richards on their debut as captain and vice-captain, OC's turned in a fine performance, shaking the confidence of the league leaders with our finest passing game yet.
We lost 3-2. But we won in so many other ways that heads were held high and there was a renewed swagger as we left a mightily relieved OG's. The first goal led us into a 1-1 equaliser at half time. It was an excellent push out by Amy, clean stop by Jackie Waite and a straight strike from Katie Richards. Our second goal came from another short corner. This time it went left to Kate Scott and then Katie Richard took the rebound with style. A truly storming team performance by all – it really was about the team playing together today. To quote Michelle 'the wall' Rankin (our goalie) 'I'm sad that we lost but not sad about how we played'.
Ladies 2nd XI 7-3 Bank Of England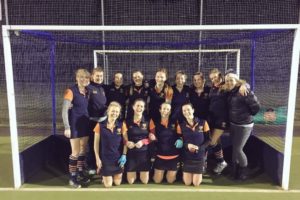 Straight from the off the Ladies 2s were so up for this game. We had previously drawn with Bank of England 0-0 and so were really keen for the win at home. And we certainly delivered! Being the last game of the day, the support from the home crowd was immense, and definitely helped urge the team on, encouraging us to make those 50-50 balls and fully give it our all.
As soon as the first whistle was blown, OCs dominated and soon had a short corner, which evidently had been well practiced because Kara, our star centre forward's shot soon hit the back board. Yeah 1-0! Soon it was back in the opposition's circle again and after a fantastic cross from OCs winger Sophie, Kara scored again! 2-0! Great start! Unfortunately, what happened next, we were not quite sure, maybe we got a bit complacent, but Bank quickly capitalised on our loss of concentration because they suddenly had 3 quick breaks and scored 3 very good goals! Disastrously, from achieving a comfortable lead in the first 10 minutes, OCs were now losing 3-2 and it was almost half time. Clearly, the team needed this wake-up call, because it inspired some amazing passing up to Georgie 'Terrier' Sangster, who seized her opportunity, going for a superb shot that the Bank goalkeeper had no chance of saving.
OCs then took the half-time break to regroup and refuel with Jelly Babies and Haribo, with Captain Ellie deciding that 'composure' needed to be the key tactic for the 2nd half. It was 3-3 and we wanted this! The cheering from the sidelines was electric and OCs were soon creating some great chances and working successfully as a team again. Finally, one of those chances was rewarded after our right half, Amy, sprinted down the right and along the baseline, and lastly squeezed a difficult angle shot through behind the keeper. Whoop whoop, 4-3! The atmosphere was buzzing, and OCs were clearly now the stronger team. Some fabulous hockey was being played and everything seemed to just click into place! Brilliant Bernie was next to score, with a perfect scrabble in the mouth of the goal, slipping the ball between the goalie's legs after battling hard through the Bank defenders. 5-3! We were on a roll! Then the team soon regained the ball and an oppo foot in the circle meant it was another short corner for the OCs. The perfectly executed technique was finished off by Kara's dazzling final shot to make it 6-3! We weren't finished there, because literally in the last 2 minutes before full time we managed to win another short, resulting in the icing on the cake – Kara's awesome bullet shot from the top of the D. Final score, 7-3 to the OCs!
It's safe to say everyone ran their socks off, and the must deserved celebrations afterwards in the sauna was a perfect ending to an incredible afternoon. Plus it was Helen's 'The Press' birthday, so we just had to have beer and prosecco in our bikinis! Well done team, what an amazing effort. Well done to Kara, our lady of the match, special thanks to the umpires, they were on point, and of course the crowd – couldn't have done it without you!
Ladies Vamps 1-3 Wayfarers
Its fair to say that this was not one of our better games and probably not one to commit to memory. We welcomed Georgia and Mel from the 2's, however that didn't make too much difference as most of the core OC Vamps players seemed to have lost the plot a bit. The lost plot was aided and abetted by the torrential rain which went on for most of the match and I think our performance may have been adversely affected by worrying about the state of our barnets by the end of the match in case Age Concern decided to turn up for a photo shoot.
It was looking good in the first few minutes as we went one nil up courtesy of Mel (at least I think Mel) but we managed to let in two goals in swift succession later on in the first half. We were still trying to equalise when in the last few minutes one of our players refused to head a ball that was travelling goal wards at head height (she actually ducked obviously showing a lack of team spirit!) and it was 3-1 and game over.
Many thanks to Hillary for braving the elements to umpire for us.
Ladies 3rd XI 0-1 Wayfarers 9s
Everyone was keen for a win this week after our loss last week. Unfortunately, the opposition beat us 1-0, but we still fought till the end. The game started quite evenly with both sides having equal chances at goals, after about 15 minutes we got a short corner but unfortunately, we didn't score. Then within the last 10 minutes of the first half the opposition got a short corner and gained their first goal. After a pep talk in the goal during half time, we were ready to go back out there and try our hardest again. The start of the second half was mainly in are defence, but we were strong and didn't let a goal in. Jo, our goalie saved quite a few shots with the defence massively helping, amazing effort from all of them. 10 minutes in and we had gained control of the ball again, getting many shots near goal. 10-15 minutes left, and we were gaining strength, all of a sudden Abi got struck by the ball on her knee and had to go off. So, we had Rae on left forward, Eilidh in centre and fay on right. This is where we began to have lots of shots on goal, its just a shame we couldn't get any in. Fay did some amazing running and put 100% effort in, hence why she got player of the match! Within the last 10 minutes fay scored but it was disallowed because the whistle had already blown beforehand. Overall, we were definitely the stronger team in the second half. It's a shame we couldn't get that goal.