Well, we've nearly made it through the first month of 2018, moderately unscathed. And this weekend we managed to bag a total of 19 points out of a possible 24, not too shabby. Ours Men's teams had a clean sweep, with the Men's 1st XI back on winning form again. Our Ladies 1st XI fought hard for a draw, and our ladies 2nd XI and Vamps bought home solid wins.
Men's 1st XI 4-1 HorshamMatch Photos Here
Following an unfortunate defeat last weekend, the OCs were very keen to return to winning form at TD on Saturday. In fact, shortly after it was announced that Wednesday's training was cancelled due to a waterlogged pitch, 100% of squad members announced they were available to train, demonstrating the lads' determination to put it right. Even William Page had confirmed his availability for the cancelled session.
Having had a full week off hockey to recover, the OCs looked fresh as they implemented an aggressive press from the outset, giving the Horsham defence very little time on the ball, and they reaped their reward within the first few minutes. Following a number of turnovers in the opposition 25, Ben Wilson managed to pick up the ball on the right hand side and carry past a Horsham defender into the top of the circle, before slotting a neat reverse stick finish into the bottom corner. The home fans were frankly shocked, given that the same man had failed to hit the target two weeks earlier from 6 yards with an open goal to aim at. He was unfortunate not to double his tally with an almost identical opportunity a couple of minutes later.
The OC full press continued to cause problems as Horsham struggled to find a solution. Following another turnover on the right hand side, the ball found its way to David Roberts who slipped a cheeky reverse stick back past the left foot of the oncoming goalkeeper with just enough pace to entice the recovering defenders to try and keep it out, but to no avail. With just under 10 minutes played it was 2-0 and the OCs were enjoying a good period of pressure. This pressure continued with the OCs finding plenty of success down the right with Hugh Robinson and Alex Czerniewski linking up allowing Robinson to drive a shot across the goal from the right hand side of the circle; unfortunately nobody was in place on the back post to tap the ball home.
Roberts scored his second of the game when he found himself in an almost identical situation to his first, pushing the ball into the same corner to make it 3-0. The game was almost out of reach for Horsham with 15 minutes played and they failed to create any real opportunities in front of goal. Before the half time whistle the OC's managed to make it 4-0 when a well worked corner routine saw Robinson deliver towards goal. Captain Ollie Davies was keen not to let a rare opportunity pass by, forcing his own men out of the way to ensure he got a touch on the ball the claim the goal.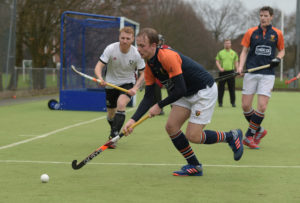 Nathan Hill arrived shortly before half time having completed another 18 holes (cementing his scratch handicap for the golf day in the process) and a 2-0 school fixture victory in a busy morning schedule. Now with 14 men for the second half, the OCs hoped to press on and improve their goal difference, however there were fewer clear opportunities in the final 35 minutes and the game was scrappier in a nature. Horsham found they had some luck in long goalkeeper kicks up field to their forwards and crash balls from back line to lone strikers. They managed to get one back when a breakaway attack resulted in the ball finding a forward free in the circle to drive a reverse stick finish below the onrushing Josh Doble to make it 4-1. It is always disappointing for Josh when he concedes on the sole occasion he is tested.
Overall a great result for the OCs with the three points earned in a strong first quarter. Other results on the day meant the OCs climb to second in the league and they will aim to close the 6 gap at the top of the table to Oxford Hawks when they travel to Oxford Uni on Saturday.
MOM: Matt Laidman
DOD: Alex Czerniewski
Goals: Ben Wilson, David Roberts (2), Ollie Davies
Men's 2nd XI 5-3 Oxted 3s
Match Report to follow
Men's 3rd XI 5-1 Barnes 4s
Cold, wet 4pm starts are never the most enticing of fixtures, but most of the squad arrived on time for a decent warm up, except for chris brewer who was stuck in traffic. As the lights slowly illuminated a slippery TD astro, the game began. Barnes were sharp early on and picked off some wayward long balls. We continually attempted to fire speculative long balls and it wasnt long before Barnes broke away and converted their hard work. We were behind and frantic until shortly before the break as we began to realise patience was the key. Some good interplay between Packham and Darren down the right led to a short, which was saved on the line by a defenders chest. Packham stepped up and levelled the score with a calm penalty flick. 1-1 at the half was probably fair and it was clear we needed to keep passes short and expose the space we created with forward runs.
CB had now arrived but was relaxing on the bench and insisted he was not in the mood to take his track suit off. Fascinating that someone would spend two hours getting to a game, but then not want to play- but CB is the guy that deserted the club at the beginning of the century for London Eds. All great sportsmen make mistakes – look at Ben Stokes. Like England will do with Stokes, we welcomed CB back with open arms.
We began the second half a lot better, with Diggers, Ports and Heardy switching the ball at pace around the back. It wasnt long before a trademark Hunter run fed the ageless Knapp, who converted calmly to take the lead. With our noses in front we began to canter with more energy and Grimes and Nick Ripley took control in midfield. Hunter then broke down the right again and finished with an undercut that left the Barnes keeper stranded. 3-1 and shortly after Paddy P was rewarded for his hard work down the left to make it four.  Three goals in five minutes had killed the game off. Mikey barely touched the ball in the second half, but the Barnes keeper / defenders made a string of exceptional saves off short corners before Knapp deflected an Eds strike to make it five just before the final whistle. I can't end this report without mentioning we were awarded another flick, which Packers let Knappy take "for his confidence" – the kiss of death as Knappster pushed it wide! This was not our finest 70 mins, but a superb spell in the second half showed glimpses of what we can do. Next weekend a trip to Guildford where we need a win to maintain top spot, with Wanderers hot on our heels. A lot of hard work ahead before we can talk about where we will end up this season, but this was a step forward. Hopefully CB will take his tracksuit off next week. Eds
Men's 4th XI 2-1 Barnes Beavers
Well played to all who faced a determined Barnes Beavers and came away with a famous, if at times scrappy, performance to cling on to a 2-1 win. The water-logged pitch (under lights too) was a shocker and made for some keystone-cops comedy moments complete with air shots, mud slides etc. Not the easiest conditions.
Including our Goan's 5-0 forfeit that now makes six wins on the trot for the mighty 4s. Surely some record? Top three spot on offer if we keep playing this well…
This Saturday we play Guildford at home 2.30.
Men's Hamstrings – No Match
Men's Barnstormers – MATCH CANCELLED
Ladies 1st XI 2-2 Wanderers 2s
The Ladies 1's match this weekend was a tale of two halves. A slow start led us to concede an early goal from a well drilled short corner from the Oppo. As the half progressed, we couldn't seem to find our feet whereas the Oppo kept finding ours, with several more short corners going their way, however solid defence prevented the score line widening. Our defence continued to block them out of several chances in our D but we just couldn't convert in theirs. We finally retaliated, led by Kate Scott's mighty skills combined with a cross goal finish putting us back in the game. We went into half time 1-1 and after a motivational talk at half time from coach Dan, we were raring to go.
We retained the majority of possession in the second half with clinical transfers round the back and some wide play, much to Dan's delight. Despite some cracking defence, we conceding another short and they converted. Soon after, we won ourselves a short and carried out a text book injection from Emily Stubbs to Kate Scott and back to Emily, who swept the ball into the goal, putting us at 2-2. That remained the final score, despite a solid effort from the team all round.
Ladies 2nd XI 4-0 Addiscombe 1s
The Ladies 2nd XI had an away game this week, at the rather fancy Royal Russell School in Croydon. After not quite knowing where to set ourselves due to the size of the place, we finally found some warm changing rooms and managed to round everyone up. The OC's were definitely the keener sider, warming up on the free, new astro with twenty minutes to go. Ten minutes after our 10am start, when we were on the pitch raring to go, but the Oppo were stalling on the side lines, waiting for a few players stuck in traffic. After a bit of conferring, their Umpire and Cato decided they'd had plenty of time, so the whistle went. Addiscombe may have started with only nine outfield and a kicking back, but this didn't mean the match would be easy. And certainly for the first five minutes or so they probably had the run of play, while we tried to settle down and get used to the bouncy pitch.
After a shaky start, our passing became much more fluid, and we began to attack their D. The first goal from Georgie came soon after, easily swept into the goal (although without the satisfying THUD sound as the school had covers over the backboard!) This was a great start, however we didn't get complacent. We had some more great moments of play, some fast runs into their D by Georgie, Amy, Kara, Bernie and Georgie N but the ball kept being cleared out, or kept finding our own feet. A scrappy panic in the Oppos D at one point meant we were awarded a P-Flick, Kara stepped up but this decision bizarrely changed into a short corner instead which we didn't manage to convert from. Heads still up however, our second goal came soon after from a cross across the D from Georgie to Bernie, who swept it into the goal. The half time whistle went and we had a huddle, some jelly babies and went back out fighting.
We defiantly felt the stronger side in the second half. By this point Addiscombe's players had all arrived, so bar their kicking-back we were now evenly matched outfield. We spent the majority of the second half attacking and playing high, with some great passes around the back, and some breaks into their D. Addiscombe had a dangerous break at one point however Lizzie stepped up and cleared the ball easily away. Sophie M also made an excellent clearance from another attack, calmly moving the ball across the D and away. PHEW! Our third goal came when the Oppo mis-hit a 16, which Amy monopolised on, driving the ball into the D, pushing it to Kara who did what she does best. The rain had kicked in now, and Addiscombe were down to ten players again as one hurt her ankle and was carried off. We remained calm and confident, despite freezing our legs off. At this point Kara unfortunately collided with another player and took a tumble. Luckily she battled on, and straight away finished off the game, after a great cross from Josie, smashing the ball into the goal. A great, if not wet and cold game, and a good win.
Ladies Vamps 2-0 Oxted
The Vamps were in fighting form and started the game well but had a very strong defence to contend with, most of the Oxted team stayed back and were taking man to man marking literally. Oxted had a combination of youth and experience but eventually with persistence Yasmine scored a brilliant goal. In the second half several tries at goal were eventually rewarded with a second goal by Yasmine again, with a straight hit from the top of the D. Final score 2-0 to the Vamps.
Ladies 3rd XI 0-5 Old Kingstonians
Match Report to follow