2-1 seemed to be the score to get, with four teams scratching this on the board at the weekend.
Men's 1st XI 2-1 Oxford University
Due to some people choosing to ignore what google maps was telling them, our second trip along the M40 of the season provided some difficulty. Overcoming the traffic however, was not a biggest challenge of the day. We faced a well drilled and cohesive Oxford University side who are capable of taking points from any team in this league. The game started at a frantic pace, with both teams enjoying spells of possession but with few chances to show for it. Finally, a quick turn over in the opposing 25 put James Laszlo through with acres of space to pick his slot. Perhaps too much time as his chance soared high and wide of the goal. Oxford's chances in the first half came from some well worked short corner routines, fortunately for OC's they were matched by some outstanding defensive work from Josh Doble, Matt Laidman and Ollie Davies who stopped one on the line and tipped the other onto the post. A quick reply from OC's gave Matt Murphy the chance to show the Oxford Uni drag flicker how it's done and we went into half time with a 1-0 lead.
The second half carried a similar theme and both teams worked the ball around well but with very few clear chances. Oxford had some more short corners that were again matched by the OC's defence, one of which raised some suspicion about whether or not the ball hit the defender's body on the line. The umpire waved play on and OC's created another chance from the break away. A tentative final few minutes were to follow, before Dave Roberts popped up at the back post to slot in his first of the season and OC's second of the match. With a 2 goal cushion and a minute left on the clock everyone thought the job was done, but Josh Doble had other ideas. A ball slapped into the D by Oxford caught Doble in 2 minds clipping his pad and teeing up the Oxford centre forward. Another hard fought 3 points but overall a mature performance from the team as OCs travel back to TD with the three points.
Men's 2nd XI 2-1 Wimborne Wayfarers 1s
Wimborne were welcomed to fortress TD with glorious sunshine, blue skies and a chilly breeze across the lush new pitch. The stage was set for a noteworthy game against an unbeaten Wimborne 1st XI who, coached by ex-England and Reading player Hannah Leigh, were level on points with OC 2s. A must-win for both teams. Following an important away win against top of the league last weekend, the lads were well up for the battle that was to ensue.
The game started with immediate pressure, plenty of close play and fluid movement from both sides and it didn't take long before we were in control and teasing the gaps. After holding off some probing attacks from Wimborne we broke into their D and relentlessly attacked the goal and ultimately won a short corner. Jimmy Smith injected into Rippers and set Dave Wilson for a swift drag flick… straight into a Wimborne defender foot. Phillips stepped in and swiftly slapped the ball into the net off the deflection however the umpire had already blown for the foot and we would have to retake the short, much to Phillips chagrin.
With the same set up, the ball spilled to March who rounded the ball outside the D and with a studious scan picked out Henners on the far post, who masterfully controlled and reverse lobbed the ball over the keeper and into the goal in one swift movement. 1-0.
We were in front and maintaining pressure, but as soon as we gained the upper hand we would be turned over and have to repel the rapid Wimborne attack with Goalie making some critical and remarkable saves from both open play and short corner routines. Sheps – working hard in the back to fend off the ongoing Wimborne attack had painfully rolled his ankle! Man down! The game stopped, first aid was applied and Sheps was delicately carried off. A damn shame after a great run of form. The immediately applied ice pack did wonders, however, and within 5 short minutes Shep was able to march around the pitch to get back in the warm for a pint, OC burger and front row seat just in time for the start of the rugby.
As expected, this was going to be a tough fight. The ferocious pace continued which, couple with Wimborne's skill, led to OCs going down to 10 men before half-time. Goalie and the backs stood their ground and we held off the Wimborne onslaught until half-time, keeping the ball and catching them out on the counter. This was great competition.
Wimborne were excellent in the second half and unlucky not to score from a number of chances. 2 more cards added to the work load, but ferocious and determined OC defence proved just enough until 10 minutes to go – a burst of play from Wimborne exposed the slightest of gaps that was promptly exploited with a shot on goal from just inside the top of the D. A gallant diving save attempt from Goalie was not enough to stop this bullet and the crack of the backboard rung out across the ground, 1-1.
We were gaining advantages and building momentum and it was Wimborne who now justifiably went down to 10 men – we had to capitalise.
We kept our cool, Gal continued to marshal and distribute beautifully and we carefully probed their defence for gaps. Suddenly, a chasm of space opened up for JFK, who stormed down the right yet retained composure to pick out Cookiey on the right base line, who fired a sublime first-time pass across to Whizzer storming in at the near post who, very much like his World Cup winning goal for England this summer, put it away with a menacing finish – 2-1!
Just like last week, 3 minutes of desperate defending ensued, but we held on and thunderous applause from the cold and committed OC faithful rang out across the club at the final whistle.
A big win with some excellent defending. Goalie runaway man of the match, and Whizzer claiming champagne for his outstanding winning goal.
Goals: Henry Emery; Chris Wiseman
MoM: Goalie
Champagne Moment: Chris Wiseman
Other: Hugo Shephard
Men's 3rd XI 4-3 London Edwardians
Apparently only a small % of Yanks have passports. The same must apply to our team as all sorts of people were missing this week as we travelled to the back of the back of beyond. I regret for not taking Eurostar to the game but guess that will not be a problem next year as Article 50 will doubtless result in a hard border and all sort of customs problems. A few wives may have had a say in some of the n/a decisions thinking that Honor Oak was akin to Magaluf. Kent, the county and not Clarke, is not the garden of England if Saturday's inner city sprawl is anything to go by.
Incidentally my "leave" campaign started in earnest on Sunday as I raised the blades of my lawn mower to pick up all the leaves that have now fallen from the trees and my lawn is now clear. A very satisfying job done.
The journey home made me reflect on whether the RAF WW2 pilots had the same wonderful feeling when seeing the white cliffs of Dover on their way home as I did when the A3 south of Kingston opens out to 3 lanes with green fields and trees either side. Heaven, with the joy of life coursing through my veins.
Hunts is still crocked after his only training session of this century so old dogs and new tricks springs to mind. He has an appointment with our personal injury specialist this week to consider suing his personal trainer for not spotting he was both of unsound body as well as of unsound mind.
4 weeks ago the old sages, Knappy and Looshman, pondered and agreed the need for better quality games rather than romps. The 4 games on the last 4 weekends have all been humdingers. The undoubted conclusion of the sages is that the oppo today did not play by the Queensbury Rules by taking an unfair advantage of our average age of 36. Time to honour Article 50 on 29th March and for a select bunch to leave the 3s to join the 3 A's or 4s rather than remain.
L. Eds looked a cut above as they warmed up but 20 minutes in we were 3 – 1 up, Lewi's head high topped crossed steered home for our first, a wonderful early Christmas present from us to the home side to equalise, a Looshman from the bye line with Mr L having gone round the keeper 3 times and a worked shortie for our third as Ports was overheard talking to their forward "our short corner routine is pants". We played some sparkling stuff but also missed two or three chances to not only wrap up the game but that may have enabled us to contemplate thinking that the journey there was not that bad,
Our West Sussex Eds swept home the last pass of a flowing move from deep in our half to make it 4 -1 after 45 mins but the sum of the age of our 4 scorers, in excess of 200, gave a clue as to what happened next. A touch of unrehearsed pantomime defending allowed their second and a foot on the line from a drag at a short gave the umpire a similar decision as last week but the difference was that this time the ump got it right and the resulting flick was despatched. We were the alpha-keratin boys on this occasion and just had enough to negotiate concerted pressure that culminated in a final play shorty.
Fair to say we had the rub of the umpiring but L. Eds did not grumble and fiercely competitive game was played in a top spirit, not a hint of any cards. A good game, good hockey and a good oppo, third week running and this is what playing on a Saturday is all about.
Only Diggers Ding Don of the bell ringing trio was ringing this week but once again walked off with the M o M.
D o D probably Ports for telling tales about our shorties but equally could have been to Clarkey for turning up sober or me for leaving straight after the game as I had to go to a function.
After being roadies for the last 3 weeks we are back at TD on the 24th against Wanderers 5 who gave us two good games last season. No doubt our own Jean-Claude Juncker and Michel Barnier will have the whistles so interpreting the rules in the way best for them. Looking like a tights and flying jacket day with a 16.00 start.
Barnes still at 100% and so 2 points ahead with not a hint of a blink as yet.
Men's 4th XI 2-4 Old Kingstonians
Cracking game against top of the table Old Kingstonians saw us narrowly defeated 2-4. OKs expected a one-sided encounter but we made them work hard for the win. At 2-3, following sustained pressure and a wonder solo goal from Jan, the game was suddenly in the balance. As we began to tire and the game opened up, OKs raft of KGS first team players found space and time to pick their passes and hit us on the counter with a well-worked goal to seal the victory. Our best game of the season so far for me, we raised our game and played some outstanding hockey. If we play like that we deserve to win against weaker opponents.
Three games left until the Christmas break and nine points up for grabs against Sunbury (24th), Addiscombe (1st), and Barnes (8th).
Men's Barnstormers 4-1 PHC Chiswick
An early start at TD with the crisp morning silence spoiled only by the arrival of a noisy and rather gauche red Porsche. Even Mike made it in time for the start, turning up in his weekend-away-cum playing strip. And we started briskly, passing nicely and putting a skilful Chiswick team to the test. That is I think we were passing to our teammates; as the opposition turned up in blue shirts as well it was not always easy to tell. Even Eastie, hitherto unused to making the starting line-up, had to give up his usual spot in the dugout and warm up earlier than usual as he provided a useful defensive outlet from the off. Tongy also graced the Stormers with his presence and slotted in well at the base of the diamond whilst Closey convalesced on the sidelines where he could continue shouting (apparent advice) with impunity.
During one of our better phases Toby lent his ample heft to the attack and even found himself in the opposition D where, as is his wont, he wound up a killer strike. It could indeed have killed a man and it was poor Poen who was unable to get out of the way and, with eyes closed, stuck out his stick which the ball thankfully hit, to be deflected unstoppably into the goal and give us the lead. Toby was otherwise rightly restricted to defensive duties which will remain the case until he can learn the 'new' rules that came in five years ago. Only the skipper's constant chuntering to the umpire averted attention from his crass error.
The second quarter was an altogether messier affair. League newcomers Chiswick had several talented players and when their old-school clearances weren't pursuing route one hockey, they were able to give Stormers something of a run around. In this period we were unable to keep either a calm head or control of the ball, ultimately conceding an ugly equaliser. Frustrated by our own ineptitude, heads went down temporarily but long enough for Si Duncan's angry reaction hit to strike the skipper's foot. There will no doubt be repurcussions.
The second half saw normal order resumed. Our passing game returned with Tongy, Mike and Toby giving balance with greater width through Howie and Richie. Gerry, Poen and Seearsy maintained movement up front as Chiswick began to tire and the game was played almost exclusively in their half. Although Nigel's mind was occasionally allowed to wander back to the beaches of Thailand, given his lack of action, his opposite number had a much busier afternoon and was forced to make a number of excellent saves keeping out Poen, John Seears and others. The pressure turned into a number of penalty corners with two resulting in goals for Gerry and Richie, sandwiching a penalty stroke for a defensive foot on the line, ably converted by Gerry, spotting that the length of the keeper's legs was somewhat shorter than the distance from his body to the posts.
The home side continued to impose itself, using the advantage of fresher legs from the bench and although several other chances went begging we had done enough to secure victory. Tongy even had time to entertain himself with a mutual winding up session with his opposite number and Toby could look forward to a long, long session on the physio's bench. Perhaps she was teaching him the rules.
Ladies 1st XI 2-1 London Wayfarers 3s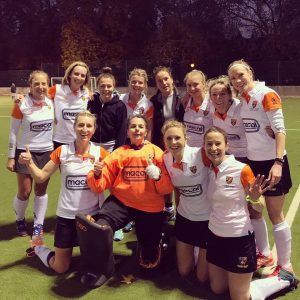 It was a beautiful sunny Saturday afternoon and the Ladies 1's travelled to Battersea Park to play Wayfarers Ladies 3's. We started the first half completely dominating the game with fantastic movement and play through the midfield and forwards with Kate Scott and Katie Ritchie causing problems to the opposition as always. We had several good opportunities without managing to convert and a handful of short corners. We felt slightly hard done by (to put it mildly) when the finishing strike of a well drilled short corner hit a Wayfarers defender's foot behind the goal line and we were awarded another short rather than a Penalty stroke, everything seemed to be going against us. A badly timed stick tackle on Ritchie shortly before half time saw her headed off to hospital for X Rays on a suspected broken hand (luckily found not to be broken)
A quick rejig of our formation at half time and we were ready to battle on. It was a physical 2nd half and as time continued with no goals and some questionable decisions, frustration from both teams began to show. We continued to push high with Alice Durrans from right full back making some devastating runs up and into the Wayfarers D, but still we could not convert. Wayfarers pressed us back with Michelle in goal being called on to make some crucial saves. Unfortunately and slightly against the run of play, Wayfarers penetrated our defence to go 1-0 up. We kept our calm and eventually an equaliser came from Georgie Syms, picking up a long ball from Captain Nikki Springett, driving into the opposition's D and sliding it sweetly past the keeper into the goal. Georgie Sangster gave us our second goal, sweeping the ball into the goal from a pass in by Georgie Syms. We were ecstatic. We held the majority of possession for the remaining 10 minutes, dealing well with any Wayfers pressure to secure a well earned 2-1 win. A gritty, resilient, true team performance with every lady playing their part and giving 110% to earn us the win. The post match drinks were well earned, deserved and enjoyed!
Ladies 2nd XI 2-1 Wanderers 5s
November 17 is the 321st day of the year in the Gregorian calendar. And on this particular 321st day of the year 2018 the OCHC Ladies II V Wanderers.
It was a beautifully sunny day at the Oc fortress and with 16 person squad the ladies were happy with knowledge they could take lots of breaks throughout the game and therefore put in 100% effort when on the field.
The game was quickly dominated by Oc making many attempts down both left and right but it was a left handed attack that would see away the goal. A cross, after brilliant press executed by the squad, from Rachel Darnel to Kara Wiseman at the top of the circle, Kara spun and sent the ball towards goal, to our luck, a member of the opposition tried to clear the ball but helped it on its way to the back of the net. 1-0 to OCs. Play continued to be majority of OCs domination and possession when against play Wanders scored a lucky break taking the game to 1-1.
However this was not the end, next and final goal of the game was awarded to OCs. Amy Rees, our MOM, utilised her deceptive speed, carrying the ball along the base line from the left and popped the ball back in to the spot where Wiseman collected the ball and reversed it in to the goal! 2-1 to OCs.
OCs impressive press, baseline running, quick passing and solid defence proving the winning tactics on the day!
As ever, thank you to our umpires who did a wonderful job! You know who you are!
Bring on next week!!!
Ladies Vamps 3-1 Merton 2s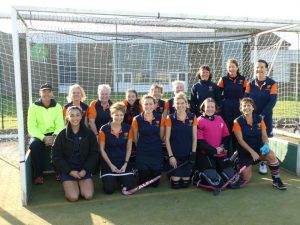 Our casual start to this game suggested that we thought playing the team at the foot of the league would be rather easy stroll. We soon found that a hard working, gutsy Merton had other ideas. The Oc's defence were solid when called in to action, but we were often outnumbered in midfield as the opposition followed the ball around in packs. Georgina Wright dominated the right, with a wise head on young shoulders. The Morden GK was mobile & smart, but constant pressure was eventually rewarded by a stunning goal from Pam Laidman, a wise head on not so young shoulders (but apparently still in full working order). Several minutes later, one of the OC's many corners added a second goal, a superb direct strike by Katharine Stoddard. Merton admirably maintained their work ethic, and were rewarded with a goal against the run of play, but not undeserved.
The second half settled in to an enjoyable battle, OC's continuing to have the majority of the possession, but struggling to take further advantage. That was until a mazey dribble from Alina Mir eliminated several defenders, and just the hint of the apparent intention to centre the ball took the nimble GK off balance. Alina thumped the ball against the back board from the right, and the final score was 3 goals to 1. Whilst complimenting Merton on a fine chilli & a lush berry "mess", they said that OC's were their nicest opposition on & off the pitch (with thanks to Karen for driving one of their lasses to the emergency dentist). What a bonus. (For some reason captain on the day, Debbie Maudsley, has never received this compliment before). Thanks to Chris for umpiring.
Ladies 3rd XI 1-3 Richmond 6s
Match report to follow.