A sunny morning at fortress TD soon lead to torrential rain late afternoon. A mixed bag of scores in from all teams, from tense 1-0's to some great 4-0's.
Men's 1st XI 1-0 Bromley & Beckenham
A Matt Murphy buzzer beater against Banbury gave Old Cranleighans momentum leading into a crucial fixture against Bromley and Beckenham. We started brightly with a consistent spell of possession despite a high pressing forward line. A resulting short corner brought a good save from the B&B keeper, however in the sixth minute a rampant Ollie Davies found himself on the end of a Jay Harman cross deflecting the ball into the roof of the net. The modest celebration from the Old Cranleighans skipper highlighted that there was still a lot of work to do.
Bromley started to find their feet, with both team trading chances through the remainder of the first half producing good stops from both goal keepers. Most notably a string of saves from Josh Doble denying Bromley's penalty corner routines. Both teams went into half time with a lot to ponder and three points still very much up for grabs.
The game resumed in a similar manner to where it left off, both teams having consistent passages of possession but unable to breakdown the others defence. However, ill-discipline from Matt Laidman and Matt Murphy resulted in two yellow cards and seemingly offered Bromley a chance to turn the screw in attack. Old Cranleighans remained resolute in defence through their 10 man spell keeping the score at 1-0 going into the last 10 minutes. A combination of dogged defence and a 'clear the lines' tactic enabled the home team to take the three points.
Old Cranleighans can take a lot from the resilience showed to close out a hard fought fixture which will stand them in good stead when travelling to Oxford University next Saturday.
MOM: Oliver Davies
DOD: Matt Laidman
Men's 2nd XI 2-1 Andover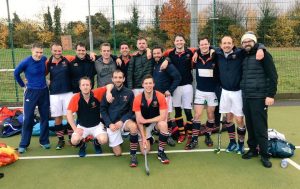 This weekend was our first proper long distance away match of the season, against top of the league side Andover 1st XI who had won 6 from 6. It was cold and rainy with brief spells of sunshine, however it was mostly a wet affair. The inclement weather it didn't dampen our spirits – with three consecutive wins in the bag, a huge win at home last week and form on our side, the team were well up for it and wanted 3 points. The all-weather pitch looked to perform well against the thunderous showers and the ball rolled well, we were all set for an exciting big contest.
The game started hard and fast with both sides testing the gaps and after 5 minutes of even play, we were building up possession and pressing Andover.
Our first play on goal came quickly with some lovely movement from all angles. Henners bought the ball into the D with some pace and after some very close marking from the opposition combined with the very wet pitch, Henners attempted a tight angle shot on goal but was forced to slide into the outside of the goal and the ball went wide.
The team were inspired and kept the pressure on. After 25 minutes we won our first short corner. Cookiey stepped in to inject the ball to Rippers at the top who set up Dave Wilson for a first-rate flick into the bottom left backboard. 1-0!
We were on a roll but with no time to consecrate the goal – we knew this was just the start and as expected Andover came back hard and we conceded a couple of cheap short corners. However, our discipline and composure shone through the dreary weather and we held off their relentless attack with our fearless backs working in harmony with our bastion – Goalie – we defended diligently and cleared the ball with control and poise.
Half-time was upon us as the heavens opened up but the team were galvanised and we started the second half positively with the determination to get the job done. Andover kept the pressure on and the tempo of the game was high, the fast pace play ensued between both sides and the contest was on!
The team quickly composed themselves and reset, the hunger for a win was burning in the lads hearts and we promptly got back into the game and won a short corner. Cookiey injected the ball to stalwart stopper, Rippers – who set up Phillips for a perfect opportunity to end his goal drought – a swift strike along the deck clipped an Andover defenders stick and like a guided missile the ball was launched into the top left net of the goal! Superb! 2-0!
The momentum was with us and 6 minutes later we won another short corner. Cookiey injected the ball to the Wilson's, with Sam stopping and setting up Dave for a strike on goal – Andover's keeper extended to save the ball but the ball rebounded and volleyed into March who's cricket playing days flashed before his eyes and a lovely cover drive slid just wide.
With 10 to go, we held our resolve and shape, but Andover were relentless and pushed us hard and eventually won a short corner. Their routines were renowned for being well drilled and this time it worked for them, after an injection to the left of the D it gave them enough space for a clinical but tight angled shot into the goal. 2-1.
Andover pursued with their relentless pressure and even though it was fairly balanced between the sides in the closing minutes, we conceded yet another short corner but our fantastic defence held strong, we cleared the ball and the sound of the final whistle meant a well fought win was in the bag. Andover put up a fair fight, their defence was good – ours was better and we went home with 3 glorious points.
We return to TD for another huge 6-pointer against Wimborne next week.
Goals: D Wilson, T Phillips
MoM: T Gallyer / B Marchant / S Wilson
Champagne Moment: S Wilson
Other: T Phillips
Men's 3rd XI 4-0 Old Reigatians
When writing his Historia ecclesiastica gentis Anglorum, in about 731, St Bede was probably thinking that his hard work would see him win a top gig at a school just south of the Surrey Hills looking over Horseshoe Lane in the midst of many rolling and pristine acres. Sitting on the border of Reigate and Redhill was probably not uppermost in his mind. However the modest man was one who knew about the fickle hand of fate and was mighty relieved that he was not born in Rome becoming the guy who slayed a dragon in the early 300's as he could have ended up associated elsewhere.
Another trip to St Bede's school brought a host of co incidences that are thing of fiction, the sliding door opening onto the same concourse as 4 matches ago.
1 Hark back to Hunter's assurance " I cannot make game 2 but otherwise I am available until Christmas ". I can only assume that by going to the other South West Surrey public school the alternative baccalauréat curriculum is taught where the religious studies promulgates the thought that St Bede , rather than St Nicholas, had the legendary habit of secret gift-giving that gave rise to the traditional model of Santa Claus. The reason he gave to Eds for missing the game was that "my personal trainer has bug**red me". This escort lark has gone far too far.
2 We won 4-0, as in the game against OR2s.
3 Clarkey went on a Friday night bender in a city whose first letter is "L"
4 Tomaz Philipowski was called into the 3s only to be nabbed at the 11th hour by the 2s. Last time he was whisked off to Crystal Palace but this time to Andover. This boy knows how to live.
5 No Farqs
The early start of 10.30 did suit us although Clarkey's dad might not agree. Our 2 Sussex village boys were able to play and be back home in time for the 18.00 curfew to prevent themselves being the next pagan offering on the pyre at the forthcoming full moon on the 23rd November.
Playing against any club's first team is likely to be more of a challenge and so it proved to be. Accustomed as we are to teams hanging back and looking to catch us on the break we remained patient as the 0-0 half time score suggests. Some good defending by both sides aided by our woeful short corner routine ensured stalemate.
At half time we came up with a plan that we executed to perfection scoring 4 in the last 20 or so minutes courtesy of Lewi, Looshman and 2 from Eds. All were the product of good moves. Lewi's crisp finish was the prelude to 3 tap ins, including one from our 14th and last short corner. Clarkey eventually replaced his bed spins with a perfectly executed 360 degree spin, that would have made him chunder in the first half, to set up the 4th.
Max's kevlar foot on the line in the dying minutes ensured we retained our clean sheet and Raheem Sterling was forgiven for not owning up to the penalty he was awarded mid week when he fell over.
Barnes 2s won again to maintain their 100% record so keeping their noses in front of us with their not looking like slipping up.
D o d is a tough one but because he went to the wrong school and protested at the unfairness of being awarded d o d for the last trip to St Bede's it has to be Hunts, another spooky coincidence.
M o m goes to Clarkey and by that I mean Daddy Kent.
Yet another away trip this Saturday, Honor Oak, the other side of Dulwich, to play London Eds whose results are, in the main, not too dissimilar to ours. Another glute game beckons.
The subject of this month's "where are they now ?" is Jonny Hunter.
Men's 4th XI 0-0 Teddington 6s
A consolation point in 0-0 draw away to Teddington that had no right to be goalless. We dominated possession and played some attractive hockey to set up countless attacks against an organised ten-man defence, but somehow couldn't put the ball in the back of the net. Teddington were not without chances and hit us on the break several times but Seb saved well from close range to keep us in the game. A frustrating game that felt more like two points lost than a point won.
Men's Hamstrings 1-0 Tring
Good win on Saturday for Hamstrings and one of the most one-sided 1-0 wins I have played in. A combination of good goalkeeping and us finding a variety of ways to miss the goal or the ball made it a lot closer than it should have been. For a change our goalkeeper was not man of the match although Craig was called upon to make a couple of crucial saves.
It was good to welcome Nads to his first hockey game in 30 years as well as 2 Robins, Barry Jones and the 3 cavaliers Howie, Mike & Si to the squad. Many thanks to Tim Cook for umpiring and Mike, Howie and Robin C. for helping with the umpiring by doing ¼ each. Hamstrings (with some Barnstormer help) are now up to 3rd in the league !
Ladies 1st XI 4-1 Surbiton 5s

An early start at mighty fortress TD. A few players away this week but the team were delighted that Emma Sutton stepped up to join us for the match. Hungry for a win after a disappointing loss last week, we were raring to go. From first push back we started fast, pressing and wanting the ball. Some great play with captain Nikki Springett controlling the centre, playing it out to the right, Amy Migs finding the space to quickly distribute to ball to Katie Richards and Georgie Syms up front. The Surbiton back line marked hard and defended well, their sweeper clearing the ball out to the side-lines. Quick to press, OCs had Surbiton under pressure keeping the ball in their half. This pressure paid off with a Katie Richards interception which was run straight into the D and our first short corner won. Not converted on this occasion but OCs kept the press up and before long we were back in the Oppo's D. A straight controlled slap from Amy Migs saw OCs secure their first goal. Motivated Surbiton came back hard, pressing up their right but they were faced with the duo of Jackie Waite and Olivia Cooke, both working together to turn the ball back over. Olivia Cooke took controlled and drilled it up the left through and into the D. Another corner won. A well worked short corner saw Olivia Cooke convert. Then penalised for not staying 5 metres while a free hit was taken, Surbiton won a short-corner and converted, 1-1 at half time.
The home side were keen to take the same energy into the second half and they kept their form, realising the Surbiton tactic to load the back and tightly mark the forwards we stretched the field and continued to play our game. Stretching the play provided Katie Richards to take control and dispense some of her magic breaking through the Surbiton defence. The pressure was on, a quick ball out to Georgie Syms was quickly converted into another product winning short corner. A good save by the keeper saw Surbiton make a break, but Alice Durrans closed it down (textbook style), punched through and drove it up to Katie Richards. Katie put it through and we were awarded our third goal as Georgie Sangster put it in the back of the net. Within 5 minutes of the restart and a tactical shift of the front line up Olivia Cooke was back in action, a solid put through from Jackie Waite was lamped by Cookie into the top corner. 4-1 at the final whistle. A great, physical game, Surbiton played well and didn't let the score line change their pressure, but smiling faces all round for the OCs who were pleased to get some well deserved points and goals on the table.
Ladies 1st XI and 2nd XI 5-0 Surbiton Cup Match
The Old Cranleighans Ladies 1s regrouped Sunday to play Surbiton once again in their first Cup match, knowing it would be a composite team of their Ladies 4/5 we too had a composite with some Ladies 1s and 2s, the sun was shining and we were all in Sunday mode. We knew we had another tough game ahead and with only one sub (a poorly Georgia Watson) it was great that Ali Fox-Robinson was up to the challenge of filling her shoes for the day. Captain Jackie Waite had to make a few other positional changes as we had an abundance of forwards on the team sheet Georgie Sangster shifted to control the back. Sunday mode soon switched to on mode, Surbiton were confident with a more experienced team then the team we'd played the day before, however we played our game, pressed and controlled the game.
After several good plays within 10 minutes the OCs were rewarded for their patience when the weekends in-form players Olivia Cooke and Katie Richards continued where they left off on Saturday and gave them an early lead through a well worked play that was converted by Bernie Bassett – her third goal of the weekend. Before long Olivia Cooke had converted her third goal of the weekend and we were 2-0 up. Before the half time whistle play maker Katie Richards had got through three of the back line and slipped it past the goalie, a cracker of a goal to take us into half time.
Georgia Watson gave all she could and within 20 minutes we were down to 11 of us vs 16 Surbiton fresh legs. Get better quickly please Watto! She stayed to support and was great to have her and Sam there calling the play.
It was a goal scoring weekend, the team were keen to take the same energy into the second half and before long it was much of the same and OCs were controlling the pitch and winning corners. Surbiton made some tactical changes throwing some players high but they struggled to get the ball through our solid midfield. A couple of good breaks saw Surbiton get the ball through to their hanging players sadly for them Michelle Rankin put paid to that and some cracking saves were made. OCs ramped it up again, Nikki Springett took control distributing the ball wide to the left and right, and a textbook quick play gave Georgie Syms the ball, and she did what she does best and put it in the back of the goal. OCs kept their foot on the gas and were rewarded with a final result of 5-0 due to a further Bernie Bassett goal that come from a Katie Richards distribution.
A great team effort – smiles all round once again today! Thanks to all our supporters on the side-lines throughout the weekend and to Sam and Georgia for managing us two days in a row!
Ladies 2nd XI 4-0 Tulse Hill & Dulwich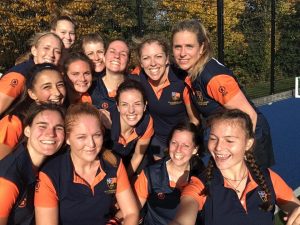 The OCs Ladies 2s had an away match against Tulse Hill at Dulwich College. In the first half of the match, the OCs held a great amount of possession and the majority of play was in their half of the pitch. Quick passes up the right side of the pitch enabled leads to the baseline and strong passes into the D. Unfortunately despite the high amount of possession, multiple shots at the goal and a couple of short corners, no goals materialised. Tulse Hill had a couple of breakthroughs but the OCs did well to work back as a team to ensure a strong defense. In the second half, the OCs continued with high possession of the ball and enjoyed 4 great goals. The first goal was scored by Josie, a strong push to the corner of the D from the right hand side. The 2nd and 3rd goals were scored by Bernie. The 4th goal came from a short corner (after a long string of consecutive short corners) where Amy passed to Ellie on the post who scored. A great match and win for the 2s!
Ladies Vamps 0-2 EUHC Gamblers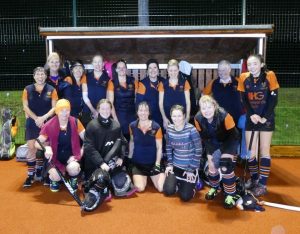 Vamps knew they were in for a tough ride against the league leaders, who are destined for a higher division. The defence worked miracles keeping the score at zero, with excellent goalkeeping skills by Hannah, an extremely useful addition to the team. Play was tough and half time score was 0-0. Second half despite having multiple penalty corners the defence managed to keep the status quo despite relentless attack. The forwards had very little to do and had a couple of chances but the oppo, with 10 minutes to go, got 2 in the goal. Final score 2-0 to EUHC Gamblers 2's but the Vamps put up a very good fight.
Ladies 3rd XI 1-2 Tulse Hill & Dulwich 6s
Match report to follow.