All teams were back out this weekend, some great scores on the board from all teams bar one loss.
Men's 1st XI 5-4 Banbury
Having bounced back from a disappointing result and performance against Henley two weeks ago by beating Winchester comfortably at TD last weekend, the OCs were looking to continue their strong start to the season with another three points away at Banbury.
Vivid memories at this venue were regaled before the game: a bizarre red card, an even more bizarre aerial, a video camera carrying drone and post dinner antics all on the agenda. Post warm up however, minds turned to the hockey and the OCs started well, controlling the ball despite a high press and making inroads down the wings. Unfortunately Banbury managed to win a corner against the run of play and converted this to take an early lead.
The away side remained resilient and conceding an early goal encouraged an increased tempo to the game which suited the OCs. Patient outletting with good work down the left from George Pettit created an opening in the D and Jay Harman was there to put it away to level things up. The OCs continued to push forward and a short corner was soon converted from a deflection by Jack Smart to give OCs the flew for the first time. Not content at 2-1 and following a number of good stops by the Banbury keeper, Matt Murphy found some space in the D and rolled out before hitting the ball low into the corner for 3-1. An ultimately convincing first half was finished off when man of the match Smart deflected a second corner home to make it 4-1 at the break.
The home side pressed aggressively at the start of the second half, but the OCs were coping well and defending solidly. In a rare occurrence, a clearance off the line from a corner by Ollie Davies hit the umpire high in the chest (whilst clearly travelling off the pitch) and dropped in the D to be smashed home by a Banbury forward. The away side had reason to be frustrated by the situation but the goal technically must stand and so it was 4-2. This spurred the home side on to continue aggressively pressing and Alex Czerniewski, having been reminiscing about the Ollie Davies OC debut at this very ground, decided to give the ball to the Banbury CF who scored to make it 4-3. The OCs were suddenly stretched and struggling to get the ball to their high forward line to even threaten restoring a two goal lead. Banbury's persistence paid off when they won a stroke after a drag flick hit a foot on the line, and converted this to make it 4 each with 10 to play.
The OCs came back very strongly in this period and applied serious pressure to the home goal. It seemed that this would not be enough until the ball flew up off a Banbury stick and Murph smashed it home from over his head to make it 5-4 after some lenghty umpire consultation. The final whistle blew shortly afterwards confirming what was a fair result after an eventful second half. Overall, the OCs played some very good hockey and deserved to win the game, maintaining their position at the top of the table.
We welcome Bromley to TD next weekend.
Men's 2nd XI 7-0 Winchester
It was an unusual but welcome mild November afternoon and there was a real buzz around the club for what was going to be a big day at Fortress TD. We had a full bench with Gilo & Tom Stratford joining the team. Spirits were high and following two successful away wins we wanted to continue our form at home against the visiting team, Winchester Mens 2s.
Despite some attempted but misguided mind-games from the opposition, the game started positively for us with Gilo running the show down the sunny right hand side. We won our first short corner within 8 minutes of the start. Jimmy Smith injected into the top of the D to March who set up Webbs, a little dummy and dribble into the D followed with a strike straight into goal. 1-0. A perfect start! The team's tempo and pressure was high and we won another couple of short corners 5 minutes later but were unable to convert and after a brief turnover we regained possession and pushed it left and long with Jimmy Smith just picking it up just before the 23. Jimmy was short of options to go forward and it surely looked like a lost cause but Smithy made beating a couple of defenders at the top of the D look easy with some delightful skill to set up a one-on-one with the keeper…a clinical reverse straight into the top right of the goal – it was the champagne moment of the season so far and an absolute masterclass in reverse stick finishing. We were 2-0 up!
We maintained the pressure but Winchester were allowed back into the game and challenged the backs a couple of times. However, Tom Stratford, on 2s debut, worked hard and diligently with backs to protect our goal and snuff out any real danger. Unfortunately his game would end prematurely with a hamstring injury, a damn shame for what was a great start. Despite Winchester testing us, any turnover lost we quickly won back and possession was with us for most of the game. The next play came with Phillips coming in quick down the right, passing to Whizzer, who glided into the D and picked out Cookiey at the back post for a well-timed tap in on a very tight angle to make it 3-0.
Half-time was quickly upon us. To widespread delight, A Don had brought Taste the Difference orange wedges.
We were calm and collected and started the second half as we finished. We maintained our improving press and were breaking through Winchester's lines to apply some real pressure and it was only a matter of time before we capitalised on the dominance, which came quickly as Henners scored a true forward poacher's goal from a firm slap into the D to make it 4-0. We were back on a roll and we quickly won another short corner, Coookiey injected the ball into the top and after a quick one-two it was passed back to Cookiey who absolutely smashed it into the backboard to make it 5-0.
It was clear that Winchester were not going to go without a fight and they did come back hard at times throughout the match and although we maintained discipline an unfortunate infringement set up Winchester, Gal earning himself a green card after producing a champagne moment-worthy piece of skill to round a pair of Winchester forwards. Recent experience kicked in and the team stepped up to protect our position. The momentum was with Winchester and they took no time taking control, winning a short corner and despite the haunting sound of the backboard crack following what appeared to be a successful play, their goal was disallowed. We took back control and with Gal back on we carefully bought ourselves back in to domination. We won another short corner, Smithy injected the ball with pace to set up Webber with a firm drag flick, a defender got a stick to it but the pace easily deflected the ball into the top left. 6-0. With another gap opening up in Winchester's defence, our midfield and forwards quickly exploited this vulnerability and a textbook play ensued with Whizzer moving like liquid through the defence to set up a strike on goal, a valiant attempted save wasn't enough and the ball dropped just inside the goal to wrap up the game at 7-0.
3 good wins takes us to top-of-the-league Andover next week, before another huge game against Wimborne at home on the 17th.
Goals: Cookiey (2), Webber (2), J Smith, H Emery, Wiseman
MoM: Gilo
Champagne Moment: J Smith
Other: T Gallyer / H Emery
Men's 3rd XI 4-3 Barnes 3s
Sorry, n/a this week because:
1 "I cannot get back in to my village after 18.00 due to the village bonfire"
2 "I have a glute strain".
3 "I have yet more appointments"
4 "I am at the rugby with clients"
5 "I have a bonfire to go to"
Well, in answer to 1. nor could I but on arriving back in Puttenham at 18,20 I said I had a mate whose fiancé is a copper who I was about to call pleading abuse of my human rights and was immediately waived through . I did not have to formally set my blues and twos going ( I did not have one) but Ross certainly could have rummaged around Natalie's handbag and fished out a blue light on the end of a cigarette lighter attachment and stuck it in.
As for 2 clearly Clarke could not find a bit of Kryptonite to repair his tight glute with a busy week as an escort causing the damage. Be more choosy and up your fees. Same goes to Fletch, number 3. Natalie may lend you her mobile blues and twos.
4 Sees Ports also becoming an escort and so learning the ropes from the young masters but with all 3 going to the same school he will soon catch on.
5 Tut, tut skipper
What a change from last week. A top match and a good bunch of Chuckle Brotherless Barnes players who made it into a very entertaining game well umpired by two of their one's players, thanks guys.
Keeper number 3 of the season after only 6 games, welcome Kieron, already equal to last season's tally of keepers. Holiday makers were back aplenty and Dazzer decided to report for duty. Hunts managed to use his Deliveroo lunch break perfectly to allow 70 minutes of hockey and a M o M performance. His bald sweaty pate glinting off the lights caused the air traffic controllers to reroute the incoming flights to Heathrow citing "this is worse for pilots than those wretched lasers". A blinding performance from Hunts.
We went one up with a deflection from a pin point cross from our Lidl Scot with a big personality who would like to say "Seit mehr als 40 Jahren sind wir eine wachsende Größe im europäischen Lebensmittelmarkt. Mittlerweile sind wir in 30 Ländern weltweit präsent und bieten in über 10.000 Filialen in 29 Ländern Lebensmittel und Non-Food-Produkte in höchster Qualität zum besten Preis". He snuck our second to level the scores as we had gone into half time 2-1 down due to our left sided defence being completely bamboozled by their 9 year old right winger. He stuffed a reverse stick shot off the inside of the post after a jinking run from wide out right and then set up their second with some 3 D skills of the Spielberg variety. Thankfully they did not give him the ball in the second half.
We were super in the second half and forced a number of chances that could have tucked the game away far earlier. The prophetic words between myself and Looshman 2 weeks ago "that we need to be tested as winning by 3 or 4 every week is boring" have truly been tested over the last 2 weeks.
2-2 became 3-2 with a Henry Ding Don rocket raising the question how come he can whizz them on target from 16 yards but not 8 ? All looked wobbly two minutes later with their 3rd with 6 to go. They kept asking how long to go so they were hanging on by their finger nails. With 30 seconds remaining Looshman extracted the last remnants of the alpha-keratin attached to the skin as he took a hit in from the rugby pitch drove towards the circle and cracked in a cross that was deflected home. Quick thinking from an ageing brain and a slowing body. Cue celebration from us in white and total dejection to those in blue. A win snatched from the jaws of a draw.
I do hope Looshman remembered to take his daughter out of the porta cabin posy match.
D o D for me following the white shirt Whatsap interchange although Grimer came mighty close to a last minute winner with a late entry on the shirt stake.
Back to Reigate this week, the north platform again, v Old Reigations who have played 3 of the 4 above them beating OGs and running the others close. Going to be a tight one, as tight as Clarke's glute.
Men's 4th XI 4-0 Trinity & Mid Whitgiftians
A well deserved 4-0 home win against newly promoted Trinity Mid-Whitgiftians sees us climb into the top four in a tight table. The expected goal-fest never quite materialised in a dominant performance where we created regular chances but somehow went into half-time with only a 1-0 lead. The second half saw Trinity begin to tire and us convert circle penetrations into three more goals. A moment of madness in the second half saw us down to 9 men with a yellow and a green card in the same bizarre incident as Jamie, dazzled by the sun and in the expected landing zone of an ambitious aerial, saw him seemingly pluck the ball from the air. In the ensuing umpire discussion about player safety and what in the world had just happened, Charlie was green-carded and Jamie sent off. After a quiet game, our stand-in keeper Moz pulled off an extravagant leave/dummy in the final play that left their striker in on an empty goal, but somehow he fluffed his lines and failed to get a touch. All in all, a strange but eventful game.
This week, we take on Teddington away who normally field a strong and youthful side against us, so we'll need a strong squad.
Men's Barnstormers 3-3 Richmond
All good things must come to an end and so it was that the Stormers winning streak hit the buffers in round 5 at Richmond.
First the positives – we are still unbeaten; we are still top of the league; we welcomed some new blood to the squad and – subject to some comments below – Nigel's mum had a lovely day in the sun. Let's not dwell too much on the negatives.
We started strongly. The opposition were decent but our passing and movement quickly put us in control. Periods of pressure resulted in the first of a small number of penalty corners and a tried and tested routine saw Richie open the scoring with a deflected 'Rocco-special'.
Thereafter the rest of the first half was evenly balanced and although we largely defended well, we conceded to go in 1-1.
We knew what we had to do to re-assert control. However, the first 10 minutes of the second period saw inept – and an almost laughable – performance. Poor control, bad passing and unnecessarily self-imposed pressure. That we didn't concede further was nothing short of a miracle. It was, in Closey's terms 'village'. And that was being generous.
Although Richmond seized on our weakness, eventually a competitive game of hockey broke out, turning into end-to-end exchanges for a while. Although the better-looking Fox-Robinson brother scored for Stormers (it was definitely always going in!) Richmond scored a brace to go 3-2 up, and thoughts turned to losing a game when we should never have been in that position. Richmond's second was a farcical gift from our 16 – whether it was a pass or moving the ball to the correct position to take the hit will only truly be discovered in closed fines session. Their third left Matt Close in a heap on the floor weeping for his mum when only Nigel's had come along.
Which brings us on to another descent of red mist for our intrepid keeper. With his mother looking on, Nigel seemed to take exception to the challenge on Closey (which Closey had already fully accepted as a hockey incident). A melee ensued and Nigel's absence from post match proceedings can only be explained by him being sent to his room with no tea.
It somehow seemed to spur is on though and, regaining the initiative, Stormers put Richmond under more pressure and we were denied a few close decisions in their area, not least of which involved Buster Gonad's appendages somehow denying us a short corner. Eventually a late open play effort from Gerry levelled it up at 3-3 and, despite some late wobbles, that was how it stayed. We deserved a draw but probably no more. We didn't play well – it was one of those days.
Men's Hamstrings
No Match.
Ladies 1st XI 1-3 Wanderers 2s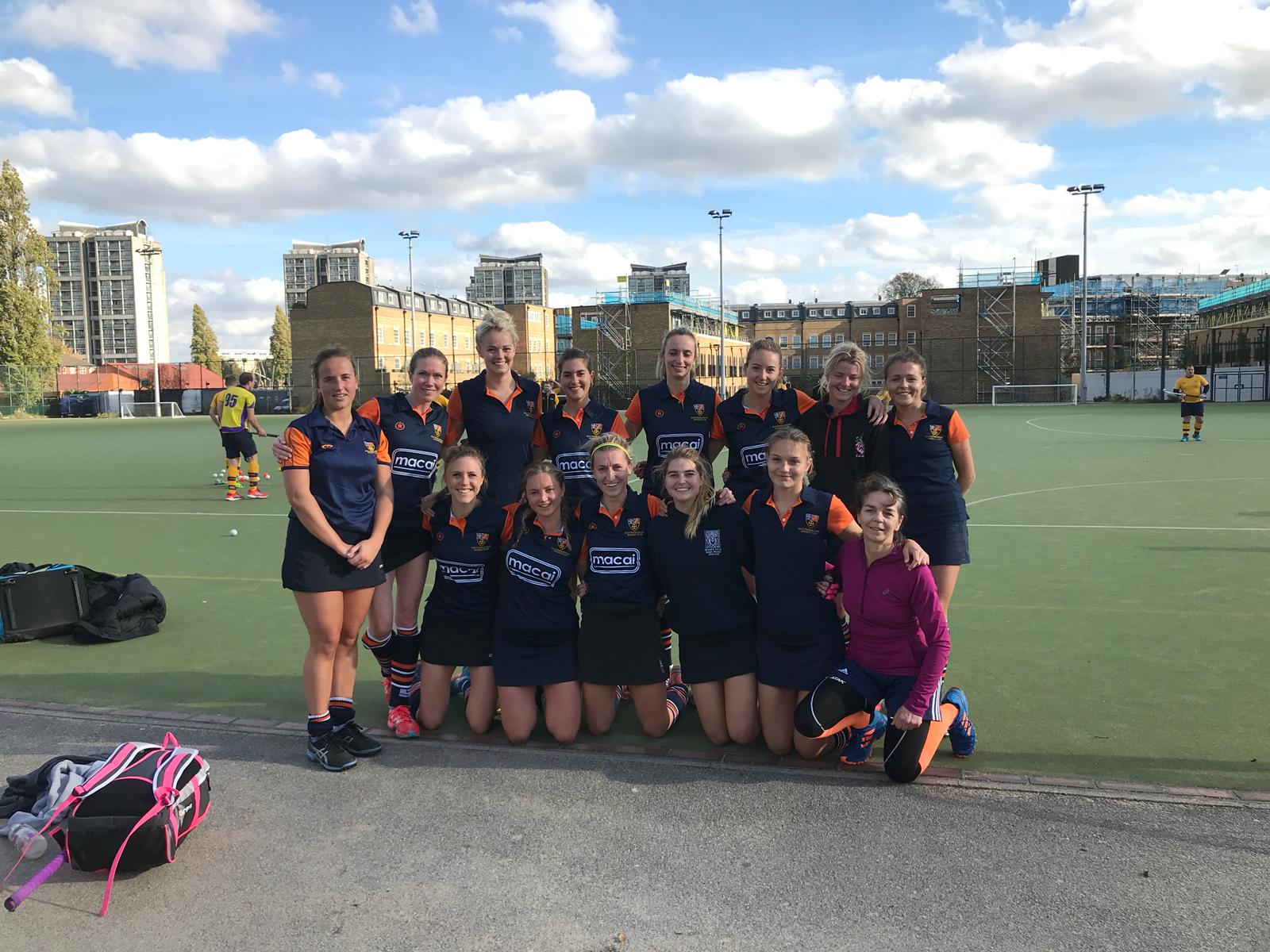 Ladies 2nd XI 2-2 Kenley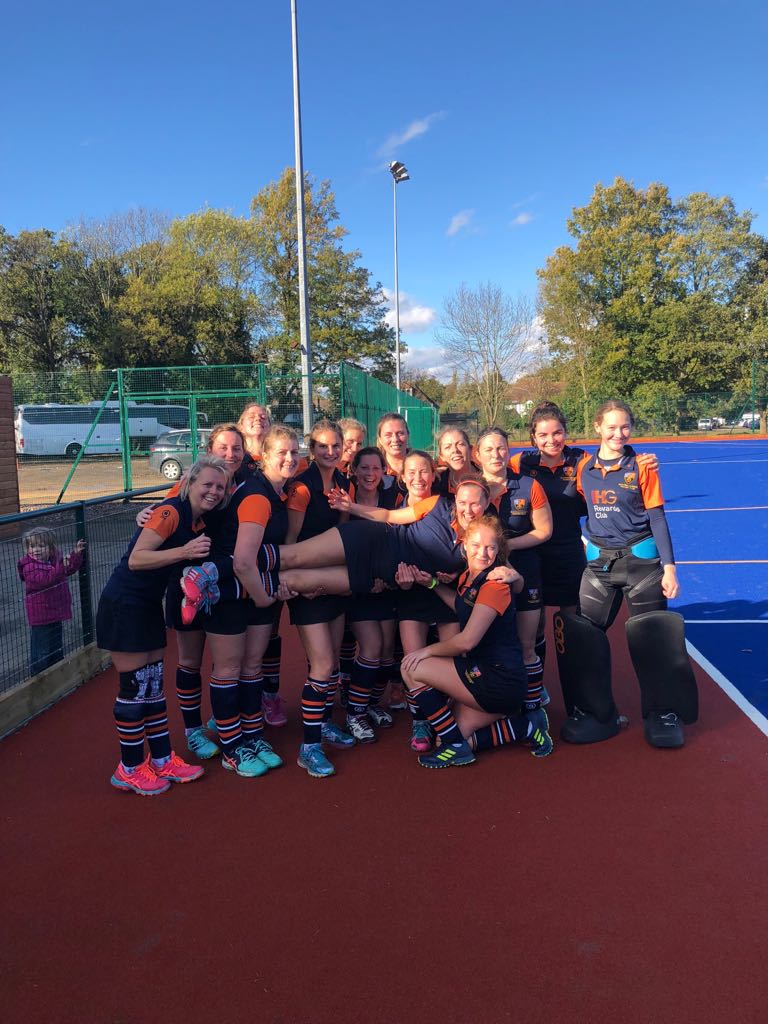 Saturday's game was a battle to the very end. Both sides put up a fight. It felt like we fought harder but sadly people only remember the score! A frustrating 2-2 draw for the OCs Twos this week.
Playing an unbeaten side, the team started off understandably a little timid after the half term pause; but that was quickly shaken and everyone jumped into shape after a goal from the opposition at 10 minutes. From there on we contended some impressive defence and Ellen managed to sneak a cheeky ball through the Goalie's legs.
It was Even Stevens at half time and we made a tonne of opportunities in our attacking D but their defence were just not settling for a defeat. After what felt like a hundred attacking penalty corners Kenley stormed our defence and got a pesky goal on the break.
With the wind up our backs OCs Twos attacked once more and Babs (Hannah S) finally scored a goal from a penalty corner. We tried so hard to squeeze in one more but sadly Kenley's formidable defence would not give in.
Congratulations to the whole team for every ounce of effort and equalising each goal today from the opposition. Next time we'll be sure to give them a run for their money!
Ladies Vamps 4-0 Leatherhead
The club seemed to have maximum availability with teams bursting at the seams (let's just see what it's like come the skiing season) so thank you to Jane and Pam A who took one for the team and played for the 3's. We had 15, so Kate being late didn't ruffle too many feathers. Maybe she should have kept it quiet that she has worked at the school where we were playing as this is a piece of ammunition I am unlikely to forget!
Leatherhead were two points clear of us at the top of the table, so we knew we were going to have to play well. Immediately OCs had the majority of possession with many chances on goal and short corners. However luck was not on our side and after 45-50 minutes we couldn't quite believe we hadn't scored. Leatherhead also had chances, but the defence and GK Hannah in particular were rock solid. It was beginning to get really frustrating.
And then it all changed. Amy scored a delightful goal from the top of the D opening the flood gates. In pretty quick succession, Alina, Sue and Debbie scored (Georgie working hard to lose defenders and set up Debbie's goal).
0-4 was an amazing final score and a great birthday present for Jenny! Everyone played their socks off, and we had great support from Sara, Lesley and Chris. Thank you to Jo, completing another OC Vamps mum/daughter combo and to new member Paula.
Really good stuff, ladies and let's keep it going for next week
Ladies 3rd XI 2-2 Guildford 4s
Match report to follow.