A disappointing weekend for the men was offset by some great results for the ladies …
Men's 1st XI 3-3 Indian Gymkhana
The Men's 1st XI begun their Saturday with an early pushback against Indian Gymkhana, which promised to be a hotly contested fixture. Having suffered a disappointing top of the table defeat to Spencer the week before, the side were looking to enter the Christmas break on a high following an excellent first half of the season. The team started well, asserting their dominance and control on the game from the start; it was apparent after the first 10 minutes that the game would be very open – 'end to end stuff' some would say. After some good passages of play without success, Jay Harman made a darting run down the left flank, who then squared it across goal for Ted Crocker to smash into the net. 1-0 OCs.
The remainder of the first half saw few chances for Indian Gym – with the exception of a good stick save on the line by Matthew Laidman from an Indian Gym short corner that was undoubtedly destined for the side netting. OCs appeared to get another breakthrough with a well-worked short corner routine resulting in a Ben Wilson deflection into the net. However, celebrations were short lived as the umpires conferred to agree that Jay Harman broke early on the short corner, and the goal would not stand. Instead, the corner was re-awarded but this time brought no success; this saw the end of the first half.
The start of the second half brought a slight drop in standards, with passes going a tad wayward and cheap turnovers thwarting OCs in their pursuit of extending their half time lead. The game lingered at 1-0 for an uncomfortable length of time, until an elusive run from Hugh Robinson resulted in an OCs penalty stroke. Matt Murphy calmly slotted home, ensuring his position as the league's top scorer remained intact. As it often does in hockey, the long wait for one goal suddenly brought two; Indian Gym instantly responded with a string of small passes, that then found its way through the OCs defence and in to the backboard. With the wind in their sails, Indian Gym capitalised on a momentary lapse of concentration from OCs, and their man on the back post tucked in the equaliser. The game was finely balanced at 2-2 with about 15 to go. OCs turned up the pressure, and squandered numerous chances to put the game to bed; the most notable being Charlie Lamb rolling the keeper, only to ignore the calls of 'target!', skewing the ball wide of the post – more top spin was needed. With about 6 minutes to go, an Indian Gym counter attack resulted in them scoring what appeared to be the match winning goal, smashing the ball into the bottom corner. Quick thinking from Matt Murphy allowed OCs to capitalise on the elongated Indian Gym celebrations, taking the push back quickly and driving in to the circle. The ball fell to Paddy Harman, who calmed took the ball onto his reverse and slotted home to level the game. A cagey last 5 minutes finished off the game, and OCs were left frustrated having failed to convert a penalty corner in the last 2 minutes. The final whistling blew and it finished 3 a-piece. Despite two disappointing results to end the first half of the season, the M1s will be very pleased with their performance so far. They enter the Christmas break in 2nd place on 25 points, just 3 points off Spencer at the top, putting them in good stead to continue their pursuit of the league title.
Barnes 2s 3-2 Men's 3rd XI
Il grande, el gordo, el clasico, the Merseyside derby, the now one sided Manchester derby, age and receding or greying hairlines v eternal youth, les gilets jaune v Macron, Fury v Wilder. Forget all of those, this was Barnes 2 v OC3s. The day started with high hopes but ended in a Grassier like celebration. With all bar Looshman and Hunts available we had the best squad of the season so far. Grimer returned from his well deserved holiday in The Algarve having not been away since the half term weekends in late October and early November. No Chuckle brothers again but with Paul Chuckle playing Buttons in Cinderella at The New Victoria in Woking this was no surprise.
The abundance of hope was replaced 70 minutes by the Jimmy Grassier effort. Having started the day as leaders we did a Man City, lost our unbeaten record and ended up in second place as we break for Christmas. The pill of our first defeat for 21 months was a hard one to swallow but very fair as we were given a lesson of how to win when you wanted to win more than the opposition. On the back of their controversial defeat last week, against Oligarch Georgians, Barnes knew they had to win and win they did.
In a somewhat insipid first half performance we spurned a few short corners, lost the bulk of the 50/50 balls and found ourselves 2-0 down. First we had our pockets picked when seemingly in control of the situation and secondly were caught of the break as the wasp about to settle on Eds' nose was swatted off by the Barnes defender, Eds' chance of a superlative first  headed goal of the season being dashed in one fell swoop.
Dosko had replaced Rosko in goal, swapping teams after last week's heroics by the south coast boy. He did enough to claim M o M including saving a stroke early in the second half. Dosko being given the award was a testament to the balance of play as we hardly tested their keeper at all, and certainly not in the first 7 minutes of the game when he was in his dad's car on the A316.
We snuck one back from a well rehearsed break from a defensive short Clarkey's pin point finish to a sweeping move being set up by our man from Lidl and we sensed our chance. Why it took us to go 2 down to decide to show some umph is beyond us all. Pushing high we conceded our third, also on the break, but gave ourselves hope with a Henry half volley with 3 or so minutes to go. A draw would have flattered us as Barnes deserved their win.
The day was looking a right shocker at 15.45 when Palace were 1 up at The London Stadium whilst Clarkey was lapping up the 3 goals United had scored v Fulham in the first half. All turned out to the good in the end which saved Brutus having a talking to.
Although I will now be excommunicated and barred from the club, and excruciatingly difficult as it is for me to say, at the half way point The Weybridge Oligarchs are probably the best side we have played followed by Barnes and London Eds who are there or thereabouts with ourselves.
All in all we can be happy with second place when only 5 seasons ago we were slugging it out in Surrey Open league division 2. We have snatched a few wins and a draw when quite easily we could have slipped up. So, all to play for in the first 3 months of 2019. The league is still in our hands.
D o D goes to West Sussex Eds for renouncing the captaincy 2 minutes after the final whistle following this historic loss. Takes me back 15 years when Jermaine Defoe announced " I want a transfer" by handing his transfer request to Paul Aldridge as soon as West Ham were relegated in 2003.
Thanks Eds for taking over the 3s in some very dark days for the club and engineering this remarkable run of promotions and leading from the front with the number of goals notched. We couldn't have done it without you.
A fond farewell also goes to Matt Miles, our keeper in a similar meteoritic rise by the 1s in the late 1990s and early 2000's with his being between the posts in our 2 famous HA cup runs to the quarter finals. He is off to Spain and hanging up his whistle having not read that the extradition treaty is now effective . Good luck Matt and Debs and thanks to you too for what you have done for the club in the past. Your insights from your observations of others was invaluable to me when involved with the 1s. Merry Christmas and Happy 2019 one and all.
Men's 4th XI 4-3 Barnes Men's Beavers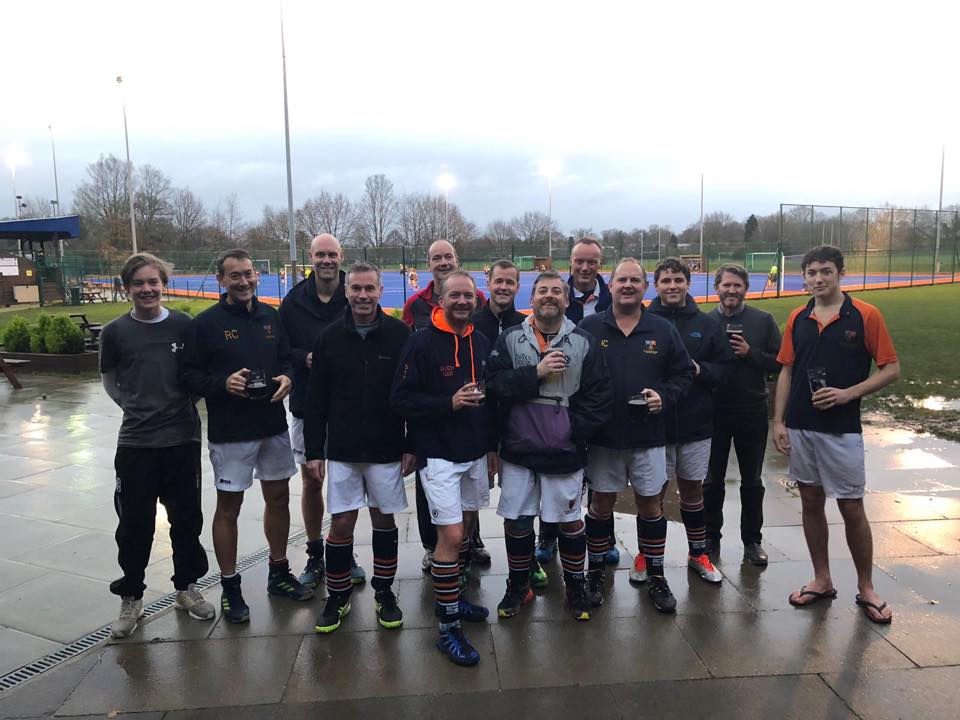 Match report to follow
Barnstormers 1-6 Reading
God rest ye merry gentlemen, let nothing you dismay. Its difficult not to be dismayed with a 6-1 loss at home that sees our opponents head into the holiday season atop the table usurping the position we have occupied for most of this first half.
Reading put out a strong side but 6-1 was not reflective of either possession or territory – which were much more evenly balanced. In reality the visitors were much more clinical in taking their chances (4 from penalty corners) and we struggled to create too many of our own, too often coming out of the final quarter with nothing to show for it.
We didn't play too badly but we conceded too easily – three in each half – and after our astute tactician Knappy pointed out at halftime that their keeper seemed weak, he obviously saved everything that came near him with only the skipper's late consolation effort to show for our troubles.
The match saw a welcome return to TD for Matt Leadham, formerly of this parish. He has lost none of his silky skills (hope he reads this) in the intervening 20 years!
True to form Tongy still found time to exchange frank views with certain of the opposition (Nigel couldn't get there in time) and was grateful for the therapists bench after the game, giving him ample opportunity to reflect on the match and perhaps his childhood.
We will regroup, lick our wounds and come back stronger in 2019.
Happy Christmas all!
Reading Supervets 9-0 Hamstrings
Match report to follow
Ladies 1st XI 3-0 Spencer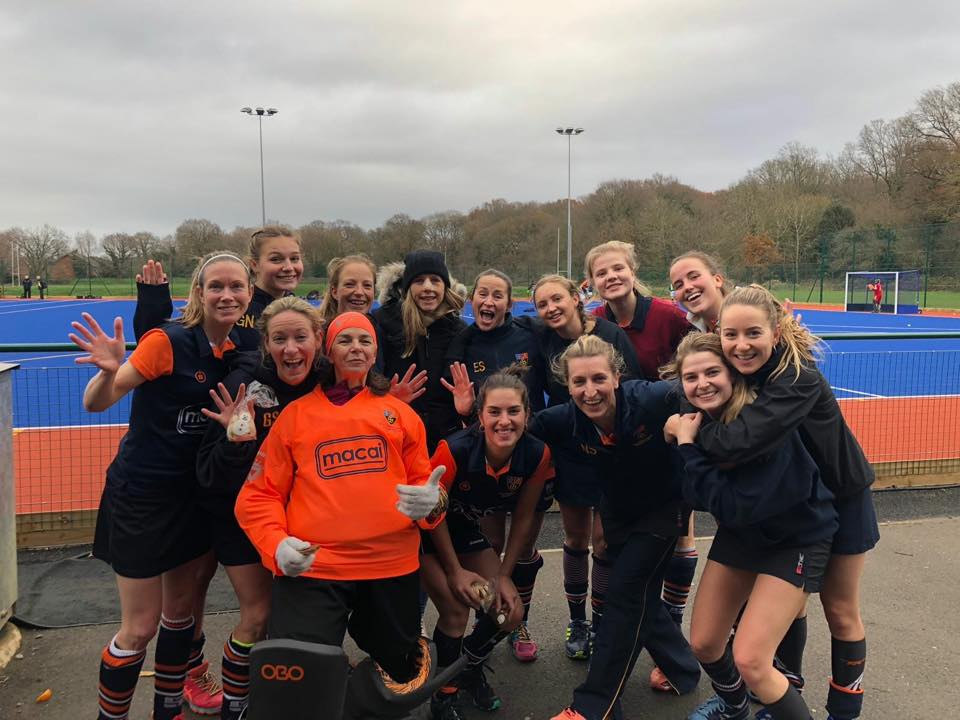 The Ladies 1s arrived at their home pitch on Saturday determined to finish their last league match before Christmas on a high. After all the coaching sessions and new drills seemingly coming together in the last few weeks, the team was optimistic that the match would go their way. Within the first few minutes, the team settled down into what would be a good performance. The first goal came from a short corner, a fantastic strike straight at goal by Georgie Syms which rebounded off the keeper to give OCs their lead. Katie Richards showed great speed and fluidity down the right side and there was some great ball work between her, Alice Durrans and Georgie Syms which kept the pressure on Spencer. Olivia Cooke has some great play from the left, creating opportunities from all angles and making the OCs team look dangerous for Spencer's defence. Georgie Sangster looked strong, fighting to make the most of balls in the D and Alicia Collyear worked hard on the front line. OCs kept up the pressure and created great product in the D, Georgie Newbold managing to obtain another short corner by a quick ball straight into the defender's foot. This quick-thinking resulted in another goal (from Georgie Newbold) via a rebound off Spencer's goalie. 2-0 to OCs and the half-time whistle blew.
After valuable input from their coach, the team were determined to hold onto their lead in what would no doubt be a strong come-back from the opposition. The third goal was the result of yet another short with a direct strike from Georgie Syms into goal. A fantastic effort and worth the practice sessions into the short corner routine! Emma Sutton, Heather Gillham and Jackie Waite were solid in their defensive positions. It could have easily been a different result without their determination and efforts following breaks by Spencer and their push in the second half. As always, Michele put in a sterling performance and kept the clean sheet. Special mention to Theresa Schott for an outstanding performance at full-back which earned her the 'player of the match' vote from the team; especially impressive for her first game with the Ladies 1s and upon a return from injury.
There was no doubt it was a tough match as the opposition were determined and skilled players and the two teams are closely matched in the league but at the end of play OCs had worked hard together which resulted in the deserved win.
Merton 1-3 Ladies 2nd XI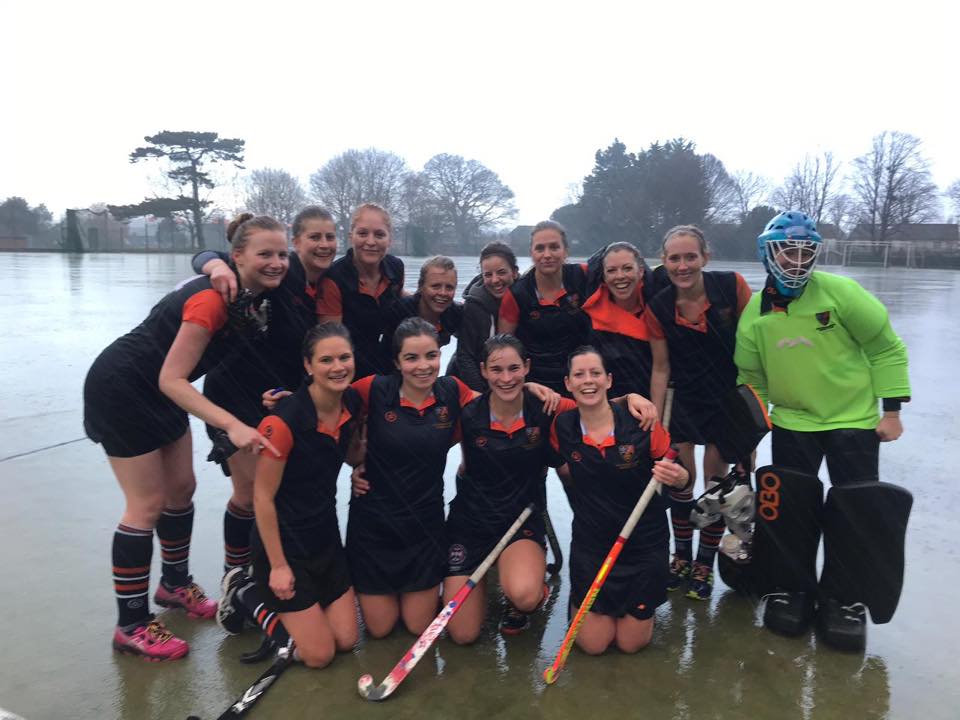 The ladies 2s travelled to Merton for our last game of 2018! We turned up to a very old sandy pitch on a rather grey day, but were determined to come away with 3 points and finish the year on a high! Tash had a little extra bounce in her step with it being the last match she'll play in her 30's!!!
We didn't get off to the best start with the opposition scoring in the first 5 minutes from a short corner. This was not how we wanted today to go, but was the wake up call we needed. Our fighting competitive spirit kicked into action and Ele scored a beautiful goal with a sneaky flick through the goalies legs! 1-1 and we're back in the game! The predominately South African Merton team were dominating the chat, but we were now dominating the play.
After half time we came back even stronger with a well deserved goal from Ellen having beautifully dribbled past a couple of players from the half way line. Shortly followed by a shot on goal from Hannah which was deflected off the goalie's pads, then slipped to Ellen who was perfectly positioned on the P spot and smashed it into goal!!
The heavens suddenly opened and the 100 year old pitch rapidly turned into a swimming pool! It looked as though we'd all got carried away at a pool party and jumped in fully clothed! We were all ready to run for shelter whilst Berny was off to get her surf board! Sadly the umpires had to call the match off with 14 minutes to go, but we were still able to take the 3-1 win! Thank god for Helen's heated car seats for the journey home! This was definitely a bath day for all!
Merry Christmas and a happy New Year all!!
Berrylands 1-6 Ladies Vamps 
Vamps headed back to Ricards Lodge School for a second outing and, raw from the tranching of last week, were determined to have a sunnier outcome with this opposition even if the weather wasn't. Game proceeded well and it wasn't long before Vamps scored. The oppo put up a good fight and before half time two more goals were scored, one being from Berrylands. Unfortunately a further goal was not allowed after the umpire blew for a short corner. Second half and the short corners kept on coming but we didn't produce any more goals until 10 minutes from the end Vamps scored another 4 after a fair bit of determination. A much better game for Vamps. Final score 6-1 and a few more smiling faces. Berrylands produced some seriously good mulled wine and mince pies to accompany the sandwiches and crisps. All in all a very good result. Goal scorers Pam L 2, Debbie, Kim, Jane and Dawn all 1.
Ladies 3rd XI 2-0 Epsom
Report to follow