A mixed weekend with defeats for the top two men's sides but a great win for the Ladies 1sts while the men's 3rd XI go back top of their league
Spencer 3-2 Men's 1st XI
The OCs travelled away to second placed Spencer for an important top of the table clash.
The OCs started the first half confidently, buoyed by their recent form, making in roads through both the middle and down the flanks. This combined with an effective press set from the OCs forward line meant that Spencer were the first team to crack, giving away a couple cheap short corners in the early stages. However, to their credit, Spencer defended them well and Matt Laidman was left frustrated when their No. 1 runner charged them both down. After some great passages of play, the OCs finally got their deserved goal in the 20th minute from a well-worked short-corner routine – Paddy Harman bagging his second goal in as many weeks with a deflected effort at the near post. Unfortunately, a green card shown to Ben Wilson shifted the momentum of the match and Spencer were able to equalise shortly before half time.
Having just conceded, the OCs came into the half with their heads down. Although all was soon forgotten when Matt Laidman was able to convert yet another short corner, his fifth of the campaign. At 2-1, the OC's became complacent and began to slip up on the basics and forced too many long 50:50 balls. Spencer capitalised on this poor period of play and it was not long before their centre forward levelled the scores with a superbly hit reverse into the top left corner. Spencer started to play more confidently and began to attack with more purpose, stringing together several dangerous passes. The OCs defended well for the most part and were unlucky to have a short corner given against them – this led to Spencer's third goal, leaving a tough ask for the OC's to get themselves back in the game. It seemed they would do so when a short corner deflected from Ben Wilson's stick into a Spencer defender at close range. In what can only be described as bizarre, the umpire signalled for a penalty flick, only to change his decision and give Ben Wilson a 10-minute yellow for diving off his feet. With barely a couple minutes to play, there simply wasn't enough time for a point to be snatched.
An unfortunate loss for the lads but with only a one-point gap at the top, the title hunt is still very much alive.
There was better news on the Sunday when the 1st XI beat Richmond 4-1 in the first round of the Surrey Cup.
Men's 2nd XI 1-2 Chichester
A dash rain in the morning left the pitch slightly damp as we prepared to host Chichester Men's 2s. An unusually high number of injuries were sustained during the week meaning we were stretched going into the game and picking up a couple more during warmup, we had to really hold our nerve a dig deep. It was great to have Sam Carne back and it was a welcome return for Dan Osborne, standing in for injured Goalie.
Chichester wasted no time with the start and after quick burst of play they were 1-0 up in the first few minutes of the game. We reset and knuckled down, working well on our press with some textbook execution forcing the turnover and despite some great balls into the forwards from the middle we couldn't break through. Despite the goal, it was a reasonably balanced first half with both sides probing the gaps. The OC defence worked hard to hold off the well drilled Chichester attack with Dan Osborne making some outstanding and critical saves in a wave of short corners.
The lads regrouped during half-time and started the second half with their heads up, but the Chichester top gun found a gap and took advantage to go 2-0 up within 10 minutes of the second half. Our midfield worked hard with Sam Wilson working diligently on the press and seeking out the gaps and our persistence paid off when a lovely ball into Henners followed by a flick onto Cookiey on the edge of the area who brilliantly dispatched the ball into the back of the goal 2-1.
The lads found their rhythm and we began to control and dominate the game in the last 10 minutes. A few minor discipline issues reared their head but it wasn't going to deter us and we continued to push ahead. With the 1 minute signal from umpire we flooded their half and pressed hard, surely it looked like it was all set up for a last minute goal – a free at the top of the D went back to Gal who fired it into the back post…the sound of Tom Phillips' deflection was accompanied by a whistle from behind us, the rattle of the backboard inspiring a confusing elation. A consultation between the umpires resulted in the explanation that the whistle was in fact the final whistle, the game therefore finishing 1-2 to Chichester.
Very disappointing for the lads, they worked really well to get back into the game but it wasn't enough. It is clear that we are playing a very competitive league and every game is going to count.
Goals: Cookiey
MoM: Sam Wilson
Champagne Moment: Dan Osborne
Other: JFK / Jimmy Smith / Cookiey / March / A Don
Oxted 1-4 Men's 3rd XI
In one of those odd quirks of the English language, two separate sets of words can not only be both mutually exclusive as well as deeply intertwined but also used in exactly the same context when involved in the same event.  As excuses go for being n/a Jodie "Jaffa" Smith's is up there in the top 3 ranking alongside:-
"I couldn't turn up as I was collecting my holiday refund in Cardiff following my travel operator going bust", Walid Abdo, 1994
"I did not turn up with the three players I was meant to pick up because I was in A&E from 01.00 this morning with my mate who had put his hand through a window and I was banned from using my mobile telephone" Rory Alexander 2009 and
" I had to go to my grandmother's funeral" which received the riposte of "your poor grandmother, that is her fifth funeral", Paul M 1990.
Jodie was unable to play because "I had a vasectomy yesterday". Arguably the operation was sponsored by Monsanto to produce his now infertile seeds but equally the GM tag could be a case of genital mutilation. Another convert to those with 2 shamouti.
Without really thinking about it until Saturday afternoon there are strings of post match excuses that could easily rank alongside the Saturday morning pre match excuses and again today saw a real belter. Ports had to leave after his British Legion sausages to "walk Digby in the woods so he could have his pooh". There are 4 Don brothers and so if Ports took the whole Don pack out altogether a carrier bag should do. Ports, protesting some form of innocence, tried to explain that Digby, a Bearded Collie, is in fact his dog. The jury is out.
The game itself was one where the score line did not do justice to the balance of play. The game was also full of very intriguing sounds and utterances from the men in red. We had a Krusty the Clown impersonator in their midfield whose "Hoohoohoohahaha!" every time he wanted a foul was quite extraordinary along with a guy they called "Wheezer" at right midfield who could quite easily have been called "Grunter" or "Heavy Breather". A quite bizarre duet.
The game turned on a 10- minute purple patch that came and went far quicker than that now adorning Jaffa's/Shamouti's nether region. Three goals in this devastating period saw Knappy, Eds and Henry score three unanswered goals between the 25th and 35th minutes. In between the first and last goals Rosko made a double save akin to that of Jimmy Montgomery for Sunderland against all conquering Leeds Utd in the 1973 FA Cup final.
The second half was another exhibition of superlative goalkeeping aided by some top tackling form our back four and especially Heardy. On any other day JH would have been Man of the Match but Rosko took it having made a string of excellent saves in the second half to add to those in the first. Oxted can count themselves unlucky as their second half tally of shots must have been close to 20 against our zero. Fair to say they were very generous in defeat but we were left scratching our heads as to how they are 10th in the league on the same points as Reigate Priory and Cheam in 11th and 12th.
The run of the umpiring went our way, as evidenced by the increase in the number of "Hoohoohoohahaha!" that we heard as the half progressed. Best of all was Lewi's no hands, just, around the neck tackle that saw a yellow and only a short corner awarded.  The pressure was building and we were desperate in our efforts to stop the rising tide. Dutch style and one by one the defence manned up to stick their fingers in the dyke. Oxted did eventually breach our defence with less than 10 minutes to go but only once as the fingers went back into the dyke and we stayed two ahead.
We go into the last game before the break on top with a one point lead over Barnes who blinked against OGs to lose a tight game. Some interesting Facebook comments concerning that game were dug out and circulated although probably fabricated by the Russians…
This Saturday we will need big players with big balls, the size of Jaffa's/Shamouti's, to step up to the plate as we go back to Duke's Meadow for the game v Barnes. We are without Hunts who will be a big miss, dominating the midfield as he did when on the pitch today. Thankfully Hunts is available for all the games from the first game back until Easter although I have not yet checked St Bede's calendar to see the frequency of Easter in this ultra generous and possibly Alzheimer's affected Saint's plans.
Addiscombe 3s 2-2 Men's 4th XI
Report unlikely!
Men's 4th XI 2-2 Addiscombe
Cracking game last Saturday saw us draw 2-2 away against Addiscombe. We conceded early to a fast break from our own short corner with a huge overload and tap in for their centre-forward!!! But from there we dominated and scored twice (Poen and Tom) to set up what we thought was a winning platform. Addiscombe had other ideas and fought hard to level the score, prompting a last quarter fiesta of short corners for both sides, none of which were converted. The last five minutes saw us clinging on with notable saves from Seb and goal-line clearances from Si D to earn a point.
Ladies 1st XI 7-1 Tulse Hill
The OC Ladies played their penultimate game before Christmas, and a wet day made for a quick pitch and a great game. The OCs dominated from the start with the first goal scored inside three minutes – a strike into the D by Georgie Sangster and a clean deflection from the left post by Alicia Collyear into the corner. The second goal came a minute later from Olivia Cooke.  Georgie Syms added a third from a Emma Sutton long-corner, a move straight out training. Jackie Waite was in the midst of her usual epic defending and put her body into the line of the ball, taking a massive hit on her leg for her pains. After a delay we lost concentration and they found space to score against us to make it 3-1 at the break.
The second half started with a quick and clean goal from Sangster to put us 4-1 up, and shortly after Katie Richards beat several players in a jinking run from halfway to fire in a shot which was deflected in by Syms. Out sixth came after a period of sustained pressure, Richards converting a penalty-flick after a Tulse Hill defender stopped the ball on the line with her foot. In the final minute Sangster completed the scoring.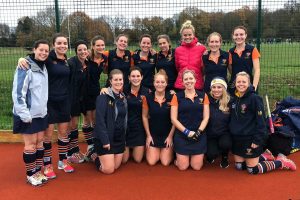 Ladies 2nd XI 1-1 Surbiton 6a
More cards than goals. It wasn't our finest performance but we completed a strong second half, securing a draw and holding our 3rd place position in the league table.
The sky was dark, the pitch was damp and we were… well, a bit flappy. Off to a bad start before we even started, when Josie got smashed in the nose by our wonderful goalie, Evie, when "practising" short corners moments before push back. Josie was broken, Evie distraught and the rest of us… well a bit bewildered.
We have a habit of playing the oppositions game, holding back to see what they can do – and so, we let Surbiton step up and take charge, scoring within the first 10 minutes. After that we fought back, but we were slow, picking up the ball on our weak side and too often – passing it straight back to Surbiton. There were some beautiful saves by Evie, who at one point, got the ball stuck in her pads but managed to wriggle it out with genuine urgency and professionalism, just in time, and then kick it to safety.
It took us too long to wake up. Awarded a penalty corner in the final moments of the first half, we loaded the circle determined to equalise – shots fired, their goalie went ground, a scuffle on the goal line and a penalty flick awarded. Hooray! Ele Groves took a competent shot but it was well defended but so very almost deflected in. Sigh. Que – half time talk – come on girls – let's get our heads in the game.
The umpires were more vigilant with the rules than we have gotten used to. On the whole this was a good change, but it did feel a bit harsh when Josie got carded for not being five, and she hadn't even heard the whistle. But rules are rules, we had been warned, and Josie was clearly having a really unlucky day! 10 minutes into the second half and Ellen scored – Boom. Back in the game, and finally playing our game. A solid second half with cracking individual performances from: Evie Tanner, Jo Mir, Ele Groves, Helen Hawes (except the card!). MOM jointly awarded to Ellen Arthur and Georgie Newbold.
Let's hit the ground running next week and end 2018 on a high!
Old Kingstonians 2-3 Ladies 3rd XI
When we arrived at Tiffins pitch in Kingston, we had too overwhelming thoughts: 1. I really hope this rain stops and 2. Wow this feels strange being back at our old ground (for half of the team at least). Determined to get a good result playing the team only one position above us in the table, we began by hiding from the rain in the changing rooms. When we emerged, the rain had stopped – a small miracle that we took as a sign. We started off pressing hard and pushing up the field, which perhaps to our surprise resulted in an early goal from Evie. 1-0, this game was going to be ours. Well maybe not…. as OK3s managed to level it not long after with a scrappy goal.
Ok, let's start again. On the attack, Evie slotted in another goal..we were back in it. 10mins pass….oh no, they've managed to equalise! Right…half time talk, just keep fighting and my old favourite 'use the width! An injury sustained by the oppo paused the game for 5mins – OK3s did then try tried to restart the game with 12 on the pitch, but little did they know we had an accountant on our team and Inge with her mathematical knowhow quickly pointed out the error to our umps. The pressure was on and we tried to win every ball to give us every opportunity. This was expertly demonstrated by Eilidh when a long ball towards the oppo keeper resulted in her mistakenly kicking it out rather than letting it go off the pitch. Unfortunately for the keeper this kick was right into the path of Eilidh. Eilidh had to fight hard, with a defender following her all the way …but she slotted it in and we were 3-2 up. Just a matter of holding out now, which is of course easier said than done. A few hairy moments so we need to learn not to panic in these situations. I have to say here that Maddie in defence had an excellent game! The whistle went and we had won!! We did it ladies and you know what they say…good things come in 3s!!
Mitcham 5-1 Ladies Vamps
We knew we were in for a tough game, with a few of our key players unavailable (one going to the panto) and one injured during training on Monday.  I was in my sick bed so Pam, who took charge texted me the key highlights, or more lowlights.  One of our players had trouble parking, as school was busy with other events, so with only 11 for the first half, we were denied the usual subbing off time.  Hannah, who has been superb in goal, was unlucky when their winger, on a roll, took the first blood with a magnificent run all the way down the pitch.  And this happened after we were pressurising them!  The 2nd and 3rd goals were deflections off both posts only 1 going through goalie's legs and one goal was from a cross in from the right which they just managed to touch.  Debbie scored our only goal from a strike by Fee from a short corner.  Unfortunately the Vamps forgot what strip we were playing in, passing to the oppo on too many occasions. However we will seek revenge on the return match, when hopefully we will have a full compliment of players.  The final score, which wasn't an indication of the run of play, which was end to end stuff, was 5-1 to Mitchum.
Ladies Martlets 
An historic weekend as the Martlets made their debut, playing against a mixed colts/Surbiton side after their intended opposition cried off. A warm welcome to all involved.